New Interview with Steve "Zetro" Souza of Thrash Legends Exodus!
Posted on 10/10/2014 2:45:34 PM by Frank H.




Steve "Zetro" Souza makes absolutely no pretenses when it comes to Exodus' raging return -- probably because there's no need to. It's Exodus in every sense, which every thrash fan would perfectly understand. From the first riff to the last scream, their latest release, "Blood In, Blood Out," delivers the same bone-splitting dish on a truly beautifully produced plate, better than they ever did over 30 years ago. And that is something to brag about. There are no ballads, no epics, no trills, no frills, just 100% pure, as Zetro puts it, "Scrap music for when you're really pissed off."

Read T. Ray Verteramo's full interview with Steve...[Full Interview Link]



New Tales from the Jugular #125
Breaking the Speed of Sound
Posted on 10/6/2014 2:13:10 PM by Greg Watson




It's no secret that metal is fast, loud and adrenaline producing music. I'm sure all of us have been behind the wheel at some point or another blasting our latest purchase, only to look up and see those flashing red and blue lights behind us or noticing that our mph has just crept up over 100. That being said, I compiled a list of personal songs that I could easily break the speed barrier to...[Full Column Link]



T.J. Martell Foundation Celebrity ROCK 'N' BOWL Tournament this Thursday!
Posted on 10/6/2014 8:48:09 AM by Frank H.




Los Angeles, California (August 19, 2014) - The T.J. Martell Foundation has announced The Celebrity ROCK 'N' BOWL, a fundraiser that combines the competitive sport of bowling with high energy entertainment and celebrity appearances to raise funds for cancer research. The event is chaired by Wendy Dio, President and Co-Founder of the Ronnie James Dio Stand Up and Shout Cancer Fund, who serves on The T.J. Martell Foundation Board and whose organization has raised and donated funds to the T.J. Martell's continuing efforts in cancer research.

The event will take place at the Pinz Bowling Center on Thursday, October 9th, 2014 from 7:30pm-11pm, with a VIP Pre-Party from 7:00pm-8:30pm. Pinz Bowling Center is located at 12655 Ventura Blvd in Studio City. The T.J. Martell Foundation aims to combine music and entertainment with an event that will drive competition to raise funds for its core mission of finding a cure for leukemia, cancer and AIDs.

To purchase a ticket, register a team/sponsor a lane, or other sponsorship opportunities for ROCK 'N' BOWL go to support the foundation can also buy tickets to attend at the websites noted. More information is also available at www.tjmartell.org.



New Interview with Gregg Fox of the
Renaissance Rock Orchestra
Posted on 9/15/2014 2:31:24 PM by Eric




Standing tall as a figure who has seen the world, but no longer carries the weight of it upon his shoulders, Gregg Fox is at home here among the rockers, just as he is among the many other swingers and the stingers. "Gun for hire," Fox has made a name for himself through other names from other names -- sharing the stage, but never the spotlight – with the likes of Heart, Asia, Bad Company, Billy Idol, Slash, Queensryche, Quiet Riot, Alice Cooper, Toto, Yes, Pantera, AC/DC, Michael Schenker Group, Iron Maiden, Ozzy Osbourne, just to name a few. And though his many, many mercenary meanderings have allowed him to make a 30-year life-long career for himself after achieving a prestigious music degree, he realized it is time to for the wizard to come out from behind the curtain. T. Ray Verteramo was able to speak with Gregg about his own project--The Renaissance Rock Orchestra... [Full Interview Link]



Tuska Open Air Fest: Video Interviews w/ Tankard, Lost Society, Amoral, Battle Beast and Poisonblack!
Posted on 9/12/2014 4:02:45 PM by Frank




Maximum Metal contributor TJ Fowler lives in Finland and had the opportunity to attend the country's biggest metal festival this year. Tuska Open Air Fest featured legendary bands like Anthrax and Emperor over a three day weekend of metal. Below is his video footage of the event including a show review and interviews with Tuska performers Tankard, Lost Society, Amoral, Battle Beast and Poisonblack. Read his full coverage of ...[Full Column Link]



New Interview with Youthful Danish Thrashers Aphyxion!
Posted on 8/29/2014 4:15:51 PM by Frank H.




Danish stalwarts Aphyxion are set to unleash their furious debut record, "Earth Entangled", on September 1st via Mighty Music. The group's debut, produced by the famed Jacob Hansen (Volbeat), shows years of maturity and experience that defies their average age of 21. Greg Watson was granted the opportunity to speak with guitarist Jonas Haagensen about the band's beginnings, where they are headed and why the country that created Legos is so damn heavy…[Full Interview Link]



New Dark Tranquillity Interview!
Posted on 8/22/2014 4:30:26 PM by Frank




The metal scene is a constant, ever changing landscape. Full of peaks and valleys, it can be a hellish terrain to navigate for many bands. Experienced acts have been able to carve out their footholds and maintain their path with little to no deviation. Dark Tranquillity are one of those bands. Being in the business for a quarter of a decade the band have proven countless times they are nothing to scoff at. Greg Watson speaks with Niklas Sundin on the upcoming North American tour, the difficulties of international touring, and the releases--Construct and The Gallery here...[Full Interview Link]



MAXIMUM METAL MAGAZINE has arrived!
Posted on 8/6/2014 2:52:22 PM by Frank

After 11 years of site updates, thousands of reviews, hundreds of interviews, dozens of columns, and a few humor pieces...

MAXIMUM METAL MAGAZINE has arrived!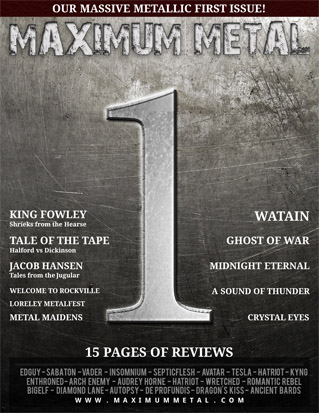 In our first edition, highlights include:
• Interviews with Watain, Ghost of War, Midnight Eternal, A Sound of Thunder, and Crystal Eyes
• Now & Then with Judas Priest and our under-rated JP songs
• An exclusive column "Shrieks from the Hearse" by metal thrashing madman King Fowley
• Metal Maidens from Canada!
• Live concert pics from "Welcome to Rockville" and "Metalfest Loreley" in Germany
• Reviews and Summaries
• A humorous "Tale of the Tape" on Halford & Dickinson
• Cool metal ads (sorta, if you like metal ads)

Maximum Metal magazine will basically contain recent postings from the website with added exclusive content. It is available in an online format and a PDF version you can view and download.

And Issue #1 is FREE to view and share!!!

So, from us to you the reader of issue #1, a big metal horns up and thanks from us. Read it, download it, share it with your friends, print it for the monster in your closet. Check it out right in here...
[Magazine Page Link]




Archive Features >>>