New Interview with Wintersun!
5/17/2013 6:42:42 PM by Etiam

The concert room of The Bottom Lounge is a drafty place on a winter afternoon. Doors on three sides open to the elements, skeletal stage gear sprawls across the empty floor, and the few ceiling radiators are no match for a close-pressed, sweating, crowd—conspicuously absent before nightfall. It was in this dim cavern that I watched two Finns at rock-paper-scissors, best out of three to determine who would represent Wintersun in interview that night. The brainchild of Jari Mäenpää, Wintersun has become modern legend since the release of their 2004 self-titled debut; eight years would pass before its successor, 'Time', and the band's long-awaited debut on American shores.

Paper covered rock in the deciding throw, pairing me with Teemu Mäntysaari, the precocious young gun at Jari's side since shortly after the self-titled's release. Though soft-spoken and reflective, a glinting eye and cagey grin hinted at his sharply dry sense of humor. Throughout our chat I was refreshed to hear no burden of regret or disillusionment even after so many years spent toiling over 'Time'. Rather, the tenor was affirming and fluid, comfortable up in the cosmos of the band's naturalist lyrics as well as down in the details of their touring rigs and gear preferences. Our conversation—at least until we gave off recording and went for a gear tour—can be read below. --Etiam

[Interview Link]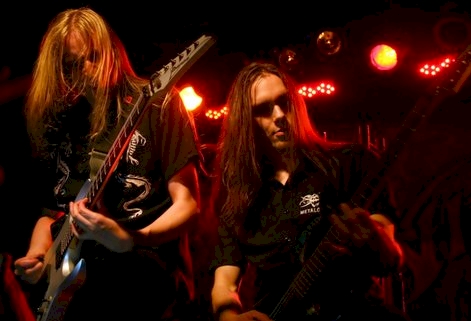 Blind Guardian: Unboxing of Collectors Set
"A Travelers Guide To Space And Time"
5/17/2013 6:37:19 PM by EC

Most metal ilk have deemed Blind Guardian iconic as purveyors of power metal authority. The band have been running and ruling the sub-genre for three decades with the sales to prove it. The Germans have firmly stayed intact with Virgin Records and/or Century Media for their entire career and have enjoyed success worldwide. With that being said the obligatory box set was sure to rear its head at some point.

If you are one of those avid collectors then "A Travelers Guide To Space And Time" is your shrine of worship. This is a collection of the Blind Guardian career thus far minus the last two albums. It's fifteen discs of power metal overload, packaged in prestige crisp fantasy art with a book chronicling the band's story thus far. The price of $200 will deter casual fans but this thing is built for the mop headed collectors and with that clientele it's a must.

This outer box is about the size of a record and compares to Zeppelin's "crop circle" box from the 90s. Inside is a glossy book about the same size as the outer box with same artwork as the outer shell. The book is about thirty pages or so and is loaded with photos of the band's career and a synopsis of different eras of their output. A Blind Guardian guitar pick is included as well in the top layer. Under the book is a "lithograph" styled piece of exclusive fantasy artwork which mirrors the same overall medieval theme the band has utilized throughout their lifespan. On this lithograph is a "typed number" showing what number your box set is out of 8,000.

The reason you own this is the discs and there are a ton of them here. In four square recessed holders are stacks of digital goodness. Fifteen discs housed in thirteen digipaks. We get every album from "Battalions of Fear" through "Night At The Opera" remastered with some live recordings and an album of demos and unreleased tracks. Interesting enough is the full version of "Nightfall In Middle Earth" complete with all of the interludes and spoken word drama as well as a "special edition" version that has the interludes removed.

Overall this is grand eye candy and a collectors dream. Who knew this German speed metal band from the early 90s would excite and influence a sub-genre of metal to the extremes we've seen in the last two decades. This box set not only provides a companion piece to the band's marvelous work but also a retrospective history that champions Blind Guardian as a pioneer and innovator. Somewhere far beyond indeed.



New Review and Interview with Earthrise!
5/10/2013 3:53:54 PM by Grim Gaijin

I was lucky to find you guys on Bandcamp one night...with today's DIY approach to releasing music, do you feel you have an advantage over bands say 20 years ago?

Tom: Bandcamp (http://www.earthrisemn.bandcamp.com) is an incredible tool for bands, especially ones who are just starting out. We owe a lot of our success to that site, and the wide array of people it has allowed us to reach. We have reached more people than we ever expected by having our album available for free. Or, if you're a really kind, attractive, and intelligent person, the price of your choosing!

The music industry is a vastly different place than it was 20 years ago. You weren't able to teleport music electronically across the globe. People had to have it in a physical format, or hear it on the radio. That definitely limits the ease of access people have to finding out about your band compared to today. The internet has gotten so fast and so immense that now we can have any album we want in a matter of seconds. Shows and events can be promoted to thousands of people through a wide variety of social media. The outlets to get your name out there are endless these days.

Is this necessarily an advantage? That's debatable for a lot of reasons. As amazing as the internet is, it has also created a giant sea of music that is pretty daunting. This means you have to work extra hard to make your name and music stand out. Attention spans nowadays are extremely thin. Marketing your band strategically has become even more important if you hope to break through and be discovered in the mountain of bands that exist.

[Interview Link]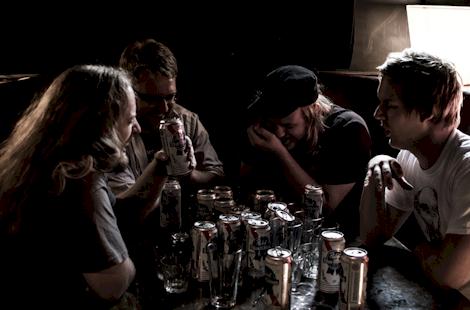 Metal Release Recap for April!
5/3/2013 3:04:39 PM by EC

April turned out to be a very active month for metal. It seems more and more metal keeps piling up and by recapping each month's releases it creates an excellent "one look" at the new releases and also a shopping list for your upcoming paycheck.

By far the best album of April is the new Bring Me The Horizon album..."Sempiternal" is genre defying and an album that will influence countless artists in the future. The record is pieced together to show the band's influences ranging from classic rock, electronic, pop, hardcore and metalcore and should make everyone's best of list for 2013..

[Full Column Link]



R.I.P. to Jeff Hanneman of SLAYER
5/3/2013 11:17:35 AM by AgentofSteel

Damn!

R.I.P. to Jeff Hanneman.

He always had the better riffs/solos in Slayer, to me, although Slayer clearly are not Slayer without him and King. Early on, Hanneman helped teach me the ins and outs of thrash/speed metal guitar playing. What a shame! Slayer haven't interested me in about 5/6 albums now, but Hanneman will forever be one of my favorites. 49 is too young to die. No one has ever made me want to make evil/chaotic sounding noise with a whammy bar more than Jeff. The intro to "Hell Awaits" scared the hell out of me when I was a kid.

Along with King, Jeff was about the only person that was able to play completely by their own rules, create their own sound, bring Heavy Metal to the next level and influence hundreds of other bands. How can you argue against the sole creator of "Tormentor", "Die By the Sword", "Fight til Death", "Postmortem", etc... Oh, and of course, everyone's speed/thrash metal anthem "Angel of Death".

Although his music will live on forever with me, I'll give one last "SSSSSSLLLLLAAAYYYYEEEERRR!!!!!" in tribute to Jeff Hanneman! --AgentofSteel



"Keep It True Festival" Road Report by Deceased/October 31 Member King Fowley!
4/26/2013 3:14:37 PM by EC

King Fowley, vocalist for legendary US old school metal band October 31 and drummer for classic thrashers Deceased gave us his review of this year's Keep It True Festival in Germany. The event payed homage to power and old school heavy metal with twenty bands spread over two full days in Koenigshofen, Germany.

"I had an amazing time and met so many cool folks. The event ran so smooth and every person there actually seemed to care. This wasn't like American gigs where half the folks are there to pose. We had sing-alongs, tons of laughs and the attendance was sold out to the hilt. I am coming back with Deceased in 2014. This was one of the most honest places to see a metal festival that I've experienced to date."

[Column Link]



New Maximum Metal Tumblr Blog!
4/24/2013 2:57:51 PM by Nailer

We've put our metal horns into another warm social pie!

Maximum Metal now has a new Tumblr blog here:[Tumblr Link].

What's gonna be there that isn't here? In general, we'll be posting text, images, links, and quotes that don't always fit on our main site. It'll be a metal mixed bag like this vintage scan of a Queensryche magazine ad from almost 30 years ago. Boy, how times have changed!




OUR SOCIAL LINKS
FACEBOOK--The Facebook page run by our website. [Facebook Link]

TWITTER--The Twitter page for our news. [Twitter Link]

TUMBLR--Blog for things that don't always fit here. [Tumblr Link]

INSTAGRAM--Concert and metal pics. Search your IG ap for maximummetal or browse at: [Instagram Link]

YOUTUBE CHANNEL--Videos we like: [Youtube Channel]




Archive Features >>>