The Rise of the "New Wave of Traditional Heavy Metal"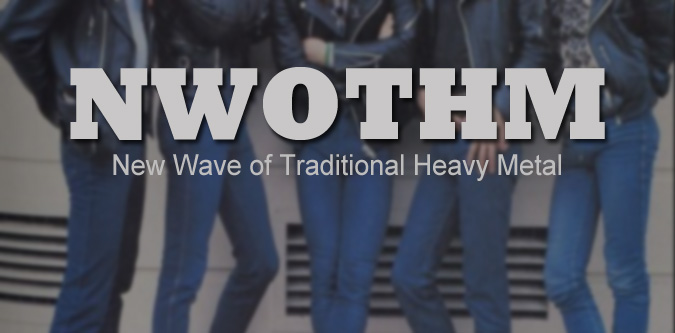 Kids are sporting back patches, shirts and stickers of bands that reached prominence over thirty years ago--nearly two lifetimes in comparison. We are witnessing droves of young metal fans donning the classic emblems of Maiden, Motorhead, Saxon and Venom, yet delving even deeper for the tattered reminders that underground NWOBHM was just as important. Angel Witch, Wildfire, Touched, Quartz, Steelwing, Enforcer, Jaguar and that ilk are on proud display worldwide.
Wait...Steelwing? Enforcer? Those are NEW bands.
Garbed in the clothing of 1978, young bands are fighting for their denim and leather cause. It's occurring in Sweden, Canada, Germany and the US as more and more new bands espouse the belief that NWOBHM is worthy of imitation, the flattered attempt to burke modern sensibility for more vintage virtues.
It's the New Wave of Traditional Heavy Metal.
Read our column here:
[Full Column Link]
---
MORE FEATURES:
»
New Interview with Chrome Molly!
Leicester, England's Chrome Molly formed in 1982 on the back-end of the NWOBHM movement. Their first album, 'You Can't Have It All', was released in 1985. Thankfully, the band was rejuvenated in 2010 and released their proverbial comeback in 'Gunpowder Diplomacy'.
...[More]
»
On the Horizon: 5 Bands to Watch in 2017!
Heavy metal and hard rock isn't an unexplored phenomenon. Its musical landscape is in its fifth decade, leading many to wonder just how many stones are truly left unturned. The two genres have been expanded into countless hybrids, offshoots and sub-genres that leave even experienced fans like myself a bit overwhelmed.
...[More]
»
New Interview with Blitzkrieg!
Who can doubt Blitzkrieg's influences on the early days of heavy metal, notably the stylistic movement that showcased the next phase of Birmingham's pounding metal--the New Wave of British Heavy Metal (NWOBHM). Blitzkrieg formed in Leicester, UK in 1980 and soon released three demos.
...[More]
»
Staff Top Three Hard Rock/Heavy Metal Love Songs!
Rarely is love the subject matter of heavy metal where death and destruction play primary roles.The simple answer may be that the qualities we tend to see with love are incongruent with the way we picture the heavy metal environment and themes. Love is connective and nourishing.
...[More]
»
New Interview with Black Oak County!
Denmark's Black Oak County are a heavy four-piece that slide perfectly into that niche between hard rock and heavy metal. The band formed in Esbjerg in 2012 and released their self-titled debut album in January courtesy of Mighty Music (Tygers of Pan Tang, Sea).
...[More]
»
A 90s Look at the Albums Metallica Should Have Made
The 1991 -1996 period for Metallica fans was pure anguish.That five-year period between Metallica albums wasn't a fair one. The lofty expectations were ultimately going to lead to disappointment even if 'Load' was far better than it was. It's just human nature.
...[More]
»
Staff Want List for 2017!
Hello 2017! A new year is upon us and all of us here have wants and anticipations that we hope will ripen to metal fruition! Here's some generic fun from us here at MM and a chance to throw out a plug or three. Drum roll Nicko……[Full Column Link]
...[More]
»
Looking Back--Staff Top 10 Albums of 1987!
"History was in the making and my generation could feel the fire and desire in the air and on the airwaves. We held our breath hoping this would trap that year in a paradox gasping for oxygen and still blowing the winds of rock across America forever.
...[More]
»
Staff Year End Awards for 2016!
We've gathered up our thoughts on the hard rock/metal releases of 2016! Even if you really don't give a shit what any of our opinions are, there are so many releases put out in this age of do-it-yourself creation that you may see names you missed, older bands you forgot existed or unknowns to look up and sample.
...[More]