Down the Roads of Madness: Pigeonholing Metal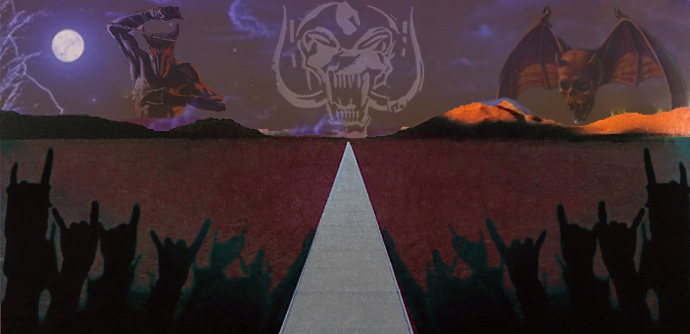 The Devil's Music. Hymns to Hell. Come up with whatever ostentatious name or descriptive title you may have heard over the years. As metalhead's, at some point in our musical lives we've inevitably been told that we are going to hell for listening to that "Devil Music". For too long to remember, heavy metal has been synonymous with Lucifer, the Devil, or whatever colorful epithet has been bestowed to the dark lord. While the label isn't a complete misnomer, it is rather misleading and somewhat single minded.
Is there love for the Devil in heavy metal music? Of course there is.
However, what seems more disturbing to me is the fact that many other great topics and focal points of metal seem to be overlooked because they are less sensational.
Read Greg Watson's editorial column on metal's image here:
[Full Column Link]
---
MORE FEATURES:
»
New Performers Added to Our Metal Maidens Section!
Dutch singer-songwriter Charlotte Wessels (Delain) has a voice that is both infectious and emotive. Able to go from sing-song siren vocals to powerful emotional tones and then to almost operatic without missing a note. With her vocal arsenal, Wessels can stand voice to voice with any contemporary.
...[More]
»
New Concert Report for The Pretty Reckless!
One of the most amazing places for a loving father and husband to rock is House of Blues at Disney Springs....After a pre-rock show warm-up of all the Coke you can do at the Coca-Cola store (international flights of suds!), I headed over to find my kind --1,000 lost souls all garbed in black.
...[More]
»
(Stephen) King of Metal: His Influence on Hard Music!
Stephen King is one of the most prolific writers of our modern time with over 350 million copies sold from the 67 novels and books he's published of contemporary horror, supernatural fiction, suspense, science fiction, and fantasy.Within his works are many references to bands like the Ramones and AC/DC.
...[More]
»
Concert Report: Halloween Horror Nights 26
You know Halloween is around the corner when Universal Studios starts closing their park at 5PM each day. The reason? It gets all of the normal people out of the area so it can re-open at 6 for all of the freaks like yours truly. Out go the thirtysomethings pushing their strollers--in comes the skinny jeans, converse high tops and Slayer t-shirts.
...[More]
»
Metal Goes Wild West!
The rugged West...outlaws, gunfights and bravado. It's rebellion in history, mythology and Hollywood's big screen. The North American wild, wild West of the late 1700s through the turn of the 20th century is popularized in pop culture through movies, books and comics galore.
...[More]
»
Ex-Y&T Drummer Leonard Haze...Our Best Of
In 1974, Leonard Haze was a founding member of the hard rock band known as Y&T (formerly Yesterday & Today). Many rock connoisseurs consider the group's early 80s albums--"Earthshaker", "Black Tiger" and "Mean Steak", as groundbreaking triumphs of US hard rock.
...[More]
»
New Interview with Ingo Powitzer--
Guitar Tech with the Scorpions
The Scorpions are currently celebrating their 50th anniversary with a worldwide tour. Locations include: China, Japan, North America, Europe and even Australia will see them for the first time to play down under this year.Is it as glamorous as it might seem to be touring the world with one of the most iconic German Hard Rock bands? It can be, but it also takes time, dedication and a lot of sweat.
...[More]
»
Headbanger's Ball Tour 2016
Wow, when was the last time you saw this logo? MTV's "Headbangers Ball" aired its first episode on April 18, 1987. Since then the show has existed in some variation via networks or online programming. Its prime time was the 1987 through 1995 period when it routinely aired around midnight every Saturday night.
...[More]
»
New Interview with Voices of Ruin!
"Born of the Dark" is hands down the best death metal album I've heard in a long, long time. Combining melodic intros with death metal riffing, black metal blastings and some of their own flavor, Voices of Ruin have created the recipe for a bloody good death metal album.
...[More]