New Interview with Gregg Fox of the
Renaissance Rock Orchestra
9/15/2014 2:31:24 PM by Eric




Standing tall as a figure who has seen the world, but no longer carries the weight of it upon his shoulders, Gregg Fox is at home here among the rockers, just as he is among the many other swingers and the stingers. "Gun for hire," Fox has made a name for himself through other names from other names -- sharing the stage, but never the spotlight – with the likes of Heart, Asia, Bad Company, Billy Idol, Slash, Queensryche, Quiet Riot, Alice Cooper, Toto, Yes, Pantera, AC/DC, Michael Schenker Group, Iron Maiden, Ozzy Osbourne, just to name a few. And though his many, many mercenary meanderings have allowed him to make a 30-year life-long career for himself after achieving a prestigious music degree, he realized it is time to for the wizard to come out from behind the curtain. Now, today, with his own project, The Renaissance Rock Orchestra, he is shining his own light and sharing the sky, though it's taken him a while to get here...[Full Interview Link]



Boston Prog-metallers Protean Collective to open for Pain of Salvation
9/15/2014 12:28:07 PM by Vinaya

Swedish progressive metal masters Pain of Salvation, who recently performed at the esteemed ProgPower USA festival in Atlanta, Georgia, will be playing at the Middle East in Cambridge, Massachusetts on Wednesday, September 17 (with current tourmates Vangough) as part of their current US tour. Opening that show will be Boston-based progressive metallers Protean Collective.

This will be the second high-profile opening slot Protean Collective have played in recent weeks, having opened another Boston area show featuring modern prog greats Cynic, Lesser Key and the Reign of Kindo. Even with this recent triumph under their belts, though, the Pain of Salvation show is a major source of excitement for the band, as the headlining act was one of their earliest major influences. In a recent interview with Maximum Metal's Vinaya Saksena, the members of Protean Collective recalled that Pain of Salvation's 2004 concept album "Be" was particularly influencial on the band when they formed the following year. Guitarist Steph Goyer said that album, along with the "Be (Original Stage Production)" live DVD that followed it, made a major impression on her, guitarist/ vocalist Graham Bacher and drummer Matt Zappa when all three were students at Boston's Berklee College of Music.

"It's an incredible album, and we would just watch that DVD over and over and over again," Goyer said. "We were obsessed with it. Really, the three of us bonded over it."

Bacher added that, for the band, this week's gig opening for Pain of Salvation "is a super exciting show, because it feels like part of where we came from."

Look for an interview with the entire band- Goyer, Bacher, Zappa and bassist Dan Ehramjian- on MaximumMetal.com soon. More information on the band can be found at proteancollective.com



Tuska Open Air Fest: Video Interviews w/ Tankard, Lost Society, Amoral, Battle Beast and Poisonblack!
9/12/2014 4:02:45 PM by Frank




Maximum Metal contributor TJ Fowler lives in Finland and had the opportunity to attend the country's biggest metal festival this year. Tuska Open Air Fest featured legendary bands like Anthrax and Emperor over a three day weekend of metal. Below is his video footage of the event including a show review and interviews with Tuska performers Tankard, Lost Society, Amoral, Battle Beast and Poisonblack. Read his full coverage of ...[Full Column Link]



New Interview with Youthful Danish Thrashers Aphyxion!
8/29/2014 4:15:51 PM by Frank H.




Danish stalwarts Aphyxion are set to unleash their furious debut record, "Earth Entangled", on September 1st via Mighty Music. The group's debut, produced by the famed Jacob Hansen (Volbeat), shows years of maturity and experience that defies their average age of 21. Maximum Metal was granted the opportunity to speak with guitarist Jonas Haagensen about the band's beginnings, where they are headed and why the country that created Legos is so damn heavy...[Full Interview Link]



New Dark Tranquillity Interview!
8/22/2014 4:30:26 PM by Frank




The metal scene is a constant, ever changing landscape. Full of peaks and valleys, it can be a hellish terrain to navigate for many bands. Experienced acts have been able to carve out their footholds and maintain their path with little to no deviation. Dark Tranquillity are one of those bands. Being in the business for a quarter of a decade the band have proven countless times they are nothing to scoff at. Greg Watson speaks with Niklas Sundin on the upcoming North American tour, the difficulties of international touring, and the releases--Construct and The Gallery here...[Full Interview Link]



MAXIMUM METAL MAGAZINE has arrived!
8/6/2014 2:52:22 PM by Frank

After 11 years of site updates, thousands of reviews, hundreds of interviews, dozens of columns, and a few humor pieces...

MAXIMUM METAL MAGAZINE has arrived!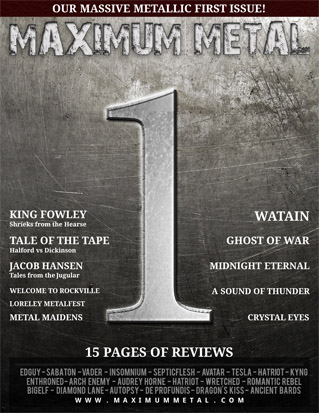 In our first edition, highlights include:
• Interviews with Watain, Ghost of War, Midnight Eternal, A Sound of Thunder, and Crystal Eyes
• Now & Then with Judas Priest and our under-rated JP songs
• An exclusive column "Shrieks from the Hearse" by metal thrashing madman King Fowley
• Metal Maidens from Canada!
• Live concert pics from "Welcome to Rockville" and "Metalfest Loreley" in Germany
• Reviews and Summaries
• A humorous "Tale of the Tape" on Halford & Dickinson
• Cool metal ads (sorta, if you like metal ads)

Maximum Metal magazine will basically contain recent postings from the website with added exclusive content. It is available in an online format and a PDF version you can view and download.

And Issue #1 is FREE to view and share!!!

So, from us to you the reader of issue #1, a big metal horns up and thanks from us. Read it, download it, share it with your friends, print it for the monster in your closet. Check it out right in here...
[Magazine Page Link]



"An Unturned Stone": Axegressor Interview!
8/1/2014 3:38:32 PM by Eric




When one thinks of that sweaty, mosh pit dance we refer to as thrash, often America's big four of Metallica, Slayer, Megadeth and Anthrax come to mind. The denim and leather crowd abroad may also interject Germany's big three of Kreator, Sodom and Destruction into the discussion. Finnish thrashers Axegressor have practiced what they preach, exhibiting their brand of vigorous and punishing mosh-riffs with exuberance to any spectator. Check out our new interview here...[Full Interview Link]



Alestorm Talk New Album
7/31/2014 2:09:45 PM by Eric

Scottish metal act Alestorm are set to release their new album, "Sunset On the Gold Age", on August 1st courtesy of Napalm Records. Maximum Metal contributor TJ had an opportunity to talk with vocalist Christopher Bowes about the band's new album, Undead Squid and Surf Nazis. Check out this audio interview courtesy of Skullbangermedia.net: [Video Link]




Archive Features >>>