New SLIPKNOT, LAMB OF GOD Concert Report!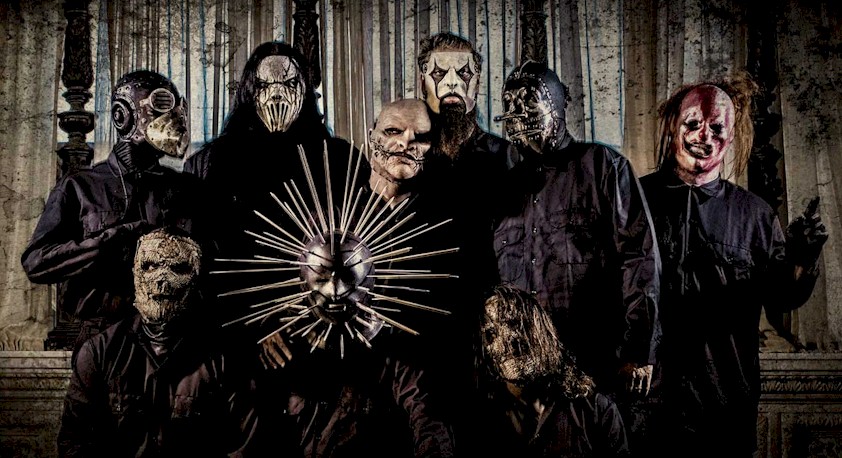 On August 11th, the metal masses descended on Jiffy Lube Live in Bristow, VA for their dose of the Summer's Last Stand Tour. A few metalheads, myself included, were glad to see the show still happened after Slipknot's bassist, "Vman", was hospitalized due to severe dehydration a week prior to the show. After getting the go ahead from the medical staff, the tour resumed and invaded.
The pit area began to rapidly fill up and people started filling up the seats a little more and the lawn seemed to also get a little more packed in anticipation of Lamb of God hitting the stage. When the lights went out and the opening notes of "Walk With Me In Hell" began, the crowd went insane and the band launched into the beginning of a punishingly polished, high energy set. I was blown away at how active Blythe was, leaping and jumping and running all over the stage like a rabid jackrabbit. His vocals sounded incredible live and the energy that he had throughout was infectious. Obviously, being in their home state gave them an extra boost of energy because after the second song, Blythe said "Holy crap. What the fuck is up Virginia?!?" before going on a comedic rant about families visiting.
As Van Halen's "Runnin' With the Devil" came on through the PA, the crowd immediately became frenzied and energetic in anticipation of the evening's headliners, Slipknot, hitting the stage. When the curtain drew back, it was almost as though you'd been transported to this eerie circus/fun house setting as 9 men in masks hit the stage. With the opening notes of "Sarcastrophe", the venue erupted into a chorus of cheers and an explosion of sound. As the song carried on, the two drumsets begin to alternately raise and lower and at the height of its short rise, began to rotate. Pyro began to come in as explosions and flame jets went off and Corey Taylor's snarl was at its fiercest. Taylor constantly addressed the crowd throughout the band's set as "My friends...no, no, My Family".
Read Greg Watson's full report here…
[Full Column Link]
---
MORE FEATURES:
»
New ACCEPT Concert Report and Gallery Pics!
I have lived here in Finland for about three and a half years, being transplanted from Tennessee into a heavy metal wonderland. In this span of time, I have had great opportunities to cover bands I could only dream of back in my home state. One of these great opportunities has been getting the chance of covering the legendary ACCEPT.
...[More]
»
25 Albums We Love That You May Have Missed!
There is a vast amount of hard rock and heavy metal bands releasing albums every year. A decade ago, we roughly estimated that there were somewhere in the range of 150,000 of those bands across the world. The Encyclopaedia Metallum website has almost 85,000 reviews alone.
...[More]
»
New Interview with Kosta Bayss of Episcopal Holocaust!
Many have sold their soul for rock and roll. This guy wouldn't sell his for shit. Goetic records, the home to Emperor of Myself (Greece), Margg (Persia/Ukraine), Northern Bastards (Ukraine), Upon Shadows (Finland/Uruguay), Wölfrider (Poland), and his own projects APVTH and Episcopal Holocaust, was born from refusal to conform and a self-serving idea that has become a more selfishly generous platform than he anticipated.
...[More]
»
Metal Styles Charted Against Listener Reaction!
Every now and then, some of my non-metal friends ask me what I'm listening to. Here's an ascending chart of how the music style influenced the listeners' reactions. It's fairly predictable, but Glam wins out as the friendliest where Black and Death tie for the most horrific reactions of this non-scientific study of hard rock and metal styles plotted against listener reaction.
...[More]
»
New Interview with Beartooth!
Red Bull Records recording artist Beartooth were one of the many performers slated for this year's "Welcome to Rockville" festival in Jacksonville, FL. The event, now in its fifth year, sold out once again with 50,000 paid attendees over the April 25th and 26th weekend.
...[More]