New Concert Report: Eviscera, Unleash the Archers, and Azathoth!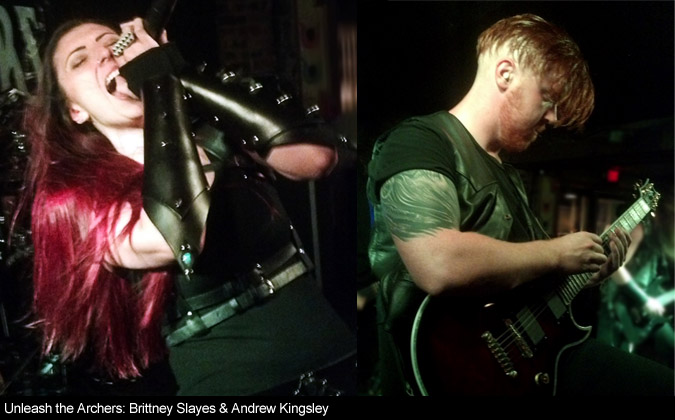 On occasion, I'll consider my own preference of metal show venues. I've been in everything from theaters to basements to big stadiums. The Golden Pony is a decent-sized club in Harrisonburg, VA, with two full bars and a professional sound stage with original music shows. Tonight was three metal acts and two and a half hours of headbanging heaviness.
Eviscera, Unleash the Archers, and Azathoth were one of those shows where everyone seemed to be having a great time and after each set the bands were willing to mingle about, take pics with fans, share drinks, and personalize all the merch sold. It was a dedicated crowd with the same interest--handbanging and having a blast.
Read Frank Hill's full report here…
[Full Column Link]
---
MORE FEATURES:
»
New Interview with Germany's Iron Kobra!
Germany's up and coming traditional metal act Iron Kobra is a band comprised of fans creating music for fans. They have only one goal, to play some hard rocking music they would love to listen to. The recent release of 'Might & Magic' serves up their take on classic hard rock and metal while incorporating their own elements of speed metal and thrash.
...[More]
»
ALKALOID Announces New Video, "Cthulhu" with NADER SADEK
German Death-Prog supergroup, Alkaloid, who have taken the metal world by storm with their explosive debut, "The Malkuth Grimoire" in March, will be finally taking the show on the road this week to Ireland for three dates before heading to Egypt to shoot their first video, the skull-splitter, "Cthulhu," with necro-visionary, Nader Sadek.
...[More]
»
New MOTORHEAD / SAXON Concert Report!
The legendary House of Blues's patrons on parade pay tribute in merch to the legends: Maiden, Metallica, Priest, Dio, and of course, the reason for the season, Motorhead, all represented loud and proud. If there was anyone under 25, they were probably cowering in a corner somewhere in fear for their ears.
...[More]
»
New SLIPKNOT, LAMB OF GOD Concert Report!
On August 11th, the metal masses descended on Jiffy Lube Live in Bristow, VA for their dose of the Summer's Last Stand Tour. A few metalheads, myself included, were glad to see the show still happened after Slipknot's bassist, "Vman", was hospitalized due to severe dehydration a week prior to the show.
...[More]
»
New ACCEPT Concert Report and Gallery Pics!
I have lived here in Finland for about three and a half years, being transplanted from Tennessee into a heavy metal wonderland. In this span of time, I have had great opportunities to cover bands I could only dream of back in my home state. One of these great opportunities has been getting the chance of covering the legendary ACCEPT.
...[More]
»
25 Albums We Love That You May Have Missed!
There is a vast amount of hard rock and heavy metal bands releasing albums every year. A decade ago, we roughly estimated that there were somewhere in the range of 150,000 of those bands across the world. The Encyclopaedia Metallum website has almost 85,000 reviews alone.
...[More]
»
New Interview with Kosta Bayss of Episcopal Holocaust!
Many have sold their soul for rock and roll. This guy wouldn't sell his for shit. Goetic records, the home to Emperor of Myself (Greece), Margg (Persia/Ukraine), Northern Bastards (Ukraine), Upon Shadows (Finland/Uruguay), Wölfrider (Poland), and his own projects APVTH and Episcopal Holocaust, was born from refusal to conform and a self-serving idea that has become a more selfishly generous platform than he anticipated.
...[More]