New Interview with Ingo Powitzer--
Guitar Tech with the Scorpions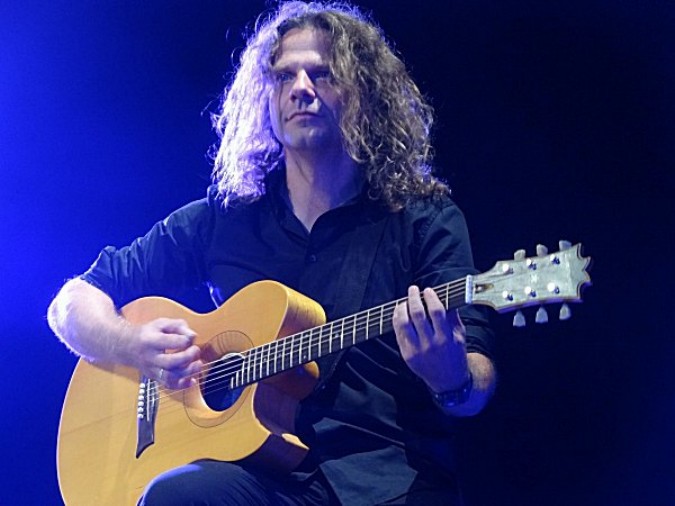 The Scorpions are currently celebrating their 50th anniversary with a worldwide tour. Locations include: China, Japan, North America, Europe and even Australia will see them for the first time to play down under this year.

Is it as glamorous as it might seem to be touring the world with one of the most iconic German Hard Rock bands? It can be, but it also takes time, dedication and a lot of sweat.

Ingo Powitzer has been the Guitar Technician for lead guitarist Matthias Jabs for over 16 years now. Not only is he in charge of making sure the array of beautiful instruments are well taken care of, but he is also a musician in his own right and plays with the Scorpions on stage as well contributing in the studio.

In a new interview, Ingo talks with Joanne Laroche about getting started, his day, and his tech advice here...
[Full Interview Link]
---
MORE FEATURES:
»
Headbanger's Ball Tour 2016
Wow, when was the last time you saw this logo? MTV's "Headbangers Ball" aired its first episode on April 18, 1987. Since then the show has existed in some variation via networks or online programming. Its prime time was the 1987 through 1995 period when it routinely aired around midnight every Saturday night.
...[More]
»
New Interview with Voices of Ruin!
"Born of the Dark" is hands down the best death metal album I've heard in a long, long time. Combining melodic intros with death metal riffing, black metal blastings and some of their own flavor, Voices of Ruin have created the recipe for a bloody good death metal album.
...[More]
»
13 Great Black Sabbath Songs Without Ozzy or Dio!
Everybody knows who Ozzy Osbourne is--everybody. The vocalist on Black Sabbath's early classic songs "Iron man", Paranoid", "Black Sabbath" and many others has become a cultural icon across the world. He left the band at the end of the 70s and had a successful solo career of various incarnations.
...[More]
»
New Interview with Drummer Joey Muha!
It's amazing, the things you can find on YouTube if you keep searching and digging. Some nights, I can sit on my couch and click so deep in the videos, that I end up watching things completely different than what I started watching. That's how I ended up watching Joey Muha's metal drum rendition of "The Wheels On The Bus".
...[More]
»
Escaping the Extreme: The Non-Metal Moments
We've all experienced it...that moment where metal no longer is a reason to rise and exist each day. Granted those moments are few and far between, but at some point our brains need that wine and dine, all-inclusive resort for some rest and relaxation.
...[More]
»
New GHOST Concert Report!
On May ninth, Ghost descended upon Richmond and brought their unique stage show and massive presence to the Virginia Commonwealth. As the stage was set up for the evening's headliners, GHOST, to take the stage, the air became positively electric as the crowd eagerly awaited sightings of Papa and the Ghouls.
...[More]

Drummer Joey Muha
"I've always kind of drummed along to these 'out of left field' songs. It's just how my crazy mind hears all of these songs!


The Fine Constant
Sarah Longfield's career began as a YouTube phenomenon when, still in her teens, she began posting videos of herself...


Christian Muenzner
Eternity's End
"Metal bands just don't get as big as Iron Maiden, AC/DC or Metallica anymore."



Vehemence - Forward Without Motion
Vehemence is back with....vehemence and vengeance


Crystal Ball - Deja-Voodoo
Swiss melodic hard rock delivered with surgical precision


Theatres des Vampires - Candyland
This symphonic heavy Gothic album sounds a little too mechanical


Cult of Luna and Julie Christmas - Mariner
What the hell did I just listen to?


Wired Anxiety - The Delirium of Negation
Grooves, Riffage, and Pig Squeals...Oh My

Gruesome - Dimensions of Horror
Old school death thrash that feels like home


Helstar - Vampiro
Classic US power-thrash with way too many solos and tempo changes to engage


Sabaton - The Last Stand
Epic German heavy metal that is starting to sound very repetitive


Eternity's End - The Fire Within
Extremely polished German progressive power metal


Iron Fire - Among the Dead
Quality danish power metal that remains true as steel in delivery and substance
---

Earsplit PR is an independent public relations company based in the greater NYC area. They have been promoting labels, artists and industry professionals for over fifteen years. Check out Dave and Liz here: [LINK]
---