MAXIMUM METAL MAGAZINE has arrived!
8/6/2014 2:52:22 PM by Frank

After 11 years of site updates, thousands of reviews, hundreds of interviews, dozens of columns, and a few humor pieces...

MAXIMUM METAL MAGAZINE has arrived!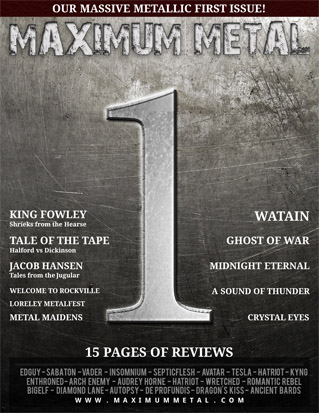 In our first edition, highlights include:
• Interviews with Watain, Ghost of War, Midnight Eternal, A Sound of Thunder, and Crystal Eyes
• Now & Then with Judas Priest and our under-rated JP songs
• An exclusive column "Shrieks from the Hearse" by metal thrashing madman King Fowley
• Metal Maidens from Canada!
• Live concert pics from "Welcome to Rockville" and "Metalfest Loreley" in Germany
• Reviews and Summaries
• A humorous "Tale of the Tape" on Halford & Dickinson
• Cool metal ads (sorta, if you like metal ads)

Maximum Metal magazine will basically contain recent postings from the website with added exclusive content. It is available in an online format and a PDF version you can view and download.

And Issue #1 is FREE to view and share!!!

So, from us to you the reader of issue #1, a big metal horns up and thanks from us. Read it, download it, share it with your friends, print it for the monster in your closet. Check it out right in here...
[Magazine Page Link]



"An Unturned Stone": Axegressor Interview!
8/1/2014 3:38:32 PM by Eric




When one thinks of that sweaty, mosh pit dance we refer to as thrash, often America's big four of Metallica, Slayer, Megadeth and Anthrax come to mind. The denim and leather crowd abroad may also interject Germany's big three of Kreator, Sodom and Destruction into the discussion. Finnish thrashers Axegressor have practiced what they preach, exhibiting their brand of vigorous and punishing mosh-riffs with exuberance to any spectator. Check out our new interview here...[Full Interview Link]



Alestorm Talk New Album
7/31/2014 2:09:45 PM by Eric

Scottish metal act Alestorm are set to release their new album, "Sunset On the Gold Age", on August 1st courtesy of Napalm Records. Maximum Metal contributor TJ had an opportunity to talk with vocalist Christopher Bowes about the band's new album, Undead Squid and Surf Nazis. Check out this audio interview courtesy of Skullbangermedia.net: [Video Link]



Desolator Set to ACCELERATE!
7/25/2014 2:24:28 PM by Frank




Desolator are set to release their new EP "Accelerator" later this month. The EP follows up on the success of the group's debut, "Total Attack", last year. Guitarist/vocalist Jamie Brooks had time to chat with me about the band's upcoming tour of the UK in support of the album. Check out our new short interview with Jamie here...[Full Interview Link]



New Interview with Sahil Makhija of "Headbanger's Kitchen"!
7/18/2014 3:05:34 PM by Frank




Sahil Makhija, a/k/a "Demonstealer," a/k/a "that Headbanger's Kitchen guy" has his hands in a lot of pots – figuratively and yes, literally. And yet, there's a whole lot more to this corrupted cook than just a great recipe and brutal taste. "It's very simple really. Anyone can do an online show. All you need is a good idea. Without a real solid idea, you'll just make another thing to watch. Then have good, quality content. And with a little technology, you could have a good looking show." Check out our new interview with Sahil here...[Full Interview Link]



Apocalyptica Concert Pics!
7/16/2014 2:16:10 PM by Frank H.




If you're a fan of the Finnish band Apocalyptica, our overseas contributor, TJ Fowler, has put some on our Instagram page. There are only a handful, but the guy takes some bangin' pics. If you like the band or great live concert shots in general, check out them out here...[IG Link]



New "Metal Maidens" Section Update!
7/15/2014 2:20:14 PM by Frank H.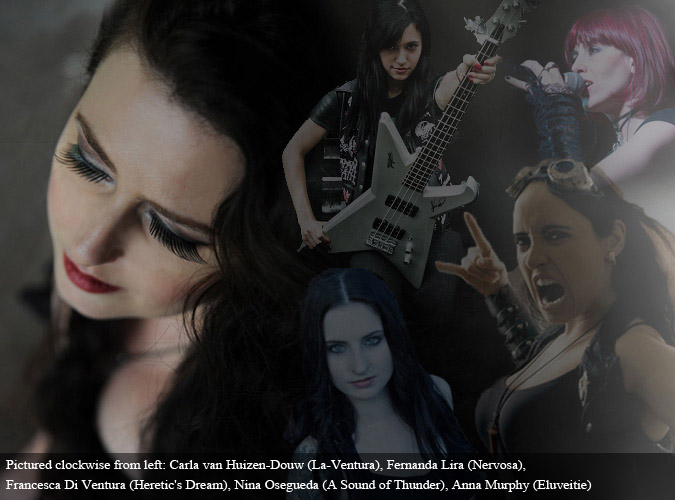 It's been few months, but we've updated the ladies of rock and metal! Look for these new additions in our Metal Maidens section: Lzzy Hale - Halestorm, Sara Squadrani - Ancient Bards, Rossie Vady - Bloodhunter, Noora Louhimo - Battle Beast, Jill Janus - Huntress, KT Paige - Romantic Rebel, Kobra Paige - Kobra And The Lotus, Alissa White-Gluz - Arch Enemy, Brittney Slayes - Unleash The Archers, Pamela Moore, Elize Ryd - Amaranthe, Ann and Nancy Wilson - Heart...[Full Column Link]



Road Report--Metalfest 2014 from Germany!
7/11/2014 2:42:07 PM by Frank




Maximum Metal contributor TJ Fowler attended the Metalfest 2014 event in Lorely, Germany. His coverage includes video interviews with various Metalfest performers like Bloodbound, Grave Digger and Sabaton. Read his full coverage of each day's events with photos...[Full Column Link]




Archive Features >>>