New Interview with Blitzkrieg!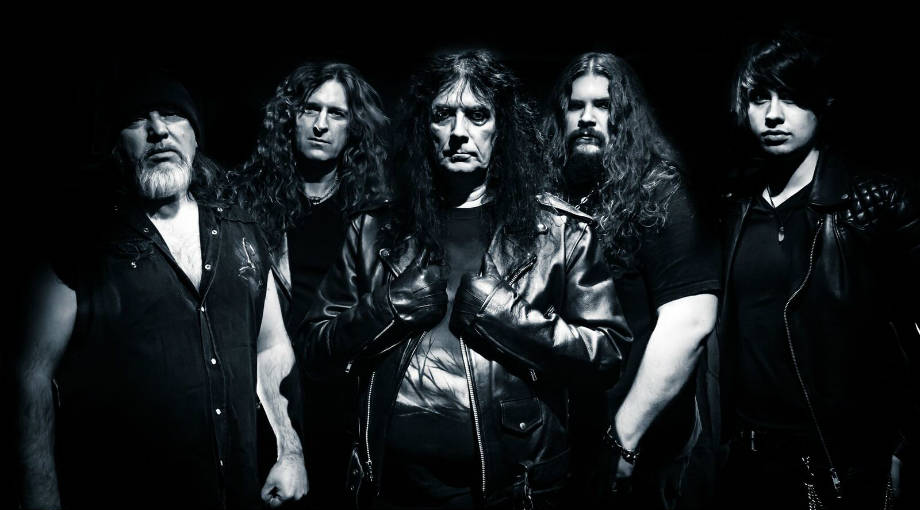 Who can doubt Blitzkrieg's influences on the early days of heavy metal, notably the stylistic movement that showcased the next phase of Birmingham's pounding metal--the New Wave of British Heavy Metal (NWOBHM).
Blitzkrieg formed in Leicester, UK in 1980 and soon released three demos. The single "Buried Alive" was released in 1981 and the B-side track, "Blitzkrieg", is arguably the band's most well-known song. The track was covered by Bay Area icons Metallica on their "Creeping Death" single and later included on Garage Inc. as well as the re-release of Kill 'Em All. The band have released eight studio albums and recently celebrated the 30th anniversary of their pivotal full-length debut 'A Time of Changes'. Earlier this month the band announced a new record deal with Denmark powerhouse label Mighty Music.
Eric Compton talked with guitarist Ken Johnson about the new label deal, the band's recording plans for 2017 and if NWOBHM ever really went away...
[Full Interview Link]
---
MORE FEATURES:
»
Staff Top Three Hard Rock/Heavy Metal Love Songs!
Rarely is love the subject matter of heavy metal where death and destruction play primary roles.The simple answer may be that the qualities we tend to see with love are incongruent with the way we picture the heavy metal environment and themes. Love is connective and nourishing.
...[More]
»
New Interview with Black Oak County!
Denmark's Black Oak County are a heavy four-piece that slide perfectly into that niche between hard rock and heavy metal. The band formed in Esbjerg in 2012 and released their self-titled debut album in January courtesy of Mighty Music (Tygers of Pan Tang, Sea).
...[More]
»
A 90s Look at the Albums Metallica Should Have Made
The 1991 -1996 period for Metallica fans was pure anguish.That five-year period between Metallica albums wasn't a fair one. The lofty expectations were ultimately going to lead to disappointment even if 'Load' was far better than it was. It's just human nature.
...[More]
»
Staff Want List for 2017!
Hello 2017! A new year is upon us and all of us here have wants and anticipations that we hope will ripen to metal fruition! Here's some generic fun from us here at MM and a chance to throw out a plug or three. Drum roll Nicko……[Full Column Link]
...[More]
»
Looking Back--Staff Top 10 Albums of 1987!
"History was in the making and my generation could feel the fire and desire in the air and on the airwaves. We held our breath hoping this would trap that year in a paradox gasping for oxygen and still blowing the winds of rock across America forever.
...[More]
»
Staff Year End Awards for 2016!
We've gathered up our thoughts on the hard rock/metal releases of 2016! Even if you really don't give a shit what any of our opinions are, there are so many releases put out in this age of do-it-yourself creation that you may see names you missed, older bands you forgot existed or unknowns to look up and sample.
...[More]
»
Down the Roads of Madness: Pigeonholing Metal
The Devil's Music. Hymns to Hell. Come up with whatever ostentatious name or descriptive title you may have heard over the years. As metalhead's, at some point in our musical lives we've inevitably been told that we are going to hell for listening to that "Devil Music".
...[More]
»
New Performers Added to Our Metal Maidens Section!
Dutch singer-songwriter Charlotte Wessels (Delain) has a voice that is both infectious and emotive. Able to go from sing-song siren vocals to powerful emotional tones and then to almost operatic without missing a note. With her vocal arsenal, Wessels can stand voice to voice with any contemporary.
...[More]
»
New Concert Report for The Pretty Reckless!
One of the most amazing places for a loving father and husband to rock is House of Blues at Disney Springs....After a pre-rock show warm-up of all the Coke you can do at the Coca-Cola store (international flights of suds!), I headed over to find my kind --1,000 lost souls all garbed in black.
...[More]