I N T E R V I E W S

Nishad George - The Offering
"Unstoppable Vision"

Interview with guitarist Nishad "Nish" George from The Offering about the creative process behind their new release Home.
By: Greg Watson | Published: Friday, August 30, 2019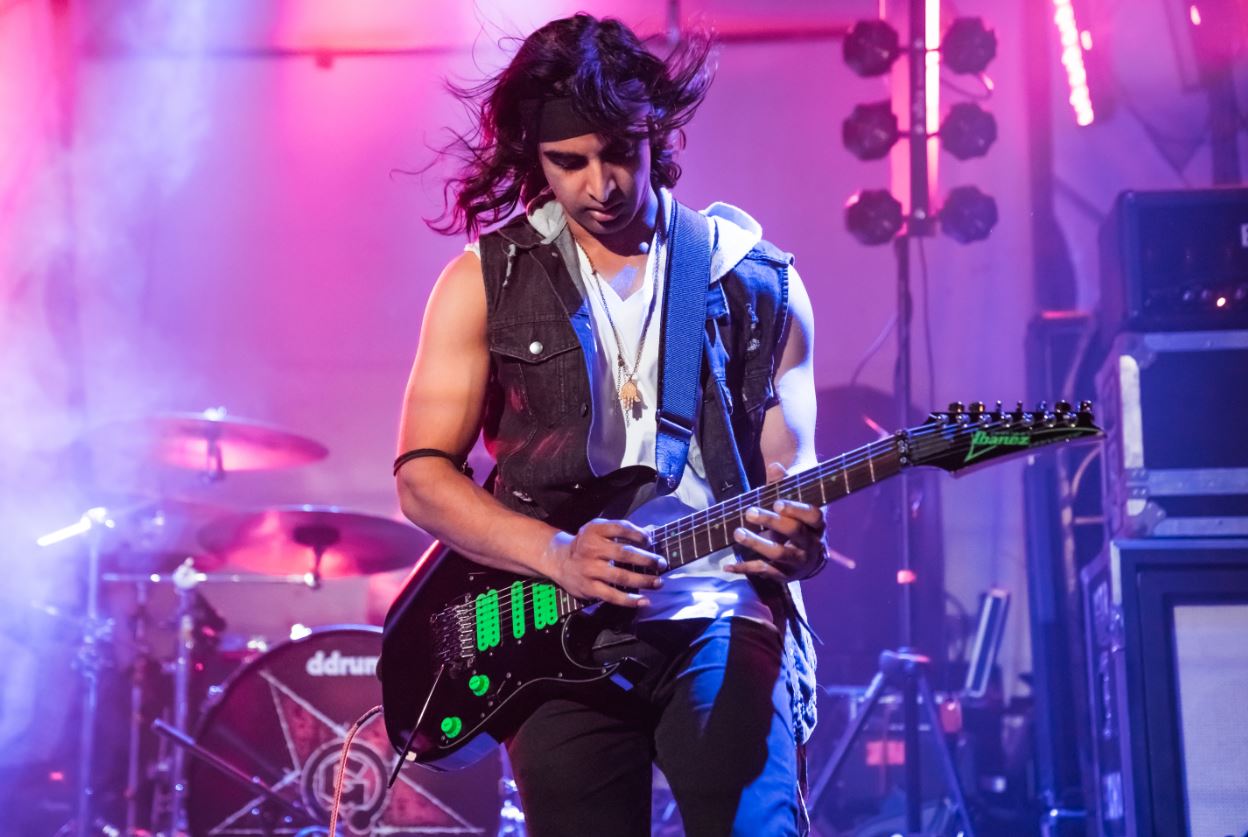 The Offering's EP from 2017 made a solid mark on our writers earning the highest review score we could give--5 out of 5.

Their newest full-length release 'Home' is out now (August 2nd, 2019) on Century Media records. writer Greg Watson took some time to talk with guitarist Nishad George about some of the processes and lyrics within 'Home'. With a varied sound that you can't frame into one genre, read on for more about a band that we saw as unique, incredible, and possibly the future sound of metal.
"We write and perform songs that we wished existed in the world, rather than complain about it while doing nothing."

Maximum Metal: Thanks for taking the time to chat with us. 'Home' is out now via Century Media and I must say is an incredible listen. What was the journey for you and the band getting to this point and now that the album is out, how do you all feel after that part of the journey has been completed?

NISH: Appreciate the chance to speak with you guys. It's been four years to get here with lots of ups and downs. There were tons of local shows, scrapped demos, member changes, run-ins with the hard end of the music business, and far more just to get to this stage in our career. It's funny you even use the word "completed…" it seems like we fought this hard just to get started.

MM: The Offering is a very unique band that covers a spectrum of styles. Do you feel that helps or hinders you as a band?

NISH: Thank you for calling us unique. I think it will always help. If you expect something to be unpredictable, by nature, you as a listener will always have no expectations other than the question of whether you like it or not, as opposed to being hindered by peer pressured, nurtured details that come from a domesticated subculture... which shouldn't matter in my opinion.

MM: Musically, with all of the influences that are represented, how does all of that coalesce when writing a song or an album?

NISH: To be honest, we don't consider the styles when approaching any part on the album. I always throw ideas at the wall and then encourage the rest of the guys to build on them with their own personalities. Everyone in this group has a unique voice on their instrument (or in Alex's case, literally).

MM: With the songwriting process, do the lyrics get written first and then the music comes after or vice versa?

NISH: The music always gets written first to start the process. Usually I finish a demo with very loose parts, and then Alex and I will try to establish a strong melody for it. Alex's role is as the gatekeeper: if he cannot give a song a personality, then I throw the demo out. I have no attachment to music I write if Alex can't put his voice on it. If he succeeds, then we will alter the music and lyrics jointly until the very end. Sometimes music can highlight lyrics, and sometimes lyrics can highlight music, so it's our intent for there to always be some sort of interplay.

MM: One of the things that I found most impressive with this album is how raw and visceral the songwriting was. You can tell that there was really some effort put into the songs both musically and lyrically. What prompts the honest writing style with the album?

NISH: Thank you! The execution is far from raw, but the intent is, and I'm glad you noticed. We are very meticulous about the details, myself especially, but everyone in the band holds themselves to high standards. We write and perform songs that we wished existed in the world, rather than complain about it while doing nothing. That is our collective songwriting fuel, amongst other personal reasons.


MM: The album itself seems to be about the struggle within the mind as well as an almost existential struggle. Can you talk a little bit about the concept of the album and where the inspiration for that came from?

NISH: It's a little more than that. Alex is as detailed with the lyrics as I am with the music. The core of his approach came from reinvestigating his own life, where he came from, why he believes what he believes, what's the purpose of his being. It's part existential, heavily inspired by esoteric literature (and as someone from the outside, it's great to see how he's crafted his lyrics to have both worlds). It's really his own self exploration and urging to prompt listeners to do the same, with a dense and ever evolving presentation.

MM: One of my favorite songs on the album is the title track, "Home". It's one hell of a song and showcases just how versatile and multi-faceted you are as a group. What was it like writing this track in particular and how long did it take to record this track in particular?

NISH: Thank you very much! So much work was put into that. There are over 150 tracks on that song alone, including choral and orchestral parts. Writing the song overall maybe took about a week or two's worth on my end, but spread over a couple months to clear my head and re-approach the process with fresh ears every time. I write in sequence, that is, I rarely just piece riffs together. I will start with one part and then write from that part in the song spontaneously forward, or, in the case of "A Dance With Diana," write backwards. I expected it to be 14 minutes once I wrote the first two minutes. It had a certain flow to it that made it obvious from the beginning. Steve recorded the drums in an entire day, maybe it took me a week to do all the guitars, a few days for the orchestral and synthesized stuff, a day for Spencer's bass parts, and it took Alex well over a week spread over a month or two to get the takes right. His final line in the song was the last line he recorded for the album, on the first take, which we both felt was incredibly special considering its context.

MM: I noticed that in several songs on the album, there are references to locations and characters off of the EP. There's a line in "Violets" that says "Take me Maria to Elysium". In the song "The Well" from the EP, there is the line "You've been a sinner, Maria. Down the well to hell we go". Is Maria a reference to anyone in particular?

NISH: We write songs with respect to its album, albums in respect to discography…. we always get ahead of ourselves and think big picture when it comes to the creative end. To put it into perspective, we are already talking about what our fourth or fifth album will sound like and what themes it will have. I say that because, Alex has the same intentions for his lyrics, he's establishing a lore in itself that The Offering will carry throughout our discography. There are far more references to the EP and even other small things he and I have done on HOME, beyond the Maria lines.

As for "Maria," he drafted a story concept for the EP, which was originally intended to be a full length. "Violets" was a song written from the EP days, so making it on the bonus track isn't quite relevant to the concept of HOME, but we all love that song and knew we had to have it as a B-side.

MM: In "Failure (S.O.S.)", the line "It won't be long before the Lesser Keys control me" caught my attention a little bit. Is that a reference to the Lesser Keys of Solomon? That songs seems like the narrator is struggling for control over their inner self and that outside forces are trying to take over his/her mind. Really, really enjoyed that song quite a bit.

NISH: Yes it is, and he'll be happy to know that you picked that up. He wrote his lyrics so that an eye educated in ancient texts, esoteric literature, and grimoires will be able to view the album differently than the casual listener.

MM: I loved the video you all released for "Ultraviolence". Do you all feel that music videos are still a viable option of connecting with prospective fans as well as another medium to get your name out there?

NISH: I think they are, especially for my generation which got a lot of inspiration to listen to metal from visuals such as Headbanger's Ball. I think if there's a creative vision to be fulfilled to tell your story, it should be done. Movies, music, books, paintings, even video games… they're all creative media that can be used to present a work of art. However, it's very clear that the cost-benefit ratio of filming one have fallen out of favor, and it's implicated in limited modern day record label video budgets. That being said, it's just a monetary limit, and you can't stop someone with a vision. I was just on set yesterday watching New Years Day film their latest music video, and seeing how Ash pulled it off, it made me happy to see unbridled creativity and a great circle of friends & labelmates sharing your vision can still make something of quality in 2019.

MM: The band just wrapped up a tour over in Europe that culminated in playing at Wacken. Tell us a little about the tour and what it was like playing at the famous fest. What kind of feedback did you all receive on that run? Was Wacken as crazy as it seems from the videos that are out there?

NISH: It was a blast. Who gets to say that they mark the release of their debut album by Wacken? The treatment was fantastic across all the venues, and the promoters and fans seemed to really appreciate us. We like the big stages and we like to win people over. The craziest thing to me was the fact that people in Wacken, a place we've never played before, knew the lyrics to our songs.

MM: Are there plans for any touring in the States currently? How about other places in the world?

NISH: Not currently, unfortunately. You know I would love to play in the states... we still haven't played in my hometown yet! But it would seem that Europe is taking more of a liking to us. We are planning more shows overseas, but I can't speak on them currently without blowing the lid on the operation.

MM: Jumping back to the recording, you all worked with Fredrik Nordstrom on this album. What was it like working with Fredrik on your debut album?

NISH: I love Fredrik. I grew up a huge fan of his work, in fact, some of his albums are the reason I wanted to be a metal producer when I was younger. To be at a point in my life where I'm there in the same room years later mixing our debut album with him on Century Media, on a road paved with inspiration from the work that he created… the shock didn't hit me until well after the trip. We had a great time together. I love his terrible sense of humor and I find myself constantly telling friends back home of some of the funny things he'd say. He's quite famous in the Bay Area now because of it, I'd say.

The fact that he worked well over his time limit with us, that he put me up in the studio on short notice, and let me work so closely with him on the mix so that each of the thousands of tracks we sprinkled and shoved on each track sounded proper... you couldn't ask for a better collaborator with pure intentions on a project. He just loves making a good metal record. It's that simple and obvious.

MM: As a band, what is the one thing you hope someone picks up on or takes away when listening to 'Home'?

NISH: Each of us in the band likely wants something different personally for our own, very nuanced contributions to the record. But I speak for all of us that I say that I hope someone hits the repeat button and hears or learns something new, whether it's in the music or about themself. Put it on a different set of speakers. Find that kick pattern that you didn't notice before, that vocal harmony that you didn't hear earlier, one of the subtle synth tingles, some of the backmasked lines, bass work that is hidden in the sub ranges… Open up the lyric booklet, dissect each line and see how it's delivered, what does Alex mean? Even better, how do the words relate to your life... do you feel it applies to you, or do you think you're onto something that not everyone else could pick up on? Or do you want to pick up and try playing guitar or drums or try to learn how to sing and express yourself? Just make it the most personally fulfilling experience. Smash the repeat button and try to find something new, that's all I can ask of you.

LINKS:
Facebook
Century Media









ALL INTERVIEWS FOR: THE OFFERING
| | | | |
| --- | --- | --- | --- |
| INTERVIEW | INTERVIEWER | DATE | TAGLINE |
| Nishad George | Greg Watson | 8/30/2019 | "Unstoppable Vision" |
ALL REVIEWS FOR: THE OFFERING
TITLE

DOR

COMPANY

REVIEWER
DATE MADE
RATING
Home

2019

Greg Watson
10/1/2019

5

The Offering EP

2017

Greg Watson
12/8/2017

5
<< back >>