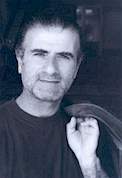 THE FIRE STILL BURNS!

Marc Storace has been through it all. During Rock's many highs and lows, Marc has actually lived the spirit and the growth of Rock/Heavy Metal music as a protagonist ever since it was still a cultural taboo around 3 decades ago. But he always kept a focused mind and this fact might have contributed to the longevity of his singing career.

Of Maltese birth, he joined Swiss rockers KROKUS in the late 1970's after having spent a number of years with 1970's progsters Tea. Recently, while in Malta for a few days, Marc accepted to do a charity gig with a local backing band in the Maltese town where he actually spent his childhood and performed with his first band. I grabbed the chance to interview him and discuss life with the premier Swiss Metal band, past relationships, and about what lights his fire.

Chris: Within the last 3 years you've brought together KROKUS, written & recorded "Rock The Block", recorded the WARRIOR album, did the "Fire And Gasoline" live album, recorded an album with BISS, done several gig and festivals with KROKUS, started work on another KROKUS C.D……Samson got his strength from his hair, from where do you get your own energy?

Marc: Well, my hair is still here. (laughs) Joking apart, I think I get all my energy from my family. I have 2 children, aged 9 and 12 years who are very sweet and energetic. Even my wife brims with energy – she runs her own cosmetics salon with her own clientele. Plus basically I'm just in love with my work – it doesn't take 2 wake-up calls to get me up in the morning when I'm doing this work. I've been doing this for 3 decades, ever since I was 14 when I already had a repertoire of songs by BEATLES, ROLLING STONES, ELVIS and whatever was around then.

The subject then turns to Marc's recent endeavours.

M.: I've recently done this QUEEN medley with the singer of GOTTHARD for a Swiss T.V. station.

C.: And would you be ready to involve yourself in music other than singing?

M.: Of course I'm open to whatever would be offered because as long as my hands are full doing music then I see no reason why not to do other things which are time-consuming. Whatever I do I like to do up to a perfectionist level. That's the way I do my music, write my lyrics, look for my melodies, perform on stage or whatever.

C.: As suggested earlier you've involved yourself in recordings by several other artists. So if you were asked to contribute lead vocals to someone's recording, what would you look for before accepting?

M.: The first thing I ask is ' send a demo, something to listen to, and I'll call you back.' I don't get involved emotionally (or physically) with anybody or anything. If I dig the music, then comes my fee and then we'll get into details like where I'm gonna stay, where we're gonna work, if I'm gonna work at home…….

C.: The logistics of organizing the recording I suppose…..

M.: …..logistics, yeah…

Marc then gives a few hints on his solo-recording, which he has been planning for some time….

M.: I've got a record company interested, actually one or two are interested, but right now I still have my handbrake pulled on. But it's on the backburner and I'm dealing with the things upfront first.

Recently long-time KROKUS guitarist Fernando von Arb was forced to relinquish his role within the band, prompting the dismay of several KROKUS fans. I ask Marc a question related to this significant vicissitude.

C.: I think "Fire And Gasoline" (the most recent, Live, KROKUS release) is a great live album - actually I think Fernando left on an artistic high-point. Do you agree?

M.: That's true. His technique had improved with age, like an old wine. It's a pity he decided to leave. On the other hand, although Fernando has had some problems with his health in the past, this time it isn't connected with past health issues. Last year a problem cropped up with his sinews and he had a little operation. After that we had to take time off and we actually postponed the American tour 3 times because of him. In the end Fernando stepped forward at the beginning of this year and heroically said: 'Guys I don't wanna block the road for ya. I'm not up to touring – that's the way I feel. I'm gonna step back. Get another guy.'

I called Mandy Meyer that same night because he happened to be free and I wanted to grab him before anybody else did. And I lay in bed, couldn't sleep, so I grabbed the phone and called him. It was around midnight. He replied: 'I sure as hell would like to give it a good try.'

C.: Of course Mandy had already played with KROKUS in the 1980's. But do you ever ask yourself what a particular (ex-) member would be doing at a particular moment?

M.: Well, actually Mandy has been living in Switzerland all this time and we actually met a couple of times to barbeque together with my wife and kids. We've had this friendship going on and we've never really lost touch. He had been playing guitar in one of the top Swiss bands, called GOTTHARD, actually the top Swiss band for a while.

C.: Yeah, GOTTHARD have been relatively successful.

M.: During the 1990's they were really successful, but mostly in Switzerland though. GOTTHARD has a problem outside the Swiss borders.

C.: Due to prejudice towards Swiss bands, maybe?

M.: Not because of that. Times have changed. I think in the 1980's the doors were still open and we (KROKUS) were lucky to have come out in the 80's and made the spring over to the States when the whole market was open then.


"Whatever I do I like to do up to a perfectionist level."

C.: The States are notoriously difficult to break into……

M.: Very. It's very difficult. They've got so much of their own talent, in difficulties. And it's the same with anywhere else – why would the Germans want to accept a new band from Switzerland or from Belgium or from Malta or from France when they have so many good musicians and bands of their own who are struggling to forge recognition.

C.: On to a different topic. Earlier on we referred to the forthcoming (15th) KROKUS album. Are you in a position to describe its development? For example should we expect a radical departure from the sound of "Rock The Block", the previous studio album?

M.: Well actually, its on hold – that's how its developing! But we have the first leg of pre-production behind us. And that includes Fernando – because this happened last year, before I accepted to do the BISS album.

Back in 2004, we were on tour in Switzerland doing the "Fire And Gasoline" tour, when Fernando started having problems with his finger and had the operation. We then cancelled the American tour (as explained earlier). Basically we switched from 'tour mode' to 'songwriting mode' and went into the first pre-production (phase) just doing demos.

Then we took a break. During that break BISS called me and I recorded my singing for that album.

(Referring to you earlier question), 'radical' departure not really but a slight change there will be, of course. I mean we also have to allow for Mandy Meyer's new presence in the band to be able to establish itself. We'll just carry on with the same philosophy, basically, but there will be a slight sound change.

C.: We're at the doorstep of another summer - are there any festivals planned for KROKUS?

M.: Yes, (for example) we're playing Baalingen in Germany, which is one of the biggest Heavy Metal/Hard Rock festivals and it's the festival's 10th Anniversary so we're expecting an even bigger attendance.

C.: Do you ever have the opportunity to check out any band in billings of these festivals? If 'yes' have any particular band/s impressed you recently in such occasions?

M. : Yes. STRATOVARIUS and…..(pauses to think)….you know, I'm really bad with names!

C.: So you liked Timo Kotipelto, STRAOVARIUS' lead vocalist…..

M. : Yeah, he's good.

C.: This weekend you shall be singing in the same area (in Malta) you were brought up as a child, if I'm not mistaken. So after 3 decades touring and singing around the world, it's as if life comes full circle……did this observation ever cross your mind?

M.: Yeah, it did actually. But, you know, you're the first person to have told me this. I've been traveling around the world and now ended up in (the town of) Sliema. Here was where in a bar along the town's bay, I grabbed a microphone in my hands for the first time at the age of 14.

The interview closes as Marc and I reminisce bygone times. It's curious noting that although Marc has never performed in his Malta with KROKUS, support and admiration from his 'co-nationals' (for want of a better phrase) has never faltered. Amongst the set-list performed at the aforementioned charity-gig, besides 'Mad World', 'Tokyo Nights', 'Screaming In The Night' and others, were the songs 'Glorimont' and 'Alexandra' which Marc hadn't sung live since the early 1970's, with TEA.

Many things have of course changed since then, but the spirit of rock has been jealously treasured.

--- Chris Galea luciferlament@yahoo.com ---

--------------------------
Current KROKUS Line-up:
Marc Storace: vocals,
Patrick Aeby: drums,
Tony Castell: bass,
Mandy Meyer: guitars,
Dominique Favez: guitars.

***

Recommended Discography:

With KROKUS -
"Metal Rendez-Vouz" (1980)
"Hardware" (1981)
"Headhunter" (19
"Rock The Block" (2004)
"Fire And Gasoline"(2004)

With TEA - "The Ship" (1975)
With WARRIOR - "Salvation"(2004)
With BISS - "Face – Off" (2005)

***

Official KROKUS web-site:
www.krokusonline.com

Official personal web-site:
www.storace.ch