I N T E R V I E W S

Loud Guitars, Chain Saws and a rock sound like no other, brings to mind the band Jackyl and their notorious rock and roll. Through the years Jackyl has performed many different venues, experiences like playing Woodstock í94 and playing with Brian Johnson. Jackyl has kept the idea of being a rock band alive with the use of a chainsaw and creative song lyrics. Look for Jackyl, chainsaw in hand, on tour this spring and summer.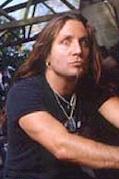 What are you looking forward to on this tour and are you touring with any other bands?
Jesse Dupree: We are not touring any other bands as far as we know, we generally like to support the local bands, there are a lot of local bands and undiscovered talent and we try to give them chance and get in front of a crowd and do their thing. We were lucky enough to have bands that allowed us to come in and play when we were trying to gain exposure.

Is there a new Jackyl album in the works and if so when can we expect it?
Jesse Dupree: We are always writing and working and we have been really busy with touring extensively over the last year, and so we took a break, we are kicking back in gear and kicking out some more new stuff out on this run, that is what sound checks are for.

Which album from Jackyl are you most proud of and why?
Jesse Dupree: Which one am I most proud of? That is like saying which one is your favorite kid, you love them all. There is something special about each one of them, you know, whether itís the first one which is your first or whether itís the record with Brian Johnson from AC/DC singing with us, things like that makes each record special.



"there are a lot of local bands and undiscovered talent and we try to give them chance and get in front of a crowd"

How has Jackyl changed over the years as a band?
Jesse Dupree: How have we changed, you know, I donít know how much weíve changed, that would be up to the people that come out and see us play and see our shows. AS far as me, I donít think we have changed; we still plug our guitars into our amps just as we always have and we still try to turn up the knobs till they break off. Unless we turn them down, we canít really change.

Where did the idea of using a chain saw in your songs first come in?
Jesse Dupree: You know, its like, its like why not, itís hard to imagine not doing it. I donít understand, the question is how come nobody else has had a chain saw in their song. Itís the most definitive instrument for rock and roll.

What is your most memorable moment of performing with Jackyl?
Jesse Dupree: for some reason there is a lot of them, if I think hard about them, I think of a bunch of different ones, the first one that comes to mind was playing at Woodstock Ď94, and the stage turned around and there are a million people in front of you, and you know you are going out world wide, that is obviously a trip and is something that makes me proud of our performance that day. I think we marked the occasion and made a stain in our own way.

If you could pick any artist or act alive or dead to perform with, who would that be and why?
Jesse Dupree: You know, If I could perform with Bon Scott, I could say I performed with both singers of AC/DC and that would be pretty cool.

What are your three favorite albums-past or present?
Jesse Dupree: I love The Whoís Quadrophenia I think itís a phenomenal record. Itís like the grand canyon, one of the great wonders of the world. I love that record and I love Aerosmith Rocks, and Iggy Pop; any Iggy Pop record.

Through your career, have you noticed any difference in the sound of music?
Jesse Dupree: Yeah, music has gone through stages, from one extreme to another, you got periods where everything is crunching and rocking and then you got periods of pop phases.

Do you have any last words for the fans?
Jesse Dupree: We look forward to seeing you and look forward to the Dakotas. Its not about seeing the show, its about coming out and being part of the show, and we look forward to seeing you.

ALL INTERVIEWS FOR: JACKYL
ALL REVIEWS FOR: JACKYL
<< back >>