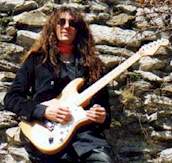 Can you introduce yourself to our readers?

Well, I'm Fabrizio Bonanno, guitarist and composer since 1987. I spent these years creating and recording every kind of music, even if my passion is hard rock, heavy metal and rock progressive. Music is all my life!

You've released an Anthology featuring a huge number of projects you are part of: how did you choose which song to put in the track-list?

I chose the most representative and best recorded songs of every project. It has not been a simple choice because I listened all the recordings I made in the last years and I had to eliminate some songs that I like very much.

Which is the band or project that satisfies you the most and why?

I am satisfied of all the bands and projects in Anthology because they represent the different ways of composition that I followed in these years.

I saw there are different versions of "Anthology" with different track-lists: what's the reason why?

There are different versions of the cd because there wasn't room enough to enclose all my different projects.

What are the most significant stages of your career?

The moment I remember with most pleasure is when I opened with Wounded Knee the show for Banco Del Mutuo Soccorso and I received compliments from Vittorio Nocenzi, their great Keyboard player!

Who and what do you take inspiration from while writing your music?

Well, I take inspiration from the numerous artists and different genres that I listen to, but also from nature, woods and mountains and from things that make me angry like the destruction of nature by men.

Your lyrics are often in Italian: don't you think this could be a dangerous choice as far as the international market is concerned? English language seems to be more commercial…

Not all my projects are sung in Italian, for example Rainbird and Arcane Visions. However I think Italian is a very melodic language, if used in the right way, and for international market...Rammstein sing in German and a lot of North European bands use their native language. I don't think that a commercial choice is always the best way to follow.


What about your live activity, are you touring or planning to do it?

At the moment I'm organizing some shows in North Italy to promote the third album of Wounded Knee.



"I take inspiration from the numerous artists and different genres that I listen to..."

Who would you like to divide the stage with?

Already done! Playing with B.M.S.. But also dividing the stage with Fates Warning would be a great experience!!

What's your opinion on the Italian prog and metal scene? Any name you'd like to suggest our readers?

The number of bands is increasing but not all of them are good. I like Deus ex Machina for what concerns prog, and Scala Mercalli and Algo3 for metal: underground bands but with cool attitude.

What do Italian artists need to be successful abroad?

A lot of money for promotion and a great dose of luck.

What are you up to now?

At the moment I'm working on a '70/'80 hard rock oriented project and I'm playing in Ipogeo, a new heavy band.

Any plans for the near future?

Surely the release of Wounded Knee's third album "Ol3mare", then "Viaggi", an instrumental concept album I worked on for a very long time and maybe I'll release "Lady Hawk", an album that I have ready from different years.

3 good reasons to buy "Anthology"!

One- I have it my heart, two- it is well recorded, three- the ideas are great and the reviews say it

Do you have a dream you wish will come true?

Yes: to have the opportunity to play in a European tour with some good band!

Thank you so much for this interview! Anything else you'd like to add?

I would like to thank you, Elena and Maximum Metal for the support you're giving me!

--Zerohour