Tales from the Jugular
Reminiscing on The Golden Age of Heavy Metal

By: Eric Compton
Published: Saturday, January 24, 2015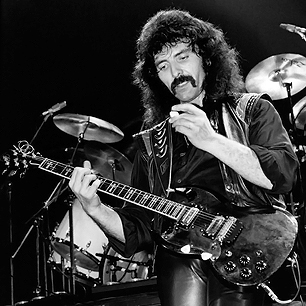 Heavy metal cut its teeth (and fingers) in the steel mills and factories of Birmingham, England in the 60s. Metal clanging and hammers banging echoed through the industrial parks and streets as our godfather, Tony Iommi, created and perfected metallic excellence in one fell swoop.
Metal was forged in the fires.
Metal was born.
Metal is alive.
Since then, the circumnavigation of heavy metal has consistently revolved around one comprehensive question--who made who?
Out of the 60s, the highway star burned, elevated by the sad wings of destiny on through the night. From the mid-70s, bands like Saxon, Maiden and Raven etched their hallowed names in that NWOBHM movement. The 80s beckoned big hair and loud mouths, the pre-requisite for anyone patrolling downtown Strips at Sunset. It's so easy to place bands, styles and movements in little baskets through metal's first three decades. Anyone can do it; create
charts and graphs
and even documentaries about metal's triumphant decades of decadence.
AC/DC is rock, file under rock.
Maiden is metal, put them in metal.
But the 90s…oh the dreadful 90s…that is when things got extremely dense. Gone are the easy categories, metal's Dewey Decimal System of easily finding rock, metal, country and pop in the record and CD bins under said genre. The insurgence of grunge and alternative superimposed itself on metal's OCD grouping of the denims, leathers and polyesters. Now we have a whole new level of excitement, along with a new level of groans from the die-hard traditionalists.
Metal wasn't so easy now.
"Stockholm is the new Sunset Strip!" --attributed to Chris Laney of Zan Clan.
Stateside, grunge ran off the big hair and big mouths, and replaced it with flannel mop heads, introverted lyrics and a spoiled brat mentality. They didn't want to rock and roll all night, and they wore it on their sleeves as an emblem to ward off 80s culture. The grunge movement killed off the US metal and hard rock scene. Iron Maiden, Overkill, Blue Oyster Cult, Motorhead and even Molly Hatchet were relegated to smaller labels, audiences and checks. The 80s saw Iron Maiden playing arenas like The Forum and Madison Square Garden. The 90s saw them sans Dickinson playing bars and clubs. We saw Bruce Dickinson and Adrian Smith play to a bar crowd of three-hundred people. Dio and Priest did the same. Domestically, the climate had changed considerably, and the by-product was a very diverse field of players. Pearl Jam's Eddie Veder and Alice in Chains' Layne Staley became the benchmark for singers in 90s America. Days of the New toured with a shaven Metallica. Alice in Chains joined Clash of the Titans. Soundgarden and Smashing Pumpkins were the new "heavy".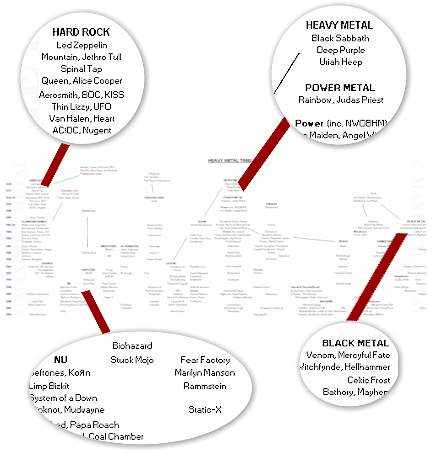 By the late 90s and early 00s things changed again. Grunge was purged, its replacement was Nu-metal and Rapcore. Bands like Korn, Limp Bizkit and Kid Rock was the new regime. The kids didn't want addictive guitar riffs, instead the electric rhythms and tribal beats were enough to suffice. Industrial was spilling out onto dance floors thanks to Marilyn Manson, Rob Zombie and Rammstein. Long hair and toboggans were replaced with dreads and face piercing. Scott Ian cultivated a
colored goatee
. Hollywood became infatuated with Bizkit's Fred Durst and Marilyn Manson. It many ways it was the opponent of grunge's social awkwardness. Nu-metal encouraged unity and preached rebellion as one nation. Like grunge, it was a short relationship with youths.
In the the mid 00s an
animated cartoon series
swept the nation and spoofed hard rock and heavy metal which had shifted into the New Wave of American Heavy Metal, a short lived genre term that eventually was shuffled into the broader realm of Metalcore. Shadows Fall, Killswitch Engage, All that Remains and As I Lay Dying picked up where Gothenburg, Sweden's melodic metal movement ended. American bands were playing in the style of early In Flames, At the Gates and Dark Tranquillity. It was this genre that started showing sparks of the original NWOBHM sound simply because the Swedish bands retained that melody in their movement of the 90s. Not since the late 80s had guitar riffs and melodies, especially solos, had such an important role in hard music. Bands started to showboat with twin guitar finesse, staccato riffs matching tit-for-tat the thrash sounds of the 80s with more hardcore and punk aggression. It was a popular marriage, elevated one more notch with the retro thrash movement that evolved shortly thereafter. Bands like Evile, Municipal Waste, Bonded by Blood and Warbringer rose to the forefront as the
next generation
, who may not have been alive during the 80s Bay Area scene, clamored for more and more thrash. Older facets of the 80s sound became prominent again.
Ed Repka
(Death, Megadeth) was hired by countless young bands to design their album covers. Non-active bands like Onslaught, Laaz Rockit, Heathen and Exodus reformed and released new albums. Even Metallica returned to their late 80s sound, fueled by the fans' wishes.
Somewhere between metalcore and retro thrash, Sweden decided to form their own
Stockholm Strip
--"Stockholm is the new Sunset Strip!" is attributed to Chris Laney of Zan Clan. Bands like Hardcore Superstar, Crazy Lixx, Sister Sin, and Crash Diet brought back the sounds of the 80s, the Ratt/Motley Crue/Guns 'N Roses sound for a whole new generation of fans. The robust movement has spawned hundreds of bands and continues to grow month after month.
By the late 00s and early 10s, retro thrash, glam and hard rock eventually spilled over into a pool that is as vibrant and as diverse as ever. Sub-genres like gothic, symphonic, stoner, power, death and black are all equally populated with folk and pagan bands representing their style and country.
Nearly 50 years later heavy metal is as strong as it ever was. It's embraced and unified by its creators and fans. With free outlets like
Spotify
emerging yearly, a rise in self-created videos, and fan-funded Kickstarter and Indiegogo campaigns, one can spend days on end sampling the many aspects of metal from all ages. It's a tree of musical growth, ever branching out.
It is truly the golden age of metal, and I couldn't be happier.
[Other Maximum Metal Columns]
<< back >>