Wade Black, ex-vocalist for Lucian Blaque/Crimson Glory/Seven Witches - by EC - 04.04.03


Select Discography
Lucian Blaque-Judgement Insanity
Lucian Blaque-Live At Morrisound
Lucian Blaque-Electronic Prophet
Crimson Glory-Astonomica
Seven Witches-Xiled To Infinity And One

Notes
Full Name: Wade Alan Black
Nickname: The "War Machine"
Birth Date: 8-1-67
Birthplace: New Castle, PA.
Nationality: German

Musical influences: Ian Gillian, Rob Halford, Phil Anselmo and Geoff Tate

Favorite musician: Rob Halford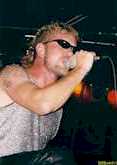 Many thanks to you Wade for giving us a little bit of your time. I was really excited to hear back from you. I have been looking forward to chatting with you for quite some time now. I first heard your vocals on the Astronomica CD from Crimson Glory. What an amazing talent! Where did you learn to sing like that?

I have sang for as long as I can remember (chorus/plays) all through school until 6th grade then I got bit by the metal bug. I did the usual and took lessons from local teachers for years, then I finished my training off by taking a year and a half of Opera lessons from Tampa Bay Performing Arts center here in my home town.

One of the main reasons I wanted to do an interview with you was to find out about your current projects, but also to find out a little "personal" info about the "War Machine". I've always been slightly curious as to what heavy metal musicians do for a living. I'm sure the label paychecks and royalties aren't nearly what they used to be. Do you have a regular job, and if so what do you do?

The" War Machine" name comes from my 1940's comic character tattooed on my leg and words across my entire back, all my close friends have different comics also as tattoos. I own my own business detailing / paint and rebuilding classic cars (Mopar Rules!!)

Let's go back in time a bit. We currently have Lucian Blaque as our spotlight band of the month. You laid down vocals on three studio albums for them, and a "live" disc as well. What was it like working with Kevin Wilson and Lucian Blaque? Was it a good learing experience and a good way to break into the business?

Ok Lucian Blaque (super cool spotlight deal on MM site), I think Kevin was the first to see potential in my vocal abilities on the local level, And my voice fit right in with the heavy aggressive material they were playing at the time, we did a lot and learned how snakey this music biz is. We opened for a few National bands ( Quiet Riot, Savatage, Cry of Love, Vicious Rumors) Demoed, recorded, giged, played until our faces were blue but no deals. Over a five year period we all just split up.

What kind of material are you currently working on for that band?

Not much right now, we have kicked around a few ideas, maybe an acoustic song or two and who knows what will happen in the future it is wide open

Moving on to a somewhat controversial topic, that of Crimson Glory. Wade, going into the Crimson Glory release, there was a lot of buzz in the metal community about you. Fans were saying the new Crimson Glory lineup was the band of the future. A lot of people were into the Astronomica album and really in tune with you being the vocalist. What is the current status of Crimson Glory? Are you still involved in anyway with that band? Their official website lists you as a member of the lineup. I know I've been a little confused as to their current happenings, can you shed some light on that situation?

Fans of CG and heavy music in general definitely embraced this band w/ open arms it was truly unbelievable! I am very lucky to have been in the position & accepted by critics & music fans alike (thank God!) Current status of CG , I know they have a new web site up and I know that Jeff Lords (CG bass) has a band called G-Lock and Ben Jackson has his project, as for Jon I do not know. The last I heard he was a manager of a Rock club in Sarasota, And No Sir I have no more contact w / that band. And I am not part of a current lineup. Best of luck to them if they continue, but I do not see it happening.(My opinion only).

I know singing for a legendary band like Crimson Glory had to be a huge career boost. What kind of response did you get personally from the metal community? I'm sure former singer Midnight had a huge fan following, what was it like stepping up to the plate and filling his shoes?

Yes singing for CG was like winning the musical lottery/going to music collage for 4 yrs. The metal community were fantastic! very supportive and a bunch of head banging maniacs!!!!!!!!!!!!! A very tall order I had to teach myself how to sing a different way, it was very hard the first year to cover mids stuff and the current CG material was brutal ( it's a long way to the top if you want to R & R ).

Your next project had you working with another metal "legend", that of Jack Frost with his band Seven Witches. You sang on the album Xiled To Infinity And One, which in my opinion is your best vocal work to date. What led to the Seven Witches gig?

I don't know about legend?(Jack) But playing w/ SW & Jack was a good learning experience for me as a songwriter and as a touring musician / singer. It is hard on the road especially for me, you can change a set of guitar strings but not a set of vocal cords. It was super cool for the 2nd time to get a record released worldwide! As for Witches, Thomas Youngblood of (Kamelot) hooked us up w/ Ph#'s and stuff but Jack and I met on CG tour a couple of times also.


"People were asking me if it discourages me to play for small crowds, I say hell no they are the ones who deserve it most!!"
I was really surprised when I read that James Rivera would be singing on the new Seven Witches album, Passage To The Other Side. What led to your departure from the band?
(Good Luck James) I just did not agree on how business was being handled and Jack and I just did not see eye to eye on more than one thing . It is funny how much of a non-team player you become when you start asking for $$ so I had to leave (best of luck guys).
Do you see yourself possibly working with Jack Frost in the future?
Not a chance.
Lets talk a little bit about your role on the new Rick Renstrom solo album. I have read that yourself and Rob Rock will be doing vocals on the record. Is that correct? I have also read that Mat Sinner is involved in some capacity as well.
Rick's solo is out now on Mascot Records in Holland as we speak. My self along w/ vocal god Rob Rock sing Towers Of Babylon and Rob sings a few himself on record. It was a great time working w/ such pro's, it was too cool.
Is this material going to be neo-classical style or more power metal oriented?
With Ricks release it is more neo-classical.

I have also read reports that you are working on a project entitled Tiwanaku (what the heck does that mean?). Can you give us any details about that and when we can expect it?
Tiwanaku ( it is an ancient alien landing site in S. America) is a project I have together w/ Emo Mowery ex- Nocturnus Bass/ vocalist and Richard Christy (Iced Earth, Control Denied,Death). It is some of the most darkest music I have been involved w / death/ hardcore /melodic with progressive vocals mixed in, really creepy wait until you hear this!
Can you tell us anything about your another project you are working on called Leash Law?
This is a very talented all-star line up w/ myself on vocals, Richard Christy (Death, Control Denied, and metal giants Iced Earth), Rick Renstrom (Rob Rock) and Steven Elders (Rob Rock). We have 10 songs so far, wait until you hear this!!
Do you have any other projects in the works?
Yes but I have to not reveal that info right now.
How do you feel about the current metal scene in the US? Are you a fan of teeny-bopper music like Disturbed and System Of A Down?
I love the way music morphs its way around. There is a lot of great heavy music coming out although I do not like all this rap metal crap (just my opinion). I like Disturbed but dislike System for what they stand for, coming over here making American dollars and talking shit (Anti American) go the F!@k home if you don't like it here !!!!!!!!!!
What do you think needs to happen in the US to put "good" music back on the map?
I think it just needs to stay heavy. People who love metal will always love it! People were asking me if it discourages me to play for small crowds, I say hell no they are the ones who deserve it most!!
Do you have any plans to be involved with any of the metal fests this year in the US or Europe?
No festivals this year.
If you could work with any metal band, current or disbanded, who would it be? (My wish would be to hear you sing for Impellitteri!)
Hey do you have his ph ## ( Only kidding)....Savatge!!
Any new bands that catch your ear?
Mushroomhead, Mudvain are great!!
In closing, since they call you the "War Machine", what are your views regarding the current "should we attack Iraq" debate. Since you hail from a military family, I'm curious what your feelings are on the topic?
I am for this war (My Grand in the 2nd and my Dad in 101st Viet Nam). Those people deserve to be able to live there lives w/ out being tortured every day!! Get Saddam out and let the people free.
Well Wade, its been quite an honor and a privelage to talk to a living legend like yourself. Please keep Maximum Metal up to date with all of your current whereabouts. We wish you the best of luck in all of your future endeavors!
A legend, you are to kind and I am far from your kind words. Thank you once again for your time Eric. PS check out the book I am in called "Pro Secrets Of Heavy Rock Singing "along w/ Geoff tate , Joe Lynn Turner , And Mr. Bruce Dickenson By Bill Martin. Stay Hard you metal freaks !!!!!!!!!!!!!!!!!!!!!!!!!!!
EC
Maximum Metal
Special Thanks to
Anke Wallrabenstein
for the live image.
ALL INTERVIEWS FOR: SEVEN WITCHES
| | | | |
| --- | --- | --- | --- |
| INTERVIEW | INTERVIEWER | DATE | TAGLINE |
| Wade Black | Eric Compton | 4/4/2003 | |
ALL REVIEWS FOR: SEVEN WITCHES
<< back >>