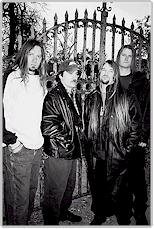 We want to start out by saying thanks for allowing us to debut the site with Twelfth Gate as our spotlight band. I first heard about Twelfth Gate at the Powermad Festival in Baltimore back in 2001. I was holding a Nevermore CD that I was getting ready to purchase and someone came up to me and said if you like Nevermore you'll love Twelfth Gate. So I went back home and searched MP3.com and found some samples, and I sent a money order and received the 2001 demo. I must say I'm blown away by the four tracks that are on there.

What kind of response did you get from the demo?

We really appreciate that you guys have shown an interest in Twelfth Gate, and it's our pleasure to be your first spotlight band. It really makes us happy and excited about our upcoming release when we hear & read people talking about the band. I'm also glad to hear that you liked our demo. Almost everyone that has gotten their hands on the demo, or got to hear the songs online, has had only good things to say. It definitely encouraged us to keep writing new songs so we could get into the studio to record the full-length album.

When I listen to the demo, I can hear influences ranging from Nevermore to Type O Negative, and at times a hint of death metal with the fast double bass. What kinds of influences inspire Twelfth Gate?

Oh man, that's one of the hardest questions we ever have to answer. We're all influenced by so many different bands & artists that it's hard to name them all or even just a few. We're definitely influenced by some of the great classics like Rush, Sabbath, Maiden & Priest, but also many other bands from the 70s, 80s, & 90s. These days there seems to be so many different sub-genres of metal, and you can find plenty of kick ass bands from each one of them. Personally, I love to listen to all types of metal; be it progressive, power, thrash, speed, death, black, doom/gothic, math metal, you name it. And, I'm sure some of those bands rub off on me in one way or another, and as a result, I'm sure they affect my writing style in one way or another as well.

Going back to the beginnings of the band, what is the connection between Syris and your band now? Is Syris still active?


Well, I'll try to make a long story short as best I can. Scott Huffman (vocals) & I were in Syris from about '97 until 2000, and we were both on the "Unseen Forces" release. Things were great while they lasted, but towards the end, we felt that we were just spinning our wheels and not going anywhere. By that time, we had already replaced our guitar player, Paul Speredes, with Rich Knight, and things picked up for a little while. Unfortunately, it still didn't appear that there was going to be another Syris release for quite some time due to unresolved issues with our record label & time restraints within the band. So, in the summer of 2000, Syris disbanded. However, Scott & I definitely did not want to give up, so we started to think about our options as far as musicians go. During Rich's time in Syris, he & I had great chemistry as a writing team, and became good friends, so of course I knew he was still the man as far as guitar players go. He & I stayed in contact, and would continue to jam off & on. Rich also started jamming with the drummer from his old Venery, Mike Nevaril, hoping that there might be some potential in all of us hooking up. Well, let's just say the rest is history.

What has led to Crash Music signing the band? It looks like you are in pretty good company with Crash. Bands like Diamond Rexx and King's Evil, also Paul Dianno's comeback album "Nomad" was released on the label so it looks like they are fans of metal.

We've always known that Crash Music (formerly known as Pavement Records, and still is in Europe) was a decent label, so we included them on our list a labels to send a demo to. Unfortunately, at the time we sent them our demo (Spring, 2001), Crash was going through issues involved with their name change in the States, and was not taking on any new bands. Well, when 2002 rolled around, and we still hadn't found a label that would help meet our goals, we considered recording and releasing the album on our own. Then, right before we had made up our minds to go that route, a mutual friend of Crash's president and mine told me to contact them again. My friend assured me that Crash was the label for us because they would treat us well, and would give us the attention & promotion we deserved. Of course, he also put a good word in for us as well, which undoubtedly helped Crash with their decision to take a risk on us. All I can say is that I'm glad they did because our relationship has been nothing but positive from day one, and only shows signs of getting even better.

What can you tell us about the new album, "Summoning", which is scheduled to be released on February 11th? Will this debut have a lot of the same elements as the demo?

Honestly, I hope that most people will think it kicks ass. We're definitely very proud of every tune on the album and we hope that they'll appeal to most metal fans. But I guess we'll just have to wait and see. Also, as far as how the other tunes compare to the ones on the demo, I feel that some are similar in style, and yet others show a natural progression of where the next album may lead us. Of course all of this is open to everyone's interpretation.

Do you believe that Crash Music will do a good marketing job for you? Whose idea was it for Travis Smith to do the artwork?

Crash Music has already done so much for us, and I'm confident that they'll do a much better job of marketing than any other independent label out there would for us at this point in the band's existence. And regarding Travis Smith, I've always loved his work, and it's been my goal to get him to do our cover art ever since Syris' "Unseen Forces" album. I was never really happy with the way that cover came out, and I believe that a band at our level needs every edge they can afford. So when it came time to search for an artist, there was no question of who to ask first. Everyone in the band was also quite familiar with Travis' work, and when I suggested asking him to do it, the band was in complete agreement.

Now, what is happening with the Classic Metal Fest this year? Are you guys going to be performing there? Have you worked everything out with the promoter?

Yes we are, and we're really looking forward to it. What's really cool too is how we got added to the bill. Since the promoter had only one spot left at the time our label contacted him, he told them that due to the fact there were already a bunch of other bands fighting for the spot, he would give it to the first band that had 50 different people email him requesting they play. So, I got right on it & emailed everyone on our mailing list & also posted our case on a couple different metal message boards (specifically Metal-Rules & Perpetual Motion), which I check out off & on. Well, according to the promoter, "the response for Twelfth Gate was overwhelming", so I'm sure he got his 50 and then some. All our fans and supporters really came through for us, and that kicked ass!! Again, thanks so much to everyone that helped us get this show, we're truly eternally grateful. You guys fuckin' rule!!! And, I can't wait to play the show & hang out with all our fans.

With good metal basically being thrown to the underground, how is the underground scene in Chicago doing? The last big thing I've heard out of there was a band called Radakka, which from what I can tell that band pretty much dropped off the planet. Is Chicago a pretty active place for metal?

All I can say is that throughout the 90s, the underground metal scene in Chicago pretty much sucked. However, I am beginning to see signs that it's starting to grow again - finally! That definitely became quite apparent the night we opened for Blind Guardian & Symphony X at the Metro in Chicago. It was a sold out show, and the response we got from the crowd blew us away; it was better than we ever expected. All the metal fans (especially the ton of young fans) that came out that night have given us new hope in the underground metal scene not
only in Chicago, but also hopefully throughout the rest of the U.S.

Thanks for your time Rob and I wish Twelfth Gate the best of luck. I can't wait to get my hands on the new album "Summoning". Let us know if there is anything we can do to help you.

And thanks again for your interest in Twelfth Gate. Just keep doing what you're doing to spread the word about us, as well as the underground metal scene. Take care, and remember - Metal Forever!!!