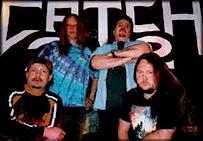 1. Wow, the new album "Awaken" just has my head spinning! This is probably my favorite record of the year. TJ, its great to be able to get you on our spotlight this month. What's going on right now in the world of Catch 22?

THANKS A LOT. PEOPLE LIKE YOU KEEP THE METAL FLAME BURNIN'.THANKS FOR HAVING US ON YOUR SPOTLIGHT. WE ARE PROMOTING THE HELL OUT OF THE NEW ALBUM! PLAYING GIGS AND ALREADY WRITING FOR THE NEXT CD.

2. Well, lets just start off with the new record. It has been released on Molten Metal USA for the states. When I think of Molten Metal, I mostly just think of the online store. I have been shopping with them for years, and most people don't even realize they are a record label as well. They have put out records by Cage, Halloween, Regime, etc. How did the record deal happen between Catch 22 and Molten Metal?

I MET JB FROM MOLTEN METAL WHEN WE PLAYED CLASSIC METAL FEST 1 AND 2 AT MICHIGAN AND CLEVELAND. HE APPROACHED ME ABOUT DOING THIS CD AT THE CLEVELAND SHOW AND THINGS JUST PROGRESSED FROM THERE. JB IS A TRUE METAL HEAD SO WE HAD A LOT OF THE SAME VISIONS AND WORK ETHICS. EVERYTHING CLICKED FROM THE WORD GO!!!!

3. With Molten Metal doing the stateside release, is there any chance the label will release the album in Europe? If not, who will be doing the distro there?

YES. HE ALREADY HAS IT DISTRIBUTED OVER THERE. I'M NOT SURE WITH WHO BUT I'M SURE IT AINT TO HARD TO FIND. THAT IS WHERE A LOT OF OUR FANBASE IS AT.

4. The only other record that I have heard from the band was "Through Eyes Of Pain". Does the new record feature this same band lineup?

IF YOU HAVE NOT HEARD 'TIME REVEALS ALL' YET YOU NEED TO SO YOU CAN HEAR THE PROGESSION FOM CD TO CD. NO THE LINE UP IS DIFFERENT BUT IT IS BY FAR THE STRONGEST. IT IS; T.J. BERRY- VOCALS/GUITAR, D. HALL- GUITAR MIKE ALLEN- BASS, ANDY BROOKHART- DRUMS.

5. The production, vocals, and overall sonic assualt just sounds much more deadly on this record. What factors have changed from the last record to this one?

THE MORE YOU DO SOMETHING THE BETTER YOU GET AT IT! WE HAD MORE OF A FOCUSED GOAL THIS TIME AROUND.

6. The songwriting is very aggressive on "Awaken", dealing with the rise and fall of metal, religion, and some fantasy type stuff as well. What mindset were you in during some of the writing? You sound prettty pissed off, which certainly isn't a bad thing.

I WRITE MOSTLY ABOUT HOW I FEEL/WHAT I SEE AND ABOUT OUR FUCKED UP SOCIETY. THERE IS NO SET FORMULA. IT JUST HAPPENS.

7. What is your favorite cut from the record? What do you like playing live from the album?

'INTO THE BLACK'--IT HAS ALL THE ELEMENTS!!!!!!! FAV LIVE TRACKS ARE FORM, DAMAGED, AND THE OTHERSIDE.




Band
T.J. Berry - lead vocals / lead guitar
Andy Brookhart - drums / backing vocals
D Hall - rhythm/lead guitar / backing vocals
Mike Allen - Bass

Links
Band Website
Email

8. Who came up with the idea for the artwork?

CRAIG SIMPSON DID THE ARTWORK. HE LISTENED TO THE LYRICS AND GOT INSPIRED BY THE LYRICS; ANGELS WINGS SOAK ALL I BLEED, THEN WE ADDED THE EYE TO RELATE TO AWAKEN.

9. Are you guys doing a lot of gigs to support the release? Any festival offers or European dates?

WE PLAY EVERY WEEKEND. WE ARE UNDECIDED RIGHT NOW ABOUT WHAT FESTIVALS WE ARE GOING TO SHOOT FOR. I'M SURE WE WILL END UP PLAYING A COUPLE OF FESTS THOUGH!!!!

10. I'd like to get your thoughts on a few issues, the first being file sharing. What are your views on downloading? Is it a good thing for a band like Catch 22?

DOWNLOADING IS A GOOD WAY TO GIVE PEOPLE A TASTE OF THE BAND. BUT NOT FULL SONGS. ANY TRUE METAL HEAD SHOULD GO BUY THE CD OF THE BAND TO HELP SUPPORT THE CAUSE!!!!!!!

11. Recently Rolling Stone issued their Top 100 Guitarists Of All Time. How do you feel about seeing Kurt Cobain at #12 and Eddie Van Halen at #70? Charlie Benante of Anthrax has publicly blasted the magazine for their ignorance. What are your thoughts on the list?

IT'S ALL BULLSHIT. BASED ON ALBUM SALES AND POPULARITY NOT TALENT. SAD FACT OF THE MATTER.

12. With the fall of grunge and garage rock, and the slowing of nu-metal sales, what do you think will be the next big metal trend in the states?

HOPEFULLY STRAIGHT AHEAD METAL WILL COME BACK STRONGER. SOONER OR LATER IT ALL MAKES A CIRCLE AND PEOPLE GET SICK OF HEARING ALL THE HYBRID BULLSHIT.

13. Okay, so you guys are hitting West Virginia gigs a lot, what are the chances of hitting Roanoke, Virginia, the mighty home of Maximum Metal?


IN THE NEXT COUPLE OF YEARS. WE ARE FOCUSED ON PROMOTING AWAKEN FOR A WHILE. I WON'T EVER LAY DOWN AND DIE. METAL IS IN MY BLOOD.IT'S NOT SOMETHING I DO IT IS WHAT I AM!!!!

14. Our web coordinator, Nailer, is throwing a metal basement party. How much do
we need to come up with for Catch 22 to play the basement?

WE WOULD DO IT FOR NEXT TO NOTHING JUST TO HANG OUT WITH SOME TRUE METAL PEOPLE. SOMEWHERE
TO STAY AND FOOD AND DRINKS!!! SOUNDS LIKE A KILLER TIME.

15. In all seriousness though, Catch 22 have managed to release the best record of the year, in my opinion. Everyone at Maximum Metal wishes the band much success! Good luck and remember Maximum Metal! Thanks for your time TJ!

THANKS A LOT FOR HELPING PROMOTE CATCH 22 AND REAL FUCKIN' METAL! MAXIMUM METAL KICKS ASS
MOTHER FUCKERS!!!!!!!!!!!!!!!!!!!!!!!!