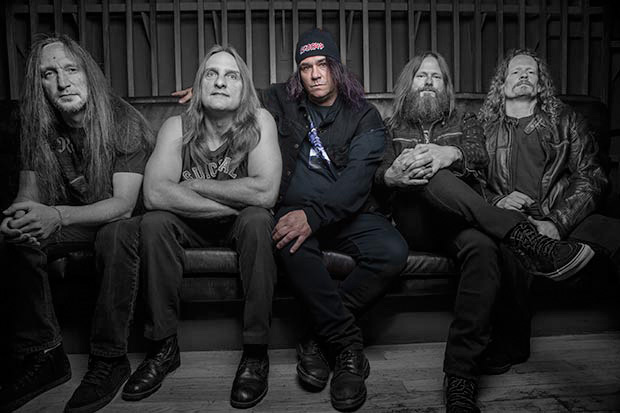 "It's awesome!"

Steve "Zetro" Souza makes absolutely no pretenses when it comes to Exodus' raging return -- probably because there's no need to. It's Exodus in every sense, which every thrash fan would perfectly understand. From the first riff to the last scream, their latest release, "Blood In, Blood Out," delivers the same bone-splitting dish on a truly beautifully produced plate, better than they ever did over 30 years ago. And that is something to brag about. There are no ballads, no epics, no trills, no frills, just 100% pure, as Zetro puts it, "Scrap music for when you're really pissed off."

"This is the shit you listen to to get pumped up before a fight. We never tried to be something we're not. We're no bullshit, straight to the point. We're about being realistic and frankly, a lot of what's out there is not so nice, so there's a lot to get pissed off at. So, that's us." And as for this latest effort, "I am so excited! It really kicks ass – seriously. It rips your face off. I love it!"


---
"It's taken me this long to be able to do this at this time and to realize that having this life is awarded to you. I can appreciate it now more than I've ever been able to."
---
No doubt, Zetro's enthusiasm doesn't just speak for the work, itself. After 10 years since his departure, he admitted it hasn't been easy for the veteran to appreciate what he's able to embrace today. He speaks with genuine humility and gratitude, very cautious not to give too much away, when talking about his departure and unexpected return. "Life happened. I just wasn't 'there' when I was with the band. Everyone just kind of put up with me, like that uncle that pissed everyone off at Christmas." He laughs, but adds, "It's taken me this long to be able to do this at this time and to realize that having this life is awarded to you. I can appreciate it now more than I've ever been able to. The music is great, but you have to know what you're doing and be smart and know the business, too. And there's no way I could've come back here, the right place and the right time, without the fans."

Lots of artists say, "I love the fans," but, very rarely does one have the privilege to hear such tremendous outpouring of affection that it almost sounds like a psalm. "I am so grateful to everyone who's stood by me and so fortunate to have fans who supported me, all the fans who never gave up on me. I owe them everything." Over and over, he said this and over and over you can feel it's true.

It is also true that the band, itself, has had its turnaround and transitions, but the knuckles-to-face foundation has not changed in the 30 years since its first full length classic, "Bonded By Blood" was unleashed. How they've managed to keep it so, Zetro explains, "The main guy [Tom Hunting] has always kept the ship on course, keeping it together, keeping it focused, which is why Exodus never strayed from what it is." In fact, this album is not only a resurrection for Steve on a personal and professional level, it's also a special occasion for the surprising, happy reunion with the other "founding father," none other than Kirk Hammett, himself, whose killer cameo can be heard on their premiere track, "Salt The Wound."

According to his latest interview with Billboard: "I got an email from [Holt] about six months ago going, 'Hey, I hope you can lay down a sick solo on the new Exodus album,'" recalls Hammett. "I thought about it for about two seconds and I emailed him back, and I'm like, 'Yeah, man. I'm there'."

LINK: [Billboard.com/articles/news/6258706/kirk-hammett-exodus-reunion-interview-album]

Since the preview on major media outlets, "Salt The Wound" was given the raised fist of approval from both critics and fans alike, making "Blood In, Blood Out," a highly anticipated project in its own merit, so, Hammett's special appearance is just a juicy cherry on the cake. And it really was a truly happy reunion. "Who the hell would say to the guy, 'Man you fucked up when you jumped ship'?" Steve laughed. "Seriously, in retrospect, you have to give it to the guy who obviously made the right career choice. But, it was so awesome playing with him at Scion AV's Fear FestEvil [LINK]. And he had just the best time, too! I mean, we all did, but he had on this big grin the whole time, just lovin' it. Yeah, he's a huge icon and all, but his roots are here. This is what he is and he was just smiling and laughing, everyone just had the best time – it was just so, so awesome."

"I am having the best time right now. So much has happened in 10 years, but I am back and nobody else is going to hold the mic ever again until I die!"