I N T E R V I E W S

Steve Hawkins - Chrome Molly
"No More Chasing, Just Pure Molly"

Interview with Steve Hawkins, vocalist for NWOBHM band making a rejuvenated comeback
By: Eric Compton | Published: Friday, March 10, 2017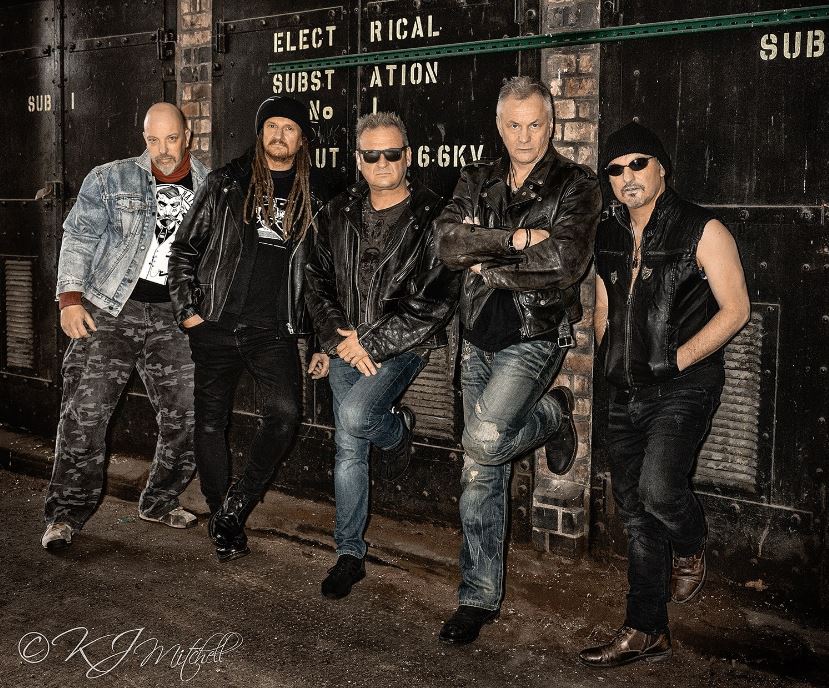 Leicester, England's Chrome Molly formed in 1982 on the back-end of the NWOBHM movement. Their first album, 'You Can't Have It All', was released in 1985. Unfortunately, the band would only be active for a half-dozen more years. After three follow-up records, multiple labels (including an I.R.S. and MCA tug-a-war) and a fizzled out single, "Shoot Me Down" (written by Slade members), the band's luck simply ran out. Thankfully, the band was rejuvenated in 2010 and released their proverbial comeback in 'Gunpowder Diplomacy'. Last January, Chrome Molly released 'Hoodoo Voodoo' courtesy of earMUSIC. It was produced by longtime collaborator Toby Jepsen (Little Angels, Gun) and reinforces the notion that the 'Mollies have finally found a sound they've strived for since their conception. Maximum Metal's Eric Compton chatted with vocalist Steve Hawkins about the band's new record, shooting the video "You Can't Be Afraid of the Dark" and performing on stages with icons like Graham Bonnet and Alice Cooper.

Eric Compton: Steve, thank you so much for the opportunity to chat with us. First off, congratulations on the new album, 'Hoodoo Voodoo'. It's a fantastic record and was just released last month via earMusic. So far, what's the early response to the album from fans and press?

Steve Hawkins - Hi Eric, thanks for the opportunity to catch up. The initial response has been fantastic, the listeners who have grasped the idea of what we were trying to achieve have loved it. We've had a few negatives thinking we weren't 'modern' enough, but if we tried to produce a Nu metal album that wouldn't have been true to ourselves.

EC: 'Hoodoo Voodoo' is the band's second recording since the group's recording hiatus in 1991. Unlike 2013's 'Gunpowder Diplomacy', the idea of a comeback and reformation and all of that chatter really isn't linked to this album. How did this recording compare to the last one? Was it less stressful knowing that the comeback album was already out of the way and now you could just focus on the next record. I would assume it was a bit more relaxed with less pressure.

SH: Totally. We had a line-up change in bringing John Footitt in on lead guitar. John Antcliffe, who had been on guitar since 1982, decided he wanted to pursue other avenues musically. Luckily, we met John Footitt really quickly and he fit in straight away. Boy, can he play too. We recorded the album over one week with Toby mixing at a later date. A really cool way to do it.

"Our sound is now true to what we believe in, no more chasing, just pure Molly"

EC: Your promotional remarks regarding the new album states the original idea was to make an album the way records were recorded in the 80's. You also hint that some of this album was recorded "live". Can you explain that?

SH: We decided to limit the amount of 'computer assistance', so what you hear is what was played. Again, not modern but true to how we were in the 1980's.

EC: Like 'Gunpowder Diplomacy', this new album was also handled by producer Toby Jepsen (Little Angels, Fastway, Gun). Jepsen is not only a great singer and guitarist but an accomplished producer working with English legends like Marshall Law and Saxon. What does Jepsen bring to the table in terms of production and experience? Did he help in writing any portion of the album or was the writing already completed prior to the recording?

SH: The songs were formed before the studio session. We have known Toby since about 1985, we feel he really knows the band, strengths and weaknesses and really is committed to making the best record possible.

EC: There are two songs I wanted to highlight. The first is a really neat song called "Pillars of Creation (Albion)". For some of the readers that haven't heard it yet, can you explain the idea behind it and what may make it an irresistible listen for English metal fans?

SH: We wanted to make a tribute to all the acts that inspired us to do what we do, all the names mentioned are real heroes to us and should never be forgotten. We are losing a few now and this is our homage to great names.

EC: The album's lead-off single and promotional video is "Can't Be Afraid of the Dark", a rousing up-beat banger that symbolizes the sound of Chrome Molly. Tell us why that song was chosen as a single. Also, can you tell us a little bit about the making of the video? Who directed, where it was shot and the length of the shoot?

SH: We felt the lead track really summed up what the album was about--great tempo, some cracking lead work, nothing more to say *laughs*. When it came to the video, we were recommended to an up and coming video maker named Jay Hiller. Jay also plays guitar in a metal band and really got into the project. We recorded on a dark Sunday afternoon at his studio in Leicestershire. Its many moons since our last video ("Gimme That Line Again" 1990) and we are stoked with the result. We are returning to Jay to do a larger production video for "Pillars of Creation".

EC: For me personally, the last two Chrome Molly albums are the best representation of the band in 30+ years. I know that the Molly's first four albums are held in high regard by many hard rock and later NWOBHM fans. You have said in the past that some of those albums were a bit misguided and you felt that the band, like many others at the time, were chasing Def Leppard. Do you think what we have heard over the last four years is ultimately what Chrome Molly has been striving for over the last three decades?

SH: It sure is. Back in the day recording was really expensive, but now with all the tools available we were able to create 'Hoodoo'. Our sound is now true to what we believe in, no more chasing, just pure Molly.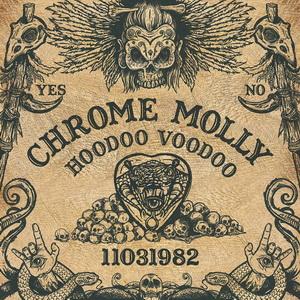 EC: The album cover for 'Hoodoo Voodoo' is one of the better covers I've seen in recent memory. The supernatural aspect of a Ouija board ties into the album's title. How did you arrive at that name and who designed the album cover?

SH: It's a name that Nick (bassist Nick Wastell) had kicking around since the early 90's. We loved the feel of the Ouija board; such a strong image. A very good friend of the band, Mark Perkins, put the design together. Mark is an amazing illustrator, so we were very lucky to have him involved.

EC: In looking at it in great detail…there are so many little intricate symbols. Obviously the "Devil's Sign" is on the two lower corners representing heavy metal as a whole. Is there any symbolism to the two watchful eyes in the palm? Also, I have to ask about the significance of the date "11-03-1982". I know the band formed in '82 but what does the specific date link to?

SH: Well spotted. That is the date of the first Molly gig with the main line-up when I joined. It's been picked up a few times. The eye in the palm is the 'all seeing eye'. You can run but not hide *laughs*.

EC: So, the collector in me has to ask about some old business. The single "Shoot Me Down", written by Lea and Holder from Slade, was caught in a tug-of-war between labels I.R.S. and MCA. Can you elaborate on what was the conflict with the single and why it never became the hit Chrome Molly needed?

SH: I.R.S. fell out with the distribution company and the record never made it into the shops. We were gutted. We were doing shows and people were coming up to us saying they couldn't buy the record. We were picking up major airplay too. Very sad.

EC: Any funny stories from the Alice Cooper tour in 1988? Generally, how was the tour and was Alice a fun road mate?

SH: Alice's band were fantastic. I still keep in contact with a couple of them after all these years. Alice kept himself away from most of the fun. I think his excesses in previous years affected him wanting to be around the fun. I remember getting to Munich and there was a beer festival on. German beer--strong, American beer--weak. Alice's crew--American. You can guess what happened next!

EC: You guys had the pleasure of playing out last year with the iconic Graham Bonnet. How was the performance and what influence does he have on you as a vocalist?

SH: Graham is one of the greatest voices in rock, along with Dio. And the song catalogue is amazing. And to top it all, a really nice fella. I think Graham influenced every vocalist in rock in the 80's, and he can still pull it off.

EC: What's next for Chrome Molly this year? I see a listing for Wildfire fest. What can you tell us about that? Also, plans for Scottish dates I see.

SH: Getting back in the saddle again for us, we've become a five-piece again. Guitarist Andy Barrott has returned to the fold. Andy played with us for a while in the 80's. He was on 'Shooting Me Down'. Andy brings a new dimension to the sound. I call him the Duke of Crunch. So, more dates, some festivals, and back in the studio later this year for album number seven.

EC: Steve, once again thank you so much for chatting with us. We love the new record, the work ethic, and for keeping the fires burning for quality hard rock and heavy metal. My hat is tipped to you and the Mollies. We wish you nothing but success.

SH: Many thanks Eric. Fantastic speaking with you.

LINKS
Official - Band Homepage
Facebook - FaceBook
Twitter - Twitter






ALL INTERVIEWS FOR: CHROME MOLLY
| | | | |
| --- | --- | --- | --- |
| INTERVIEW | INTERVIEWER | DATE | TAGLINE |
| Steve Hawkins | Eric Compton | 3/10/2017 | "No More Chasing, Just Pure Molly" |
ALL REVIEWS FOR: CHROME MOLLY
Currently no reviews.
<< back >>