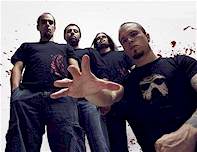 When you think of Portugese heavy metal the only band that pops into your brain is Moonspell. That band circled the globe with their brand of gothic metal but very early on it was quite difficult for Moonspell to land in metal's community pool. Now, another band has emerged from Portugual with eyes intent on conquering the globe. The Ransack are a melodic death metal band that harkens back to the 90s with their Swedish stiff-armed approach to aggressive twin guitar harmony. One immediately thinks of great albums like "The Jester Race" (In Flames) and "Terminal Spirit Disease" (At The Gates) when hearing the band's newest endeavor "Bloodline". Maximum Metal's EC had an opportunity to talk with Shore, the lead guitarist and vocalist for The Ransack...

EC: This is the band's third album, what makes this record different than previous efforts?

Shore: "Azrael" and "Vortex" were our first and second albums. We were exploring a more conservative death metal sound as well as still learning how to mix our different influences and musical experiences. We feel that in "Bloodline" we mastered that and brought to light a more modern and groovy melodic death without compromising the bands real essence. To this recorded we decided to bet on an whole new producer, "Pedro Mendes", who was debuting in this role. Let me say to you that we couldn't be more satisfied with his work. This is without doubts the best sound and musical arrangements we have ever had.

EC: What are some of your favorite songs on the album and the writing behind them?

Shore: "Zenith" and "Trace" are probably the most personal lyrics I wrote for this disc. Then I have to say that probably these two are my favorite lyrics and songs of "Bloodline". "Zenith" has a very positive message and really expressing my motivation and walking in this processes called life. "Trace" on the other hand is the expression of all mortal fears and the constant "tic tock" I have on my mind telling me I'm running out of time. This becomes also a very strong and personal song for me too.

EC: What are your thoughts on how this album sounds production wise and how does it compare to the previous records?

Shore: Since we starting recording albums we knew that we were really lucky guys. Because the best metal studio is in Braga and we all live in Braga or nearby city Barcelos. On the first two records Daniel Cardoso (Sirius, Head Control System, etc...) was the producer. On our debut "Azrael" we managed to surprise everyone in the Portuguese metal scene with the quality of our record...being nominated in different sites and zines for Portuguese "Album of the Year". To "Vortex" we decided to comeback to the Ultra Sound Studios and again with Daniel Cardoso but this time co-produced by Pedro Mendes that meanwhile had joined the USS crew. "Vortex" was a step forward in music and sound quality. Since then we developed a really special friendship with Pedro and both parties were delighted with the idea of him producing his first album alone with our new record. This time we did everything much more carefully and relaxed and the result is here for you to listen. I never had a guitar sound that good. This sound really rocks!

EC: What has the response been thus far from fans and critics?

Shore: Though the album has only been released in Portugal now on January 7th we already have had really enthusiastic reception to "Bloodline". The live shows have been amazinlgy successful and the new songs and the sales of the album have really been a nice surprise. We now have to wait for the disc to be released in the rest of Europe to have a better overview about it.

EC: Does the band plan on playing any of the large festivals this summer in Europe? Any exclusive information for Maximum Metal regarding upcoming shows or touring plans?

Shore: Like I said before we have not released the album outside Portugal yet. And this is keeping us from scheduling gigs there already. We are planning a mini Tour in Spain right now. And then we will start looking to the rest of Europe. We have all the will and interest to appear a little bit all over Europe. Let's see how things turn out for us in the near future.

EC: Obviously the band is inspired by the Swedish melodic death bands of the 90s like In Flames, Dark Tranquillity, At The Gates, etc. Which of these bands were the biggest influence on The Ransack's sound?

Shore: Yeah!!! You got it right! We are huge fans of all the Swedish death metal "big bands". We had the honor of playing a mini tour with Dismember and that made us dig even more into the Swedish death school. From the Hypocrisy feeling, to the At The Gates groove, passing by In Flames, Soilwork and the other huge melodic bands...we have a special interest from this sound. There are also quite good bands emerging from the US and playing really fresh and cool music. I think "Bloodline" is an excellent cocktail with all these ingredients.

EC: Who did the album cover and what does it represent?

Shore: We started working with Nuno Silva (www.nunosilva.pt) on "Vortex". We were really happy about the result and we decided to repeat the partnership, though for this record both parties wanted to explore something completely different from the previous artwork. I came out with the idea of something white and simple...who needed to express the hardness of the music. Nuno loves our logo so he decided to integrate it on the cover and he completely nailed it on the first attempt! We were blown away when he showed us the cover. He managed to use the logo and the blood in a really brutal yet beautiful way. We are really pleased about all this artwork. And the critics are saying this is the best one we ever had!

EC: Has the band entertained any record label offers other than Raging Planet?

Shore: We had four or five really serious proposals when we were preparing to record "Bloodline". Our deal with Recital had expired at the time and we wanted to move to a more serious project and to a label with bands closer to our modern sounds. We already knew the people from Raging Planet and they offered an honest and serious deal. We are really happy how the things turned out for us in this matter. Let's now wait to see what international distribution we can get and hopefully we are taking "Bloodline" and The Ransack a step forward.