I N T E R V I E W S

Saint Rebel - Saint Rebel
"Now You Know"

Interview with Saint Rebel
By: Eric Compton | Published: Thursday, April 30, 2015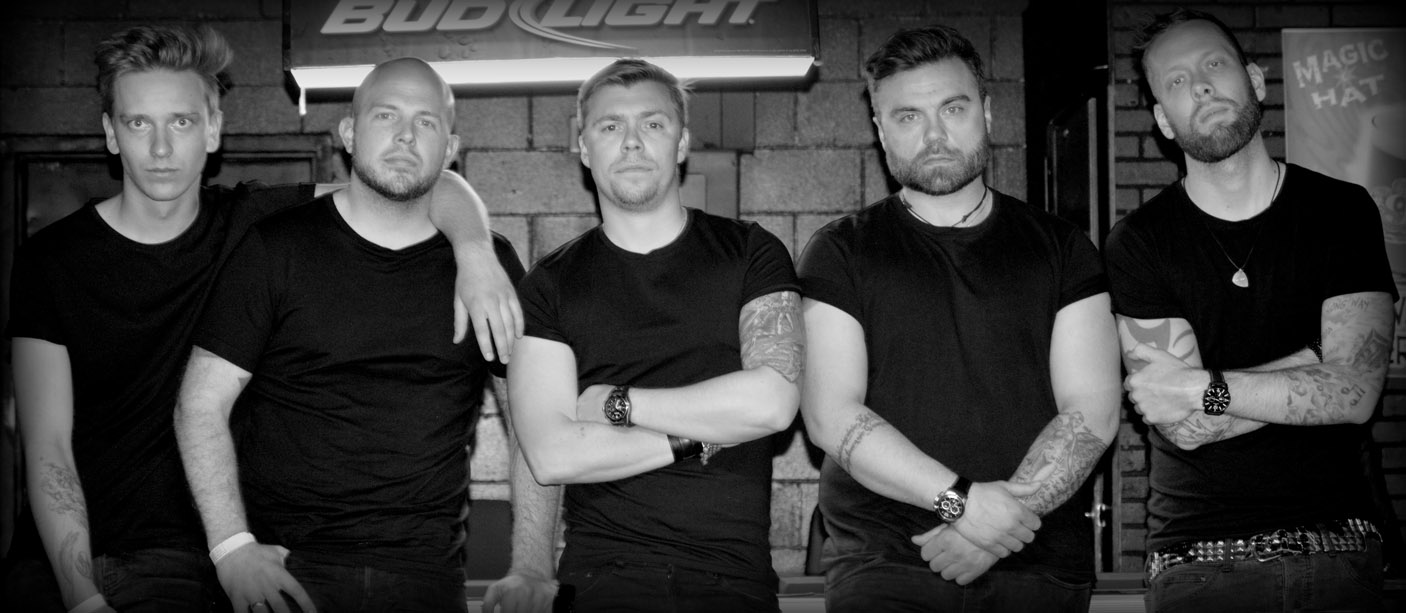 It's the American dream. Five guys in route to LA with hopes, dreams and hard work tucked away with the boarding passes they each carry. On the legs of their sophomore effort, simply titled 'Saint Rebel', these Danish kids are taking the world by storm - one mile at a time. Fresh off of their five date run in Denmark, Mighty Music's US office hosts the band for a four date tour coast to coast that features a stop at one of rock and roll's most iconic homes--The Whiskey a Go Go.

"It is such a cool place, I mean you can feel it just walking in the backstage area, feel the stories that happened there", explains guitarist Jakob Poppelvig. "You can just imagine Axl Rose high on shit, falling down the stairs. I think it all hit us together, standing on the stage, this is THE Whiskey, from Denmark halfway across the globe to LA. The audience was great, a lot of people turned out. It was an amazing experience."

This isn't the first trip to the states for Saint Rebel. The band had an opportunity to play New York in 2013, a one-off set to fulfill a childhood dream of playing the US. Vocalist Jonas Kaas describes the group's first visit to the states. "It was an acoustic set we played in New York…and we haven't played acoustic since, *laughs* but it was really cool. Compared to this, this is a whole different feeling right now."

The band's debut album, 'The Battle of Sinners and Saints', was released in 2012 and led to a Gaffa award for Best Hard Rock Release (the Danish version of The Grammys) and a peak at #28 on US iTunes chart for metal. The band chose producer Marcus Toft and Moremax Studio for the debut and went back to that same well for the follow-up, 'Saint Rebel', released late last year via Mighty Music. Kaas emphasizes the band's need for Markus at the helm the second time around.


"Being in a band, the connection comes to life in creating the music. Saint Rebel is a fucking family. --Jonas Kaas"
"We chose Marcus because of this work on the first album and we have recorded in that studio before and we knew the drills. He just made an amazing sound on the first album and we wanted to re-create that sound again. We had so much positive feedback on the first one. At the same time we really needed to make this a heavy album and so far everyone thinks it is a bit heavier. We knew we needed to be in good hands with people that knew us". Guitarist Martin Hojfeldt adds, "He is really good at pushing us. Sometimes I really hate the guy. He says 'go play a guitar riff' and I do and he says 'it isn't good enough, go play it for eight hours'. I'm like are you serious?" Riis laughing, says "He was our Bob Rock telling Metallica this is awful. He isn't afraid to do that."

That guidance, hard work and dedication paid off for the group. The album is a diverse offering of ballads, heavy groove-oriented numbers and some abstract arrangements that leads to longevity over the course of repeated listens. Poppelvig explains, "We wanted to put parts in completely different places and it was a nice experience for us to work that way. To not do the same thing over and over again. I think when you make an album you don't want the same thing through all of the songs. I mean there is some good things with doing that same old formula of an intro, a verse, a chorus, a verse, solo, and chorus…that works. But when you make an album you want it to be different and allow the listener something to listen to actively. They can dig it or they may not but we like doing something different. We are really proud of what we ended up with."

Kaas adds, "We wanted the album to be interesting after a full year of playing it. Different songs allow you to not get bored with it. That was one of the main parts in writing the album. Just like the first album with some different songs and styles to make it interesting over a longer period of time. The reason this album is so good is because the songs have been smashed to pieces every time to find the angles and 'see' the music. Again this album is so unique and different in many ways. This is our way of writing music. There isn't one person in the band writing the song and saying let's play it and record it. It starts with a riff, then Jesper plays the drums to it, then we add some vocals to it. That is all done in the rehearsal room then we listen to it after a week to see if it is still okay. If it isn't then we do it all over again with the parts that worked and just make it better."


"We wanted the album to be interesting after a full year of playing it. Different songs allow you to not get bored with it. That was one of the main parts in writing the album. Just like the first album with some different songs and styles to make it interesting over a longer period of time." --Jonas Kaas
"Now You Know" was the album's first single and was released globally last December. It represents a slightly softer side to the band. The song's use of piano, soulful vocal patterns and commercial accessibility is a great contrast to some of the heavier numbers found on the album. Poppelvig explains the band's decision to release "Now You Know" as the opening single.

"In Denmark you really need to consider what you are putting out on the market and the radio because there really isn't that many people there that listen to rock music. We needed to find a song that represented us. The C part where the guitars take over and the solo and the scream at the end. That is us. We are Saint Rebel. There is 'Saint' in that song and there is 'Rebel' in that song. That is why we chose that track, it represents us and represents the rock and roll scene."

The band's cross country journey from California to the US is a rite of passage. The band performed two dates on the west coast and immediately traveled 2,400 miles to perform the next night at Orlando, Florida's The Haven. It takes a very special band to perform so well together night after night. This comradery is a rare find in the music industry when so much of it is anonymous. It is a time when the word "band" doesn't necessarily mean five musicians standing shoulder to shoulder making music. Pro-Tools and technology makes it very easy to release music without standing in the same room together.

Kaas emphatically explains, "Being in a band, the connection comes to life in creating the music. Saint Rebel is a fucking family. You can't recreate that by having musicians in LA, Denmark, Sweden and Germany and piecing it together. There is no human level in that. There is no human aspect whatsoever. When you are playing riffs for each other and writing songs and bouncing riffs off of each other….the songs get better with the human interaction, people being together having a fucking blast doing what they love…you can never take that away."

"I would much rather listen to an EP with four songs on it from a band that is playing together and putting a song together and struggling than a full album of a group of guys sitting in different places sending stuff to each other. That isn't the right way to do it", explains Poppelvig.

Hojfeldt closes by stating, "You write the songs in the rehearsal room but still sometimes I can sit at night and write riffs and I can send them to Jonas. But that is just to try it out. It is easy to record something at home and send it to the other guys just to see if this is bullshit or something good. But the writing of the music and putting the numbers together and stuff like that has to happen together, all five of us together making the music."

Saint Rebel have released their second single, "Desperate Measures", and will be performing more dates later this year in Europe.

Supporting Links:
[Band Website]
[Facebook Profile]
[Mighty Music Website]

"Now You Know" (Official Video)





ALL INTERVIEWS FOR: SAINT REBEL
| | | | |
| --- | --- | --- | --- |
| INTERVIEW | INTERVIEWER | DATE | TAGLINE |
| Saint Rebel | Eric Compton | 4/30/2015 | "Now You Know" |
ALL REVIEWS FOR: SAINT REBEL
Currently no reviews.
<< back >>