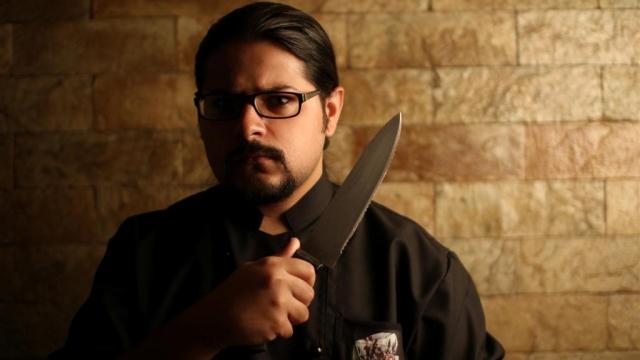 Sahil Makhija, a/k/a "Demonstealer," a/k/a "that Headbanger's Kitchen guy" has his hands in a lot of pots – figuratively and yes, literally. And yet, there's a whole lot more to this corrupted cook than just a great recipe and brutal taste.

Headbanger's Kitchen is an old formula, food and music, with a new life. "It's very simple really. Anyone can do an online show. All you need is a good idea. Without a real solid idea, you'll just make another thing to watch. Then have good, quality content. And with a little technology, you could have a good looking show."

"Oh and garlic. Garlic in everything!"



"I get to be artist and mad scientist at the same time. It's good to be a little bit of everything!"


Demonstealer's on tour this summer, (including a spot at the Sonisphere Festival), with his band inamorato, Demonic Resurrection, which is enormous in itself. However, not before he made sure that the Kitchen's episodes were filmed first. Though his footprint in the music industry has been well set for over 15 years, if you were to ask him to choose between the mic and the apron, surprisingly, he wouldn't hesitate. "I know with the industry being what it is, it would be unlikely that I would be able to make a living from it. But, I would choose the food show, anyway."

"I was lucky to be brought up in a house of good food. My granddad and my mom, especially were the real cooks of the family and they found I was inclined to be a chef by the time I was in 5th standard [grade]. Yet, cooking always remained a hobby no matter what I was doing – a hobby, but a serious one. The food came first."

"I get to be artist and mad scientist at the same time. It's good to be a little bit of everything!"

"We have an amazing team. Cryptos has been with Demonic Resurrection since the beginning and it was actually him that came up with the name, 'Headbanger's Kitchen.' It was just perfect. The growth has been awesome!" the gentle-mannered Gemini exclaims like a little kid opening a present. "I was able to bring guests to the show through my personal music connections, which is so great to have. The support has been really great."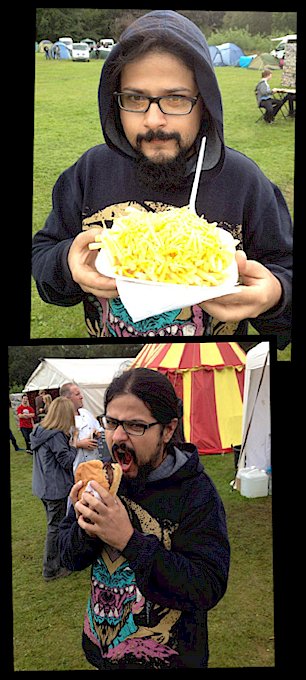 "Of course, we would love nothing better than to take the show on the road and cook for bands in Europe and America, but that will take money that we just don't have. Not yet. But, it is definitely something we aim to do in time. As it is, things can be a little expensive." He explains, "The technical reason why the bands don't cook with me is because the show is shot in two parts. First, there's the cooking and then we have to travel with our gear to the bands as they usually cannot come to studio." He credits, "Our sound engineer, Furtado, does all the music, imports the equipment, takes care of the retail and the social media."

The YouTube foodie host wears the hat of singer, guitarist, computer engineer, video producer, and makes his living in a recording studio while rubbing elbows and feeding the finest of the grindists – in black, of course, because "black makes you look good," he muses. What started off as a simple pastime, just a blog showcasing his favorite recipes and some notes on Facebook, has now spawned into a monster an average of 15,000 hits per episode including over 27,000 views from #10, aired Jul 17, 2012, feeding Lamb of God his "Black Label Chicken," in less than three years. With the buffet of crowd-funded episodes still going strong, he's not only giving the world a taste of the good life, he's showing a different life in a strange new world in the process.

As the heads keep spawning and germinating on the great Hydra of metal, there is a neglected part of the beast sown and grown in India that has not enjoyed any particular attention from the west until Demonstealer sat them down and fixed them a plate for all of the world wide "interwebs" to see. An impressive list of the country's favorites and legends such as Scribe, Skyharbor, Bevar Sea, Devoid, and Zygnema have all enjoyed a nice sit down with DM after a nice plate of spaghetti or a 1-wing chicken pakara. "I know that people are surprised that there is a metal scene in India, but it is very alive and thriving. There are stereotypes that we all have to work through, but we have similar problems in our community as the west does. For example, the tribute band problem, where it is hard for original acts to get shows because the venues want to book the tribute bands because of the money. That's something that I don't think we can ever fix. But, we also have fewer venues than the west does, so we have to work even harder to not only get the gigs, but there are also limited choices, not to mention trying to get to them."

"People don't realize or forget that our infrastructure is terrible in India! It is difficult and dangerous to transport equipment, let alone just getting to the gigs." But, he sagely concludes, "But, the number of venues are still growing and I think in time things will iron out."

One of the gruesome beauties of metal is its fight. It's unmistakably a warrior's art, even if there is no intention of hitting the battlefield, it still hits society in the face. But, India is a very different society, so what is Indi-metal's beef?

"Bollywood." No question, no hesitation. "It commands everything. It's everywhere. It's suffocating!" He adds, "And there's the orthodoxy and the politics, too. But, Bollywood *laughs* that's the real beef."

Beef...which he cooks up with bacon, eggs, cheese, and mushrooms (The "Demonic Burger") with a side order of Nervecell in the first episode. "My favorite spices keep changing," he explains. "Right now, it's Cajun spice, sweet paprika, and cayenne pepper." What wine would go well with that? "I don't know. I don't drink." He laughs, "I know, a chef that doesn't drink, go figure. What can I say?...Stereotypes."

And of course, the answer to the most important question of all: "If I were to cook for MAXIMUM METAL'S crew, I would make a gourmet Indian feast because if you're not from India, you need to have Indian food! That would include Chili (2nd season), Tanduri chicken, and Black dal rice. But not too spicy. I don't like spicy food."

He laughs, again. "I know...stereotypes."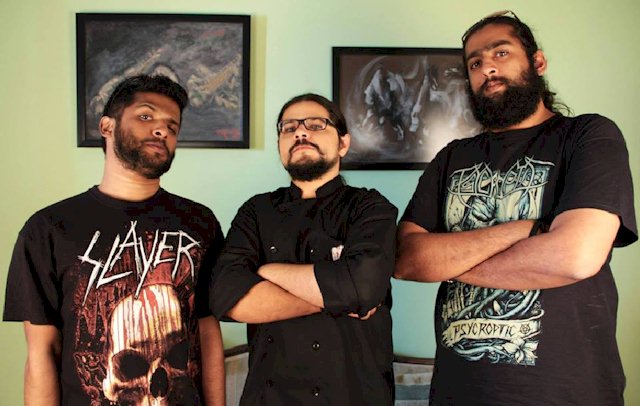 Episode: "Gods Pie" w/ Devoid




Episode: "Black Label Chicken Curry" w/ Lamb of God