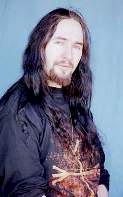 Seventh One have recently released their newest record "What Should Not Be", their first for new label Armageddon Records and the follow-up to the extraordinary "Sacrifice" record from 2001. My first question for you Rino is what exactly is the significance behind this album title?

First of all, we chose it because it sounds somewhat dark and mysterious and not too cliched either. We wanted a title to fit the songs and the artwork on the new CD.

For me personally this album has some different arrangements than the material found on "Sacrifice". What makes this record different than the last and will long time fans of the band enjoy this release?

As musicians and songwriters I feel that we have defined our own style a bit more if you compare it to most of the material that was on "Sacrifice" our arrangements now are slightly more progressive and has much more dynamics. This was just a natural evolution of the band though and no marketing plan!

Seventh One have Lars Ratz in the studio again to produce this record. Of course he worked on the band's "Sacrifice" release and has produced a number of power metal bands. What do you look for in a producer and why did you go with Lars again for this album?

We really want a powerful sound, but still with a clear production. In my opinion Lars has surpassed his work on "Sacrifice" with "What Should Not Be". Lars is a very nice guy that makes you feel comfortable, but still makes you go that extra mile in the studio. Basically we chose Lars for that combination, which to me seems like the ideal qualities a producer should have.

"What Should Not Be" is a phenomenal power metal record, mixing in all sorts of influences ranging from Helloween and Metallium to Iron Maiden and Accept. What is truly the backbone of this band's sound and how hard is it to stay within the power metal guidelines and still deliver something new and fresh in the genre?

Well, we all have our different influences within the band ranging from AOR up to Extreme metal. At the same time we are all brought up listening to bands like Dio, Queensryche, Helloween and Maiden so that is the backbone I suppose. Power metal has a somewhat restricted playing field, but we have never felt compelled to follow everyone elses path. It is more imortant for us not to sound like just another copy of another copy.

On some of these tracks I can hear huge chorus parts that are very reminiscent of what Blind Guardian has done through the years. They have always seemed very large and epic in their delivery. Were you trying to go for an epic sound here with these chorus arrangements, to sort of go for that epic German power metal vibe?

Blind Guardian is definitely one of my favorite bands. They have released many classic metal albums and especially their lead vocals\choir arrangements are impressive. Johannes Losbäck in the band is the one responsible for screaming his balls off doing the "raw" choirs while I am doing the "clean" vocal backing vocals and harmonies. It was very clear to the band that some of these new songs just had to have these huge chorus parts, but in the future I would like it to sound bigger and even more epic.

What shows have you done thus far to support this release and what tour plans do you have for 2005?

At this point there are neither any shows or any tour plans yet unfortunately, but we do hope that will change this year.

"What Should Not Be" is the first album for the band's new label Armageddon Records. Why did the band end their relationship with Massacre and what does Armageddon offer you guys as a label?

Basically we are on the same label as when we released the first one. Sounds confusing? Let me fill you in, we signed our contract with Armageddon Products in 2002, went to Hamburg and recorded the CD. It was released in October 2002 and distributed by Massacre in Europe, Hellion in South America etc. On the new CD Armageddon has become an active label and now has its own distribution network. We signed with Armageddon simply becuase they seemed to have the best offer.

Is this album out worldwide?

It is out in Europe and Japan and I believe it will be released in Russia soon. We have no distribution for USA though so if any labels wanna have us for the US market just contact the band or the label through our website www.seventhone.net or www.armageddon-music.com.


In the US death metal and hardcore have run rampant for about two years. Power metal is completely ignored here. I was curious how popular the power metal scene is in Sweden and the rest of Europe? Have the Hammerfalls and Dream Evils of the world hurt the scene more than it has helped?



"Power metal has a somewhat restricted playing field, but we have never felt compelled to follow everyone elses path."

As you know Hammerfall opened up a lot of doors for power metal bands. They have taken a lot of flak for being widely commercially successfull but isn't that what (almost) every band strives for? I mean recognition for your work? It seems like the scene is very varied nowadays. You got Hammerfall on one end of the scale and bands like Dark Tranquility and Opeth in the other. The big Power Metal boom seems to be over though and the market is flooded with so many copies. I hope that in the end the good ones will survive.

2005 marks several key reunions, the biggest being Motley Crue and Judas Priest. In your opinion is it to late for these bands to make a comeback or do you think this will be successful and lead the way for a brand new metal and hard rock resurgence?

I witnessed Judas Priest at the Sweden rock festival 2004 and it was a real blast! It was great for me to see them live with Halford, since I have never been able to do that before. They sounded very powerful and I am very curious about how their new cd will turn out. As for Crue, they were the first band I saw live (On the Theater of Pain tour) and I also saw them with skid Row opening ( with Skid Row kicking their assess!) here in Oslo. I really look forward to see them at 2005s sweden rock festival, I was a real Cruehead when I was just a kid! It is a miracle that these guys are still alive and kicking...I hope this can lead the way for a renewed interest in Metal when it comes to the mainstream media, cause they have claimed that metal has been dead and gone for so many years. As both you and me know Metal has never died and its true fan base never went away! Maybe the mainstream media will start treating Metal bands with every bit of respect that I think they deserve! As for getting new fans into metal by the reunions of bands like the two you mentioned can certainly never be wrong and eventually the new metal fans might want to explore further into the scene and thereby discovering a whole new world to delve into and enjoy.

What records are you looking forward to in 2005? What was in your playlist consistently last year?

I am really looking forward to the new Nevermore, The Gathering DVD, Priest, Masterplan and Kamelot. Queensryche's Operation Mindcrime part 2 and Helloween's Keeper part 3 will be extremely interesting to hear! Actually, in 2004 I listened to a lot of stuff! Opeth-Damnation, Fates Warning-No Exit and the whole of Forbidden and Nevermore discography always seems to be in my playlist!

What are your thoughts on the murder of Dimebag Darrel and how can security prevent this type of thing from happening again?

It was a really terrible shock to wake up to the news of his death. I had a hard time believing it at first but it soon dawned on me. When I played in thrash bands at an early age Pantera was to me and so many others big influences. Dimebag was probably the reason why a few metalheads picked up a guitar in the first place. As for the security issue, I guess it will have to be much more strict than it has been in the past to prevent such acts happening again.

When will writing begin for the next Seventh One record? What is the timeframe for a new album to hit store shelves?

We are already in the thinking process, so to speak. We do have a few new riffs around, but no real song ideas yet. Exactly when our third CD will be released has not really been discussed with our label. Right now we are too busy doing promotion.

Do you have any interest in doing a side project or working in two full time bands?

Yes to both, but Seventh One would be first priority.

In closing, Seventh One have released another quality gem with "What Should Not Be". We wish the band the best of luck in 2005 and look forward to things to come!

Many thanks Eric, thanks for an awesome review of "What Should Not Be". Keep the flame burning and keep up the good work! To our fans in the US, I thank you for all your support, you rule! Check out www.seventhone.net for the latest updates on the band.


--by EC