I N T E R V I E W S

Midnight Eternal
"From Embers to Phoenix"
By Greg Watson and Eric Compton | Published: June 12, 2014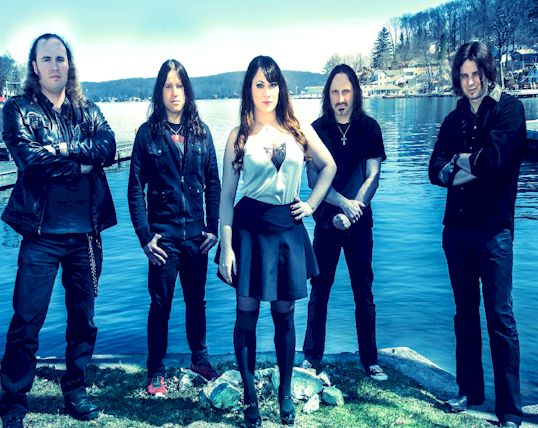 The Greek mythos of the "Phoenix" rising from the ashes is a fair analogy to use when describing the formation of Midnight Eternal. The New York/New Jersey symphonic band originally formed with the intention of writing two songs in March of 2014. Two members of Operatika, Richard Fischer and Boris Zaks, joined forces with Daniel Prestup (Spider Rockets) and Mike LePond (Symphony X) for the recording. The group soon acquired the talents of Raine Hilai as vocalist based on her work with theater and her solo endeavor. The plans of two songs quickly evolved into the formation of a full band.

The group's first recordings, "When Love and Faith Collide" and "Masquerade of Lies", are evidence that the band have gelled together and convey that chemistry to the studio.

"We wanted to start with a bang and go for the songs that would define our sound and lay a foundation for the upcoming songs of our first album. We had a great time putting the pieces together and recording each instrument in such a short time. We were all very excited and eager to put these songs out to showcase our sound and let the metal community know that we are out there and ready for the prime time", explained Hilai.

Fans may recognize the name Mika Jussila. The famed Finnish engineer has worked with Nightwish, Children of Bodom and Eluveitie in the past. Jussila provided his talents to mix and master the band's two songs.


"It was a no brainer for us to reach out to the man who has worked with so many heavyweights in the genre.
"Mika had mastered some of Operatika's songs and we were very impressed with the sound. It was a no brainer for us to reach out to the man who has worked with so many heavyweights in the genre."

Hilai elaborated on a full-length album to follow the two available singles.

"If all goes as planned, we should be ready to begin the recording this Fall. Currently, we are in the middle of the writing and recording the pre-production tracks of the new material."

While fans await the debut from Midnight Eternal they can see the band perform live at the "Women of Metal" festival in Pittsburgh, PA on July 12th. The festival will also feature bands like A Sound of Thunder, Beyond Eden and Mind Maze with a portion of the proceeds donated to The Breast Cancer Research Foundation.

"It's been a great experience so far as the organizers have been very accommodating and easy to work with. They are enthusiastic and eager to bring the best Female Fronted bands to the masses here in the US. We are really looking forward to playing this festival!"

Link: www.midnighteternal.com
Link: www.facebook.com/MidnightEternal


ALL INTERVIEWS FOR: MIDNIGHT ETERNAL
| | | | |
| --- | --- | --- | --- |
| INTERVIEW | INTERVIEWER | DATE | TAGLINE |
| Raine Hilai | Eric Compton, Greg Watson | 6/25/2014 | |
ALL REVIEWS FOR: MIDNIGHT ETERNAL
TITLE

DOR

COMPANY

REVIEWER
DATE MADE
RATING
Midnight Eternal

2016

Greg Watson
8/26/2016

4.5
<< back >>