I N T E R V I E W S

Prong. The name is a trifecta of images. Groundbreaking metal. Huge success. And last but not least Tommy Victor, founding member and the human musical synonym for the band.

Blasting onto the scene in 1986, Prong quickly attracted the attention of Epic Records after the release of Primitive Origins and Force Fed. Signed to a major record deal just 3 years after forming, Prong disbanded just eleven years later after the Rude Awakening tour. Reforming in 2002, they have now released a new cd, "Carved Into Stone" and are set to tour the United States.

I had a chance to talk with the man that icons like Trent Reznor and Korn's Jonathan Davis cite as a major influence to their musical style and bands like Danzig and Ministry have tapped as a guitarist and bassist. Lead singer, bassist, guitarist, front man, lyricist and vocalist- Victor has been all over the melodic monopoly board, and managed to land back square center. Luckily we were there to bend his ear and learn that if "you want the good life, you break your back you snap your fingers, you snap your neck."

Prong- Tommy Victor


MM: For those who are new to Prong, can you give us a bit of your history?

TV: Well, I was from NY City originally, played bass originally in bands in high school...and eventually I got the itch and I wanted to try and make a career of it. I had a couple of bands that failed but then I got a job at CBGB's where I had been hanging out since I was 15. I met the doorman Mike Kirkland and we just started jamming and 2 years later we had 2 indie records out and then we got a major record label deal. I've been doing it ever since. I never ever thought I would ever, ever get a record deal. At first I thought I might get a job as a studio musician, I didn't know what the hell I was doing really- but one thing led to another and I got lucky.

MM: So it sounds like you lived the right place/right time analogy?

TV: Yeah definitely..I had to sacrifice too..living on the Lower East Side, with rats chasing you, living in crappy conditions for years...now I live in LA and things never change...I'm still being chased by rats (laughing)- I'm kidding.



"Never reach the point where you are completely satisfied--when you get satisfied you get lazy."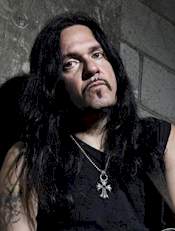 MM: Well rat chasing can give you an extra edge.

TV: Yeah that's true it's all about getting that edge to quote Tony Robbins!

MM: You've been cited by Trent Reznor, Korn and other major acts as being not just an influence but a major influence..so I am curious- who has influenced you over the course of your career?

TV: Jaz Coleman from Killing Joke comes instantly to mind. He was perhaps my biggest influence as a singer and guitarist, as a song writer too. There are other classic guys I like –you can't deny James Hetfield from Metallica, as far a rhythm guitar players and singers go, he's one of my favorites of all time. So, I would say it's a cross between those two guys.

MM: You play bass and guitar. Not every bassist does that and not every guitarist does that. So I'm curious how does one affect the other in your overall playing? Do you feel like it makes you more well-rounded? Is there a way you feed off of that somehow?

TV: That's a great question- I don't think I have ever been asked that before. I started out playing bass and I was always attracted to the simplicity of that. Four strings, and I knew how hard it was to actually keep things simple. I remember reading an article in Guitar Player with Carol Kaye, who is a great studio musician and she was quoted as saying "keep it simple"...if you're going to play bass don't go too crazy" and I think that applies to Prong...eventually down the line- we try to keep it as basic as possible with interesting riffs and creating a little style within that, we try to keep away from a lot of the excesses you know? Like extended solos, too crazy arrangements, but we try to keep it interesting at the same time. I keep things simple as far as my gear goes and try to get the point across with the least amount of excess.

MM: Speaking of which, Pinch Harmonics is one of things you have been known for which adds texture without overly complicating things... now that Prong is getting ready to tour, tell us about your rig- what are you using as amps and axes?

TV: Right now for live shows I am using transistor heads, which I consistently use-right now I have a discontinued Crate VTX350H transistor head, I use these old beat up Krank cabinets that Dimebag Darrell gave to me before he passed, I have a very basic pedal board, with a Dunlop Wah, MXR Chorus, some Digitech Digital Delay, an ISP gate and that's pretty much it. I use an EQ pedal to hit on when I do solos to create feedback. For the studio, I use a tube amp, which is an EVH 5150, along with the Krank head and an old Marshall, my old Valve State Marshall 8100, which I used in the past on "Cleansing" and on "Snap Your Fingers, Snap Your Neck" . It's really basic.

MM: Are you playing Gibsons for this tour?

TV: I've been using Schecters for awhile...they've been really supportive because I need an arsenal for different tunings...and for other projects. I'm using a discontinued double cutaway model. Actually my Gibson SG got stolen and I never replaced it. My Schecters are very solid.

MM: You've had an interesting career path—you moved fairly quickly from Prong to Danzig, Ministry, you've done session work... you've moved from vocalist to guitarist...what did you learn from these experiences?

TV: It's hard to decide exactly what I learned...as you move on you do learn. Playing with Glen, it forced me to focus on my solo chops more. For years the amount of solos in Prong were diminishing to almost nothing, so it felt like it was a dead element in rock music, but that's not true. In Danzig, I had to learn John Christ's solos and with Ministry, that helped my right hand movement and kept me active. I'm not the kind of guy who has ever been inclined to run sweeps, I find practicing really boring..I have to have some kind of leverage to pick up the guitar. Whether it's writing songs or getting ready for a gig, I practice by working.

MM: I was recently listening to "One More Outnumbered", "Broken Peace", and "Controller". Prong and you have long been associated with the industrial metal scene, yet it seems that Prong is a bit more organic and less dependent on sequencers and midi, so what do you think contributed to that association overall? I can see why in some ways, but I'm curious what you think causes the ongoing association?

TV: I think that started with the "Cleansing " album. There was a lot of thrash metal bands, or hard core bands at that time. I saw the way things were technically moving which was different than the strict thrash. We had to set ourselves apart a little bit. It was this stripped down attitude--very stark, hard beats, rather than the whole technical side of things. Adding a sampler and throwing a couple of sounds in here and there, throwing that in added to the mix...back in the day not many people were doing that –we were able to set ourselves apart a little bit which is probably how that moniker came into play a little bit. We were really only interested in writing rock and roll songs really. It's all about the song regardless of what the production identities are. You can have a great thrash song, a great industrial metal song, I guess it has a lot to do with the treatment of the beats--a steady beat instead of a lot of complex changes which were going on at the time in traditional thrash metal.

MM: You've always had an open style of playing which may have played into the association?

TV: The hard chunky rhythms too. I got into electronic music a really long time ago and when you hit the keyboard and have a sample guitar sound--it just had that really sharp attack and the sharp bending, like the decay was non-existent. I always thought that would be cool to incorporate that into metal and still have a distorted sound, like a hard gating aspect. It was something I got involved in based upon the music I was listening to..I try to recreate that sound with the guitar and gate.

MM: Tell our readers about the new tour and new album.

TV: Well in the UK, we are doing the whole "Beg to Differ" record from start to finish, along with new stuff and some of classics off of "Cleansing". We have a new video coming out for "Revenge..Best Served Cold" and we go out on the road in April with Crowbar in support of "Carved Into Stone" so look for the dates on our FB page.

MM: So finally, Tommy—after this many years in the business what advice would you give others?

TV: I think you have to stay positive. I've gone through periods in my life where I have been negative. It's a big waste of time..try to get through the bad times in life with a little bit of faith and keep plugging at it..there's a big duality out there..don't expect everything to be fantastic.. From my own career, we got a major record deal and then things got difficult after that. So, never reach the point where you are completely satisfied--when you get satisfied you get lazy.

MM: Tommy thanks for your time and good luck on the tour and with the new album.

TV: Thank you very much Kim.


-Kim Thore


For more info on Prong go to www.prongmusic.com or on Facebook: www.facebook.com/prong


Prong Tour Dates:
4/5: Dallas, TX @ Trees
4/6: Houston, TX @ Scout Bar
4/8: El Paso, TX @ House of Rock
4/11: Hollywood, CA @ The Whisky
4/13: Gallup, NM @ Slopshot Billiards
4/14: Denver, CO @ Marquis Theater
4/16: St. Louis, MO @ Fubar
4/17: St. Paul, MN @ Station 4
4/18: Cleveland, OH @ Peabody's
4/19: Louisville, KY @ Phoenix Hill Tavern
4/20: Chicago, IL @ Cobra Lounge
4/21: Detroit, MI @ Harpo's



ALL INTERVIEWS FOR: PRONG
| | | | |
| --- | --- | --- | --- |
| INTERVIEW | INTERVIEWER | DATE | TAGLINE |
| Tommy Victor | Kim Thore | 4/6/2012 | |
ALL REVIEWS FOR: PRONG
TITLE

DOR

COMPANY

REVIEWER
DATE MADE
RATING
Zero Days

2017

Eric Compton
8/17/2017

4
<< back >>