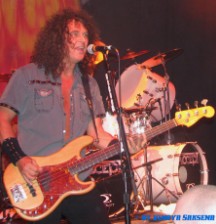 By now, chances are you've heard the hype on reunited German metal legends Accept. Having disbanded shortly after the release of their 1996 album Predator, the band seemed destined to remain little more than a glorious memory until they eventually reunited to perform a small number of live dates. However, when founding members Wolf Hoffmann, bassist Peter Baltes--along with Balls to the Wall-era co-guitarist Herman Frank and drummer Stefan Schwarzmann--decided that they wanted to record new material, frontman Udo Dirkschneider bowed out, returning to his own band, U.D.O.

What has happened since then has proven to be a very pleasant surprise indeed for the band's fan base and apparently the band members themselves. A chance meeting and jam with American vocalist Mark Tornillo of T.T. Quick fame went so well that the band did not even feel the need to hold auditions to fill the vacant vocal position--Hoffmann and Baltes had found their man.

With Tornillo already having slotted in smoothly enough to contribute lyrics, the band recorded the powerful Blood of the Nations album and commenced an ecstatically received tour in support of it. Baltes recently spoke to Maximum Metal's Vinaya Saksena as the band was preparing to take the stage in Cleveland, Ohio for a show that the bassist revealed would be recorded for possible release in the near future, among other choice revelations. What follows is an edited version of that interview.

VS: How's the tour been going?

Peter: "Excellent. We're very fortunate. Everything is going good so far. We're playing tonight here, and we are actually going to record the show, and then we are headed to Chicago tomorrow. We got to go to the Rock and Roll Hall of Fame and hang out a little bit there yesterday, so it was a good day. It's pretty cool. They're missing a metal section. But they were talking about maybe putting a metal exhibit in over the Winter and having my "Balls to the Wall" bass or Wolf's Flying V in there, so we'll see. Who knows?"

VS: So is there going to be a live CD, DVD, or what?

Peter: "Well, you know, we have a bit of time. We're thinking about it, and we're definitely going to do it. This is a meet and greet tour in America right now. Our real proper tour actually starts the first week of January in Europe and takes us through the end of the year all over the world. And I think we are going to make a real effort to record these shows."

VS: Can you tell us a little about the new album and how the songwriting went?

Peter: "Well, the whole thing started with Wolf coming to my house in Pennsylvania--he lives in Nashville, but he had something to do up there. So I said, 'while you come up, why don't we play a little bit? I'll call a friend of mine who's a drummer and we could jam.' So we went in the studio, and as we were in the studio, my friend who's an engineer said, 'why don't you call this guy Mark? He knows your material. At least you have somebody to sing with, so it's not so boring just to jam.' So we call him up and he was singing for two minutes, and I looked a Wolf and he looked at me--'Are you thinking what I'm thinking?' 'Yes.'"

"And you, know we were living totally differing lives. Wolf is a photographer, I write for radio and television. We had no intent of opening Accept again. We were done with that. Then Mark was there and all of the sudden the fire was stirred again, and we called the other guys, and asked Gaby in management. And before you know it, we shook hands, and off we go."

"So I started writing songs with Wolf, and I think we had about five songs. And then [producer] Andy Sneap, who had just finished with Megadeth, found out that we were planning on doing an album. And so, through the grapevine, through a mutual friend, he found out and came to Nashville and listened to the first couple of demos that Wolf and I did. And he wasn't too pleased, because he's a big Accept fan, and he was looking for the traditional Accept sound, you know? So he listened to it and [said] 'there's a couple of good riffs in there,' so he decided that we [should] go back and listen to the old Accept records for a couple of days, which we did. And from a fan standpoint, he pointed out all the good things--you know, things that are trademarks, things that made us special. All the little things that, when you're writing them yourself you really don't remember or don't know that they're special. But as a fan, I think you realize how special they are. And by doing that, we realized, 'oh boy. We were doing totally different stuff back then.'"

"So we put ourselves in the mindset, threw everything out except one riff and started over. And we were actually playing and composing and changing things till the last minute. We weren't in a hurry. We wanted to make sure that, you know, if we come back with a record, it better be really good."

VS: You said you only kept one riff from the initial writing sessions. Which one was kept?

Peter: "'Pandemic.' That was the first song we wrote."

VS: And when you were going through the old albums with Andy, were there any particular things you heard that made you go, "oh that was really good- I forgot about that one?"

Peter: "Yeah, you know, all the twin leads, the big [backing] vocals. There were some quirky things that we do, things that were different from other bands, and he pointed out what that is, you know? I can't tell you in particular what that is right now, because we went through it song by song. The way we put things together sometimes and the way we incorporate, like, some classical elements, the heavy riffing and always the riff in mind first. I guess that's primarily what he pointed out. "

"A couple of riffs we had, they were a little more in the AC/DC area and they really didn't fit, and we realized after awhile writing the material, 'oh this is cool, but it really doesn't fit, it's not us anymore. This is it. This is where we should go.' It was very clear. After a couple of weeks, we found our road."

VS: Did he point out any of the old stuff that he felt wasn't really you as a band?

Peter: "You know, I don't really recall the specifics to be quite honest. Because, you know, we were like three kids in a candy store sitting there. He got us so excited. You know, it's interesting--he's such a big fan. And sitting there with him pointing it out, suddenly it's like we're all eighteen or sixteen again. So I don't recall specific instances or songs where he pointed that particular part out. But in general he was very instructive and it was just a blessing for us to even have him, and for him to be able to point that out was great."

VS: I have heard that Wolf played most of the guitar parts on some of the early Accept albums. Was Herman involved in recording this one?

Peter: "Herman participated in one song, because he was in Germany. He had a production of his own. He has his own band over there and he's a producer, so he's very busy over there, so we didn't really have access to him. So Wolf did basically all the guitars except on 'Rolling Thunder.'"

VS: Outside of Accept, you once worked with Don Dokken. What was that like?

Peter: "That was actually a really cool project, because it had some really cool players in it. It had Mickey Dee, who's now in Motorhead, John Norum from the band Europe, Billy White who was in the band Watchtower from Austin, Texas, myself and Don. It was a really good album; it was released through Geffen and stuff. It was in the MTV times. But like it always is in life, when you have projects where you have guys just come together, you have one guy who's actually the main guy and the other guys who come together, the longevity of bands like that is not there. Because everyone always can go back to where they came from. Well, Mickey, I don't know if he went back to King Diamond- he went to Motorhead. But John eventually went to Europe and I went back to Accept, and that's kind of where we belong."

"I talk to Don once in awhile. I've been to a couple of his shows and we talk on Facebook and stuff. But everybody has different lives."

VS: How did you get involved in that project in the first place?

Peter: "He gave me a call. He knew that I wasn't in Accept anymore. And I'd played the bass on the first Dokken record, Breaking the Chains. I did that in one night, I remember. The bass player they had at the time for some reason didn't work out, so Michael [Wagener, producer] asked me and Don asked me, 'can you learn all of the songs?' I think it was around noon, they asked me 'can you learn all the songs for, like, midnight and then record them until the morning?' So I did."

VS: Having done the occasional lead vocal in the past, did you consider doing so on the new album at all?

Peter: "No, no, because, you know, Mark is our new singer and it's important that he goes and sings all the stuff. It's a new product, a new life. We don't call it a reunion. We call it a rebirth in the band. It's really more than that. So I wanted to make sure that he sings all the songs. But we're working on something really cool for the next album, where we have a really cool duet. We're working on it, and I think it would be really cool to put both parts together."

VS: So you're already working on ideas for another album?

Peter: "Oh yes, of course. No rest for the wicked."

VS: Can you give us an idea how that's shaping up? Is it different from Blood of the Nations at all so far?

Peter: "No. We wrote about forty songs for Blood of the Nations. So we have a lot of them that we didn't pursue to the end--not even halfway. So we have a lot of stuff still laying there we want to go back to and finish. So I pretty much see it as a continuation of Blood of the Nations--pretty much the same thing. We're going to explore more and try to figure out more cool riffs and come up with cool hooks, and like I said, come up with a really cool...not necessarily even a ballad, but something that Mark and I sing together. We'll try that and just try to make another great album. You know, we were very, very lucky this time, and the real test usually comes with the follow-up. So, we know what we're up to, but we're very optimistic."

VS: One track that stood out to me was "Kill the Pain," because, to be honest, I couldn't imagine the band doing something like that when Udo was in the band. You know what I mean?

Peter: "Sure, absolutely. I agree. These were some of the struggles we went through throughout our career. There were certain limitations that Udo had. You know, He was a great singer, a great frontman. He had a lot of things going for him, but there were some others where we always felt held back a little bit. And I guess that's when it all started, when we'd try to break away a little bit and we didn't see eye to eye. And you know, now we have the possibility with Mark. He can do the stuff that Udo did--he can play all the old catalog, all the old songs. He does them great. And now, [on] the new stuff, he can sing clean, he can really put emotion in it, and he speaks English, so that's a good thing. He really understands the lyrics and kind of acts them out even on stage, which is really cool. So he's our new voice, and we're very, very happy with him."

VS: Do you have any old audio or video footage from the old days or since then that hasn't been released?

Peter: "I think, yeah, if we would really dig deep in these boxes that we have in the basement, there's probably stuff in there. But the day will come one day when we go down there. Right now, honestly, we're so on fire, we're so happy, we're so blessed with what's happening to us. We have a terrific album, a great new band. We're just going forward. So that's why, for now, everything stays in the basement. There will be a time for that."

VS: Is there any chance you might go back to your Deuxmonkey project or something else outside of Accept at some point?

Peter: "No. I think we're ready here to go until the last note is played, 'til the last pick is thrown or the last string broke and the last speaker's blown out. I think that'll be it. We're in this for the long haul. We realized you never get another chance in life after sixteen years. And we got another chance."

VS: Anything else you'd like to add?

Peter: "We're probably one of the most hard-working bands there is. You know, we made ourselves a promise. If people go somewhere and pay money for it--buy a ticket, buy a t-shirt, buy a beer, buy parking, whatever, we want to give them something that they will never forget and it requires as an artist that you really go deep and show that you deserve these people showing up. So we rehearse like crazy. We make sure that we don't leave any stones unturned when it comes to our songs, when it comes to songwriting, when it comes to the rehearsals for the live shows. And now the fruits are there. Every show we do, fans [say] 'I've never seen anything so tight, I've never seen... people having so much fun on stage playing.' I think, probably the message to our fans is that this is real- this is heavy metal. This is from the eighties, played in the nineties and now catapulted in the next century and it's the real deal, you know? We don't have any equipment on stage- we don't need nothing. We have the drums there, we go out there, and we just kill. That was our agenda, and like I said, in order to do that, we want to be as tight as we are. But basically that's what it is, you know? We're the real deal. It doesn't get any closer than this. We want to meet and greet all the fans--we don't charge for it. We love to meet everybody. We love to hear from everybody."