You're currently leading the "Who is your favorite guitar player on Monster Records?" poll by a decent little margin. How about that?

It's flattering that people take the time to vote however I don't consider myself to be a particular good guitarist.

For those who aren't familiar, can you give us a brief history of the band:

Legend was formed in 1980 in Jersey, UK Channel Islands (a small island in between England and France). We released three independent records between 1981 and 1983, two albums (Legend and Death in the Nursery) and a four track EP (Frontline), and were considered to be part of the New Wave of British Heavy Metal movement. We split up in 1984 after our vocalist, Mike Lezala decided to call it a day.

Who would you credit as your early influences? Sabbath and Deep Purple come to mind.

I guess my earliest influences would have been the Beatles who I listened to all the time when I was a child, Sgt Pepper especially. Once I could afford to buy my own records I moved on to more guitar orientated music, Jimi Hendrix, The Who, Pink Floyd, Robin Trower and a lot of blues music. I think it was discovering Sabbath, Purple, Budgie, Zeppelin etc that sparked me into wanting to play. Once that happened I listened to anything and everything that was going.

In 1984, the group disbanded completely. Was it because of Mike leaving the band and not being able to find a suitable replacement?

For sure. We auditioned a few vocalists, even recorded some demos in the studio with one but it just wasn't the same. Mike's voice is so unique that it defined the Legend sound, plus the direction of the band had seemed to get lost in the search for commercial success. The new songs (which turned up on last year's Anthology release) although good musically had lost the edge of our earlier material, you could tell our time was up.

Did you feel that your time was up then or is this from retrospection?

Our time was up as a creative entity ... my brother Neil was playing bass with the band and his AOR influences were beginning to bite into the music ... there seemed to be a desire for commercial success above the music ...and the music was going to suffer, the six track demo which is on our "Anthology" release is an indication of that. At the time we did not know people were listening to our music around the planet, it was a bit like playing in a bubble ... and without Mike it would never be the same ....so in answer to your question, yes, our time was up, and I felt it then.

What happened during that last appearance Marquee Club London? Did you guys have a big blowout?

We did, but after the gig rather than during !!! Lemmy took a couple of us to some club round the corner from the Marquee after the gig and I don't remember much else!

Legend has been called one of the "lost treasures" of the NWOBHM movement. Do you get a bittersweet feeling from comments like that or does it do you as much good as flowers on a grave?

To be referred to as a "lost treasure" is great. Its nice to know that the music we created all those years ago was appreciated and is still respected. At the time we just did what we did and didn't really think too much about it. I look back on those times with fond memories and the knowledge that the music we created was a valid contribution to the NWOBHM movement and beyond.

You did some musical work after the group disbanded, but nothing, relatively speaking, really major in the field. Did you try to get back into any bands or did you decide to take your life on a different route?

After the band broke up I continued to play, but nothing as serious as Legend. I was married with two young children, and decided that my priorities had to change. Security for my family became my primary purpose and the music went back to being a hobby. I formed a band with my brother for a while just having fun playing a set of covers at the occasional party gig and continued to write and record at home. I also started painting again, selling the odd one to boost the weekly finances. I had an offer to go out to the States to play but it would have meant leaving my family behind, something I wasn't prepared to do.

Metal had some big years from '83-'86, from guys like Metallica, Motley Crue, Def Leppard, Ozzy and Dio. Did you have any initial regrets after disbanding and seeing those bands hit real big?

I always felt it would have been nice to have been part of it, to have gone on and been "big" but I've never been one for regrets. I'm a musician. Sometimes the music is screaming to be written and sometimes it deserts me. When that happens I forget the guitar and do something else. Commercial success gives freedom in one way and restricts you in another so I guess I've been lucky enough to play and write what I wanted when I wanted and not had to sacrifice important things in the process.

So, without sounding too corny, your music came from the heart and you're satisfied with it all. What aspect of the original band do you wish was done differently (better production, London base of operations) and do you think it would have lead to more success?

Better production for sure. There was only one recording studio in Jersey at the time and that was used primarily by local cabaret artists, trad jazz bands and country and western outfits. The resident engineer had never recorded a rock band before never mind a metal band so it was always going to be difficult. We did the best we could but the studio and the engineering weren't really up to the job. Its weird how a lot of fans actually liked the badly produced sound but we always felt the material could have sounded ten times better. Being based in the UK probably would have given us far greater exposure and opportunity but what's done is done.

One of our staffers (EC) is a big Thin Lizzy fan. Can you throw us a bone on a good tour story from back in the day:

A good story ? well we didn't really get on with Thin Lizzy when we supported them. It was the first gig of their comeback tour and they were playing in Jersey. At the time our first album had just been released that week, had been played by Tommy Vance on his Friday Rock Show on the BBC and the excitement was high. Because of the difficulties shipping equipment to the island both bands used the same locally hired PA so Lizzy had no control over the volume or sound quality we played at. At rehearsal we kicked and I could see they were a bit awkward about us supporting them. We had quite an impressive pyrotechnic show and our road crew spent a couple of hours wiring everything up. As the lights dimmed on the night of the gig and about 2,500 fans started chanting "Legend" we burst onto the stage only to find that the Lizzy crew had severed all the wires for our stage show. You can imagine how pissed off we were. Still, it ended up being a good night and the fans enjoyed the music but we learned a lesson that night not to trust another bands roadcrew!

Let's move forward in time now. So, how did things get started with Monster Records for the double CD Legend Anthology which was released in early 2002?

Dennis, from Monster, first contacted me about 12 years ago with his idea to release our music

on CD. At the time I didn't even have the master tapes and had little enthusiasm for the band or its past. It was only some years later, when I got onto the internet that I finally realised how much interest there was in Legend and what collectors items our vinyl releases had become. The original studio we recorded in, "The Music Workshop" had changed hands a few times and it was on the off chance that I contacted the new owners to see what they had in their basement that may belong to the band. Low and behold they still had the original master tapes although they were heavily oxidised and unplayable. I tried to get them cleaned but no one on the island had any decent equipment and the cost of a full restoration job just didn't seem feasible. I decided to have a go at digitally remastering some tracks myself from vinyl using my newly found computer skills which resulted in a fairly limited release called "Retroshock". Dennis got hold of a copy and decided to get in touch again to see what could be done. I sent my damaged master tapes to him in America and the rest is history.

Tygers Of Pan Tang reformed, did some new work and played the Wacken festival in 1999 with Blitzkrieg. Did stuff like that get you motivated to restart Legend?

No, not really, it was the release of the Anthology and finally getting back together with Mike that sparked things off. We'd listen to the remastered songs that Dennis had produced and thought "well, we weren't that bad after all". Both Mike and I had digital studios at home so once we got talking about what we'd been up to and played each other some of the solo stuff we'd done we just said let's have a go at writing something between us and see what happens. It was only as the songs began to appear and the music flowed that we suddenly thought "this is Legend" …. That's when we decided to release the new album.

"Still Screaming" was just released this year. Can you clue me in a little about the creative process for the music and the lyrics of the new CD?

Well basically I would write the music or record some ideas in my studio and Mike would take it away and work on it in his studio. Then we'd come together and see how it sounded. Although in the past I've written all the lyrics for the band this time Mike had some great lyrics he wanted to use on a couple of songs so that was a little different for us. I think the collaboration between the two of us was stronger than it used to be in the full band and it worked very well.

I like "I'm Not Angry" with it's menacing riff and "Still Screaming" with its gloomy lyrics laid overtop an almost upbeat backgroud. Do you have any favorites from the new CD?

I'm Not Angry is one of my favourites, in fact I wrote that song with my daughter Jodie in 2000, and Still Screaming is also a favourite. Gloomy lyrics? well they're not upbeat but they are honest. If we cannot say what we think within the confines of music then there's no hope for any of us. For me, the best songs are without doubt "GHB", "Eden Massacre" and "Maybe This Time" ... GHB being about a woman in England who ripped her own teeth out with a pair of pliers whilst under the influence of the drug GHB, Eden being about the bombing in Bali last year and Maybe This Time being about the troubles in Northern Ireland.

I feel we have captured the essence of Legend within the three songs ... heaviness, power, lyrics, emotion and melody ... and of course "Generations Underground" kicks ! there are a few songs from our 1980's albums that come close but I think if someone gave me a choice of two songs which encompassed "Legend" they would be the three (can't wait to play them live)

You said you were really inspired and excited to do new music after putting together the Anthology, but I thought "Still Screaming" was fairly dark in content and sound. How did you get yourself into that mindset?

All our music has had a tendency to be dark. I find that the subject matter of the songs has a great influence on the music. When the lyrics tell tales of horror, injustice, anger and fear I find it difficult to reconcile that with happy tunes. I'm just not into writing love songs I guess and writing about the devil, witches or motorcycles has not really appealed to me either. Mike is the same, he needs meaningful lyrics to inspire him.

You and Mike look like you were pretty equal with the writing on the new CD. How do you decide what songs make the cut and did you have to butt heads on any of them?

No, we didn't butt heads once (we agreed to differ on a few occasions) ... I wrote the music, recorded it and then let Mike take it away to see what he could do with it ... a few ideas got put in the bin ... but he would work on the songs he liked and come back with ideas for vocals and melodies. Then we would work together on his ideas and build the songs from there.

During the pre-production of the new one, did you ever step back and say to yourself: "Why am I bothering to do this after all these years?"

No, not once, it was a wonderful experience and made us both realise what we'd missed over all those years. We didn't even intend releasing the stuff initially. Even when it was finished we were unsure as to whether it should be a "Legend" release or something along the lines of "The Haworth Lezala Project".

These days one album just seems the same all the way through, but then again maybe I'm a bit old fashioned.

It was only when we started playing it to old fans that we decided to just go for it and see what happened. We will be announcing the new lineup of Legend in the next couple of weeks ... back to a five piece and planning a few shows towards the end of the year before a new album and a summer of fests in 2004 !!! ..... I guess we really are back :-)

Considering that the last Legend stuff was from the early '80s, the new CD sounds fairly up to date. Did you do things much differently in the studio for the new CD than in the past other than get a more enthusiastic engineer?

Everything was different. Firstly I played everything on the album, recorded it, mixed it, engineered it. In that respect it was quite different to 1980 ! I'd been using my studio for a few years and have eventually found my way around all the knobs and sliders. I wanted the new record to sound like Legend in 2003, to perhaps give an indication of what the old material would sound like if it were recorded today. To that end I think we achieved it.

Did your time in the computer field help you with the creation of the new CD?

Yes, getting to grips with the technology made a big difference.

In general, did you find it easier to make the newest record or was easier back in the day?

It was easier in the day because there were more people involved. I don't think I'd do it this way again, although there were less arguments !!

Any plans on touring this summer or playing some gigs?

We are in the process of putting the band together as we speak. I have a great new second guitar player and think we've finally found a good drummer. Still looking for a bass player but that should be ok. Hopefully we'll start playing some gigs towards the end of the year. I'm looking forward to playing the new and old material "live" again and will certainly be looking to record some live material for a future release.

Do you think you'll be able to continue to make new Legend music or was the new CD a one-shot type of deal.

I see this as a fresh start, a new beginning. We don't want to just go out and play the old songs in some sort of revival thing, no, we have to move forward and see if we can contribute anything worthwhile in the new millennium. As long as the music keeps flowing then so will we.

I'll admit that I was a bit out of the loop during the time of many NWOBHM bands and it was probably because my access was fairly restricted. Now, music lovers can get on the Internet and find stuff about some of the more obscure bands in seconds. Has the Internet been treating you well?

Yes, we wouldn't be here without it.

Back in the day, we copied cassettes and passed them around to friends, but nowadays with fast connections and file sharing, you can send songs around the world, find obscure bands or grab a whole album within minutes. Where do you stand on the issue?

Not being a megastar who may think they're losing millions from piracy I have an open mind on the issue. If people want to listen to our music and share it then that's what its all about. Making a living out of music or stardom is one thing, being an artist is another.

If they can't find it at their local stores, where could a person get a hold of "Still Screaming"?

We have a list of on-line suppliers on our website at www.cicd.com/legend. Anyone having real difficulties can get a copy direct from me!! Email Pete

Changing pace a little bit for some fun... what non-Legend, metal song do you wish you had created?

Speed King by Deep Purple

What are the differences from your perspective on NWOBHM and power metal?

I think there are a too many styles of metal now, as if it's important to be categorised. The NWOBHM was far wider in terms of metal style and content. It seemed to have every aspect of the genre being played in it somewhere. From political bands like us to death metal bands like Venom to good time metallers like Raven and Fist to prog rock like Marillion. Variation seemed to be the key in them days, probably coming from the legacy of bands like Led Zeppelin. These days one album just seems the same all the way through, but then again maybe I'm a bit old fashioned.

If you don't mind, what are your impressions of some of these other NWOBHM bands:
Saxon – Great band who new how to rock.
Sampson – Didn't hear much of their stuff.
Raven – Excellent band, my brother raved over them
Blitzkrieg – Not heard any of their stuff
Sweet Savage - ditto
Tygers of Pan Tang – saw them live on the telly once and thought what a brilliant guitar player they had (John Sykes) – Love Potion No 9 - I'm glad John went on to do some incredible work and is still doing it now.
Jaguar – Very good band
Angel Witch – A true original of the genre who wrote some very good music.
Judas Priest – They never were a NWOBHM band – they arrived long before in the early 70's – inspirational to many for sure – Sad Wings of Destiny is one of the all time classic albums.
Diamond Head – Very good band with a lot of variation in their music – often compared to Zeppelin
Budgie – Another band that came way before the NWOBHM – I bought their first album in the very early 70's when I was a kid. One of the true heavy bands who wrote some incredible material. The fact they were still playing when the NWOBHM bust into the music scene seems to have got them tied to the genre but the 1980 material was never up to the standard of the original incarnation.
Chateaux – Not heard them
Wolf - ditto
Praying Mantis – Great band – in fact heard some of their new stuff this week on Metal Gods Radio which sounded quite inventive.
Tokyo Blade – Not heard them
Holocaust – Holocaust were and are a very good band, although their lyrical content isn't really my cup of tea. Ron Levine, their current drummer is a good friend of mine so we keep each other up to date on events. I think the fact that Metallica liked them so much has done a lot to further the interest in their music.
Iron Maiden – Without doubt the number one from the genre who really only began to develop into a world-class band when Bruce joined them. They spent a winter over in Jersey some years back writing one of their albums and although I didn't meet up with them my brother Neil played tennis with Steve Harris a few times ! (claim to fame eh?)

Complete the sentences:
--Drugs are making monsters rich.
--Nu-Metal is not metal.
--I really think punk music is the Sex Pistols.
--The term "New Wave Of British Metal" is really too long a term and should have been "Kickass Brit Metal".
--Back in the day, I wish I had less groupies.
--I would like to see Brittney Spears play a tuba.
--Nukes should never have been as popular as they were.
--The Pink Fairies was the coolest metal band to ever exist.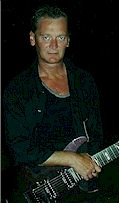 Who's gonna win the Stanley Cup this year--NJ or the Ducks?

Is that soccer or cricket ?

Seriously, could a deaf, dumb and blind kid really "play a mean pinball"?

Feel the vibrations man ….

Ever find yourself "sitting on a park bench, eyeing little girls with bad intent?"

nope, I have two daughters.

True or False:
Men rule the world - false
Pussy rules the world - false

Pharmaceuticals rule the world - true

Which would you prefer? Being hit in the head with a Fender Strat or a Les Paul?

A Fender any day, the thud would sound better

Whose CD is secretly taped behind your toilet?
A: Limp Bizkit
B: Tupac
C: Bread
D: Barbara Streisand

Bing Crosby's tribute to the New York Dolls

Bands like Metallica have covered and had fun with some NWOBHM tunes. Would you like to see some Legend songs redone and if so, by whom?

I'd like to see Metallica maybe do "Torture" off our first album, or Pantera do "Buried Alive"

Do you get any inspiration from the bands out there today? If so, which ones?

Sadly, not much new music inspires me so I still revisit a lot of the old stuff. Seems that most new music I hear, although a lot of it is great, I've already heard it before 20 or 30 years ago.

You've said you were inspired by Jimi Hendrix. What do you think he would sound like if he were still playing today?

I think he'd still be better than Clapton

And to finish off, who is the true God of Heavy Metal?

Ozzy--Nailer 06/10/03