I N T E R V I E W S

Patrick Duvall - Of The Sun
"Distilling Their Own Style"

Interview with guitarist/vocalist Patrick Duvall who discusses the band's direction, Southern Progressive Metal genre label, and social media footprint
By: David Loveless | Published: Friday, May 26, 2017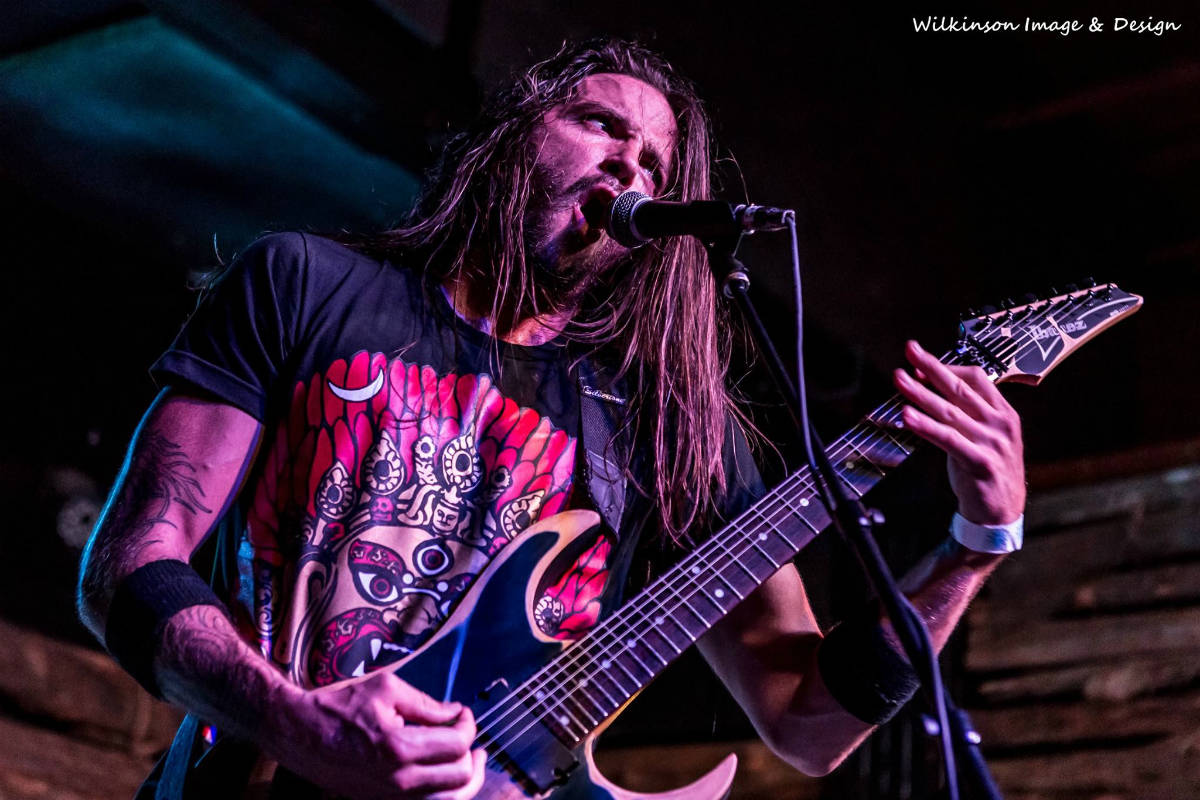 Southern progressive metal mammoth's, Of The Sun, have just released their sophomore album called Before A Human Path. I had the pleasure to interview guitarist/vocalist Patrick Duvall to find out how the band is doing and where they are heading.

MM: First of all, congratulations on the release of your new album, Before A Human Path. It's been 8 years since the release of A.M. Radio, what took so long to release the new album?

8 years? Really? Shit, we must've overslept! Man, we (David and I) experienced no shortage of difficulty in finding a drummer to work with. Between A.M. Radio and Before A Human Path, we worked with 4 different drummers 6 different times. Interject a 3-year hiatus and, all-of-a-sudden, BAM! There went 8 years hammering a square peg into a circular hole.

If you hear a song for the first time and successfully figure out where it's going before it gets there, that's what we call "boring" --Patrick

Before A Human Path is a lot shorter (in length) than A.M. Radio. Do you plan to release shorter albums more frequently now?

The next one will be another short release. They're fun, man, but we're not limiting ourselves to only doing things a certain way. After this next record, we might go back to the full-length format. I'm sure we will at some point.

Although there are only 5 songs, they sure do pack a punch. How has the writing process changed for you guys over the years since the release of A.M. Radio?

I don't know that the process has changed, actually. As the primary songwriter, I can't offer insight into any of the techniques I employ to write songs. I'll have an idea for a part, whether it's based in the beat, lyrics, or strings, and I'll get busy building around the skeleton until we find ourselves in the company of another bizarre, fascinating animal.

Before I reviewed the new album, I tried to do some online research on Of The Sun but was surprised that you guys do not have a large footprint in online social media. Any plans to make a larger impact in the online community?

This has been a consistent problem for us. We've been around since 2009 and an electro-pop group from Australia has made it all but impossible for us to be found through Google. It's unfortunate, just another obstacle to deal with. The way things have been going, we'd probably need to dump a bunch of cash into boosting our SEO. I don't think we're gonna concern ourselves with that for quite some time, though. Our focus is using our finances to create cooler shit for a better experience: upgrading our gear, expanding our stage dynamics, getting more elaborate with our merch, shooting videos, etc. We'll worry about "existing" after we've achieved a bit more.

One thing I found interesting is that you label yourselves as "Southern Progressive Metal". Please explain the meaning/influences behind this new sub-genre.

We had no choice, man! Everyone wants to assign labels and draw comparisons. We were happy with just being a metal band, but people weren't having it. They'd be like, "No, no, man, you guys aren't doing what's expected of metal bands! You're something else! Pick a side!" We couldn't figure it out for the longest time. We were trying to dictate our subjective identity from the inside looking out and it got confused. We weren't trying to be a thing. At one point, we tried calling ourselves Acid Metal Grunge. It wasn't a fit. Nothing seemed to sum it up.

Southern Progressive Metal came about spontaneously as I was riding around with our producer, Sebastian Cure, who was playing a rough mix of our songs on his stereo. He was ticking off all of the influences that he could hear, as well as the reality of where we came to craft this style from, and it just kind of fell out of his mouth. I said it to myself and it clicked in like a puzzle piece. Southern indicates the cultures we've been exposed to, the influences we've derived, and the attitude that was distilled from both. There's more aggression to our sound than any progressive metal band that we've heard, a rawness to our strangeness. And yeah, progressive metal for the obvious reasons. We deviate from formula and we're heavy. If you hear a song for the first time and successfully figure out where it's going before it gets there, that's what we call "boring". Our influences: Pantera, Mr Bungle, Opeth, BTBAM, Alice In Chains, Adebisi Shank, Primus, Soundgarden, Car Bomb, Psyopus, Behold... The Arctopus, SikTh, Tool, Sleepytime Gorilla Museum, Nile, Converge, Gojira, Mastodon, Down, Corrosion Of Conformity, Clutch, and the list goes on. Vocally, Mikael Ackerfeldt, Layne Staley, Chris Cornell, Neil Fallon, Phil Anselmo, John Fogerty, Joe Cocker, Rob Zombie, Nils Frykdahl, and Ronnie Van Zant take precedence.

I understand that you did the artwork for the new album yourself. Can you give us some details about the blood, sweat, & tears that went into this design?

Yeah, that was an obsession. I conceptualized the design, cut a 3/4" plywood sheet to 40" x 40", gave it a thin black wash with cheap acrylic paint, textured, doubled up by layering my blood onto the wash, textured, drew the design, and painted it. The process took 81 hours. I watched quite a few days begin through my bedroom window as I was wrapping up the night's progress.


Do you have any tour plans in support of the new album?

Tour plans are being discussed. We're eager to hit the road.

Although your albums are self-released, are you fishing around for any major label support?

At this point, we're just putting one foot in front of the other, staying as creative and productive as possible. I don't know that major labels are really needed anymore. Hard saying. We'll see.

Does being a DIY band limit your opportunities for touring and/or recording?

Well, I'm not convinced that we're a DIY band. We recorded our works in studios that we didn't own and operate. However, if we are using DIY as a moniker for any band functioning on their own volition independent of label support, then I don't think it does. Parameters are certainly different for us and every other DIY band, but I'm not so sure that those factors serve to limit our abilities. You certainly need to stay busier and be more crafty and imaginative, I think. But if you're putting out good work, I think things will align if you're backing it with dogged determination and applying the lessons you learn from past mistakes.

Thanks again for the opportunity to conduct this interview. Any final words for all the metal heads out there that are going to read this?

Currently, searching for Of The Sun on Google won't yield much, but searching for Before A Human Path will take you right to us. Until I make some calls to break some legs, that's gonna have to do. Oh! We're going back into White Room Studios here in Austin this summer for the next record! Things are just beginning to get weird.

LINKS
http://www.ofthesunofficial.com
https://www.facebook.com/ofthesunband




ALL INTERVIEWS FOR: OF THE SUN
| | | | |
| --- | --- | --- | --- |
| INTERVIEW | INTERVIEWER | DATE | TAGLINE |
| Patrick Duvall | David Loveless | 5/26/2017 | "Distilling Their Own Style" |
ALL REVIEWS FOR: OF THE SUN
<< back >>