I N T E R V I E W S

Interview with Nils Patrik Johansson, vocalist of Astral Doors
by Troy Cole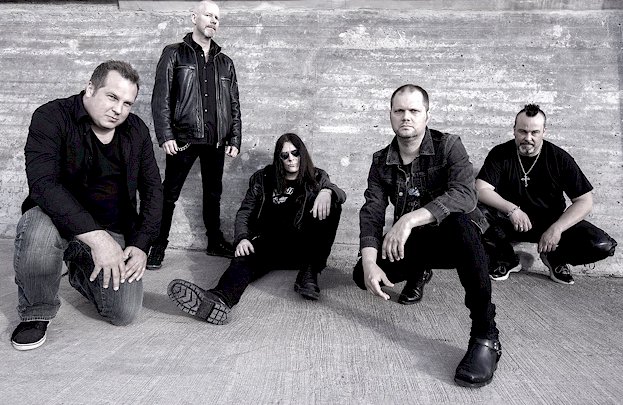 For eleven years Sweden's Astral Doors have symbolized the bold essence of traditional heavy metal. With a sound reminiscent of our forefathers like Sabbath, Deep Purple and Rainbow, the band has achieved global success through seven full-length albums. The band's newest, "Notes from the Shadows", is another treasure in the band's illustrious career. Troy Cole spoke with Nils Patrik Johansson about the new album, released through Metalville, and the group's storied success.

MM: How do you feel the band has progressed in the ten plus years since the release of 'Of the Son and the Father'?

NPJ: I think we are all better musicians and better songwriters. If I talk about me as a singer, I'm not very happy with the singing on 'Of the Sonů' but I was very unpolished back then. The way I sound now is how I really wanna sound.

MM: So how would you compare 'Notes From the Shadows' to 'Of the Son and the Father'?

NPJ: Oh, my God, it's tough to compare. When we did 'Of the Son.....' we were like pioneers. We wanted to bring back classic hard rock to the scene and we really gave all we had. We knew this was our chance. When I look back at it now, it's not a perfect album, but the energy is there and the songs. The songs of that album are still the foundation in our live set. On 'Notes....' I actually can find some of that energy as well, and the first half of the album is perhaps the strongest we have ever done.

MM: Is 'Notes from the Shadows' about the black bible? Can you explain to readers what that is? What is the allure of the book that made you want to write about it?

NPJ: It's not about the Black Bible. We had some intentions at first to write about the Black Bible and mentioned it on our site. Then we changed our mind, but too late. **laughs** The label had already promoted the album with it. Well, shit happens. The album is about evil, religion, the Devil vs God and so on.





"We are what we are and we do what we do. Trends come and go. Astral Doors is written in stone!"



MM: The band has the uncanny ability to paint visual imagery with the lyrics. The themes of the band's career has ranged from the conflict in the Middle East to military history. Why the fascination with history?

NPJ: Religion and history is interesting and since we are a metal band it would be pretty stupid to write about love, flowers and peace, right?!

MM: How hard is it to be creative and innovative given the influx of bands and albums being released now?

NPJ: For us it is no problem. We are what we are and we do what we do. Trends come and go. Astral Doors is written in stone!

MM: How long do you see Astral Doors continuing and what is left for you to accomplish?

NPJ: We have a lot more to do. I mean, we have our die-hard fans, but there are a lot of rockers out there that don't know about us. And we are still young compared to many bands. I will do this until I die....hopefully on stage!

MM: Even today you are still compared to the late Ronnie James Dio, has that been a blessing or a curse?

NPJ: It's a blessing, even though I'm just as influenced by David Coverdale. I am glad that people like what I do and I try to get better and better.

MM: What are the touring plans to support the new album and do you have any supporting acts yet?

NPJ: We will hit the roads this winter to promote the album. It will be a blast. Astral Doors is one Hell of a live band. Haven't heard anything yet about support acts. We'll see.

MM: Are there differences you notice among the fans in different countries when touring?

NPJ: It's no difference really. All metal people are nice and one big happy family. I salute them all!

MM: Where is your favorite area or venue to play when touring?

NPJ: Tough one. Germany has turned into our second home country since we have played, I don't know, perhaps sixty gigs there. I also must say that it's a special feeling to play the UK. Since it's the home turf of heavy metal it is like holy ground for me. But as mentioned before, all countries have great metal supporters.

MM: Last year, or so, I remember hearing about a project with Anders Bojfeldt called Elite Squad, what has come of that?

NPJ: Nothing. **laughs**. We are both too busy. We wrote some damn fine songs together though, and perhaps one day we will do something with them.

MM: And what is the status of your other bands Lion's Share and Wuthering Heights?

NPJ: Wuthering Heights is put to rest I think, but I'm not sure. Lion's Share is not put to rest, but the band leader, Lars Chris, waits for better days or something. We'll see what happens.

MM: Who is the next band everyone should be watching out for?

NPJ: Civil War-- my new band with the 4 guys that left Sabaton. The debut album, "Killer Angels", was released last year and the follow up is set for a spring 2015 release on Napalm.


Astraldoors.com
Facebook.com


ALL INTERVIEWS FOR: ASTRAL DOORS
ALL REVIEWS FOR: ASTRAL DOORS
<< back >>