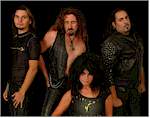 Valkija has just released their debut full length, "Avengers Of Steel", through Greeces premier heavy metal label Sonic Age Records. Nikoll, for the fans out there who aren't familiar with Valkija, how would you describe the band's sound?

NH - Hi to all of you and thanks for the opportunity of an interview. First of all I should like to say that our debut album sound is something like our live sound. It happened for several reasons, one of which is the distance between us and the place in which we recorded, even if we don't dislike the final result at all. We had very few time for recording and no time for post production, you know mixing, effects, and all those things that really changes a work. For those reasons the album sounds with a real live feeling, bringing up some echoes from the past. The kind of energy that comes out from "Avengers Of Steel" is very close with all that 80s feelings that made metal so great, even if it is not correct to say that we forever will search this kind of sound. It hapened and we are simply happy for this.

Were you the founding member of Valkija? How did the other members come into the fold?

NH - Oh well! Obviously it didn't happen in a day. Zoraija and I met each other a long time ago. She was 13 and I was 16 and we were sincere friends for a long time, until we got married a couple of years ago. We joined Jhon the year before Valkija's birth while playing together in a former epic doom project. From the we became leather brothers and sister and Valkija became the sublimation of our relationships. For us, our band is a bit more than simply playing. Its the glue that unite us one to the others. Sebastian joined us last year after the split with Alex, our first drummer. But this exception we didn't have radical line up adjustment.

Prior to this release the band released a demo called "Days Of The Rising Sun". What was the lineup on that release and what can you tell me about the songs and material found on there?

NH - Yes, you're right. We made a 5 song demo named "Days Of The Rising Sun" which gained a lot of consensus around the world. I'm particularly in love with the tunes of the demo, not only because I composed most of them, The Seaferer, Desert Of Leng, The Unknown Dadath, Livin' For Death, but also for the period and all the things that happened with the release of the promo. I mean live shows, the first reviews, and finally a deal with Sonic Age. The line-up was with a different drum player, Alex Scarlata, and we had a collaboration with a guitar player of another Italian band, Fighting Warriors. The sound there is far from our debut album, atmospheres are more ethereal and smooth, voice in itself is less aggressive and high pitched, songwriting has not the class of our debut, but songs in their simple way of being are even catchy.

How did an Italian band like Valkija get involved with Greece's Sonic Age Records? What type of label were you looking for when you decided on Sonic Age?

NH - Really we didn't have a sharp idea of a label we were searching for. The contract proposal just arrived. We took some information about professionality, distribution, way of working, and we were surprised how it was well known. We just decided to believe in them as they believed in us. On the other hand we were very happy to cooperate with a Greek label instead. The metal feeling of Greek people is more rooted and primal than other places. So we were sure to be more free to express ourselves in the way we did.

Are you pleased with your relationship with the label thus far? Have they provided adequate promotion for this new album?

NH - Totally! They are great guys, not only professional and courageous producers. Sonic Age is an upcoming label with a lot of potential and great ideas. They are moving their asses even more. We are surprised, not only pleased, for the promotion they are doing and how they support their bands. The fact that ancient glories like Warlord, Jack Starr, Manilla Road, and Overlorde itself are giving them faith speaks more than a million words.

Listening to "Avengers Of Steel", I can hear all sorts of influences ranging from Dokken and Accept to Grave Digger and Warlock. What is the one style that influenced this album the most?

NH - About the music surely Grave Digger more than Dokken! Vocally it was influenced mainly from Judas Priest and Accept obviously by far! But basically we try to play exactly what we like, nothing less or more. For us this is metal. We are really bored by the attitude of many which in the name of extreme innovation are destroying the real meaning of metal itself. Nowadays too many bands are thinking mainly how to sell more copies with no regards about the contents of them and the listener who will buy it.

Let's go through each track and get a brief idea behind the song and what inspired it starting with The Last One.

NH - The entire album, althought its not a concept, moves on the ideal line of revenge. The Last One is inspired by a real fact occurred to the singer Zoraija. Its about the wish of revenge against the unworthy enemies, the ones who hit you at your shoulders, and the sense of this is given from a father to a son in a tale.

Hold On.


NH - Its something going on from The Last One. The father continues the tale, going on telling how the son should take the revenge on the uncorruptable flowing of time.



"The metal feeling of Greek people is more rooted and primal than other places."

Eyes Of The Shadow.

NH - The most introspective song of the album. The landscape is a post-nuclear world. On a desert street an assassin is laying, passing his last moments in thinking about his life. He feels the breath of the shadowy eye, death, on his neck but now is late, too late. Death is taking his revenge and so he'll become a part of the eye, together with all of his victims.

Return Of The King.

NH - As the name says, its inspired to an episode of "Lord Of The Rings", exactly when the King goes into the ghost cave to ask them for help.

Sign Of The Hammer.

NH - Ground is shaking and from his mayhem demons are pouring out. They are destroying, slaying, setting everything on fire. Each human killed will become a demon joining the legion. At the end evil will have his revenge on the world, changing it into a burning Hell.

The Unknown Kadath.

NH - Inspired by a novel by H.P. Lovecraft, of whom I'm an enthusiastic reader.

Son Of Thunder.

NH - This tune is dedicated to all of the bikers around the world. Since I listened to "Wheels Of Fire" by Manowar I had in mind to write something like a night I was gasing my motorbike on narrow streets near my city. The exhaust strikes was very huge in my ear and at the first bar I met I sit down and started to write lyrics. Jhon joined the day after and started to arrange the song.

Steel Avenger.

NH - Its now time for the avenger of steel! The surrounding is again a post-apocalyptic landscape but more on the line of Dredd than Brendon or Mad Max. Avengers of steel is a metal hero born from the ground, son of Mother Earth and he's unleashed to fight the extreme madness that rules the world after the apocalypse. Its sort of a vengeance of Earth against evil of men.

Hatchet's Blade.

NH - This tune is dedicated to the British tribes who fought against the legions while the Romans dominated in the Christian period.

Do you feel Valkija is a better live band than they are a studio act?

NH - About 130% better instead of the studio. These are not my words, but its what people say when they come to our shows. Our music is quiet and simple and direct. We have no symphonic keyboards or other stuff that you may really feel is missing in live gigs. So the impact of the sound is emphatized with the energy of a metal live show.

Are you playing any shows to support this release? What are your plans for 2005?

NH - Sure we jet into Athens to play in a club and now we are planning a little tour in Italy. Perhaps some more dates in the summer out of Italy but we are waiting for confirmation.

When will writing begin for the next album and will it be released on Sonic Age as well?

NH - The writing has begun! We don't like to sit waiting for events and we have six new songs, two of which we are performing live to see the response from the public. I must say that this is huge.

In your opinion who is the true heavy metal icon?

NH - I don't think there is only one metal icon. The sky of true metal is full of well and less known stars and each of them in my mind influenced and forged our genre as well. But if I must choose a couple that influenced me personally I'll say Judas Priest (Halford Era), Accept, first works of Savatage and obviously acts like Virgin Steele, Manowar, Dio, Black Sabbath (with Dio and Tony Martin), and Candlemass are in my Olympos of metal Gods. As you can see it is very hard to choose only one. These are all bands that made history in music, changing minds and ways of playing for many others afterwards.

Well that is all we have for you Nikoll. "Avengers Of Steel" is an excellent slab of power metal and hopefully this will open up some new doors for you. Best of luck in 2005!

NH - I thank you for the beautiful words and for the support. I wish all the best to you and to Maximum Metal readers, stay heavy, I hope to meet you somewhere.

--By EC