I N T E R V I E W S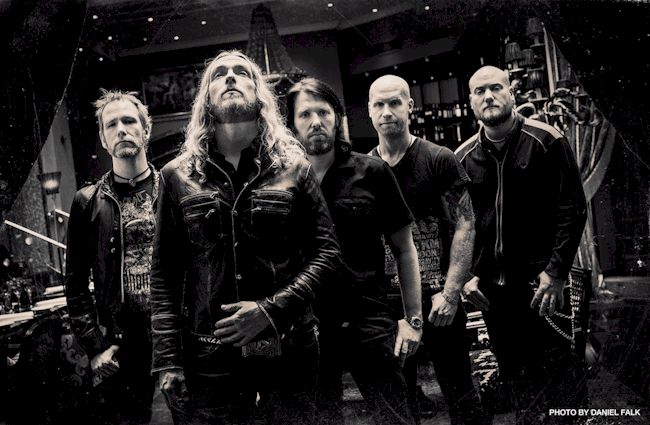 The metal scene is a constant, ever changing landscape. Full of peaks and valleys, it can be a hellish terrain to navigate for many bands. Experienced acts have been able to carve out their footholds and maintain their path with little to no deviation. Dark Tranquillity are one of those bands. The Swedish natives, who began their career in 1989, have succeeded and triumphed in their endeavors. Being in the business for a quarter of a decade the band have proven countless times they are nothing to scoff at.

With the touring cycle for Construct (2013) nearing its end, it was announced that Dark Tranquillity will be taking part in a whirlwind tour with Finnish stalwarts Insomnium throughout North America. The band's guitarist, Niklas Sundin, explains the group's decision to journey across the pond.

"The previous North American trek with Omnium Gatherum and Exmortus went really well, so our booking agent looked into opportunities of returning to the US for another round. The venues were positive about it and after the usual negotiations and practical and logistical stuff we were really happy to get Insomnium on the bill."

This isn't Insomnium's first run with the band either, Sundin explains. "They were main support for us on the European leg of the 'We are the Void' tour some years ago. That made me a fan of theirs plus they're just great people as well as an excellent band."

Touring is a big part of the package deal for both the performer and the fan, both parties chomping at the bit to connect with each other. And when you're as well established as Dark Tranquillity, there are lots of destinations to run through on the live circuit. After touring for over two decades Sundin advises of the importance of touring.

"Living for weeks on end in a bus can be a bit taxing at time, especially for a bunch of forty year old guys...but this is what we do. Having garnered a bigger fan base and being able to bring a solid production on the road has definitely made the touring experience very exciting and rewarding."

The band's dance card is usually filled to capacity with dates, yet this could be a rare "off season" for the Swedes. "This is actually our least-busy summer in several years. Normally we're playing festivals almost every weekend but with all the recent touring we've done, we felt it best to take a small break and recharge the batteries."





"Living for weeks on end in a bus can be a bit taxing at time, especially for a bunch of forty year old guys...but this is what we do."



A recharge is what the band will need to prepare for seventeen dates this November in twelve different countries. With December off, the band will welcome 2015 with their first show on January 4th in New York. The twenty-five date tour in January will cover the US as well as Canadian dates and, according to Niklas, is a chance for the band to cover some of the cities that they didn't get to visit the last time.

In addition to the wear and tear of touring rigorously, there are also international regulations and guidelines that bands have to comply with during their tours. With the recent issues that Polish deathstars Behemoth experienced in Russia, Sundin explained the tolls and tribulations of document and visa purgatory. "Touring in various countries can be very difficult. There have been cases where we've done everything by the book but the country in question had so many questionable practices that it really didn't matter. I'd say our worst experience so far probably was being detained in a police station in China and it causing us to almost have our passports confiscated. Another time, we were denied exiting India and ended up having to spend two days in bureaucracy Hell to obtain a permission stamp to return to Sweden."

Dark Tranquillity's last album, Construct, was a pivotal album for the band because it was the "contract" record, one that solidifies or bids farewell to a label. In this case the band re-signed with longtime partners Century Media in April of 2012 and then began writing for the record in October. The release, the band's tenth, was released in May of 2013.

"I think that Construct was a well needed departure for us", says Sundin. "After a few riff-based records that were pretty similar to each other, it was time to revisit and re-explore some of the more atmospheric sides of our sound."

2015 marks the twenty-fifth anniversary of The Gallery, the influential 1995 album that was as important to Swedish melodic death as Kill 'Em All was for San Fran's 80s thrash.

"It definitely was our breakthrough album in many ways. We had been an established underground band for a few years by the time The Gallery came out but it was a pretty unique sounding album for its time, as well as being way better promoted than many of our previous releases."

That promotion was from independent French label Osmose Productions, created in 1991 by Herve Herbaut. Osmose, as it evolved, would become more of a black metal stable later.

"They were a very passionate label and we got along well with Herve and his team. Rather than sign with one of the bigger labels that made us an offer, we felt at the time there was something really appealing about their no nonsense attitude and unorthodox way of getting things done."

Will the 2015 North American dates celebrate The Gallery and its place in the band's history? "It's too early to tell. There is a fine line between respectfully honoring your past and milking the cow so to speak. I doubt there will be any massive anniversary celebration or full on Gallery-based shows." But realizing that you can't speak too soon about these things, Sundin slyly added "But who knows. We'll see what happens."


Link: http://www.darktranquility.com
Link: http://www.facebook.com/dtofficial
Link: http://twitter.com/dtofficial

--Greg Watson


ALL INTERVIEWS FOR: DARK TRANQUILLITY
| | | | |
| --- | --- | --- | --- |
| INTERVIEW | INTERVIEWER | DATE | TAGLINE |
| Niklas Sundin | Greg Watson, Eric Compton | 8/22/2014 | |
ALL REVIEWS FOR: DARK TRANQUILLITY
<< back >>