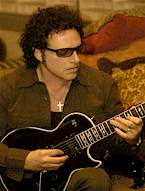 It doesn't happen often that one is offered a chance to interview one of his biggest idols. This time is was granted time to talk with the mighty Neal Schon about his new band Soul SirkUS and the future of Journey. After a couple of cancellations, the interview ghot postponed due to illness, and a videoshoot. Eventually I found Neal in a great mood on the other side of the line.

When Neal first announced his project PLANET US, fans from all over the globe started frowning upon the line up and it's steadiness. Soon after the band got together to start working on their debut, Sammy Hagar, Michael Anthony and Neal already parted ways. It was a time of distress for Schon who, with all of his energy and enthusiasm involved, wanted to make it work and try the impossible; Revive the powerful melodic arenarock of the eighties and claim stardom with his new hoot blooded running horse SOUL SIRKUS!

Neal, tell us how it all got started with Planet Us?

N: It all happened pretty fast. Sammy and I met up for diner quite a while ago in order to discuss possibilities of a tour together. Because of the heavily packed agendas it never could have worked, and I simply popped the question. Why not start a project together? Sammy loved the idea of a collaboration and together with Deen (Castronovo) and Michael Anthony, we started jamming and writing songs. It felt really natural and soon after we found ourselves actually recording a couple of tracks. Unfortunately both decided to reunite with Van Halen, when they got the phone call. I was pretty angry with the whole situation, having put in so time and effort… No, it wasn't the interference of managements or agents that made them decide to jump ship. Though we all have our agents, we never pissed anyone off. Unfinished business? I don't know…

How did Planet evolve into Soul SirkUS?

N: Well, pretty soon after Planet US was dismantled, I cooled down and tried to figure out what I wanted to do. Having written a ton of songs for this and with the energy I still had in me, it was obvious that I needed to seize this moment and make it happen. I had read a lot about this amazing vocalist, and decided to use my sources and bring him in. Luckily, Jeff (Scott Soto) was thrilled to work with me. We met at the annual NAMM show in Los Angeles, where I had the launch of my new Gibson signature series and put together a set of coversongs to play at the Gibson boot. I had heard so much about this guy but when I heard him singing, he blew me away! His voice is so flexible and powerful! Whether he sings Bon Scott or Freddy Mercury, it is as if they are there! Marco was at the same show, and we met up later on. When I heard him play, I instantly thought back of this time that I saw this amazing bassplayer performing in a club. It was Marco! His sound and skills are outstanding, one of a kind! This was our guy, and indeed: he is!

Was it really that easy?

N: Yes it was! (starts laughing)… but again we found ourselves struggling and juggling our agendas! Marco needed to go on a tour with Thin Lizzy, and I had some stuff lined up as well. Soon after, we found time to start working on Soul Sirkus though. Jeff and I started writing and arranging together and the chemistry was there instantly. We felt so much energy! We literally knocked out one song a day! This was so intense. Soul Sirkus brought out the best in me and it was amazing to work with these guys. All sounded fresh and energetic.

"Peephole" however sounds a lot like a Hagar track, is that a remnant of Planet US?

N: "Peephole" was the only track Sammy was able to complete. The rest of the tracks are from my hand! All ideas and samples of songs I had lined up. They were completely taken apart by Jeff and re-arranged for this new record. They're completely different now and true Soul Sirkus tracks, believe me! No way! Sammy is not singing "Peephole" dude! It is Jeff himself with no overdubs… I told you this guys voice is like a chameleon! (Bursts into laughing) Wait until you see the Sirkus hitting your town, and it will certainly make sense!

"Peephole is not the only remainder of Planet US, is it? When I look closely at the cover art, the US is in capitals…

Neal breaks in enthusiastic: Shit! So people do take the time to check it all out! Yeah, it is a remnant of Planet US and shows the evolution into Soul SirkUS!

"Coming home" is not a left over for the new Journey? It sounds a lot like it?

N: Nope, it is just my way of writing. The typical Journey sound, and Jeff being a fan of the band, this had to happen. It's a great track and it is well kept in the spirit of Soul SirkUS.

The debut is welcomed by fans world wide, but I tend to look at it more critically. I think it is great, but expected a lot more considering the input you guys?

N: How's that for a change?! No, I catch your drift. Soul Sirkus is growing still, and this was more or less capturing the moment and energy from us joining for the first time. We needed this thing to rock! But what was there to expect? We recorded the whole thing in just four days! I think we did one hell of a job!

You are right, I didn't know it all went down in such a hurry. For a project, it truly stands out still….

N: Man, Soul Sirkus is as much a band as is Journey! We are not one of those one off projects of the eighties! But it is not a super group by status. We all are known for our music and status as musicians, but no rock star egos or whatsoever! We are in this because we love it and want to let the world know we seriously kick ass!

Aren't you?!

N: I tend to take this band on tour and into studios as much as I can. The vibe is amazing and the enthusiasm and energy explodes of the edges. This is not just a project, no way! No, it won't interfere with Journey or my solo career. It just needs planning, but it will work. Just another one of my babies that will grow over the years.


How do you tend to look at it now, being released a couple of months?



"We recorded the whole thing in just four days! I think we did one hell of a job!"

N: It still has me filled with energy. We are now looking forward to start touring and take this baby on the road! The material grows on you especially when it is played live on stage. That's the whole point!

The album would have been boosted in the eighties, and now it has been released by the band, how odd is that…. I mean in the 80's the record companies would have lined up for you guys…..

N: We have the rights to all of it. That makes it different. True, the band would have been boosted in the eighties, but these are different times. Having all of this control over that release makes it more of a band effort as well. We decide what happens with it. We have released it in the USA a while ago, where Warner handled it in their online stores. It does sell okay, considering the little airplay we get being independent. Just now we are licensing it to Japan and Europe through Frontiers Records, which is just excellent. The label is specialised in melodic rock and AOR, and it also handled our Journey "Red 13" CD in Europe. For this release we did get some extra studio-time, which enabled us to re-record the drum tracks with Virgil Donati. Yes man, it was tough to lose Deen in the process, but I completely understand and support his choice. With Virgil we also brought in one of rock's finest drummers out there! Adding his drum tracks went swift and we even had some spare time to record some additional material for this release. This package will be a magnificent piece of work. It has the extra tracks and will also come with a 20 pages booklet in a digipack with a DVD featuring clips and interviews. This looks awesome!

It will also encourage a lot of fans that bought the original, to also spend their money on this European release….

N: I never looked at it that way… This was no political solution in order to sell more units. We wanted to add something extra to the release and got the opportunity to do so. We used it! That's all!

"Alive" had to be on the first release as well. It is one of the best on there….

N: Thanks! It is one of my faves also. It just never made it to the original release because it is the last track we finished. It's a blessing to have it on the European version of "World Play". The other adds are intermezzo and short bits and pieces

How much different was it to write for Soul Sirkus, being stuck to a form for Journey?

N: Like day and night! No (laughs again)… it isn't that much of a difference. The pace differs a lot. Journey simply has different standards and it was refreshing to lay down the tracks this fast. The energy of the moment is captured exactly the way we wanted. Journey is overproduced? Hmm… We were once, I agree. But we simply wanted to offer the best we had in us. You will be surprised by the new Journey record then.

"Red 13" was a lot rougher around the edges as well!

N: Indeed, and that is what I am aiming for now… a bit more. I loved to work with Soul Sirkus, and tried to do the same with Journey. Capture more of the energy and soul in it. "Red 13" was different from the typical Journey sound, that's why we released it independently as well. The response however was overwhelming! That's is also why this new CD will be surprising a lot of you out there!

Now we come to Journey. First of all: congratulations on receiving a Star on the Walk of Fame. How thrilled where you?

N: Thank you! It says all about what we have achieved in all these years with the band. It was a thrill to finally get the recognition from the industry itself. The fans have always been there, and they simply could not be wrong all those years….

Where you surprised to see Steve Perry there as well, and why didn't he join you guys onstage for old times sake?

N: He was invited, as were all the old members of the band. The only one that didn't show was Gregg(Rolie). I dunno why, but he must have had some more important things to do that day! (laughs out loud again) But we where happy to see Steve there. He is a big part of Journey's history and brought us where we are now. Over the years we have seen each other a couple of times and there are no hard feelings between him and the band. It's a shame he didn't show and joined us on stage. Actually, I asked him on television to join us that night at The House of Blues. He responded with: "You never know what happens". It would have been a celebration for everyone if he joined. He's happy to join us anytime, and he knows it…

Personally, I am an Augeri fan (one of very few it seems), how did Steve contribute to the freshness of the new Journey?

N: Steve is amazing. He indeed adds more power and depth to the sound of Journey and is a great performer. With the new CD being nearly finished, I can say he added some more fuel to the fire of Journey. This CD is the first real band effort since Steve joined us. We wrote and recorded this one more as a band and tried to play it live in studios. It is packed with hammering melodic tracks in the best ever Journey tradition, and it has not to much mellow tunes on there. There are some real tearjerkers included, but these also rock like the old days!

If Soul Sirkus' tour is a hit in Europe, will you ever consider to bring the melodic rock dream Journey to Europe?

N: You know, I have always been the black cloud in this story. I have been the guy not wanting to bring Journey to Europe, cancelling tours, etc. Shit, I don't really know why, but it just never happened! It wasn't my fault…
Now with the new CD being also released through Frontiers in Europe, I really think everything is there to bring us over and play the hell out of you guys! This time we have a label backing us up over there and they will support us 110%. Next summer it will be likely that you see us all over Europe! Yes, I do want to make that promise .

Aside the Soul Sirkus record and an upcoming Journey CD, you also managed to again surprise everyone with a solo record of the ultimate highest quality, where do you find the time to do all this?

N: I boil with ideas and energy. I knock this material out in seconds. It keeps coming to me, over and over. Songs start in my head and are pretty easily transformed into real songs, ready to lay down on tape. I do record them in just a couple of takes. 9 Out of 10 times, the first take is my finest, and it lands on the CD. I'm just not the guy that makes camp in a studio. Hate it! I like to freeze the moment and magic of the idea…..

How much different is working on a solo CD, in regards to song writing for you? Does the inspiration never wear down?

N: (sighs and stops for a second) The inspiration never stops. The difference is that I don't have to wait for input. This is my thing. In and out, record done! It honestly works like that!

How tough is it to combine all of this work?

N: Just the agendas man, just the agendas! I'll keep going as long as this all goes along this smoothly. Oh yeah, as long as there's people wanting to hear my music.