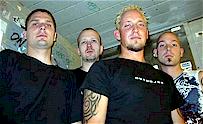 Thank you Michael for giving us a bit of your time. As I mentioned to you in an earlier email, I have been trying to hunt down Dominus for quite some time. After your previous band Dominus released "Goodfallos", the group disbanded and went seperate ways. I was a huge fan of the four Dominus records, so I would like to start there. Lets go back to the first Dominus album, "A View To The Dim", which was released in 1994. That album is very different from the other three records, with an emphasis on old-school death metal. What type of mood was the band in at that time? What influenced the record?

Michael: Well, it must be the three other albums who are different to "View To The Dim" since this is the first album. The tracks on "View To The Dim" was very old songs and in that period of time I was really into satanic/occult stuff and buried my mind in tons of books and experiments and looked like a nasgul from Lord Of The Rings (laughing) , so the inspiration was very gloomy at the beginning. But the subject on the album was more around the myth of vikings and stuff like that, so the expression came more out like a mix that really gave the band a gloomy appearance/image.

And before the debut of "View To The Dim", Dominus was somehow one of the leading dark metal demo underground bands here in Denmark cause of the control of the satanic image and the sound no others could match. In those days, you could also find Dominus in different kinds of Danish televison and radio programs (and of course mags) about my satanic belief and view on my music. Dominus made two demos before "View To The Dim" called "Ambrosias locus" (1991), "Astaroth" (1992), and an EP "7" on a Greek company called Molon Lave Records. The "Astaroth" demo was really a selling demo so there were some expectations about the coming debut CD on Die Hard Music, which became "View To The Dim". With "View To The Dim", we gave our fans and audience what they expected from us, totally gloomy dark death metal with no mercy for the sound. We made this record in six days with the mix. It became one of Denmark's most brutal CD releases in that time and it was not because we played fast, because we didn't, but because of the sound, the prescence of gloomy, dark mood in our music. And no other Danish musician besides King Diamond has been in the Danish newspapers about his satanic beliefs and the gloomy music he made.

So I/we somehow got a lot of attention out of that without wanting it. Because it was not a media stunt, but just the way it was. It came to a point where me and King Diamond met each other through King's old manager, who thought it could be cool if we said hey to each other and he did know that I was a big King Diamond fan, so it was a great experience for me to meet my idol since eighth grade in school. And it was a great meeting, we talked about our music and inspirations. King told me about his meeting with Anton Lavey, and a special medalion he got from him. He also told me that he had been aware of the name Dominus in the newspapers when he was home to visit Denmark or give concerts (he lived in Dallas, Texas, and I believe he still does). That totally blew me away, but the Danish reporter from the biggest newspaper here in Denmark, "BT", called Steffen Jungersen, who always made the interview with King Diamond. When he was in Denmark, had mentioned me for King and also made the review for "View To The Dim", and sooner also for all the other Dominus releases. It was a big day, and King got "View To The Dim" from me.

With the groups second album, "The First Nine", the band seemed to mature with their music and songwriting. That album had a more Sabbath/Cathedral type vibe to it, with a lot of hooks and catchy numbers, almost bluesy at times. The album for me was like the Swedish death scene as well, with groups like Unleashed and Entombed. What was the reasoning behind the different direction on the second release?

MICHAEL: Yes, "The First 9" was a more mature album. I was not that much into the satanic stuff or lifestyle any more, it was just like you know, been there done that. And I had, and found some other value in life to concentrate on. "The First 9" was a concept album built up upon my dreams and visions and some adventure in a former life perhaps. A Danish book writter called Jens Laigaard called me up and asked if I would like to be part of his book about the new concept album and the old satanic stuff from the past. The book will also contain other musicians around the world about the heavy metal scene and image. I told him yes. And after this book more book writers contacted me and asked me to join there books with my lyrics and stuff like that.

"The First 9" was the best selling Dominus record of them all. Our apperance on the stage was no more gloomy, but more positive energy with lots of fun. For some of the gloomy fans that was not what they had expected, but fuck that, they growed older and wiser. We made our first video to the track "Dancing With Magic" with David Palser. And it was showed on MTV (Headbangers ball), and VIVA. I also met King Diamond for the second time, and gave him "The First 9". I remember he asked me, where the hell are the curtains. What he meant was my hair, which was now short, and not long and black as the last time we met. I talked a little about the concept of "The First 9", and he told me about his next record, I believe it was "The Graveyard". Our label Diehard Music was all up in the air about the whole thing about "The First 9" (in a positive way) and they said you got to go in studio again after the tour and make a "The First 9 Part 2" or something, this record is really doing some good work for you. And they were right, but we didn't wanted to make a Part 2 of "The First 9". We had a whole new idea, called "Vol. Beat".

Okay, with the third album, "Vol. Beat", the band completely mixed it up, throwing everything from death metal to rock 'n roll to rockabilly in there. Personally that album would probably rank in my top 10 of all-time. At the time the album was innovative, completely going against the grain. "Vol. Beat" really wasn't one particular style, it never approached me in the same way death metal acts did. "Vol. Beat" was truly special. What are your thoughts on that record and what impact did it have on the group?

Michael: Thanks man. Diehard Music thought that we were making a "The First 9" Part 2 or something and was in shock when we sent them "Vol. Beat" (laughing). They said, "What the fuck is happening? We think it's a really good album, but is it Dominus? You can't do that, or can you? How are the fans going to react? And ??????". The thing was that none of us were really listening that much to metal anymore and I was going back to the old rock 'n' roll I had been listening to and growing up with since I was a child, you know good old rock 'n' roll with Elvis Presley, Little Richard, Jerry Lee Lewis, Fats Domino, Chuck Berry, and so on.

On the heavy metal side it was the old bands as Black Sabbath, Dio, Rainbow, Iron Maiden, Metallica, Megadeth we still were listening to. The black metal scene was getting big and more death metal bands were being part of this shit and didn't know how to handle themselves just to get a little attention, and they all look like each other with the same foolish racoon clown look, and didnt know what the hell they were doing or talking about (that opinion doesn't go for all black metal bands). And we definitely didn't want to be a part of that. So we said, let's do something else or just do what we think is right for us now. And it all came straight from the heart with the songs for the "Vol. Beat" CD.

The cover for the CD where we somehow stand as a boy band from the 60's was also something you wouldn't expect from Dominus. But then again no one should tell us what to do and what was right or wrong, as long as we did our stuff one-hundred percent honest and seriously, and we did. I thought it was good and fresh metal-rock album showing something else you wouldn't expect from a metal band. The Danish media/press loved it and had the same thoughts about it as we had, especially because no other Danish metal band have done such a thing. So the big question now was, what we will do next time (laughing). Many of our fanatic fans didn't like it and thought that we were selling out or something, they just couldn't understand it . But we were proud of this record, and was at least doing something else and honest to contribute with. We got some new listeners, which were great, and later on some of the older Dominus fans began to understand the whole thing, which was fantastic.

But still there are people who really hate the album, and some who think it's the best. We made a video for the track "Beat Booze, The Hooker's Loose", again showed on MTV and VIVA. We also made a few TV appearances at that time. The CD was selling better out of Denmark, and in some countries we were in a short period on some Top-30 lists with Metallica and Megadeth. Our label, Diehard Music, even got phoned up by the Danish Music awards and said that their band Dominus were in a position for the best Danish hard rock album, or something like this. They asked Diehard Music what they thought about that, and Diehard said hell yeah baby. But the thing was that all the bands in that position had to pay a special amount of money to be awarded, and we said fuck them, there's nothing there to be proud of if we had to pay for it. So I think D.A.D got the prize or something.

After three albums with Die Hard Music, what was your relationship with the label at that time?

Michael: Well, to be honest, not that good. We didn't think they did enough for us. We were pretty tired of them, and they were probably also tired of us calling them all the time and wanting them to get their hands out of their "beep". But sometimes it works, and I think that's generaly the same problem all other bands have with their label. But when people around the media/press/world told us that we had it all to go somewhere, and you don't think the company is backing you up, then you got a little bit frustrated. But I don't look back and regret any thing. Waste of time, you know.

With the band having three albums under its wings, what type of response were you getting from the fans?

Michael: Well, all thoughts were, what are they going to release next time? But the responses were random cause each fan had their favorite Dominus album, which I thought was a good sign. Cause that means that each album stands out for itself, and that was the plan all the time. So one album didn't take all the attention from the other.


"...if Elvis had been alive and was a member of Misfits, then it could have sounded like Volbeat."

The last Dominus album, "Goodfallos", showed the band playing a more stripped down style, throwing in hints and nods to Metallica and Life Of Agony. To me "Godfallos" could have come between "The First Nine" and "Vol. Beat", with the album mixing the styles together quite nicely. In your opinion what changed with the band on that album? Do you feel the group strayed any from their "Vol. Beat" sound?

Michael: I think "Godfallos" could have been the best Dominus album ever if it wasn't for the sound. But one thing was sure, I made up my mind that "Godfallos" should be the last Dominus album. THE album. The "Godfallos" CD was a mix of all the things we have done, and was a perfect way to end the whole thing. And I desperately wanted to do something else, and I have always knew that I one day would end Dominus for doing something else. It was a hard choice, cause Dominus was somehow my child. But I was sick and tired of the scene and the people in it, the style, myself, everything. I was no longer satisfied with what I was doing. And I felt that the death metal style was limited and didn't give me the freedom and challenge I needed for writing songs from the heart. And when the heart no longer beats for the thing you are doing, then it's time to get further with something else, I think.

The vibe was good in Dominus and me and Jens Peter Storm, the lead guitar player I had on the last three Dominus albums, were talking about making something together. But in the end we wanted something different out of the music, so we decided to split up and do what we had to do. No hard feelings at all, just pure understanding. Dominus played the last concert in 2001, and it was a good night. I took a half year break of playing music, not because I wanted to, but because I needed to get some distance from what I have been doing in Dominus and start all over with all these new ideas and old stuff that wouldn't fit to Dominus. It was time for Volbeat.

Okay, so now we move forward to your new band, VOLBEAT, which also includes ex-Dominus member Anders Kjolholm. What led to the formation of the band?

Michael: Well I had all these new ideas and a couple of songs which were more rock 'n' roll and more melodic songs, and I called up Jon Larsen, which was a drummer I had known for a long time, and we had sometimes played for fun and stuff like that. He said let's give it a try. Jon quickly found my style of playing, so the first five songs were done pretty fast. There was only one bass player I had in mind and that was Anders Kj°lholm, who had played with me in Dominus for one album. And he left his band to give it a try in Volbeat, and he liked it from the start. Then we got Teddy Vang on guitar. After the second demo, "Beat the Meat", he was replaced by former bass player in Dominus, Franz Hellboss. In the end Teddy Vang and the rest of Volbeat didn't speak the same language, if you know what I mean. So the best thing for him was to do something else.

In your own opinion, what type of music does Volbeat play?

Michael: Hmmm, metallic rock 'n' roll? Or perhaps rock 'n' rollish metal? The producer, Morten Nielson, who produced the first Volbeat demo in 2002, said he had never heard such a style with so many influences without loosing the red line. He called it metallic pop rock 'n' roll with a touch of the 60's melodic tunes. A reporter (larsa) from the Swedish mag Slavestate said that if Elvis had been alive and was a member of Misfits, then it could have sounded like Volbeat. Not that I sound like Elvis the King, but the inspiration is there. He also wrote that Metallica should have hired Volbeat when they wrote the "Load" and "Reload" albums. But the most funny thing is that almost every review compares us to Life Of Agony, and not one of us have any of their albums, except our new guitar player Franz Helboss, but he hasn't written anything for Volbeat.

I remember Jacob Hansen also mentioning Life Of Agony. Well, we take it as a good compliment. But after listening to Life Of Agony I will say that Volbeat is more rock 'n' roll. Volbeat went all the way to the semi-finals in the biggest music talent competition called Live Contest 2004. Four hundred bands were picked out for this competition and only seven was left when Volveat entered the semi-finals, but lost to nowadays trend music of melancholy pop music. But the contest gave us some new listeners and a sponsor deal with the Streatwear brand Deaconn, and a deal with the Danish booking firm Fast Beat Booking.

The band has released two demos, "Beat The Meat" and a self-title. Has the band gotten a good response from those?

Michael: Volbeat made the first demo in 2002 in Roskilde Denmark with producer Morten Nielson. We made ten tracks for this demo with a soft sound that we soon found out didn't really fit the band right. It was a good sound but just not powerful enough compared to our live sound which was/is raw and powerful. The respons for the demo was good, but nothing compared to the reaction and response for the "Beat The Meat" demo. I was contacted on mail by producer Jacob Hansen (Invocator boss) who had heard some of the tracks from the Volbeat demo, he thought it was great songs and he said that he could get some really cool stuff out of Volbeat in his new studio, and with a sound that would fit us much better.

And I talked with him about Volbeat's live sound, the powerful guitar sound, we would like to have with us in the studio, and the way we would like to work, you know a little bit loose without click track and all that bullshit, just plug in and lets get it on. And he said, that's not a problem, let's do something about it. It was perfect since I always had good thoughts and intuition about Jacob Hansen as a skillful and nice guy. And my intuition was right. We recorded six songs to this demo "Beat The Meat", and it was done in five days with the mix and everything and it sounds fucking great you know. The responses have been overwelming and more than we would expect. People really like this "Beat The Meat" demo and I will say that we are selling them almost everyday. We got great live responses from happy people and old Dominus fans who really like this new style. The responses in the mags and web sites were random with the first demo, I think the sounds were to soft. But as I told you with the "Beat The Meat" demo it's fucking overwelming and great. We will be in the new Metal Hammer as the best demo release. I can only say thanks and thanks again to all the listeners for all the great response we got on this demo and our live jobs.

So tell us Michael, what are the plans as of right now? Has Volbeat signed a record deal yet?

Michael: We have signed a one album deal with New Aeon Media which is a sub-label to Karmageddon Media, formerly knowned as Hammerheart Records. They seem to be nice guys, well I have only talked with the label manager Guido Heijnens, and he seems to have the right spirit. The new debut CD will be released worldwide in October 2004. The working title has been "Rebel Monster", but after coming home from the Jacob Hansen studio the working title is at the moment "The Strength/The Sound/The Songs.

What will the new album be like? Will it include any songs that are on the demos?

Michael: There will be five songs from "Beat The Meat", four songs from the first demo, and six new songs that also include a cover song of Dusty Springfield. So that will be fifteen songs. And the songs are recorded again by Jacob Hansen (www.jacobhansen.com). It all was done in eleven days, and I tell you, it sounds great. Jacob Hansen is such a great person to work with. He knows and understands what we need and gives us a challenge that doesn't change our ideas. He has a good ear of what's going on and agrees on the style of Volbeat, it has to be loose and unpolished. A few of the new songs is a little more faster and aggressive in the verses. The reason for that is to get some more contrast to the other songs. But all songs keep the melodic chorus to sing-a-long to.

With your musical career, you have experimented with different styles. What type of music did you grow up with?

Michael: I grew up with old Rock 'N Roll, especially Elvis Presley. My parents were playing it all the time. I'm also a big Elvis fan today with about 250 cds and 180 videos with the King. I even got him tattooed three different places on my body, hail the King (laughing). But I will say that I have always listened to different kinds of music. If a song is good, it's good, and then I don't care who it is or how he, her, they look or what they sing about. As long as they don't have any racism or nazi things going on. Music is love, anger, sadness, medicine, to do it short, Life. And it has been my best friend and will be forever.

My parents are still music lovers toady, they even got Volbeat running in their car stereo all the time, and that's not because it's me, but because they think it's good. They coulndn't understand the music in Dominus, and have never been listening to it. They only liked a few songs from the "Godfallos" CD. Let me tell you a funny story. One day my parents were out for a stroll in their car with Volbeat running in their car stereo on high volume with the windows down and they drove in to a gas station to put some gas on. My father went into pay the gas while my mother was sitting in the car with Volbeat on high volume. Two guys with long hair and heavy metal t-shirts who also were there to put gas on went over to my mother and asked her what she was listening to. And she said: "Don't you know the best heavy band in the world". And they looked at each other and said uuhh... "It's Volbeat, don't you know them", she said. "No but they sound fucking great, we thought it perhaps was the new Metallica or something." "No they are better than Metallica", she said. And then my father came out and my parents drove away turning up the music, and these two guys were just standing there with their mouths open. My parents are 59 years old each and look like normal people you know. I was laughing my ass off when they told me this story, they are fucking funny.

Alright, since you seem to have a good bit of rock n roll in you, we have to ask you the ultimate question.....Do you prefer skinny Elvis or fat Elvis?

Michael: I like Elvis all the way, but think he's most cool from 1968 to 1971,

Well Michael, the Volbeat material we have heard is really killer. Best of luck to you in the future! Greaser metal forever!

Michael: Thank you so much. Best of luck to you too, and thanks for doing this interview.

Link www.volbeat.dk

Nailer's Volbeat Review: