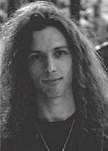 Progressive Rock has always been entrenched deep in the Italian Rock scene, ever since the 1970's in fact. The legacy of bands such as Goblin, P.M.I. and The Trip clearly illustrate this. Until today bands inspired by the progressive 'ethic' to surpass song-writing convention continue to sprout from Italian soil.

Kingcrow aren't exactly novices to this music genre. This Italian band was formed in 1996, under the name called 'Earthshaker'. After some time they were forced to change it into 'Kingcrow' which was inspired by the Edgar Allen Poe sinister poem "The Raven". The band's debut recording, a promo entitled "Eyes Of Memories", was released in 1999. Now, 6 years and a number of line-up changes later, Kingcrow are recording what shall be their 3rd album: "Timetropia".

At this moment in their career, I interviewed the lead vocalist Mauro Gelsomini. Here's how it went……..

"Timetropia" is the title of Kingcrow's forthcoming album. How would you describe the music and lyrics?

Mauro: I can't say very much, because the content of "Timetropia" is strictly top secret. But it will be a concept once again, a thriller David Lynch–style if you know what I mean. We're very excited about it, and will do our best to make the music fit with it. I can anticipate that the songs are finished and we're now in pre-production phase, in our new recording studio in Rome. All is going well, so I promise a great album.

How has your music changed since the first release?

M.: Since the first release ("Something Unknown") much has changed. In the beginning Kingcrow were a Classic Metal band with some progressive influences. With "Insider" the theatrical aspect has strongly seeped into our style, and with "Timetropia" we're near the 'pomp / art prog musical' genre under influences of artists such as Savatage, Rush, Styx and Magnum. But Kingcrow and their own sound will still be evident. We're proud to say that many fans can recognize our songs after one or two seconds of listening: this means that we have a very personal sound!

Under what record label shall "Timetropia" be released?

M.: This is top secret too. In summer we will reveal the name.

I understand most of your previous recordings were self-financed. Besides financial ones, what other major difficulties did Kingcrow face in the band's career?

M.: We play an old-fashioned genre, and we're not interested in new contaminations of Metal or with post-rock/grunge. Besides this, in Italy we have a strong Progressive Rock tradition with too many bands which risk suffocating the scene. Besides this, in Metal, almost everyone who listens to it, plays it too….And his criticism is not very objective.

How did Kingcrow's newer recruit, bassist Giulio Caputi, end up with the band?

M.: I recruited him after an exchange of views about music (he like the classic style, too!). So I found that he used to play bass guitar in a Motley Crue cover band and we decided to give him a go…..


Do you seek technical precision when writing songs, or is feeling usually given priority?



"in Italy we have a strong Progressive Rock tradition with too many bands which risk suffocating the scene."

M.: Both are important. At first our songs emerge because of their feeling, and feeling is what makes a song good or bad, even for the fans. Then, we work on the technical arrangements side, that can often contribute to the emotional impact.

The mainstream Italian media tends to be very conservative, musically. Doesn't this discourage you?

M.: The mainstream Italian media tends to ignore Rock, this is the truth. Italy is not a 'young' nation, from an artistic point-of-view, and the guys are globalised by the system….few can say for themselves what beautiful is, but everyone can say what beautiful "should" be…..I think that if someone in the 'high spheres' would really be interested (for some reason) in developing this kind of music, we could obtain the same success as Britney Spears or Ricky Martin! And we're working on this ?

When performing live, is Kingcrow a group of musicians or entertainers?

M.: Both. As I said before, our music is theatrical, so when performing we have to entertain and involve our audience. We're very crafty on stage, just check out our photos of Tim Tour in Brindisi (an Italian city – Chris) : http://www.kingcrow.it/timtour_16_07_2004.htm. We are not that kind of band that forces itself to be serious at all costs – we enjoy ourselves with our public when we're on stage, and we like to joke by ourselves and with our public. This is not to be interpreted as a slackening from the technical point-of-view – we pay attention to precision and perfection, but we don't need to be serious to convince the fans that what we're playing is not straightforward – they're not stupid and we respect them.

Finally here's a straightforward question: imagine that Dream Theatre, Symphony X, Rhapsody and Rush have released their new album on the same day and you only have cash to buy just one. Which do you choose and why?

M.: Obvously: RUSH. First of all because they are one of my favourite bands. Then because I don't like Dream Theatre at all, Rhapsody and Symphony X make me sleep.

Thanks for answering these questions. Good luck for the new album and for your career!

M.: Thank you! E compratevi il C.D. limortacci vostri!

Er….dear reader don't waste your time looking up that last phrase in a dictionary! Check out the band's site instead – it's better!!!

- Chris Galea ( luciferlament@yahoo.com )

----------------------------------------------
Kingcrow line-up:
Mauro Gelsomini: vocals
Diego Cafolla: guitars & keyboards
Ivan Nastasi: guitars
Giulio Caputi: bass guitar
Thundra Cafolla: drums

Discography:
"Timetropia" (album - summer2005)
"Insider" (album 2004)
"Matzmariels" (promo 2003)
"Something Unknown" (album 2001)
"Hurricane's Eyes" (promo 2001)
"Eyes Of Memories" (promo 1999)

Official Website:
www.kingcrow.it