I N T E R V I E W S

Marcos Leal - Shattered Sun
"Earning Their Spot"

Interview with vocalist Marcos Leal
By: Eric Compton | Published: Wednesday, June 10, 2015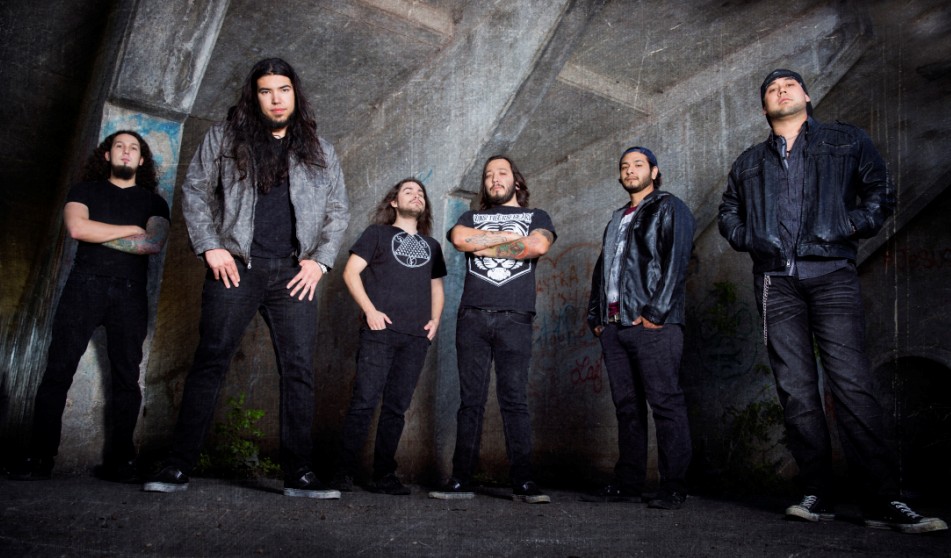 Victory Records recording artist Shattered Sun were one of the many performers who earned a coveted spot at Jacksonville, Florida's "Welcome to Rockville" mega-fest. The two day event sold out with 50,000 metal maniacs converging upon four stages for their measured dose of heavy metal and hard rock. Festivals like "Welcome to Rockville" and its siblings "Rock on the Range" and "Carolina Rebellion" are mammoth buffets for fans to sample newer artists and styles.

The young Texans made the most of their opportunity with an untiring performance on Sunday's Reverbnation Stage. After the previous night's performances from Slayer, Marilyn Manson and Korn, curtain jerking the following morning could have been daunting. However, the band delivered in grand style and gained a host of new fans and followers after their electrifying selection of songs culled from the band's new record 'Hope within Hatred', released on April 21st.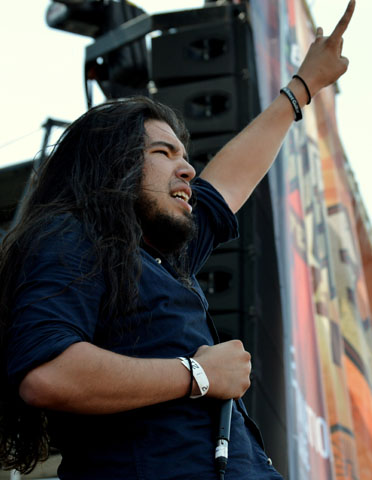 Vocalist Marcos Leal describes the reaction to the album as "overwhelmingly amazing." He said, "When you write an album you are self-conscious about things and when we finished this album it was one of those things where everyone just knew there was something special going on here. We took a lot of time writing the songs because I think that is lost in music today. Everyone is trying to be overly technical or fit into a genre and forget that the songs are the most important part. All of the bands we looked up to - Metallica, Pantera, Queensryche, Testament - they all had amazing songs that lasted the test of time."

Leal hits the nail on the proverbial head when he speaks about importance of song. Unlike typical genre fare that focuses on negativity, dark emotions and beasts of burden, Shattered Sun are more uplifting with powerful messages created to inspire and motivate. As the album's title suggests, this might be an aggressive album, but the lyrical approach was far different than what we have previously seen from metal's dark heart.

"It speaks to 'I hate being stereotyped'. I absolutely hate it. Especially where we come from. If you are screaming you must be talking to Satan kind of stuff. A lot that played into it as well is if you look at society right now, man we are surrounded by negativity 24/7 anywhere you look. Pull up any app on your phone and I guarantee there is something there. I think people forget to have hope in the future and have hope in humanity and just have hope in each other. We are just lost in the negativity. We wanted to get out to our fan base there is hope in tomorrow."


"We know we aren't the typical thrash band and we knew that we were going to get some resistance. --Marcos Leal"
'Hope within Hatred' is an album built from the New Wave of American Heavy Metal with similar traits and characteristics that place it within earshot of the Metalcore label. They staccato riffing is prevalent throughout, with cuts like "Reign Over Me" and "The Ultimatum" displaying a plethora of charging riffs and aggressive gang vocals that ebb and flow into ascending chorus notes and clean singing harmonies. The band's use of more atmospheric touches, notably the acoustic additions in "281" and the slower mid-section of "Burning Regrets", help offset the intensity and add diversity and texture. It is certainly an album that is influenced by the likes of Killswitch Engage and Unearth, but develops and pushes the envelope a little more in terms of genre-defying. It isn't an album easily described and categorized, as Leal can attest to.

"We don't really buy into the whole genre thing. People try to lump us into the whole Metalcore thing and we don't really look at it that way. We are just an American metal band and don't look at how we will fit in or anything like that. We just wanted to write the music that we loved and grew up on and just try to stay true like that. I feel that will create the path of success for us."

That path to success hasn't been an easy road for Leal and Shattered Sun. Early in their development the band found themselves striving to find an audience. Leal explained that "as a local band you are constantly trying to find something to get you to the next level. Battle of the bands, whatever. Even coming to buying onto tours. We found a local promoter and bought onto a tour and at the end of the day we got screwed over really bad." But just like the band's positive messages and inspiring lyrics, the cloud had a silver lining.

"If it wasn't for that we would have never met Mike Sarkisyan from Spineshank. We formed a relationship out of what happened and he was the big brother, you know…slap on the hand…you guys messed up. From there we formed a relationship. Once we got the initial tracks for 'Hope within Hatred' we sent it to Mike and he said let me get it over to Maria Ferrero (Adrenaline PR) to try and get you a PR deal. At the end of the day she said forget the PR deal…you guys need a manager. At the time we didn't know it was Breaking Bands LLC with Jonny Z (Jon Zazula) and Chuck Billy (Testament), we just didn't know. She just said she was calling us at the end of the day with her business partners. We got the call from Johnny Z, Chuck Billy and Maria and they wanted to fly down to TX to check us out. They were down that weekend and we signed right after that. It was a "stars aligned" kind of thing. Fate man."


"I think people forget to have hope in the future and have hope in humanity and just have hope in each other. We are just lost in the negativity. We wanted to get out to our fan base there is hope in tomorrow." --Marcos Leal
The band joined a month long string of dates on the "Dark Roots of Thrash II" tour alongside thrash titans Testament and Exodus. The tour in a lot of ways is a birth for the band, a trial by fire in front of legions of seasoned metal fans. Performing with experienced heavy metal pioneers day in and day out would prove unnerving for a young band. Yet elevating the pressure even more is the fact that Shattered Sun are performing in front of their boss, Chuck Billy, nightly. Leal explains that it isn't the typical supervisory role though.

"Chuck has never ever presented himself that way. I remember the first day we met him, we performed in front of him while he was sitting on a couch and judging us. Since that day he has always been a mentor and friend. I was telling the guys he has been our big brother on the road. Our first night on the tour was a sold out show in San Francisco. We were freakin' shaking…just the nerves and everything. I never throw up, I'm not a nervous guy as you could see today from our performance. That night I blew chunks. Chuck Billy was at the side of the stage and said 'Hey man, there is a reason why you are here'. It isn't given to us and we have to earn it. Learning from those guys has been great."

The big brother role is a warm welcome for the band. Testament clearly was an influence early on for the group, exemplified by the band's decision to cover "Return to Serenity", a powerful ballad from Testament's 1992 release 'The Ritual'.

"We covered it without them knowing it. We were bouncing the song back and forth and I said 'let me ask Chuck about it'. Johnny said 'nah, just record it and then we'll send it to them'. So we recorded it and sent it to Chuck and he was in Italy touring with Testament at the time. I swear to God…it was the longest two or three hours of our lives. We finally heard back from them and they said they loved it and we put it on the record. We look at Chuck and Testament and they are innovators. That is what we aspire to be and we were happy to pay tribute to them."

The "Dark Roots of Thrash II" tour has trekked on throughout the US and Canada and has encouraged a lot of seasoned fans to come out and see two old school bay area legends. Any new metal band opening the bill has to overcome some adversity and win over the audience night after night. How difficult is that task? Leal describes going against the grain on this tour as "surprisingly amazing".

"When we came out here we knew what we were getting ourselves into. We know we aren't the typical thrash band and we knew that we were going to get some resistance. We saw it on YouTube and all over the place. At the end of the day we had to earn it. We earned that tour and we go out and we earn it every single night. The biggest reward to us is seeing the thrashers, those old schoolers coming up to us after the show and telling us you guys are awesome, even people saying I said a lot of shit about your band but you guys turned it around and that is what it is about, getting out here and earning it and turning those heads."

Look for Shattered Sun this summer on the Rockstar Energy Mayhem festival alongside two more legends – Slayer and King Diamond.

'Hope within Hatred' via Victory Records. Get your copy [HERE].

Shattered Sun is:
Marcos Leal - Vocals
Daniel Trejo - Guitar
Jessie Santos - Guitar
Joseph Guajardo - Bass
Robert Garza - Drums
Henry Garza - Keys/Samples

Supporting Links:
[Facebook Profile]
[Twitter Profile]
[Victory Records Website]


"Hope within Hatred" Official Video



Listen to the Shattered Sun interview with Eric Compton of Maximum Metal:




ALL INTERVIEWS FOR: SHATTERED SUN
| | | | |
| --- | --- | --- | --- |
| INTERVIEW | INTERVIEWER | DATE | TAGLINE |
| Marcos Leal | Eric Compton | 6/10/2015 | "Earning Their Spot" |
ALL REVIEWS FOR: SHATTERED SUN
<< back >>