I N T E R V I E W S

Lenny Haze I - HazeXperience
"Been a Great Ride"

HazeXperience and former Y&T Drummer talks of his new band and illustrious past
By: Eric Compton | Published: Friday, February 6, 2015



In 1974, Lenny Haze was a founding member and named the hard rock band known as Y&T (formerly Yesterday & Today). The band's 1985 hit, "Summertime Girls", off their album 'Down for the Count', became the California act's most successful to date, reaching No. 55 on Billboard and No. 17 on the U.S. mainstream rock charts. Many rock connoisseurs consider the group's early 80s albums, "Earthshaker", "Black Tiger" and "Mean Steak", as groundbreaking triumphs of US hard rock. Esteemed Canadian author Martin Popoff heralds the band as NWOBHM trapped in American commercial tendencies.

Lenny Haze has played drums for forty years for successful acts like Ronnie Montrose and Ian Gillan (Deep Purple, Black Sabbath). This is part 1 of a two-part interview with Lenny sharing his experiences. From dropping a hotdog on Ian Gillan's producer, to a rare poolside introduction to Dee Dee Ramone, Haze's passion for storytelling encompasses his experiences both as a professional and a fan.

MM: Lenny, it is indeed a pleasure to talk with you. Many thanks to our contributor Jonah Haze for setting this up for us. Lenny, first things first, you have a new band now called HAZEXPERIENCE. Tell me about the band's sound, what does it compare to?

Lenny: It is a completely different style for me playing-wise but not as far as music I like. This stuff has an English Blues base. By that I mean Humble Pie, early Rolling Stones, Spooky Tooth, Traffic, Cream, John Mayall. But then it has a heavy drive and the organ so you get Deep Purple, Uriah Heep, Argent and even some Hendrix. Then it has some R&B and some funk. It's all smashed into it. It is music to be played loud. Plus it is heavy, intense and has melodies.

MM: This line-up is jammed packed with musicians who have years of experience on the live circuit. How did the group come together?


"Keyboard players are just as nuts [as drummers] only less dangerous."
Lenny: Johnny Gunn has played with Eddie Money & Bandito. He plays lead guitar and sang lead and we have known each other for about forty years. Really, we were kids when we met and we have always liked each others songs and playing so we always threatened each other with doing a project someday and the threat became real. I have a good friend I was playing with, Matt Sanguinetti, who was playing guitar but had done a couple benefit gigs as the bass player with Johnny and I, so I asked him to be involved in the song writing and to play bass. We had planned on doing a trio. I said, I wish one of us could play the Hammond B3 organ because it would sound good on a few of the songs. Johnny said let's call Stevie "Keys" Roseman. He's not quite Jon Lord but he's from the same school. I didn't think he would do it and I hadn't seen or spoken to Stevie in fifteen to twenty years. But John Called him and he said he wanted to hear what we were playing so he checked it out and stayed. That is the band that recorded our debut album, 'Not Purple'.

I auditioned people and had a couple different versions of players that just weren't right, so finding the right bunch who are not only capable musicians but can deal with me...I am harsh. Not how you would think really. I don't get mad over mistakes but if you're not doing your home practice and not putting out max effort then I go crazy. If people kinda shuffle through a part at rehearsal I will give them major grief. People don't see me seriously, but with music you leave a part of yourself at every gig or you didn't give the full effort. Mistakes happen and with giving 100% effort you don't notice someone is a shade late or hit a major chord not a minor. When I am giving all I got, I take chances and that's what makes exciting shows. Giving everything is when the band takes chances here and there and doesn't settle for good, but wants great. That is what kind of players are playing in this band. Guys who love playing loud, hard and intense for the songs. Anyway, we are now five pieces with a singer Jeffrey Winslow, our guitarist Jimmi D, bassist David Blakeley and our keyboard lunatic is Ace Olfre. They say drummers are crazy, and I am, but keyboard players are just as nuts only less dangerous.

MM: Who is the main driving force behind writing for the band?

Lenny: Everyone writes and everything is equally split. If you just sat there but played every one of the twenty bad ideas and the four or five good ones too, even without physically contributing a part then you were there giving input. On the CD it was split equally. I came in daily with a bunch of ideas. The drive to the studio--the kathump of the tires--beats rhythms out with licks attached. But once at the studio I would show my idea then everyone dove in on it. Matt brought in a couple things, same deal with Johnny too. Stevie came in after most of the song writing was done but he put an intro on "Me Again" and on "Magnum Opus" too. We cut him in anyway. We also split evenly with the guy that recorded the tracks and all the demos too, Darren Drew. He recorded every idea then had to clean it up so he was a songwriter too.

MM: At this point in time what is the ultimate goal for HAZEXPERIENCE? Are you shooting for an album recording and if so, how different will it be from the debut?

Lenny: Well, I would like to get this CD promoted or licensed to a few countries and follow it up with another batch of tunes only from the guys playing now. It will be different from the 'Not Purple' stuff because different people will be writing it, but I think it will be of the same roots pool as 'Not Purple'. Everyone here listened and jammed to the same type of music as the recorded band. That said, we do the album as well as the recording band. I believe that if a recording company heard the songs and this new band and then discovered the album mixed and mastered by Tom Size, they would put it out. We haven't even marketed, promoted or done much. There wasn't a band that was ready to go play so we got it on a few places to buy it and we will be selling it ourselves at shows and on HazeXperience.com. If your readers take a listen they may be suprised.

MM: Lenny, you formed Y&T in 1972. The band released some of the most influential albums of hard rock with classics like "Earthshaker", "Black Tiger" and "Mean Streak". You have been in the music business for over forty years. When someone refers to you as a "rockstar", what does that mean to you? Does it still seem like a dream looking back on such a stellar career?

Lenny: I gotta tell you being called rock star usually comes with a derogatory intention from some ass with a case of testosterone poisoning. Then you gotta play rock star on their dumb ass. But making a living in the music business is a dream job right alongside astronaut, athlete, movie star, or TV star. I told a band off once (they are big now) at the Warfield Theatre when I was working production for Bill Graham Presents (BGP). The band was bitchin' off about the venue. The Warfield had the best personnel in the country there. I know, I have toured the other venues and was on house staff there. PA was brought in every gig to band specs or bands brought their own. Anyway they bitched about the crew, the venue, the food and then started making excuses for their uninspired performance by saying the stage sound was crap, monitors sucked, etc.

I am in the office hearing this and finally I had enough. I went in and said listen, you're getting paid a lot to do something many people would kill for. Plus a billion people on the planet don't care about your bad gig. Why? Because their best day working will not be as good as the shittiest gig in the biggest shithole you will play on your worst night of playing. I played for a living and pounded nails. I'll take playing bad covers out of tune in the rain over pounding nails. So, you sucked. Well look in the mirror and that's the reason. You had a shit gig and it'll happen. Can't change it; move on.


"I made a living in the music industry for 45 years. But it is coming to an end. Age gets everyone. I will stop before I can't play up to my standards...It doesn't seem so long ago that we recorded 'Yesterday & Today'. It was about this time it was being mixed 38 years ago. Man you turn 30, then 40 and next thing I knew I was 55 and now I'm 59 since September. It has been a great ride. Thank you all that rode along and we ain't done yet. Music is what I do and what I love doing."
What amazes and humbles me is when people have dealt with a death or an injury. Something that stays with people all their lives and they tell me some song I co-wrote or we played meant so much to them or a loved one going through things that are not right. Things that we all go through just in different degrees or different times and ways. The other thing I am proud of is all the people that say I, or Y&T, inspired them to pull through stuff and do better or improve themselves. And, of course, the drummers and bands that say we influenced them or they started playing because of me or the band. The people that never missed a show--that's insane. I gotta say I am proud of what I accomplished. I made a living in the music industry for 45 years. But it is coming to an end. Age gets everyone. I will stop before I can't play up to my standards. It won't be for a good 5-8 years though. I don't want to hear "he used to be good and what happened". I just have to work harder than I did at 25, practice more hours, and have tougher practices.

When I started, my dream was to make an album, do a tour. Play the Fillmore, Wembley Arena, Oakland Colliseum. We did. Get on Ed Sullivan and American Bandstand? Well we never got on with Ed but we did Banstand and I heard Dick Clark say "motherfucker that's better than Sullivan". Plus I got him to sign a script for my mother hence legitimizing my playing career. My mom loved Dick and Bandstand. I did more than I ever dreamed of. I am one guy that will sign autographs because without the people that ask I wouldn't have had the chance to play all my life. But it has flown by. It doesn't seem so long ago that we recorded 'Yesterday & Today'. It was about this time it was being mixed 38 years ago. Man you turn 30, then 40 and next thing I knew I was 55 and now I'm 59 since September. It has been a great ride. Thank you all that rode along and we ain't done yet. Music is what I do and what I love doing.

MM: Does performing live still hold the same magic and excitement for you?


"I believe that is why musicians get into drugs--to cover the down time and get the buzz just like on stage."
Lenny: Oh yeah definitely. There is no better or even an equal narcotic. It is the best high with the biggest rush when the band is right and the whole audience, no matter if it's 2, 20, 200, 2000, 20,000, is in tune with you. When everyone has the same feel and intensity, it's a high. The band is playing mindless and it is unfucking real how high you get. It is almost an out of body experience. You don't remember playing. You just remember starting song one. Now you're in your back stage area or on the bus covered in sweat and you are spent...you feel kinda groggy but beautiful with a glow and then you notice everyone else is there too. That is when all the practice hours, no money, traveling, odd hours, seeing the exit sign for Windsor Castle, all the stuff that still is better than work gets even better. I can't describe it. The bad thing is, maybe out of a thousand gigs, you will get one show like that. Plus, I cannot remember ever not having callouses from drum sticks. I play because I love it. I play because I like it and I would play even if nobody liked it because I like it. If you play for any other reason other than you love it, you are not respecting the talent that shaped your instrument or the instrument itself. It is more fun when done well and when you give all you've got while doing it. It is sublime. I believe that is why musicians get into drugs--to cover the down time and get the buzz just like on stage.

MM: In 1979 (I think) you collaborated with Jefferson Airplane/Jefferson Starship singer Marty Balin on a rock opera called 'Rock Justice'. How did you meet Balin and become involved?

Lenny: Yes, it began with me going to see the Nuns, a great San Francisco Bay Area punk band. Varney was the bass player for the Nuns. I had another friend in the Nuns, Jeff O' Leaner, the lead singer. I saw them play quite frequently as they were the city's preeminent punk band. That is how I met Varney. I was watching the Avengers and Mike came over and asked me why I went to Nuns shows? Simple, I like the songs and the show with the band in it. I liked them and thought they were quite entertaining. Varney was a non believer. But I told him I had known Jeff O' Leaner a while and really liked his shtick.

Mike inquired as to if I was open to doing other stuff if Y&T wasn't busy. I told him I would do sessions and gave him my number. He called quicker than I thought he would. We negotiated the charge per song and agreed to the increase in songs I would do. I met Jeff when we began the session. He and Mike had some really good songs. They also had a concept for doing a rock opera that we eventually performed live twice for runs of two weeks, the first time with Phil Kennemore of Y&T on bass as the part of bailiff. It was good to work with Mike and Jeff as I had to play differently than with Y&T. I also met ledgendary Jefferson Airplane and Starship vocalist Marty Balin and his dad Joe Buckwald, who became a huge Y&T fan, confidant and friend. Also met Tommy Tutone of "8675309" fame. Learned about mic placement for recording and got to act in 'Rock Justice'.

All in all a great experience. All things aside 'Rock Justice' was an excellent idea. It never was scripted completely. I wrote a lot of the dialog a week before it opened the first time. We were going to open and had parts to play but the characters you wouldn't know. So, a lot made no sense to the audience. I thought it should have had a narrator so he could set each scene without a lot of dialog from the band. The different witnesses could testify without a long gap between the songs. I was the judge and was told to improvise something to introduce each character. I tried my best each night. Out of 20 shows maybe I did a good improv three times. The rest I was figuring out what to say as I said it. We did record it for EMI and I heard HBO was buying it but I don't know.


"People don't see me seriously, but with music you leave a part of yourself at every gig or you didn't give the full effort...Giving everything is when the band takes chances here and there and doesn't settle for good, but wants great."
MM: That project featured a pre-Dokken Jeff Pilson and the eventual head of Shrapnel Records, Mike Varney. What was it like working with them at such a young point in their careers?

Lenny: You know, I had known Don Dokken and he called Y&T and asked if we knew any bass players that sang and could play and I told him about Jeff (Pilson), who he hired. Jeff and I, with Randy Hansen, did a great session. Randy probably has it. I told Randy about Jeff too. There is a great player that never got his chance because he did Hendrix so well and a lot of people pigeon holed him as a Jimi tribute only. Randy is just a great player and one of the nicest guys of all time. When Randy Rhoads died, I told Ozzy he should check out Randy Hansen. His reply was "all he can do is that Jimi Hendrix crap". Wrong. Randy Hansen is one of the best guitarists I have had the honor to play with or have I ever seen. But playing with Mike Varney and Pilson was invaluable plus I got to meet Yngwie Malmsteen.

MM: A lot of fans know you for your contributions to Y&T. However, you have done some pretty amazing things outside of that band. In many ways, you are a branch on the Deep Purple/Black Sabbath tree. In 1991, Deep Purple/Black Sabbath vocalist Ian Gillan asked you to play drums on his "Toolbox" album. How did you become involved with Gillan? Had you worked with him/known him prior to 1991?

Lenny: Ian Gillan and Robert Plant are my favorite singers and voices of all time. So, to wreck Ian's Volvo, tour with him for almost three years in 71 countries, stay in his house and play Scrabble with his mother-in-law...was unbelievable to this day. I met one of his best friends who became my drum mechanic, fabrication man, and one of my best friends. I met and became friends with Dean Howard and finally played in a band with Brett Bloomfield. I can't put it into words what an unbelievable time of my life. Even though I was going through some serious personal hardships, playing in Gillan was the best times in my life without a doubt. The best band and situation with the perfect attitude. Ian only had these rules: Be on time. Play as well as you can and give all you got. Do not say anything negative about someone having a bad gig. We will all have them, but hopefully not all on the same night. Nobody tries to play bad in this band and nobody will feel worse than the guy who played badly. No arguments on his bus.


"People think my footwork is something I did purposely, but it just happened out of the blue and its foundation is laziness."
We were unbelievably loud. I remember Dean saying he couldn't hear himself on a certain spot on stage. He wanted some guitar in the monitor. Ian squashed that immediately, then said "we got two Marshall stacks not being used. Put a cab over here and use it with a head you are using now or add the head to it. Monitors are for acoustic instruments and that is voice and drums, not a Fender Stratocaster." I got started in the band when 'Rock Justice' had closed and I had just got home from retrieving my gear from the theatre. It was about 3PM and I was talking to my wife about how I needed to get a gig quickly because two weeks wasn't much salary. So, the phone rings. I get "'Ello, it's C.T (producer Chris Tsangredis), how would you feel about coming to London and checking out this project I am starting?"

They wanted to use a different drummer than the usuals like Tommy Aldridge, Cozy (Powell) or any of the other usual suspects. I said sure, I will come and audition but for who? He says you already auditioned...I played 'Meanstreak' for him and he likes the way you play. You still using the 26 inch kick drum"? I said yes and he responds, "Here, he wants to speak with you." So, I still don't know who it is and I get an immediate "did you really call John Koladner a liar?". I said, "Well yeahuhh. Who is this?" The voice on the other end says, "Ian Gillan, mate. How would you like to come to London and play drums on my album I am doing with C.T. here at Battery Studios?"

Ludwig as usual went the extra mile and paid to have a kit shipped from Chicago overnight to London and it was waiting for me when I got there. First thing I did when I got off the plane after I met Ian and got my per diem for the week was to go buy a hot dog. I loaded it up with onions and mustard. I take my first bite and a huge wad of onions and mustard drops on C.T.'s brand new Reebok's. We head to Ian's and I wasn't ready for this house. He had bought an old English Manor with a house that was the size of a hospital. But he sold that and turned the barn into his house. Not an American type barn but a 1609 barn made of huge wooden beams and stones. I even got to see a foxhunt with all the upper crust going through Ian's property with trumpets blaring. Between legs of the tour we went to his house for our days off.

I was home six weeks in two years and touring with Ian and the crew and band guys was family. It was amazing watching the Northern lights in Hammerfest, Norway. It is the city closest to the North Pole. Steve Morse played lead guitar and co-wrote the songs with Ian. He got fired at Christmas after the British part of the tour because he argued on the bus. Leslie West was on the record on a track. He and I had a confrontation or two and I do not know why. But he jammed a bunch of Mountain stuff with Brett and I. Loved that band. So did Ian but he couldn't refuse reuniting with the Purps. When I met Jon Lord he said "Ian didn't make him up. Lenny does exist". During an interview Ian was asked how many animals does he have at home. He responded, "Well I have four dogs, three cats, two fish and Lenny Haze."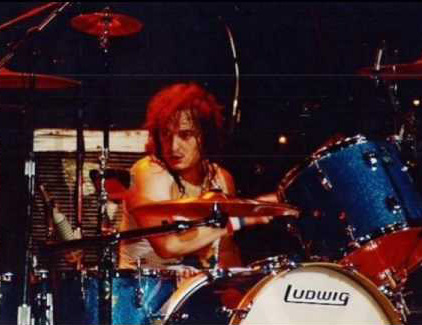 MM: That tour was ten months and visited 71 countries. Looking back at that time are you amazed you were able to work that many countries and dates in? How difficult was that?

Lenny: It was grueling. At one point we did 21 shows in 19 days. Our first tour of Russia, we were the only band to really tour the Soviet Union. On July 4th we played a sports stadium that was packed. Ian had the Soviets put on the scoreboard "To Brett, Lenny and a happy birthday America." When Ian asked how I like to tour I was honest. I like six to seven days on, then travel day, then five to seven days on, travel day, etc. If I'm out on tour then lets do it. Days off are spending money days and idle time getting into things from boredom. The time off being minimal was good for me going through a divorce and everyone not spending money. Boy, I can spend money too. I was in a bar in the Reeperbahn in Hamburg and I spent $1K drinking. We had three days off there. See, we had days off in bad places where money spending wasn't an issue but getting into trouble was--Hamburg, Sydney, Tokyo, Rio, Lima Peru, London, Amsterdam, Zurich, Barcelona and Athens. We didn't do the United States. But playing as much as we did, it didn't bother me. Of all the places I have ever been in order of trouble I can find or just great cities for days off. 10. Miami 9. San Antonio 8. Chicago 7. London 6. Las Vegas 5. Rio 4. Amsterdam 3. Los Angeles 2. Hamburg and # 1 New York City. San Francisco bay area is where I live or it would've been #1.

Touring with him we had the schedule from hell but it didn't get boring or old. I miss the Gillan Band & all the people in the crew, pub dept, fan club, just everyone was special and always will be. The players in that band loved playing together. Plus we were good friends. The band and crew hung out together and worked, played hard and played around hard. It's funny because we knew that kicking ass like we did would inspire Ian and we knew that Roger was calling Ian. We also knew that he was out to show the Purps he could do a relentless tour. He wanted them to be sorry that he was treated wrongly. The American record label wanted him in Purple an album earlier. They got to throw what they love to throw--one of their ultimatums at Purple. If 'Toolbox' would've come out in America and been top 10, Ian would've passed. But he had to take their gig. We all may have been bummed we were done but we hoped to do his next solo record. When he came through the US with the new solo band I was happy for Dean still being involved and Ian and Steve were working together and writing songs again. I saw Dean every time Y&T went to England. Brett Bloomfield retired from playing.

MM: In 1992 Gillan re-joined Deep Purple. At the time there was a rumored 'Repo Depot' album in the works. Did anything get recorded in 1992 before Gillan went back to Purple?

Lenny: We recorded some demos but unfortunately I do not have any copies. Dean Howard and Ian do. Bloomfield may have his but I had a house fire and lost a lot of memorabilia. Those demos being one of the many things destroyed. The odd thing thing is, you don't know what you don't have until you go looking for it. We were in the demo stages and we did them in a barn down the road from Ian's with Ian's cousin and his mobile truck studio. Most of the 'Repo Depot' stuff got released on Ian's new solo stuff. Also 'High Ground' I have on a bootleg DVD. Romania 1992. I believe the song is "It's A Day Late And a Dollar Short". Then we had the 'Boland & Boland' from Holland recordings and "The House In the Woods" stuff. We didn't have quite enough stuff for a complete album but we weren't done writing either. I am still curious as to what we would've come up with and how it would've been dealt with. On a better note, "Easy Come Easy Go" off the 'Repo Depot' demo is on the album 'Who Cares' for the Armenian music school that Tony Iommi and Ian and Glen Hughes put together. Great album I think. It has a lot of cool stuff on it for a good cause. The Gillan/Iommi stuff is killer. On the Black Sabbath/Deep Purple tree there is the 'Who Cares' project. Getting a 'Repo Depot' song on it along with "Don't Hold Me Back" was an honor. Ian and Tony (Iomni) using two songs that Brett and I played on was really an honor. "Easy Come, Easy Go" we thought was lost forever. With the digital tricks available today they got something workable and that is cool. For anyone interested there is some other 'Repo Depot' stuff on Gillan 'Live Bulgaria and Romania'. Videos on Youtube that are pretty good quality too. The 'Who Cares' CD has some monster players on it playing the shit out of their instruments. The vocalists like Dio, Gillan and Hughes alone are worth the price of the CD.

MM: Best thing you learned from your experience with Gillan?


"I did learn the differences in philosophy about playing music as far as the British way versus the American way. American is more emphasis on precision hitting and perfection in performance. British is more about overall feeling of the track or peformance...I guess I learned just how cool it is to be in a band with Ian Gillan."
Lenny: That touring is about playing no matter what the circumstances are. That you are never too big to play anywhere. I also learned with fans that you always give respect and your time. I knew this prior to my time with Gillan, but he cemented it. He said, "Without them you are not in business." Truer words were never spoken. I did learn from playing with Ian, Steve and Dino the differences in philosophy about playing music as far as the British way versus the American way. American is more emphasis on precision hitting and perfection in performance. British is more about overall feeling of the track or peformance. Sometimes a note played late or early is good, or to speed up is okay to a point. For instance, using a click track. If you are on it, you never hear a click on beat two or four in a measure. An American producer will not accept a flam with the click and snare but a British one will. Now, you get a bunch in a row to flam and they get longer, that is unacceptable. If it speeds up but feels right the British are more tolerant. The feel is their main objective. I learned to not beat myself up over a bad performance. You tried your best and that's all you can do. You can't change it or take it back. And you can go home if you really want to and it all works itself out for the best.

Ian, for whatever reasons, should've never been out of Deep Purple. He needed to go home. He loved that band like nobody who has never toured with him will know. Ian belongs in Deep Purple. I am glad I met and toured with him. I got to stay in his house, wrecked his car and met the elemental. I learned from Ian and I will miss that a bunch. I love them all. They are my family that I don't see much. Brett lives in Chicago and Ian comes through on tour. I see them on occasion. The others I saw in 2006, which isn't enough. In case they read this, hey folks I miss you all. The whole situation with Ian was the people who really cared about him introduced him to people that had total admiration and respect for him. He believed in us as well. I feel we played a big part in his returning to Deep Purple. I am proud of the whole experience with Ian, everybody who did 'Toolbox' and the lasting friendships we have. So, I guess I learned just how cool it is to be in a band with Ian Gillan.

MM: Many drummers credit Vanilla Fudge skinsman Carmine Appice as the "double-bass" innovator. He presented you "The World's Fastest Foot" award in 1986 via Circus Magazine. What was that like and was Carmine an influence on your playing style?

Lenny: Carmine is a large influential piece of the puzzle that makes up my playing style. From Vanilla Fudge through Cactus (my all-time favorite band), Beck, Bogart & Appice, Rod Stewart, Ozzie and Blue Murder, then you factor in the books he's written and the excellent evaluations he did for Circus Magazine. He is a major influence. I really liked the band Ozzy had with Carmine, Bob Daisley, Jake E. Lee and Don Airey. When I found out Carmine was playing with Ozzy in Europe I was excited to watch him daily and to pick his brain. When I first started Y&T I was using two 24" kick drums. Two big kick drums, I got the look from Carmine. My favorite players are Ginger Baker, Cozy Powell, Ringo, Louis Bellson, Carmine, Clive Bunker, Barrymore Barlow, Mitch Mitchell, Mike Sherive, Ainsley Dunbar, John Bonham, Denny Carmassi, Tony Williams, Buddy Rich, Gene Krupa and Billy Cobham. People think my footwork is something I did purposely but it just happened out of the blue and its foundation is laziness.

Back then we were playing covers at all of the military's enlisted men's clubs and CPOs. Places like the Presidio and Oakland bases, Alameda NAS, Treasure Island, etc. These gigs were during the Vietnam War and paid well. Sometimes these shows could be one day up to three days most at one club. I would have to load the car with drums, hardware and cymbals, then drive home from 25-90 minutes from gig, unload, set up, play four sets and then tear down, load car and drive home and unload. The next day repeats. I then started trying to do Ginger and Carmine by using one kick drum. I found ways to get similar sounding patterns, but I don't think it sounds like two or it is all that fast. It is just unusual for one kick. On the Ozzy tour Carmine kept saying, "I know it's gotta be the pedal." So, one sound check my kit is being put on stage and Carmine is behind his kit. I hear "Hey Lenny! Let me check out your pedal." So, I hand it to him, he puts it on his kit and hits his kick...boom boom. He then says "No, the real one. Not this crap." I say to him that's my number one kick and he says, "Well guard that foot 'cause it ain't the pedal".

People think I was trying to do John Bonham when I was really trying to do Carmine and Ginger Baker. After playing one kick so long, it felt totally impossible to use two right after 'Earthshaker'. It was like I had never played at all before. I felt like I didn't have time to re-learn drums to the point I am now. I can be frustrated just fine playing one kick, I don't need two adding to that frustration. One is plenty for Me. Dave Meniketti told me "your reputation is built on one kick, why change that"? So I didn't. I don't know how things would've been different, but I think I made the right choice on playing one.

Part two with Lenny...coming soon



ALL INTERVIEWS FOR: HAZEXPERIENCE
| | | | |
| --- | --- | --- | --- |
| INTERVIEW | INTERVIEWER | DATE | TAGLINE |
| Lenny Haze II | Eric Compton | 2/18/2015 | "Been a Great Ride" |
| Lenny Haze I | Eric Compton | 2/6/2015 | "Been a Great Ride" |
ALL REVIEWS FOR: HAZEXPERIENCE
Currently no reviews.
<< back >>