Few females in metal have the internal fortitude to go after it, to really take charge of a band and lead them into the realms of metal greatness. We've all seen our share of proverbial vocal icons, all of which are male. The Geoff Tates, the Bruce Dickinsons, and the Rob Halfords of the world. But what about the other end of the spectrum? How many women can command that type of respect and admiration?

Leather Leone is the supreme heavy metal force, a female fronted assault on all senses, driving home the fact that metal isn't a boy-toy, but truly a universal feeling that transcends the gender boundaries, allowing all players to make the team and play in the big game.

Leather re-teamed up with Sandy Sledge, her drummer and collaborator from the 80s metal band Rude Girl to do a tribute to their friend and mentor Dio. Their new band, Sledge Leather Project, was immediately booked to play the Keep It True Festival in Lauder Konningshofen, Germany without ever having played a live show, based on her feverish fans.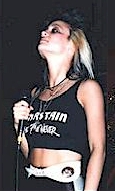 We are writing what comes to us naturally and what comes to us naturally is HEAVY music.

Leather, I posted a "Where Is Leather" column a few years back and the response was overwhelming. I had people telling me you were a veterinarian in LA and others advised you were a baggage handler at an airport. My idea was that you owned a night club in Greece and belted out "I Rule The Wasteland" seasonally on special occasions. Where did life take you after 1990?

Haha. I'm not a Vet in LA, I'm not a baggage handler, I wish I owned a nightclub in Greece, and I will sing Ruler of the Wasteland at the Keep It True festival in Germany on April 30, 2011. I'm really grateful for the unending support of some of these fans! I was in a restaurant the other night and a guy at a table I was walking by sort of whispered "Leather?" I said "yeah?" and he... well, it's hard to say.. he just started crying when he realized it was me. He was from Spain. I'm truly humbled and touched. And grateful. And thank you for the column. I feel like I owe you all music.

Before we talk about the present I would really like to talk about the past. In 1984 "Mystery Of Illusion" was released. How did you become involved with David Chastain?

I got involved with David through Mike Varney\Shrapnel records. Rude Girl became too much pressure so I left and went to where all I had to do was open my mouth and sing. Now 20 years later it was just an exaggerated, youthful, imagined pressure.

What were you imagining you'd be expected to do with Rude Girl?

To be part of a democracy, to come up with my own ideas (which I didn't think I had any of). I thought a step-up was to be handled; to tell me be here, do this, and 'can you kind of sing this?'. Rude Girl expected way too much of me. In my mind I couldn't do it. We (Rude Girl) had a 7 year deal on CBS (Columbia) Records with Black Sabbath manager Sandy Pearlman producing. They thought I was much better than I did in my youth. I had no idea that I was and it chased me away. I thought "I can sing - (sings) 'sing me a song I'm a singer'" - Chastain handed me the 5 albums.

What were your early goals as a performer? What drove you at that time of your life and lit the proverbial fire?

Interesting... Rude Girl. I mean, really. I don't throw that sh-t around. I met Rude Girl in San Francisco and they introduced me to the metal of the 80's.

You were one of a handful of female metal vocalists at the time. How were you treated by fans, peers and critics in a time and period when heavy music was dominated by men?

Honestly? I never noticed that I was any different. I don't remember it being an issue. Sledge remembers that it was. With Rude Girl we were playing at places like Ruthies Inn and Keystone Palo Alto with all the dude metal bands but they really wouldn't party with us because we weren't groupies. With Chastain it was more the industry that turned their back.

Most fans rally behind "Ruler Of The Wasteland" and personally it is my favorite. I can hear a heavy nod to the faster Priest sound and your charismatic vocals showing off a flashy high register. Is this your favorite record as well?

The song, yes. The record, no. "7th of Never" was next and I liked it a lot better. It was more of a grooving record. But I did really like Angel of Mercy and Children of Eden off of Ruler.

1990 seemed to be the end of an era. What had transpired up until that point. Did the band make money, were there promotion and big tours in the 80s?

No. No. No. No.

So, David Chastain produced your solo album "Shock Waves" and this seemed to be a solo venture that was promising. Why did this journey come to an end after only one solo effort? This was also your last performance with Chastain as well. Did the passion go away?

The solo album wasn't the final chapter. "For Those Who Dare" came after that. Did the passion go away? No. Did the journey end for me in America? Yes. It was time to disappear.

So its 2011, roughly 20 years later and you are back. Tell me about this new project?

I never lost touch with [Sandy] Sledge and I'm sure Delphine, if she was still alive, would be calling me. Sledge and I decided that we still had something to say. We wanted to finish what we started so we formed the Sledge Leather Project. After doing a demo tribute recording of Dio's song "Egypt", we were immediately booked to play the Keep It True Festival in Germany. We'll be releasing the ("comeback") show on DVD.

Is the new album finished up? What can we expect style wise?

No, We're writing it and it will probably be released in November. We're really excited about the opportunities that we're being given. It's great for me to finally have a huge say in what's written and how it's written. With Sledge, I feel like it's writing with a soulmate--same beliefs, same ideas--because we are writing what comes to us naturally and what comes to us naturally is HEAVY music. This is metal. It's just "metal." Heavy, metal.

Do you plan on touring in support of the record?

Yes! We want to consume Europe, South America and Puerto Rico (for our friend Erico Dantesco!)

In closing I have to just ask if you have had any contact with Chastain in the last twenty years?

Yes, he's extremely excited and supportive of the new band, and we talk all of the time.

Leather, best of luck on the new project and welcome back!

Thank you EC and Frank of Maximum Metal!! Metal Up!!


Check out more of SLP at: SLP Facebook