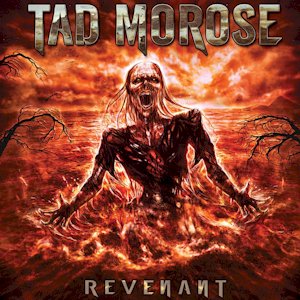 By 2003 few could dispute that Tad Morose were indeed superstars. The Swedish band was young, hungry and had seven records on their resume. After three releases on Black Mark the group signed to Century Media and enjoyed their biggest success to date between 2000 and 2003. One of the reasons for that success was the 2003 album "Modus Vivendi". The offering was arguably the band's best work and crowned a ten year run as one of metal's brightest stars. However the much anticipated follow-up didn't occur right away. In fact it took ten long years to reach fruition.

I had a moment to talk with Tad Morose guitarist Christer "Krunt" Andersson about the band's hiatus from the studio and the new album "Revenant". He says, "We had gone through a lot of lineup changes since "Modus Vivendi" and this has been frustrating for us. There have been times where I really doubted that there would be another album. But we just kept at it and finally we made it. We have been fighting for this all the time so it is not that we have just been sitting on our asses until now. The actual album took like three years to record too. But we recorded this in our own studios, which is very convenient but obviously very time consuming. I mean, you can always re-do something the next day or so and since we didn't have a record deal when we started to record "Revenant" we were in no hurry either. We also played live every now and then during this period, both with Tad Morose and most of us also with Inmoria which we did a UK tour with in 2011. It didn't take three years in a row to make the album, it was more like a few days here and a day there and so on. But from day one until it was done, mixed and mastered, it took about three years.

With a gap of ten years between recordings it is often hard to keep the same fan base. Exposure in this current environment is so important. I asked Krunt about the ten year gap and what impact it had on fans. "I kind of think that things happen for a reason and perhaps this album wasn't meant to be until now? Who knows, if we had managed to make this album like five years ago or so it might not have been any good? Ah, I don't know, but finally it's out and people seem to like it. We didn't know what to expect really. I mean, ten years is a very long time so we didn't know if anybody still would remember us at all. But so far the reception has been very good. It seems like quite a few did remember us after all. A friend of mine said perhaps the gun powder wasn't dry enough until now".

EC - Since the group's last record in 2003 there have been a number of line-up changes. In 2005 the band parted ways with longtime vocalist Urban Breed.

Krunt - Well, Urban became more and more difficult to work with towards the end up until the point where it just wasn't possible to continue. So I guess both parties were better off without each other. So he left or was fired, doesn't matter, in 2005 I think.

EC - Former Liege Lord and Annihilator singer Joe Comeau joined the band for a stint.

Krunt - We had an audition and Joe was truly amazing and he joined in 2006. We recorded some demos with him and we did a couple of live shows together. But he lives in Florida and that made it hard for us to be a working band over here in Sweden. We tried but in the end we needed a more present singer to be able to move forward. Joe is a very good singer, very nice guy and truly a professional too. But he understood our point of view.



"Playing live is the fuel in our engine so we really would like to play live as much as possible during 2014"


EC - With "Revenant" the band showcases their new vocalist Ronny Hemlin. Fans may recognize Hemlin from his time with a similar Swedish band called Steel Attack. How did he become involved with Tad Morose?

Krunt - I have known Ronny for a long time and we asked him to join back in 2006 but he was too occupied with Steel Attack. So that would not have worked out. But we asked him again, in 2008 I think, and he joined. Ronny is a very good singer and he is a very talented musician in general. He is also just as weird as the rest of us so he fits perfectly. Ronny contributes a lot to the songwriting and since he runs his own studio so he knows a thing or two about recording too. He has a very strong voice that really can take the beating on tour.

EC - Tell me the thought pattern that went into "Revenant". What is the general theme or concept of the record and what influences went into the writing and recording?

Krunt - Well, we just did like we always do. We just write a bunch of songs, argue a lot about all the parts in every song until we are satisfied. I guess though that all that we have gone through has gotten into the music too, making it sound perhaps a bit more aggressive. Our influences are as always, just about anything that surrounds us. I think that the title and the artwork on this album fit very well to the sound and how we felt making it too.

EC - Overall the new one is probably the best produced Tad Morose album. Would you agree with that statement?

Krunt - Yes. I do. Funny though, I mean, we did this by ourselves. Of course wrote all the songs but also recorded it and mixed it. Ronny and Johan Löfgren did the mixing but we all had our fingers in the jar too. The mastering was handed over to Per Ryberg at Studion Soundcreation here in Bollnäs. I personally think that it sounds better the louder you play it! So crank it up!

EC - The album was recorded at Claustrophobic. I wasn't able to locate any info on this. Where is this studio, why is it called Claustrophobic and who produced the record? Also, why was this studio chosen?

Krunt - Yes, that is Ronny and Johan's studio in Gävle, Sweden. I guess the name comes from the lack of space in that studio! We produced it ourselves. I recorded the guitars in my studio. The reason we recorded Revenant this way is because we didn't have a budget. We would of have liked to go to the Bahamas for six weeks to record an album but that is not an option for us. So we did the best we could with the tools we had and it turned out pretty good after all.

EC - This album is by Despotz Records, a rather unfamiliar name. How did they become involved in "Revenant" and is this a long term deal?

Krunt - It was our former management that suggested Despotz Records to us. To be honest I never heard of them before. But everything felt right and they do a very good job. The fact that they are a Swedish company makes things a lot easier too. It is not a long term deal, that's nothing that we wanted. But the next album will be released by Despotz and then we'll see what happens.

EC - The band's first three albums were released by Black Mark. Tell me about that period of time and how would you describe the band at that point? More progressive yet less aggressive?

Krunt - Well, we were young and naive but a very happy bunch of eager guys. Back then we thought that if we wrote a song that we barely could play and that was very long we had wrote a good song. I guess that is a period that many bands go through in the beginning. So, yes, they were more progressive and not aggressive at all.

EC - The next three albums were widely considered successful by fans and the industry in general. Century Media released all three albums. How would you describe the band at that particular time? Do you feel this period was more successful than the "Black Mark" years?

Krunt - We had been around for a while and gained a lot of experience. Yes, this period was more successful. But I think that the fact that we had been around for a while helped too.

EC - During the period from 2003-2013 Markus Albertson has departed and his replacement is Kenneth Jonsson. Tell me about that change and what led to Jonsson joining Tad Morose?

Krunt - Daniel Olsson was in the band from the late 90's and played on "Undead", "Matters of the Dark" and "Modus Vivendi". He left the band in 2006 or so I think, after that Markus joined. He never recorded anything with us just did a bunch of live shows until he left in 2010. Kenneth joined the band in 2011 I guess. Daniel left due to personal and musical differences. He was fed up with the fact that nothing really was happening at the moment and I think he wanted to play a softer kind of music perhaps. Markus left due to personal issues too, fed up with that nothing really was taking off and that he was about to move to Stockholm. So we asked Kenneth and he was eager to join the band.

EC - Many fans may not realize that over half of Tad Morose also plays in another band called Inmoria. How would you compare the two bands and do you have any more plans to record with Inmoria?

Krunt – Ha! That's how it turned out in the end. Now four out of five in Tad Morose also play in Inmoria. Small town you know. And the fifth guy in Inmoria is Dan Eriksson who played drums on the first Tad Morose album. Yeah, there are plans for a new Inmoria album. All the songs are written but they sucked so Dan has to re-write them. No honestly, Inmoria is Dan's thing. He runs the band and writes all the music. The rest of us just play the instruments. I think Inmoria sounds more modern compared to Tad Morose. A lot of keyboards and backtracks and so on. Tad Morose is more heavy metal.

EC - Sweden is growing by leaps and bounds in the metal genre. It has always been considered a hot bed for metal but these days all the new bands seem to originate from Sweden. Why do you think this is happening? What could you attribute that to?

Krunt - I don't know. If I did I still wouldn't tell you! Ha! Perhaps our personality as Swedes is a good thing when it comes to writing music? I guess that having a lot of bands around that gain success and get albums out and go on tours and so on helps to get younger bands to keep at it and makes young kids want to start a band. I guess we also are a bit stubborn. Funny really, I mean, Sweden is a very small country. I guess we are about 9.5 million people here now, which is about as many people that lives in a big city like London or New York. We got all those famous bands and we've had that for a long time too. Back during the cold war Sweden had the third or fourth largest air force in the world with our own aircrafts. We were one of the best submarine builders. Still are I think. Take a look at the NHL Hockey league, quite a few Swedes there too. Volvo, Ikea, AGA, SKF, Ericson, and so on. Pretty well done for such a small country I think. So it is not only in metal music that Sweden is very well established. So I don't know, perhaps we could blame this on the Vikings? Ha!

EC - Will we see you and the band on tour this year? Any festivals planned?

Krunt - Yes you will. Nothing planned at the moment unfortunately. We recently broke with our former management due to not much happening with them. So we lost some pace here which sucks. So hopefully things will start to move forward soon enough now. Playing live is the fuel in our engine so we really would like to play live as much as possible during 2014.

EC - Okay last question, an important one. Will it be another ten years for the follow up to "Revenant"?

Krunt - Hope not! Well, you never know, do you? But we are aiming at entering the studio to record the next album sometime around September or October. Depends, of course, on how busy we will be playing live. So if everything goes as planned there should be a new Tad Morose album out early spring next year.