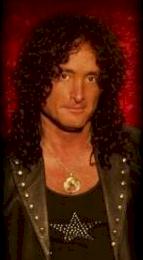 So, you've got some things going on?

Yeah, Quiet Riot is back! There's a live album that should've been out in Jan and we're writing song for a new studio album that should be out by the end of the Summer.

The reformed QR played it's first show down in Mexico:

Yeah, I think we got one of the best responses of the day playing with Twisted Sister, Dio and Dokken on the bill. Don, I hung out with and he's hilarious--a very likeable guy along with Mick Brown.

How was the make up of that crowd?

It was about 10,000 people cold and raining but the audience was unbelievable and we had a prime spot.

Any young, hot babes coming to the shows?

It depends on where you play. QR has been really more of a guy band. If the Crue was like the Rolling Stones; we were more like the Who. It's a cross-section.

Ronnie Dio is really holding up great ain't he?

Oh, yeah! He's just the classic heavy metal vocalist and a real nice guy.

So, is QR playing any new stuff?

We're playing one song from my solo CD, but the best thing is that there is a lot of QR songs form our past catalog that we couldn't do with the last line up, so we can vary our setlist more and dig deeper into our past. So, we're doing more live that we haven't usually done, but not new songs.

You said back when QR was broken up that if one change was made, you'd be back. Can you go into that more specifically?

To be specific, the bass player [Rudy Sarzo] was not my favorite person and I didn't really think much of him as a player. I'll tell you the reason why--I have a reputation for being difficult and he has a reputation for being a really good guy and I don't think either is accurate. People's public persona isn't always an accurate reflection of what's going on and I've known him for 23 years. I can tell you that I'm happy.

Seems like a lot of band member trading between some 80's bands.

Yeah, and now we have Chuck Wright who I think is one of the best out there and with him and Frankie Banalli together, I think they're as good a rhythm section as John Paul Jones and John Bonham was. They're tight, they've got Soul and Funk and a telepathic connection. As a singer behind them, it's fantastic.

How about Carlos Cavazo?

We approached Carlos to see if he wanted in, but he already decided to stay with what he's doing (Hollywood All-Stars). Our new guy is more Bluesy which I'd like to do more of.

Didn't they think when they brought Paul Shortino in as the vocalist for QR that it would be a bit difficult to replace you since you're really the 'face' of QR?

Well, it didn't work did it.

It's like the Crue replacing Vince Neil.

It was such a long time ago and things were different. He's a good singer but changing band members is a strange thing, it really only worked for one group--Van Halen--which also changed the whole sound.

QR just released their live CD "QUIET RIOT Live & Rare - Vol. 1" on Cleopatra/Deadline Records. Can you tell people about it?

The material is a compilation of live recordings from various concert performances during their 1983 "Metal Health" and 1984 "Condition Critical" world tours. There are also three rare original and previously unreleased studio demo tracks recorded in 1981 which were later re-recorded and appeared on the group's debut record "Metal Health." Included in this release are live versions of two rarely heard QUIET RIOT songs. "Danger Zone" which was part of the group's live set for a short time and recorded for the Metal Health record but never completed, and "Gonna Have A Riot" originally a Randy Rhoads era QUIET RIOT track which was also part of the band's 1983 shows.

Is there going to be a DVD?

No, most of the stuff shot back then was by MTV who probably has it in their vaults.

I noticed you had an unreleased Randy Rhodes song on your website (www.kevindubrow.com). He's still a big selling point for people.

Yeah, and it's free to download. I can't fault anybody cause we got so precious little of his work. There's a guy, though who spent a year around him and is writing an entire book about it that I find amazing. He doesn't have recollections; he has Parkinson's. It'll be a joke.

You plan on posting more unreleased Randy Rhodes music on the website?

Absolutely. There will be more. I could possibly do a DVD, but QR is keeping me real busy. I'm up for a VH1 reality show...I could visit the Randy stuff, but I also like to do new things.

So, how was it doing the solo CD, "In For The Kill" with all the covers?

I loved making that record. It was the most fun I've had making one. The guitar player gave it a great 70's-style tone; keyboard player from Great White--it was a pleasure to make.

Originally it was going to be QR doing that album, but we were broken up at the time. It would not have been possible with the bass player we had. You know who I'm talking about--this guy was the equivalent to being in Milli Vanilli. He didn't play on "Metal Health". He didn't play on the Whitesnake record or the Ozzy records. It's all other people. He's in videos lip-synching to other people's parts. It's pretty well known.


Got plans to do another one?

I'd love to, cause there are songs I didn't get to do that were more uptempo.

I missed the 'Bad Boys of Metal' Tour. How'd that go over?



"Yeah, it's nice to get some credit after all the years."

Musically, I had a great time during my part of the show. It was a difficult month for me. I was put in the position of being the leader of it because nobody else was capable of it and they didn't really have a tour manager. And you had Steven Adler and Jani Lane bringing along their addictions and it was like having two other people on the bus.

Steven Adler is brain dead. You feel sorry for him when you first meet him then you spend a day with him and just want to kill him. After all the guy has been through, he's still about him and his addictions. He was infringing his lifestyle on me and upon my freedoms. For example, there was some 'contraband' on the bus at many times left out in the open where I could've been arrested for his discrepancy and he was an asshole about it.

Jani Lane was drunk from the start until NY. where he found the source of whatever he was looking for. We had four buses in four weeks--constant breakdowns. The crew guys were not good. It was like somebody was paying me back for some bullshit in my past. The audiences were great though.

That's some smacktalking there...

I'm not smacktalking...I'm just giving you the facts. To be honest with you, I don't care for either of those guys. They made my life a living hell and it cost me money. For example, after the second show, we had a really long drive to Reno. We get halfway there and we need to stop to get something to eat so I find out how many more miles we have to go. [I said] Everybody get your food to go, we've got to get out of here or we won't make the show. So, I went back to get some more sleep ad after a while, I'm wondering why we're not moving. I ask the bus driver and he says Steven Adler wanted to eat inside the restraurant.

So, I go in and say Steven what's the problem; why didn't you get this to go? And he says I wanted to sit down and eat...fuck you, asshole. And guesss what--we missed the gig. We were an hour late and they canceled the show.

He's got his own band--Adler's Appetite.

It should be called Adler's Addiction. He is the biggest slob on the planet. He turned the back lounge of the bus into a disaster. People feel sorry for him because of the two strokes, but he did it to himself. You'd think after the first one, you'd change whatever you were doing.

You look like you're staying in pretty good shape.

I go to the gym four times a week. I started some cardio cause in helps to keep you from being winded on stage which happened to me in Mexico. Plus, when you're around guys like Jani Lane for a month, it's a real wake up call.

Speaking of the reality show stuff. Some of your contemporaries are really getting into that stuff.

They called me twice for the "Sureal Life", but for whatever reason that didn't happen. My brother has a reality show--"The Swan" on FOX. He's the plastic surgeon, Terry DuBrow.

You wouldn't have any issues being on a show?

Fuck no. I saw Vince doing the Chicken Dance on the Internet and I've done some embarrassing things in my career, but I wouldn't have done that. Well, he probably got $30,000 and his band did play, so maybe I would've. My agency called me about doing "Blind Date", but I didn't want to do that. We did a show called the Nudefest and got hammered for it, but it was just a gig and I kept my clothes on.

You were in the original "Hear n' Aid" project of Dio's, have you heard anything about a second one?

Not really and I don't know if I'd be that involved, since Rudy is now in Dio's band.

Do you ever check out any of the newer metal scene?

I don't like it. All the guitars sound the same. The problem I have with it is the singing. I grew up liking soulful singers like Paul Rodgers and Glenn Hughes. I'm not saying it's bad cause a lot of people like it, but it's a different generation.

Can you offer any insight on the Blackie\Banali issue where Frankie's drum credits were removed?

Not really. Blackie seems to like rewriting history for what Frankie should get credit for. He played on both WASP albums. He got paid, but doing a WASP album isn't going to be a king's ransom so he should have been credited properly also as payment. I like Blackie, but I like Frankie more and pulling credit was wrong and bullshit.

What's in your player right now?

Today I was listening to the Free boxset. I like Type O Negative. Mostly old stuff...I love Glenn Hughes and Spooky Tooth and Rainbow with Dio in it. I rarely listen to people I grew up with, not really my contemporaries unless it's on the radio.

What are you looking forward to for the new year?

Everything--going on the road, new music...going to England for the first time in twenty years...places in Europe I've never been.

In a recent magazine "Cum On Feel The Noise" was voted best cover of all time:

Yeah, it's nice to get some credit after all the years. A lot of ours being good has to do with the arrangement by Frankie. I hate it. I like singing it in front of a crowd to watch them go crazy, but it's not a fun song to sing with the vocal melodies. I like "Bang Your Head" better.

Well, enjoy Vegas and the touring, Kevin.

Will do. Thanks, man.


--by Nailer 03.23.05