I N T E R V I E W S

Blitzkrieg
"Still Surviving"

Interview with Ken Johnson, guitarist for the heavy metal pioneers who still have a creative fire
By: Eric Compton | Published: Thursday, February 16, 2017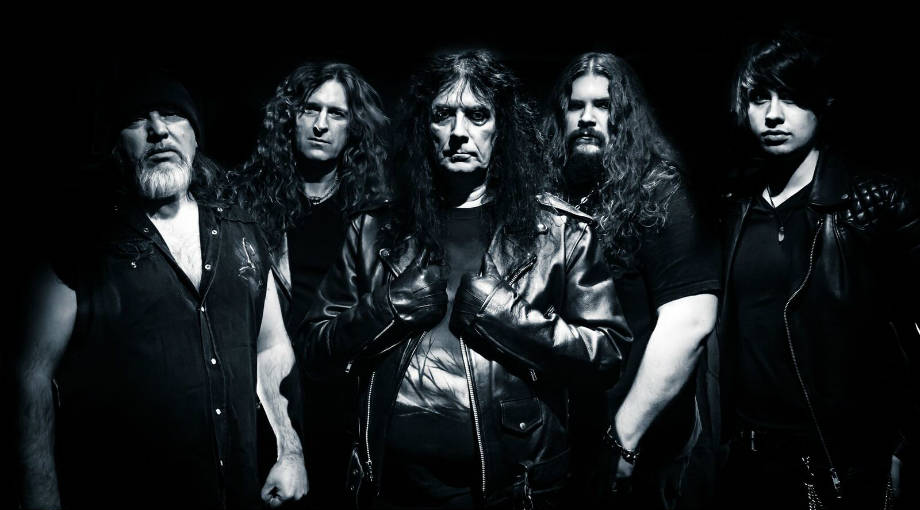 Who can doubt Blitzkrieg's influences on the early days of heavy metal, notably the stylistic movement that showcased the next phase of Birmingham's pounding metal - the New Wave of British Heavy Metal (NWOBHM). Blitzkrieg formed in Leicester, UK in 1980 and soon released three demos. The single "Buried Alive" was released in 1981 and the B-side track, "Blitzkrieg", is arguably the band's most well-known song. The track was covered by Bay Area icons Metallica on their "Creeping Death" single and later included on Garage Inc. as well as the re-release of Kill 'Em All. The band have released eight studio albums and recently celebrated the 30th anniversary of their pivotal full-length debut 'A Time of Changes'. Earlier this month the band announced a new record deal with Denmark powerhouse label Mighty Music. Eric Compton talked with guitarist Ken Johnson about the new label deal, the band's recording plans for 2017 and if NWOBHM ever really went away.

Eric Compton: First off, thank you so much for allowing Maximum Metal the opportunity to chat with one of heavy metal's early pioneers. The band still has the fire, 37 years later, and here you are still talking about the band, performances and now some very exciting news out of Denmark. First off, tell us about the recently announced record deal with Danish label Mighty Music. Was this a label that was on your radar prior to the signing? Did you know Mighty Music CEO Michael Andersen in past endeavors?

Ken Johnson: Hi Eric. Firstly, thank you for contacting the band for a chat with Maximum Metal...well towards the end of 2016 we began taking note as to what Mighty Music were doing for fellow North East NWOBHM band Tygers of Pan Tang and we really liked the exposure, promotion, etc. the Tygers were picking up off it and the momentum they were starting to regain. We (Blitzkrieg) felt at that point in time we were just beginning to tread water, going through the motions, new material was being written regardless but we weren't sure when we would be asked to enter a studio to record it. The exposure and promotion of the last two Blitzkrieg releases, 'Back from Hell' and the '30th anniversary edition 'A Time of Changes' maybe could've been handled better for whatever reason that was. So, I emailed Michael at Mighty Music really not expecting to hear anything in return. But we did after a few chats via email and a brief meeting with Michael when he was in Newcastle for the Tygers of Pan Tang. Blitzkrieg were finally offered a deal to sign for Mighty Music. Michael flew over from Denmark and we signed in Newcastle upon Tyne in Trillians Rock Bar on January 21st.

EC: The deal is centered around a new album that is set to be recorded tentatively late summer. What can you tell us about the upcoming record? Do you have a working title or songs written for it? Where will it be recorded/produced?

KJ: At the moment, there is no working album title as we speak, though what we have written so far I think a lot of metal fans will like, keeping the aspect of the band to what our identity is (a British metal band), though keeping it fresh...a lot like what the present day Accept are doing and doing very well. The album will be recorded in Newcastle in the UK but it will be mixed possibly in Denmark.

EC: Is the Mighty Music contract for just one album or multiple album releases? Also, do you know if this is a world-wide distribution or just for certain markets?

KJ: The contract is for multiple album releases and a world-wide distribution.


"You are the future of Metal...not us. There needs to be this young talent coming through to carry the flame"

EC: This month it was announced that Blitzkrieg has a new bassist in Huw Holding, who replaces Bill Baxter if I'm not mistaken. How did you arrive at that decision? Were you aware of Holding's prior work with Cardinal Synne and now Avenger? Will he contribute to both Avenger and Blitzkrieg now?

KJ: Bill decided due to commitments at the time that he would not be part of the band come the beginning of 2017 so we knew we had to find a replacement. We all knew of Huw's ability more so Brian and Alan (Ross), and the fact Huw's style is similar to Mick Moore so Brian asked him to learn a few tracks from the back catalogue and come down. It worked out very well. And yes, he will be contributing to Blitzkrieg though I can't speak for the Avenger lads.

EC: Blitzkrieg closed out 2016 in grand style. The band played in Japan last November at a two-day festival called Japanese Assault in Tokyo. How was the event and does the band have a good following in Asia?

KJ: Japan was immense. The festival was run very, very well by the Spiritual Beast label and the response while we were there was amazing for Blitzkrieg. Yes, I would definitely say we have a good following in Asia and it would be awesome to return at some point and do a handful of dates across the country.

EC: The band also played at Academy Sheffield in the UK in December alongside some legendary bands in their own right. Girlschool, Grim Reaper, Tokyo Blade, Demon, etc. What was it like playing with so many bands that came to prominence in that NWOBHM era? Is it comradery or competition?

KJ: I would definitely say comradery, though I think each band sets the bar for themselves at these festivals because the line ups (also like Brofest) are very strong. So, like a domino effect you could say each band lifts the next and so on. Also, most of these band members are friends anyway so it's always good to meet up, etc. There's never any animosity at all from what I've seen.

EC: I'm sure you have been asked this question over the last couple of years as more and more bands have re-activated or returned from hiatus. The industry is calling the last few years a NWOBHM revival. In your opinion, did it ever really leave in the first place?

KJ: Not really. I think when it faded in the UK, and you could say stateside, it was still going strong in mainland Europe. But now it seems the interest is back there in the genre which is a great thing for the bands involved.

EC: There is a sub-genre of metal called "New Wave of Traditional Heavy Metal". Lots of young talent that are playing the part - dress, music, production values. It has become a massive genre and year after year continues to grow with more and more acts following suit. First, why do you think that is? Second, what advice do you give these young bands playing the NWOBHM style?

KJ: Maybe to some young bands some of what is classed as metal these days isn't quite cutting it for them to listen to. So, they are going out and discovering why Metallica likes Blitzkrieg, Diamond Head, etc. and instead of listening to the likes of Avenged Sevenfold, a lot of the younger audience is discovering Priest, Accept, Scorpions, etc. I know we have noticed a younger generation at our shows and also attending more classic metal shows in the last two years.

Advice? Don't give up as long as you have that fire, the drive to make you wanna carry on no matter what. As Brian would say, "You are the future of Metal...not us. There needs to be this young talent coming through to carry the flame".

EC: Can you recall the first time you had heard or read the term "NWOBHM"? What did it mean to you to have Blitzkrieg labeled that way?

KJ: Well, for me it's kinda funny because when that term first came out I was still at school and all these NWOBHM bands were rising up. I never, back then, thought I'd be playing guitar for one of them years later *laughing*.

EC: Is there a 70's record that you feel most represents the spirit and tenacity of the NWOBHM scene?

KJ: Oh, bloody hell good question. 70s? I think Judas Priest's 'Killing Machine' (aka 'Hellbent for Leather' in the US) album could quite easily be slotted in there...maybe 'Rainbow Rising' (Rainbow)?

EC: Aside from the new album this year, what else is on the agenda for Blitzkrieg. I see an April booking for the Very 'Eavy Fest in Netherlands alongside Angel Witch, Holocaust, Tokyo Blade and others.

KJ: At present the new album is the most important thing for the band this year. We cancelled Very Eavy, unfortunately, to concentrate on the album.

EC: Ever party with Lemmy?

KJ: Not partied with him, but it was either in 1988 or 1990 when I was on vacation in Los Angeles I used to go to the Rainbow bar and grill on most nights. I was sitting at the bar one night and Lemmy came in and sat next to me. He realized I was English so we started asking what it was like living over here because I think it was just after he had moved over. He explained how he loved the way of life, the liquor measurements totally different and larger than in the UK and the weather in California compared to back home in England. That night he was drinking Wild Turkey and he said to me to try some out of his glass. Well, I wasn't gonna refuse or would I dare refuse *laughing*. At the time nearly blew my head off. We sat chatting for a while...so down to Earth and what a lovely bloke.

EC: Congratulations on the new record deal. The fans and industry are very anxious to hear the next chapter of the Blitzkrieg legacy. Good luck with the new album and have a successful 2017!

KJ: Thank you very much! From myself, Brian, Alan, Matt and Huw, I'm sure we will cross paths again in due course...love for Blitzkrieg to tour North America!


LINKS
Homepage - Band Homepage
Facebook - FaceBook
YouTube - Band YouTube
Mighty Music



ALL FULL REVIEWS FOR: BLITZKRIEG
ALL SUMMARY REVIEWS FOR: BLITZKRIEG
No Summary reviews currently exist for them.
ALL INTERVIEWS FOR: BLITZKRIEG
<< back >>