I N T E R V I E W S

ChaosLord interview with Jon Schaffer of Iced Earth

Iced Earth's new album, "Dystopia" was released in October in Europe and the United States. We recently had a chance to see how things were going with IE constant Jon Schaffer...


Maximum Metal: Hey, Jon, tell me a little about where the inspiration for "Dystopia" came from.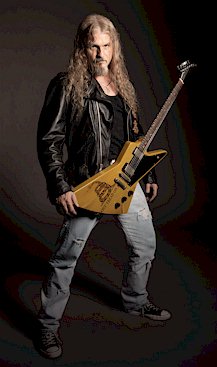 Photo credit: Justin Borucki

"There's been a lot of instability in the last decade and it was a really difficult period for the band but we are on track and ready to show people that we are back."

A: The theme was mapped out early in the process and we went about the whole process liberally. I did song demos in my home studio, had most of the arrangements done and gave everyone a demo to go by, then got together with Stu to lay down vocals. We both had a hand in the songwriting on "Dystopia".

MM: How much work had been started on the album, if any, when Matt made his announcement that he was leaving?

A: No work had actually started when Matt made his announcement, I was behind where I wanted to be with the schedule for the new album and had actually wanted to be in the studio in mid to late 2010.

MM: How many different singers did you audition before deciding on Stu? What ended up making Stu the best fit?

A: I had been talking to several singers and took demos from them, but Stu was the only one to really have an actual audition. I really wanted it to work out and after hearing him I thought, "This dude is gonna be awesome in the studio and great to work with". Within 30 minutes after Stu auditioned, I had decided on him being in the band. We had chemistry right off the bat and I feel Stu fits like a glove.

MM: Whose idea was it to post studio updates during the recording of the album? Was the success of that part of the reason that the updates continued during the European tour?

A: The label decided to do studio updates. We were flying in from Europe every other weekend to track the album between festival dates while the label was flying in a rep from California. The dude wasn't available to hang out all the time due to the variance of schedule so it was just done in a few days. I would love to document the making of a record from the beginning, including the songwriting process and everything that goes into it. Think the fans would really dig being able to see that.

MM: Speaking of the Euro tour, you all just wrapped that up, how did the tour overall go? Any particular show or shows that stand out as amazing? How was Stu received by the fans?

A: European tour went really great, the fans could tell the band chemistry was definitely there. They openly accepted Stu as the new guy. The fans can just sense we are all happy, nobody has any hidden agendas and everyone wants to be here full time and is committed 100 percent. This is the best chemistry we've ever had as a group--it feels like a band again.

MM: Without giving too much away regarding the setlist, what can IE fans expect to hear that hasn't been in the rotation recently?

A: The US setlist will be very similar to European tour. Since we are splitting headlining with Symphony X, the time constraints really limit the amount songs we can do as opposed to being the only headliner where you can play for 2 to 3 hours. You can expect to hear Dante's Inferno and we will play When the Night Falls which hasn't been one the US fans have gotten to hear. There is a nice variety on this and it is definitely not for the faint of heart. There's a lot of the heavy shit on the set list and maybe one or two ballads.

MM: After 20 plus years in the business, what continues to drive you to continue creating music?

A: Who I am is what drives me. The business side doesn't do much but piss me off most times but it's a part of the package and something you have to put up with. The whole thing is that I am a songwriter and that's what I do. This is what I have to do to get my songs heard but you have to put up with a lot of shit with the business. Life and its lessons keeps me motivated as a writer. You have to look inward as an artist, not necessarily to other bands and just stay honest. That's why our fans are so loyal because the fans know we are for real.

MM: What song or accomplishment are you most proud of during your career?

A: Nothing particular song wise, Gettysburg is one of my favorite epics that I have recorded. But asking that question is like asking me which album is my favorite. That's like saying to a parent who has 10 kids and telling them to pick one of them as the favorite...you just cant do it. Good energy and good momentum are usually what help to create the strongest albums with the fan base and they can tell when the energy and momentum are present. Events also influence the way the albums are recorded and how they turn out. There are a lot of things that happen that people don't understand when you are recording an album and you have so many different people contributing to the whole process.

MM: Do you still keep in touch with any past band members at all?

A: I still talk to Mike McGiller. I actually saw him a few weeks ago down in Florida. But running the machine that is Iced Earth we're just not able to catch up due to schedules, and unfortunately our paths don't cross that much. But if I see any of them things are on good terms with the previous band members. I have to work hard but I need a family life too so I sometimes have to force myself to just step away and take a break, otherwise I'd be working all the time because I have so many different things going on.

MM: How is your neck feeling these days?

A: The neck is feeling alright. Obviously I can't head bang like a maniac anymore. I injured it in Berlin back in 96 and put the surgery off until 4 years later. I just gotta be careful with what I do now because it's not worth it to cause more damage. I still have a little disc that is a problem but I'm trying to exercise a lot and am keeping the spine strong.

MM: When you aren't focusing on Iced Earth or your other side projects, what do you do with your spare time? Is the Spirit of '76 still up and running?

A: Running the machine that is Iced Earth hardly gives me any spare time. When I do have some free time though I love to read, go scuba diving, white water rafting, or am out riding motorcycles. No, unfortunately the Spirit of '76 closed down due to the financial crash of '08. It just became hard for people to buy that stuff so we went online for awhile before shutting it down. But if the economy ever picks itself back up again I'd love to look at reopening the shop.

MM: You released some signature humbucker pickups a few years ago, any plans for any other signature IE instruments?

A: There are beginning plans for a signature guitar. Epiphone has built some demos for me and things are now in the phase of where I have to check them out, see if I'm happy with them and see what adjustments need to be made. There is also a possibility of doing a guitar with RS Guitar Works who are based out of Kentucky but that one would take more time because it would be a design done from the ground up. We'll just have to see how things go but there are definitely those things on the horizon.

MM: What's going on with Sons of Liberty right now?

A: Sons of Liberty EP "Spirit of the Times" was released on December 22nd. We didn't have time for full length but the fans were clamoring for more so were able to lay down the EP. I wrote both the SOL EP and "Dystopia" in the same period. It was a shitload of work. There isn't a whole lot of advertising for it, it's just a word of mouth thing.

MM: Any plans for a new Demons and Wizards album in the distant future?

A: There's nothing going on with Demons and Wizards right now. I actually just heard from Hanzi this morning. I had sent him a link to this girl playing piano to "Fiddler on the Green" that was posted on my son's Facebook page and we both thought it was really beautiful. We really want to get together, but just have to find time for it to work out. But hopefully in the next few years there will be a new album in the works or out.

MM: More serious...Dio passed away last year, founding Riot guitarist Mark Reale just died At 57 and Tony Iommi has recently come out and said he has cancer. How bittersweet is it to see the early heroes and founders going into their older years?

A: I didn't know that Iommi came out with that. I don't know how the hell that got past me. Well man, it's an unfortunate reality of life that we are all gonna have to face. It was really sad when Ronnie passed away because I thought Ronnie was great. I don't know Tony as well but he was obviously a huge influence on me and I wish him well. But you have the guys that have long amazing careers and then you see guys like Chuck (Schuldiner of Death) whose careers are just cut short, it's just sad man.

MM: And to close it out...any last words for our readers?

A: Just that we are looking forward to doing this string of dates. There's been a lot of instability in the last decade and it was a really difficult period for the band but we are on track and ready to show people that we are back!

ALL INTERVIEWS FOR: ICED EARTH
| | | | |
| --- | --- | --- | --- |
| INTERVIEW | INTERVIEWER | DATE | TAGLINE |
| Stu Block | Eric Compton, Greg Watson | 6/22/2017 | "The Band is Incorruptible. We Are Never Going to Falterů" |
| Jon Schaffer | Greg Watson | 2/7/2012 | |
| Jon Schaffer | Ken Pierce | 9/14/2005 | |
ALL REVIEWS FOR: ICED EARTH
<< back >>