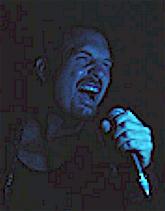 So what's been going on since Wrecking Ball was released last summer?

Has it been that long already??? It all goes so fast anymore! Well, after Wrecking Ball, I took a little family time and went to Florida for a few weeks. We did the whole Sea World, Discovery Cove and Disney thing. It was nice after being holed up in the studio for months. Within a month or two of its release, the Wrecking Ball really started swinging, thanks to a lot of support from websites, magazines and fan support, and so I spent a while just doing PR work, interviews, phone calls, e-mails, etc. We also got a distribution deal in Germany which was really cool! Anyway, after a few months of good things happening, I decided to thank everybody by doing a cd of songs that inspired me when I was starting out and giving it away to everybody that was supporting me.

That would be the DOA cd?

Yeah. It was a blast to make. I wanted to do a cd of songs that people would listen to and go "So that's why he sounds like that!" I had to include the standards like Priest and Maiden, because that's a big part of who I am, but then throwing in bands like Thin Lizzy, UFO, Krokus and Armored Saint to the mix made some people realize that it runs a lot deeper. Another cool thing was getting an e-mail from Marc Storace of Krokus saying he listened to some of my stuff and really liked it!

I noticed you had another guitar player on DOA. Is he in the band now?

Dean Taylor played on DOA with me on several songs and also sang some backing vocals. He is a friend of mine from way back, he was in the first band I ever played live with. Originally, another friend of mine, Kevin Horton, was supposed to play drums. It was going to be sort of a reunion of sorts, a one-off sort of deal. When we got ready to record, though, Kevin got busy with his band Dark Matter and wasn't able to join us in the studio, which was disappointing because I hadn't played with him in ages and was really looking forward to it. Scot is always there when I need him, though, and jumped on board and we never missed a beat. Anyway, Dean joined me on most of the songs and we had a blast. I have begun putting a band together, but as of right now Dean is not in it. I don't rule it out, though it would be awesome to jam with him again!

So, you are finally putting a band together?

I'm trying to. It's hard to get guys to commit when you don't play out much. There are so few good places to play around here, and I'm working on the next cd, so I'm getting a band together for this cd, and hopefully it will work out that it will be the same guys out playing the shows, but we'll see.

Why put a band together now? Wouldn't it be easier to do it after the cd is finished?

I thought about that, but it would be better if the guys were able to know the songs from the beginning, rather than trying to learn them after the fact, you know? This way, if they play on them in the studio, they can personalize it a bit and when they are out playing it live, it makes it more enjoyable for them and for the audience. It's also a lot easier on me when I'm not having to wear all the hats myself. It's always more fun jamming with other people than doing it all yourself.


"I like to think I change and evolve with every cd, but not drastically enough that people will notice."

Can you tell us who is in the band?

Not yet, I'm still in the middle of "try-outs" if you will. I want to make sure its a good fit for both Scot and I. There are so many people who can really play, but then when you spend 4 or 5 hours with them, you realize they aren't the best person for the job, so I want to pick just the right people. It won't be long, though, because I've got a good 7 or 8 songs written for the new cd and will be ready to get things going in the next few weeks.

Ahhh, and what does the new Johnny Lokke album hold for us? Any surprise guest stars? Also, what are some song titles that might make it?

I am happy to say that Stefan Leibing from Primal Fear will be making another guest appearance. That was great news. I am meeting him at their show in Cleveland to give him some songs, and then he'll record his solos when he gets back to Germany. I also have been talking with Dean Robertson of the Tygers of Pan Tang, and if I can get him the right material and his schedule permits I think he'll be making an appearance as well. That has me really psyched, as I have been a Tygers fan forever. I actually had their song "Hellbound" slated for DOA but it didn't get done. There will definitely be a Tygers song somewhere down the line. Lastly, I have been in touch with another German metal guitar god and a New Yorker, and both sound very promising, so it looks at this point like I will have 4 guest stars on this cd. I can't wait to announce their names, it's really going to floor some people. I also always hold a spot open for Zakk of course? As far as song titles, we have Beneath the Ruins, See You Again, Scarred for Life, Accident of One, Ritual, and a couple of no-namers. They all sound really strong though. I'm pumped!

Speaking of sound, are there any changes sound-wise?

I like to think I change and evolve with every cd, but not drastically enough that people will notice. One of the best compliments that I hear quite a bit is "I always know its you when I hear your stuff." That is the best thing an artist can hear, that we have succeeded in forming our own sound. I think my sound has become a bit more "American-ized" over the course of 3 cds though. I used to be very Euro-metal, with the harmony guitars blazing, the bass ripping out all over the fretboard and the double kick drum blasting on every song. Now, I am learning to incorporate that while at the same time finding the groove of the song, and its made things so much stronger. Maybe I'll call it the "New Wave of American Heavy Metal" and start a trend over here. God knows we need it.

So what is the time table for the new cd?

This is the first cd that I haven't had a time table for and it feels great. Wrecking Ball is still going strong, so ideally I'd like to follow up just as it is starting to die down. I would probably be done by now, but I remodeled my studio which took a month or so, and did some background music for a sports video and have just been enjoying doing things at a slower pace, which is really not in my nature. I hope to have all the songs written by June, have the guys together to record in July, release in August and dominate the world by September.

Anything else you'd like to add?

I'd just like to thank everybody again for all their support. I have got to meet and talk to so many people, and have really just been blessed with all this. Its gone so much further than I ever dreamed, and it has been so great. Keep the e-mails coming, I respond to every single one and love to hear from new people around the world!