Interview with John Allan guitarist of Steel Attack, 05/02/03 by EC


Select Discography
Where Mankind Fails
Fall Into Madness
Predator Of The Empire

Links
Label Website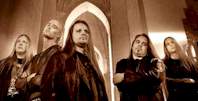 Finally after weeks of anticipation, we have an interview with the mighty Steel Attack. This band has been one of my favorite "newcomers" to the power metal scene, and a band I hold in high regard as the next generation of power metal elite. Heavy, fast guitars with double bass and soaring vocals, Steel Attack define everything that is great about old school heavy metal. For some of the newer fans out there that haven't heard the two Steel Attack records, how would you describe your band's sound?

Thank you very much for the words about your feelings about us, the sound is very hard to describe and there been several reviews about what we sound like or what not. For us its just the music that we love most that we play and that happens to be melodic metal, with fast as well as heavier sound to the songs. We put the love and feel to the music then we got the Steel Attack sound, we listen to everybody in the band when it comes to the sound of the songs, no matter who came up with the basic structure of the song, we always listen to what everybody can add or so to the final sound. I think that is one of the way that maybe not be so overused in song writing for bands, but if you are several members in the band and you are going to play together then its best to listen to all the ideas, cause for myself I wouldn't be able to work in a band if someone got to be the dictator and tell you what or what not to play.



Well, lets start with something that I have been confused with of late, AFM Records is no longer Steel Attack's record label. After releasing the first two albums, "Where Mankind Fails" and "Fall Into Madness", what happened to the AFM record deal?

I hate to talk about them but since you asked, I can tell you some, cause to tell you all would fill a book from cover to the back. We signed for AFM 1998 in the summer and we got the first album Where Mankind Fails out 1999, at first they where cool and co-worked with us, but then you could see that they did some strange things like answering an email could take up till 3 weeks and the answers was not to all the questions either, they would not answer the phone either from time to time, only if you dialed the hidden number prefix, then they would answer with a lame excuse like, -oh, hi! I just got back home, returned from a short vacation etc. if that happened once then okay, but when we started to make a joke of it then it was way fucked.

How did the band get involved with Arise Records? Have things been going well thus far with that label? Also, with "Where Mankind Fails", that release actually hit US stores via Metal Blade Records. Any chance that Metal Blade will be working with Arise Records to get the new album in the states?

We sent out some demos, and with the answers we got from them we decided to see what offer they had as well, and when we got the pre contract we had some offers that would not be changeable so for those left we saw that Arise was the label that really listen to our wishes as well and then we started to dealing a contract that would work for both the band and the label. So far everything is just great, we got fast response to our questions etc when we are sending emails to them, as well to get hold of them over the phone is no problem either. So for us it's the opposite to the AFM period.



Looking back at the beginnings of Steel Attack, what were you doing before you joined the band?

I was in two other bands back then, one that where playing originals more of the typical 70s old hard rock style like the early Deep Purple, Whitesnake, Uriah Heep type of school. And the other one was a metal cover band, just for it's sadly so easy to get gigs playing covers. Then I did some instrumental songs with another guitar player, but we never got to find other musicians that would like to join in for the fun of playing. We don't bother with the trends. I personally don't buy too many new releases from new bands on bigger labels, simply because I know that their sound will be this nu trendy sound. We play what we want to play and don't care about acceptance. Bands who worry about being accepted by the fans usually turn out crap music. If we like what we are writing, then that is good enough for us and those who don't like it can fuck off.

I know so far that the band has gone through alot of lineup changes, what do you think of the current lineup? Do you think this lineup will stay consistent?

Yes, we had some changes but all of that is perhaps something that was, and the new line up goes real good both musically and outside of the music. As it feels right now we really are into the music and the band and none has mention anything about leaving the band, and now we are only into playing live as much as possible.


"If we like what we are writing, then that is good enough for us and those who don't like it can fuck off. "
I read on the band's official website that bassist/vocalist Steve has left the band. What was the reasoning behind his departure?
Steve started out first as a drummer and he is also in the band Carnal Forge and they got very good backup from the label etc he told us that he was going for them at 100% and we understood him completely about his choice. And since we already got Dick on lead vocals, I think that made the decision easier as well for him.
Tell us a little bit about the new Steel Attack vocalist, Dick Johnson? How did he get involved in the band? What kind of vocals can we expect from Johnson?
Dick is a vocalist from the more old type of singers like Dio etc. He was in a band next to our rehearsal studio before he joined the band, and they where more of the old seventies type of band in the vein of Deep Purple, Uriah Heep, Whitesnake etc. So when they quit the band some months before Steve told us that he was going to stop with the lead vocals then he was the first one that I contacted about trying out for the band, so we told him to decided what songs he would like to try with, then the rest is history, we knew him and the personality he got even though he can be an "Dick".

Lets talk about the new record, "Predator Of The Empire". How does this release compare to the previous two? Has the band evolved or can we still expect old school power?
The very first difference between the previous releases will be the lead vocals and of course what the other new members style wise differs from the previous members. Then when it comes to how we did the recording there are some changes as well, i.e. we tuned down a whole step to get a heavier sound to the songs, then we been using several different unique voices for the choirs and the album is more varied and more melodic then the previous recordings. But there will be old heavy metal as well.
Where was the album recorded and who produced it?
We used the same studio as we did on the Where Mankind Fails and the Fall into Madness albums and co produced it with Pelle Saether the studio owner,
www.studiounderground.nu
When can we expect "Predator Of The Empire" to hit store shelves?
The actual release date is 7 April and there can be some slight changes from country to country and the Japan release will be in June.
Looking back over the years at the Steel Attack tours, what was your favourite show to date? How did the band's first and only trip to the US go, for the March Metal Meltdown 2002 festival? Were you surprised at the response?
I cant think of one that is better then the other ones just because we enjoy them all and they all got something different to remember and for the US trip we had a blast, the only sad problem was that we had to run the show on borrowed instruments but we had a blast meeting lots of fans and that is what counts. Then we had to thank the New Jersey police, I can tell you what the story is;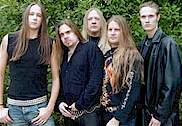 We got to the states 4 days before the gig and the 2nd day we had a real warm hot day and we walked away from the hotel in just t-shirts and of course pants. We got a bit of food and asked some locals for the way to a bar to get some beer etc. But we had to walk a long way before we finally found the bar and the liquor store, we got the beer and whiskey etc and stopped at the bar on the way back to get a bit of food as well. We had a great time with the locals at the bar and we started to get real drunk, so after 4 hours one of them asked us if we would like to get a ride back to the hotel and that was perfect because we didn't want to walk that way back, so we went to get our beers, whiskey etc from the place we first sat at when we got their. I normally where a leather jacket so I grabbed the one that where placed on the chair where I left my liquor so then we where of to the van and soon back to the hotel. Just short after we got back to our room they called from the reception they said that the cops where on their way to us, we started out laughing about it and thought it was a practical joke from another band, then she called us up once again and told us that they were here, we made a joke of it and soon some one knocked the door, and a voice that says; Open up, it's the police! Yeah right, but when Dennis open the door there where three New Jersey cops at the door and they said that they got a call that there was a leather jacket stolen at the bar where we just been, I said this must been some mistake and I held the leather jacket up and told them that this is mine but Dennis told me right away that this is not yours, you got your over there. Fuck, I realized that the jacket went with me just because I'm so used to wear mine but this time the weather was so hot when we left the hotel earlier so I had left mine at home, after some time the cops understood that it was all a mistake but they also got a report of a "palm pilot" (hand held computer) as well, but we told them that we only got back from the bar with a leather jacket that belong to someone else. So they started to search the room for the palm pilot, but they understood that the palm pilot was a fake and they wished us the best for the gig. That is why we thank the New Jersey police in the booklet.
What are the upcoming tour plans? Are you guys doing most of the big festivals this summer?
Get as much gigs as possible, and we are not doing festivals this summer, we have to wait till the new album gets out, then there we will see how the reaction of the new band will be.
When do you think the new Steel Attack website will be finished? What about the new band logo? Obviously the logo had to change somewhat due to the new record deal.
First of all I don't think it ever will be finished in a positive way, but as long as we got ideas from fans for what the website will look like then we got our webmaster to work on it. The new logo is a statement as well that this is a "new" band, and our former label told us that we could not use the old sword logo because its their property, but they told us that we could buy it from them.
Well, its been a pleasure getting an update on the band's happenings. Thanks alot for your time and we wish you and the other members of Steel Attack the best of luck on the new album and we hope we can see you in American again!
Thank you all! And thank you very much out there you American Steel Attackers who support us and all that where at the Metal Meltdown 2002. We all wish to be back in the states for a tour. Please fell free to visit our official website at www.steelattack.com for more info etc.
John Allan
Steel AttackEC
Maximum Metal
ALL INTERVIEWS FOR: STEEL ATTACK
ALL REVIEWS FOR: STEEL ATTACK
<< back >>