I N T E R V I E W S

Joey Muha - LITEYEARS
"Coming Out of Left Field"

Drummer/Musician Joey Muha on his experience, influences, and turning kids songs into thrashterpieces
By: David Loveless | Published: Monday, June 20, 2016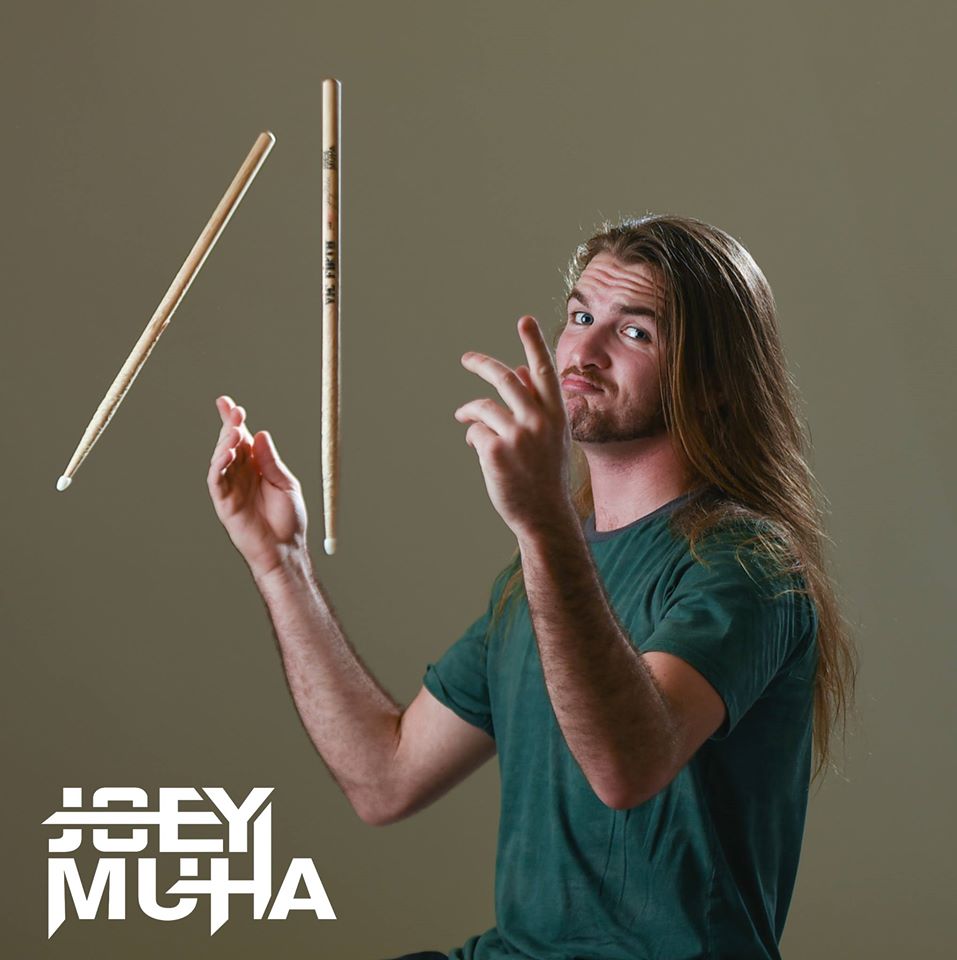 It's amazing, the things you can find on YouTube if you keep searching and digging. Some nights, I can sit on my couch and click so deep in the videos, that I end up watching things completely different than what I started watching. That's how I ended up watching Joey Muha's metal drum rendition of "The Wheels On The Bus". From that point, I ended up watching an hours worth of Joey Muha videos as he slayed traditional kids tunes, cartoon & TV show theme songs, as well as current pop hits, by putting a thrash/death metal spin on them. I even subscribed to his channel so that I could see his new videos ASAP. I was hooked! As it turns out, Joey Muha has drummed for Threat Signal & Jungle Rot and is currently the drummer for Toronto-based LITEYEARS. I recently got the pleasure to interview Joey to find out what sparks his creativity.

MM: First of all, thank you for the opportunity to conduct this interview. Can you start off by telling everyone about your professional drumming experience, bands you've been in, albums you've played on, etc.?

It's my pleasure! I've been drumming for over 10 years now and have played in numerous bands ranging from metal to pop and everything in between! The first SIGNED band I played with was Threat Signal (Nuclear Blast). I played with them from 2012 to 2015. I was able to get a more in-depth view on the industry that I hadn't been exposed to at that point. Lots of great times with those guys! From there, I moved onto a band called Jungle Rot (Victory Records) and recorded drums on their latest record (Order Shall Prevail). We were fortunate enough to play on the entirety of the 2015 Rockstar Energy Drink Mayhem Festival tour. Huge crowds and many amazing bands! We parted ways after this tour. I now play in a band from Toronto named LITEYEARS. It's a new challenge for me and I'm looking forward to it!

MM: You have a very intense method of drum playing! Who are some of your influences?

The biggest influence on my drumming has always been Vinnie Paul. He has such a heavy hitting style and really knows how to write for the song. I started listening to Pantera extremely early in my drumming career. Even now in Hellyeah, he maintains that same level of intensity and groove.

MM: Let's jump right in to your sensational YouTube drumming videos. My first introduction was your "Wheels on the Bus" video (which is still my favorite)! What gave you the idea to take traditional kids songs and turn them into thrashterpieces?

I'm glad you enjoy that one! You'd be surprised how fun it was to film it. I've always kind of drummed along to these "out of left field" songs but never uploaded them. It's just how my crazy mind hears all of these songs! haha


"I've always kind of drummed along to these 'out of left field' songs but never uploaded them. It's just how my crazy mind hears all of these songs!" --Joey
MM: With regards to the kids songs, is the drumming in these videos planned out or do you just wing it?

For the nursery rhymes and kids music, I mostly improvise. These are songs that have been engraved into my memory from such a young age that there's no need for me to sit down and write out parts/sections. I find it more enjoyable to just let the drums flow naturally!

MM: You also take on TV theme songs, Siri, ringtones, cartoons, video games, as well as other genre's of music. Are you into (and inspired by more than just metal)?

I try and listen to a wide variety of music. My playlists can go from Emmure to Bee Gees to James Brown to Run The Jewels! It's never good to limit what you listen to. Different types of music can evoke different emotions and if you want to really enjoy music, go in with an open mind!

MM: Many of the drum clips are fairly short and I'm sure everyone would love to hear some full-length jams from you. Is there an issue with copyright infringement or do you just want to keep them short and sweet?

Most of the theme songs and some video game soundtracks can be very short in length. This is one of the reasons why my videos are so short. However, I used to film drum covers of full songs all the time on my YouTube channel. I decided to change up the way I create my content and that involves shorter duration.

MM: I love reading the comments on your videos. You seem to get a lot of requests to do "Careless Whisper" by Wham! (Wham! UK). Have you ever thought about taking on this song, as well as other requests by your fans?

;) [Careless Whisper Link]

It's actually the first "wacky" video I put out that gained attention. I filmed it out of the blue one morning and didn't expect anything of it! Here I am, hundreds of videos later and still having a great time :)

I always look through my fan requests and try to accommodate as best I can. I have a long list of requests so it usually takes me a long time to get around to these requests!


MM: You also get a lot of comments on your bass drum triggers. Can you tell us about your drum setup? Over the years have you kept the same setup with the various bands that you've played in?

Playing with bands in many different genres, my setup slightly varies gig by gig. My metal setup is based off of one of the drummers that influenced me greatly, Chris Adler.

When I'm playing pop/rock gigs, it's EXTREMELY stripped down. It took me many years to learn that less is more!

Triggers have always been a part of my setup. However, I change the sample depending on the situation. It's a good tool to have for consistency.

MM: What's next for Joey Muha? … recording, touring, etc.?

Right now, I'm playing in a band out of Toronto called LITEYEARS. We'll be releasing our debut EP later this summer. It's definitely a step in a direction I haven't really ventured to musically. I'm excited to share it with a group of amazing musicians as well. I completed my first solo drum tour in March and I hope to go back out and do it again! It was very refreshing just traveling with my friend, Luke Fletcher, and not an entire band/crew. For now, I'm focusing on filming lots of videos while I'm home and working on LITEYEARS.

MM: You should totally do some drumming instructional videos, especially on how to headbang while playing (since you do that so well). Ever thought about doing any?

If I ever gain any REAL skill or knowledge in the drum realm, I'll start doing tutorials! ;)

MM: Thanks again for this opportunity to interview you. Any final words for your fans that will be reading this? By the way, I'd love to see an all blast beat version of Baa Baa Black Sheep. Please hook that up one day!

It not JUST blast beats but you can check out Baa Baa Black Sheep with a little extra flavour to it below.

Thanks for having me! :)













ALL INTERVIEWS FOR: LITEYEARS
| | | | |
| --- | --- | --- | --- |
| INTERVIEW | INTERVIEWER | DATE | TAGLINE |
| Joey Muha | David Loveless | 6/20/2016 | "Coming Out of Left Field" |
ALL REVIEWS FOR: LITEYEARS
Currently no reviews.
<< back >>