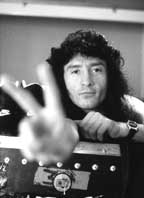 It's good to see you back out there, how has it felt to you being Back on tour and especially hitting the club scene once again?
FANTASTIC! IT'S LIKE THE OLD DAYS. IT'S WHAT I LIKE TO DO MORE THAN ANYTHING. I LOVE HAVING THE CHANCE TO HANG WITH THE GREAT PEOPLE WE MEET.

How do you feel about you new solo album? Is it meeting with a positive response?
I FEEL GOOD ABOUT THE ALBUM AND WOULD LIKE TO DO ANOTHER. SO FAR, THE RESPONSE HAS BEEN BEEN REALLY GOOD AND I'VE BEEN VERY PLEASED.

Tell me about some of the people on the record.
THERE'S JUST ONE OTHER PERSON ON IT BESIDES ME.......MATT ZUBER, WHO DID QUITAR AND BASS.

I found this pretty interesting in seeing you perform live, you are your own drummer. What made you decide to do this?
I'VE PLAYED DRUMS ALL MY LIFE AND LOVE DOING IT. THIS IS JUST THE FIRST TIME I'VE DONE IT PROFESSIONALLY. I ALSO PLAY THE DRUM TRACKS ON THE RECORD, SO KNOW THE MUSIC BETTER THAN SOMEONE WE MIGHT BRING IN. ALSO, I HAVEN'T REALLY FOUND ANYONE YET TO CONTRIBUTE TO THE DUTIES.

I think you played pretty kick ass on the drums, yet I prefer seeing you lead the charge from the front. Any chance you are auditioning capable players, or is someone waiting in the wings?
NO, I'M ALWAYS ON THE LOOKOUT. IT'S ALWAYS NICE TO HAVE AN ARRAY OF PEOPLE AND MEETING NEW MUSICIANS IS ALWAYS A GOOD THING. I'D LOVE TO BE OUT FRONT, BUT I'VE GOTTA DO WHAT I'VE GOTTA DO.

I was happy to tell people that you still had the powerful pipes as far as your vocals go. It was nice to hear your voice behind the classic tunes once again. How has that been feeling to you?
IT'S GREAT TO HEAR THAT KIND OF COMPLIMENT.........THAT'S WHAT KEEPS ME GOING. IT FEELS GREAT.......OVERWHELMING!

What have been some of your favorite places to play so far, and any special stories.
THIS MAY NOT BE A THRILLING ONE, BUT IT GAVE ME A CHUCKLE: RECEIVED AN E-MAIL THE OTHER DAY FROM SOMEONE WHO HAD JUST BEEN TO ONE OF OUR SHOWS. HE SAID HE HAD REALLY WANTED TO SIGN OUR WEB SITE'S GUEST BOOK BUT WAS AFRAID HIS GIRLFRIEND WOULD SEE IT, WHICH WOULD BLOW THE STORY HE HAD TOLD HER.

On reunions, any chance we will see an Anthrax reunion anytime soon? Of course I refer to the classic lineup with Frank Bello, Dan Spitz and yourself.
YOU KNOW, I'M NOT REALLY THE ONE TO ASK ABOUT THAT. IT'S A GREAT HONOR TO PLAY WITH THOSE GUYS AND I'D LOVE TO DO IT, BUT WHO KNOWS IF WE'LL ALL EVER GET TOGETHER AGAIN.

Are you in regular contact with any of the guys? Do you speak at all?
I SPEAK TO DANNY ON OCCASION, BUT HE'S THE ONLY ONE SO FAR.

On your performance set, I liked that you had a number of Anthrax classics. Any chance we will it be seeing a longer set from you, or perhaps a live performance CD of the new band doing these numbers?DEPENDING ON WHERE YOU SAW US, WE DO OVER TWO HOURS OF MUSIC. I ALWAYS THINK OF DOING SUCH AN ALBUM, BUT IT'S NOT ON MY LIST AT THE MOMENT. IF I GET MORE REQUESTS FOR IT, MAYBE I WILL.

"I BELIEVE STICKING TO YOUR GUNS IS THE WAY TO GO. METAL ALWAYS COMES AROUND."

Metal has gone through some changes since back in the day, I would like to know what your thoughts on this are.
METAL, TO ME, MAY NOT BE IN THE FOREFRONT. HOWEVER, GOOD SONGS WILL LAST FOREVER. I BELIEVE STICKING TO YOUR GUNS IS THE WAY TO GO. METAL ALWAYS COMES AROUND.

How has the Industry changed, or the "scene" for that matter in your opinion.
IT'S NOT LIKE THE OLD DAYS. THE MUSIC YOU HEAR IS DIFFERENT. MTV, VH1 AND RADIO ARE ALL DIFFERENT FORMATS, TOO. LABELS ARE LOOKING FOR DIFFERENT TYPES OF MUSIC. IT'S JUST DIFFERENT, THAT'S ALL I CAN SAY. I CAN'T REALLY PUT MY FINGER ON ALL OF IT.

Connected to my previous question on Metal changing, which of the new bands do you find most exciting?
I TEND TO LISTEN OLD STUFF FOR THE MOST PART. THERE ARE A LOT OF GREAT NEW BANDS, TOO, BUT I COULDN'T NAME A FAVORITE RIGHT NOW.

Without pulling any punches, are there some groups that you are happy to see are still around and for that matter who should pack it in?
I LOVE IRON MAIDEN, JUDAS PRIEST, BLACK SABBATH, KISS, OZZY.........ETC., ETC. I DON'T SUGGEST ANYONE PACKING IT IN. THAT'S NOT REALLY FOR ME TO SAY.

Who do you find yourself listening to these days out of both old and new. It does not have to be metal but would be of interest.
I LISTEN TO A WIDE VARIETY OF STUFF AND IT WOULD BE TOO LONG A LIST TO MENTION HERE. I DO LISTEN TO VERY VOCAL-ORIENTED AND DRUM-ORIENTED MUSIC A LOT .

What's next on the agenda for you? After the WASP tour.
WE'RE WORKING ON A TRIPLE-BILL WITH SOME WELL-KNOWN SINGERS FOR LATE SEPTEMBER/EARLY OCTOBER. THERE'S ALSO A EUROPEAN TOUR IN THE TALKING STAGE FOR NOVEMBER/DECEMBER.

Do you have some advice for the aspiring "Rock Star" who might be reading this interview?
DO WHAT YOU LIKE AND DO WHAT YOU DO BEST. HAVE FUN AT IT, BUT REMEMBER IT TAKES A LOT OF HARD WORK. BE PATIENT.

You Have a great little website, tell us about it, and some of the things the audience might like to know about it.
THANK YOU VERY MUCH FOR LIKING THE SITE. IT'S REALLY NICE HAVING IT UP. I KNOW WE COULD DO MORE, BUT JUST HAVEN'T BEEN ABLE TO DO SO AT THIS TIME. WE HOPE TO ONE DAY HAVE ALL THOSE BELLS AND WHISTLES SOME OF THE SITES HAVE. I'M GLAD YOU LIKE IT FOR NOW...........AT LEAST THE BASIC INFORMATION IS THERE AND THAT'S GREAT.

Any closing comments or thoughts would be great.
I WANT TO THANK YOU FOR YOUR KIND WORDS, FOR ALL YOUR HARD WORK FOR THIS INDUSTRY (ESPECIALLY ME), AND FOR THE HONOR OF DOING THIS INTERVIEW.

Thanks for your time Joey, I wish you continued success. Keep us posted on your activities so we can let the world know.