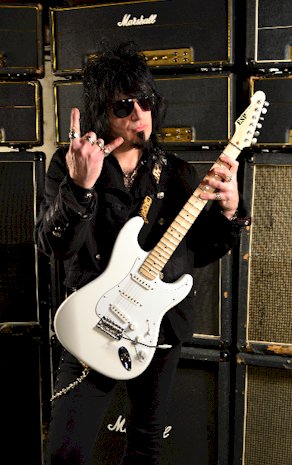 Renowned shredder and Berklee College of Music Associate Professor Joe Stump doesn't just play fast; he also does it with alarming regularity, maintaining enough of a workload lately that intense speed may be required just to get it all done in time.

Towards the end of last year, Stump released his latest all-instrumental solo album, "Revenge of the Shredlord," an album that showed him continuing to hone his fleet-fingered Malmsteen and Blackmore-influenced neoclassical metal guitar work. Since then, he has been busy serving as touring guitarist for the band Raven Lord, recording with various high-profile collaborators and working on his first instructional book for by Berklee Press/ Hal Leonard, the completion of which he announced in August of this year. Titled "Joe Stump's Metal Guitar Chop Shop," the book is ten chapters in length and is expected to be available in early 2014, according to Stump.

Following on the heels of his involvement with Raven Lord, Stump recently told Maximum Metal that he is involved in not one but two other projects with the band's vocalist, Csaba Zvekan. One project- the name of which had not been announced as of press time- has been described by Stump as "in the Rainbow/Purple vein," and appropriately enough, also involves bassist Craig Gruber, known for his work with Rainbow, the late Gary Moore, Elf and the Rods. In September, Stump said he had begun recording guitars for Exorcism, a doom metal-type band also featuring Zvekan on vocals, which had already secured label support.

Earlier this year, Stump spoke to Maximum Metal regarding several topics, including the aforementioned book (which he was still in the process of completing at the time), the recording of "Revenge of the Shredlord," other projects that may be in the pipeline for him. What follows is an edited version of that interview.

VS: Can you tell us a little about the recording process on this one?

Stump: It was different in that on "Virtuosic Vendetta," I recorded some of the guitars at home and some in the studio and various things. This time I recorded all of the guitars at my place. I have a very pedestrian kind of recording setup, but for capturing guitar tones, it works fine for me. I just have a small digital eight track. But you know, the whole record's done in the latest version of Pro Tools, but I just record my stuff on the eight track and transfer it onto the Pro Tools and it works fine. So it was nice that I did the whole record at home. And I recorded most of the guitars last year. Maybe around the spring time, I was finished from Berklee and I didn't have any touring for a bit, so I recorded most of the guitars then, between the ass end of May and the beginning of July. So it was nice recording at home. If I'm really inspired, I can go in and work for seven or eight hours. If not, I can go in for a few hours and say "fuck it." So it's nice, and I get a killer tone at home. So you can't beat that.

VS: Not having to worry about studio time getting eaten up?

Stump: Yeah. And I'm much better at, as far as recording proficiently, getting good tones and punching various little things in to tidy a few things up. It worked out really good, so I'll probably do all of my records like that from now on.

VS: I think it's the best sounding of your solo records I've heard.

Stump: Yeah, it's not like I have a massive budget to do stuff. But I think, all things considered, it really came out quite good. And I'm really proud of it. It's a very heavy record, very aggressive, very dark, Classical, and [with] some of my best playing and stuff. There's a lot of solos and stuff where I was just kind of going forward, [feeling] very inspired and stuff, so it's always nice to capture that stuff.

VS: Any new tricks or anything you tried out, playing-wise?

Stump: I'm always adding stuff to my playing vocabulary and riff vocabulary. This is more of a technical guitar thing, but in the past, I've always used a Hungarian minor scale. It's a really dark and kind of evil, Eastern-sounding scale. On this record, I used it a bit more and kind of expanded my vocabulary with it a bit more and came up with some newer ideas with it. So there's some of that and just some different things. A lot of the things I play are variations of things that are already in my vocabulary, but I'm always trying to play some things that are new and fresh and inventive, like twists on some things, instead of just retreading the same kind of ideas and licks that I played on previous records.



"I'm always trying to play some things that are new and fresh and inventive, like twists on some things, instead of just retreading the same kind of ideas and licks that I played on previous records."


VS: What are you listening to for inspiration these days?

Stump: I still listen to all the stuff I love, you know? I love Yngwie, and I listened to the new Yngwie record, "Spellbound," which is almost all instrumental, which is kind of cool, almost kind of like a throwback for him, to the "Genesis" or the "Rising Force" stuff, when he was making records that were predominantly instrumental with just a few vocal tracks and the tracks were longer and more opus-like as far as Classical composition goes. So that's really cool. He's got some really killer, inspired playing on it. And of course, listening to Rainbow and Purple. I just bought the deluxe edition of "Long Live Rock n Roll" with the double CD's and the outtakes and rehearsals and shit. So, Yngwie, Blackmore, and I like the Argentinian band Rata Blanca. He's a Yngwie/ Blackmore disciple like myself, so I like that. But you know, all the same stuff. All my favorite players, Blackmore, Yngwie, Uli Jon Roth, Schenker, Gary Moore, Hendrix. And like I said, I like Walter [Giardino] from Rata Blanca and various heavy things, whether it's Andy Laroque and Mike Wead from King Diamond or Hank Shermann from Mercyful Fate and that kind of stuff and Wolf Hoffmann from Accept. So it kind of runs the gamut, you know, all different kinds of metal.

VS: What other projects of yours are active now? Are you doing anything with HolyHell at the moment?

Stump: We finished a record last year. Killer record. Some great stuff on it. Right now HolyHell has separated from the Magic Circle label, so there's a whole bunch of legal stuff going on with that. I'm not really involved in that at all. That's predominantly between Maria, the singer, and the label, since it's her band and she's got the thing trademarked and all that. So I'm just waiting for the dust to settle on all that so we can reconvene and start getting back to biz. And then I'm playing with a power metal band called Raven Lord. They enlisted my services. They have a new record just coming out on Mausoleum. But I'm not on the record. They got me to play after the record was already mixed and mastered and all that. And Fredrik Nordstrom, the guy that did In Flames, Arch Enemy, HammerFall, all those records with the Swedish bands- very famous power metal producer – Fredrik mixed it. So, it's a good sounding record. And there's a Swedish guy playing guitar on it. He sounds really good on it, you know. Good player. But they got me to do the live stuff and help support the record, so while I'm not on the record, I'll be playing with the band. I know they have a couple festivals now, so they're talking about some dates in Europe in the spring. So that's another thing I'm doing.

Since I just did my solo record, I'd like to do a bunch more live playing before I decide to go in and make another record. But I am kind of throwing the idea around about recording another Reign of Terror record.

VS: Really?

Stump: Yeah, probably the next solo thing I do, I'm definitely going to do a record with a vocalist. So it will be another Reign of Terror record, probably. I don't know when. It depends on how things shape up touring-wise. I don't know if it's gonna be this year. But I have many tunes written, so it certainly wouldn't be a problem.

VS: Any idea who's going to be on that?

Stump: Probably my side guys from my solo band. I've got a few singers that are possibilities. And, of course, I could always talk to Mike Vescera and see. You know, it depends on how busy Mike is- if he's up for doing it and what else he's got going on. 'cause he's got that Animetal thing and the Obsession thing, and he does a lot of engineering and producing. So, of course, Mike's a friend of mine, and it would be great to do something with him again, but it all depends on how things are shaking out schedule-wise for him. But I've got a couple of other guys who are very capable who I might be looking into doing something with.

VS: The last time we talked, you were talking about doing some sort of "retro" record. Did that ever happen?

Stump: No. A label approached me- and they put out more blues-based and hard rock artists- and they approached me about doing an all hard rock or bluesy retro hard rock or blues based kind of solo record. So that's something I might considering for the future too. But I'm kind of waiting until like, maybe when I get a little older and my fingers get arthritic, you know what I mean, and I'm getting beat up from all the years of shredding. So I think I'll hold off. I'll kind of wait for that one until I'm starting to get a little debilitated.

VS: The non-shred record, huh?

Stump: Oh, I'm sure there'll be some shredding in it, but it'll be like some of the bluesy things that are already on some of my records, like the Blackmore things and the Hendrix/ Robin Trower/ Frank Marino things, Gary Moore's things. Or maybe those types of things with a couple of cover tunes thrown in. I'll have to see. That would be another project that would be fun to do. Right now, I'm just kind of hanging back, and I'd like to do some live dates between my solo thing and the Raven Lord thing and wait for the HolyHell thing to get going. And of course, finishing the book is the main project in the pipes for the near future, so that's plenty for right now.