I N T E R V I E W S

Jill Janus - Huntress
"Full Beast Mode"

Jill Janus talks about the new release, "Static", making videos, and being cancer-free
By: T. Ray Verteramo | Published: Wednesday, December 9, 2015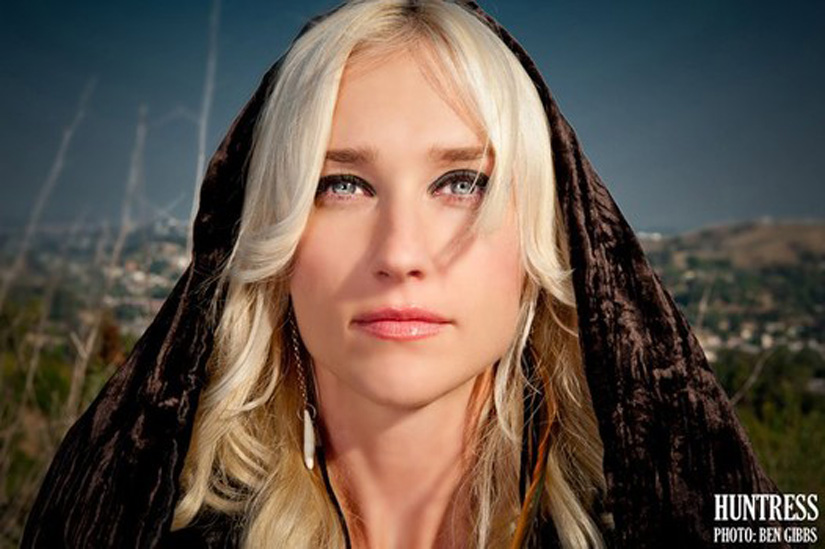 Jill Janus has other priorities to spend her energy on than socio-politics.

When it comes to matters of life and death, art and challenges, she has more than her share. Taking her passions to the extreme in voice and performance, as the frontperson of Huntress, she has unabashedly stepped up to a huge plate, earning herself respect among fans and peers. As a human being with extraordinary struggles with physical and mental illness, she has accomplished the same. This, along with strong material and determination, she and the band have found tremendous support and a solid tour schedule.

Huntress' video, "Sorrow" from their latest project, Static, enjoyed all-around positive reviews after its premiere last week. Ms. Janus was kind enough to check in with Maximum Metal to see how she's doing and where Huntress is headed.


"For the first time in my life, I'm not looking forward to anything." --Jill
MM: The last report was that you were cancer-free (whoo ha!) after surgery. So, of course, how are you feeling?

Thanks! It's a celebration! I am cancer-free after a hysterectomy to remove a small tumor from my uterus. It's strange, I feel healthier than ever and the voice is strong. I'm full beast mode again.

MM: After viewing your latest vid it's obvious that whatever physical or psychological challenges you may face, it certainly hasn't deterred your performance. Your voice is as brutal as ever and your physical prowess doesn't seem affected at all. Please, share with us what have you doing to keep up your strength...

I desire to live. I feel this is all I need to keep going. And music is my savior. I'm always working on songs or performing. I've written and recorded one album a year with Huntress. That drive, although somewhat destructive at times, has kept me alive.

MM: Speaking of strong voices, you have to tell us what it was like to fill in for Johan Hegg! I know you said it was "like a dream," but it truly is extraordinary for a Metal band to trust another talent to substitute one of their staple members. The only other example, I believe, was Black Sabbath when Rob Halford sang for Ozzy. We can certainly understand the "why" but how did they come to choose you over anyone else?

The bands Huntress has toured with chose us as support because they know we're the real deal. I have a reputation of being no bullshit and getting the job done. Amon Amarth knew I could banter and work an audience. It was like a cabaret that night in Plymouth, England. Such a special show, that won't ever happen again. I certainly was nervous standing in for a viking! But it was so magical, a true honor.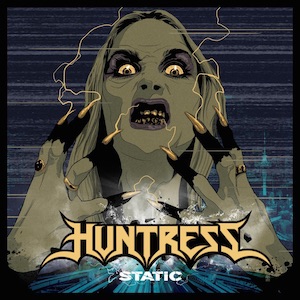 MM: Let's talk a bit about the new album, "Static." What are we going to experience this time around that differs from your other releases?

Static completes the trilogy. Three albums that represent the three phases of the Goddess. The final being the Crone, who represents death and wisdom. A closure with our label Napalm Records, who believed in Huntress from the start. Yet we have chosen to make this our last album with the magical Austrian label and to begin a new era for Huntress with the fourth album. It's a profound shift and an exciting rebirth.

MM: Why did Static take two years in the making? What was the process like for you and the band?

Static didn't take two years to create. It was written and nearly complete in 2014. However, we kept getting amazing tour opportunities, like Lamb of God, Arch Enemy and Amon Amarth. This delayed recording. Not to mention my struggles with severe mental health issues and finding out I had stage 1 uterine cancer. I decided to delay surgery until I recorded all my vocals on Static, which was very risky. By the time we were ready to release on Napalm Records, the timing had to shift for a properly promoted album. Showbiz.

MM: The new video is tons of bloody, B-Movie fun. Was the premise the band's concept or the director's?

The concept came from Phil Mucci's mind. I've always adored campy 70's horror flicks. We both share the same vision, this made the process much easier. However, "Sorrow" was our greatest production thus far, we had to raise over $25,000 with our fans to fund it. I was shooting scenes 6 weeks after major surgery. My costume designer had to create outfits that would conceal my incision and be comfortable to wear for 14 hour days of filming. It was brutal, but music videos are part of the Huntress legacy and we never compromise.


"I don't give a fuck." --Jill
MM: Does acting come naturally to you? Do you experience any self-consciousness in front of the camera? How is it different than being in the studio for you?

I began performing in professional theatre at the age of 10. The stage is my true home, I never fear the audience. Adjusting to the medium of film came in my teens, it's a process of "less is more." Once I understood that concept, I really felt at ease in front of a camera. I don't like saying I'm an actress, but it's true, I most certainly am. I've spent a lifetime on the stage and in films. I suppose I'm having fun acting again.

MM: You have a very liberating, demonstrative sense of sexuality. It's a double-edged sword for a woman in Metal, isn't it? Damned if you do, damned if you don't. What are your thoughts on the subject?

I don't give a fuck.

MM: What are you most looking forward to for 2016?

For the first time in my life, I'm not looking forward to anything. I've released three albums in rapid succession. I've toured the world, done things people can only dream about. I'm going to trust the Universe and take a ride, baby. I've seen some heavy shit and I'm just stoked to be alive. The vultures can wait.






ALL INTERVIEWS FOR: HUNTRESS
| | | | |
| --- | --- | --- | --- |
| INTERVIEW | INTERVIEWER | DATE | TAGLINE |
| Jill Janus | T. Ray Verteramo | 12/9/2015 | "Full Beast Mode" |
ALL REVIEWS FOR: HUNTRESS
Currently no reviews.
<< back >>