I N T E R V I E W S

Jason McMaster – United Evil
by Troy Cole & Eric Compton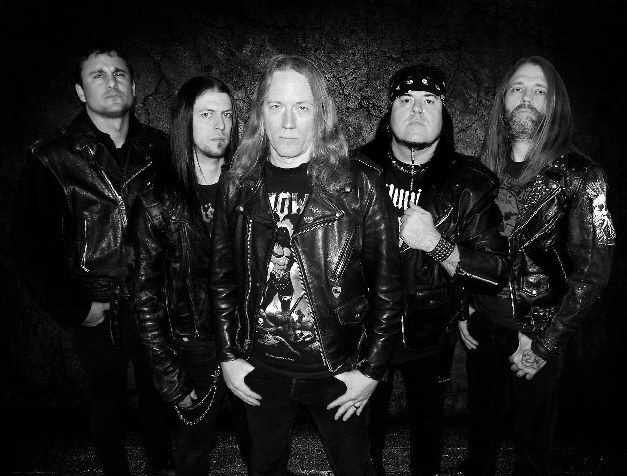 The industry deems Mr. McMaster the King of Texas metal. I think that epithet rings loud and clear considering the man's work in and out of the Lone Star. Whether fronting the iconic Dangerous Toys, where he cut his teeth in 1987, or a host of metal bands and projects like Watchtower and Ignitor, Jason McMaster is easily recognized and identified through his charismatic voice. That talented skillset is on full display with McMaster's newest work, the sophomore album from Texas band UNITED EVIL. Troy Cole and I had the pleasure of speaking with Jason about the new album, 'Honored by Fire', and his storied history from the late 80s until now.

MM: The new Evil United album, 'Honored by Fire', is out now through MVD audio. Jason, this is the band's second album in three short years. How does this album compare to the self-titled debut?

JM: I would say the songs were written to more of a collaboration of members as the first record was written by emailing parts of songs to each other. All of us live spread out so it's out of convenience that songs can be written that way, good songs, I think nothing get lost in translation this way. The new record is an extension of what was happening earlier on the debut just maybe a bit more cohesive in some ways.

MM: This band is a "who's who" of Texas musicians and stars. Can you explain how the group arrived with Van Stavern of Riot/S.A. Slayer fame, Shakes West of Wednesday 13, T.C. Connally of Cult to Follow and John Valenzuela of Urial. Also, is this the same line-up as the debut record?





"The platforms are always changing, it's interesting, because in the old days the way to build a following was to play a show and give away a few songs to the crowd"



JM: Yes, same line up. We have known each other since the 80's. It's important to me to be able to make music with people you trust, and know what they can write and bring to the table. These guys were playing together in a band called PITBULL DAYCARE and their singer was moving on. They wanted to do something new and had riffs and parts for a record so they sent it to me. I started writing and it took a while to conceive the full length of the debut. Finally, we had enough, and we are already writing more as we speak the old, the new, and the unleashed.

MM: The new album is very aggressive and crushing (to say the least). It seems as you progress through your career you keep pushing the envelope. How are you able to maintain that momentum and intensity?

JM: If the songs or parts are inspiring they almost write themselves. If I don't have the right lyric, the melody that might haunt me, will continue until the lyric follows it later. As far as keeping it together, I just breathe and try to make sure I don't get too excited.

MM: It's hard for me to decide on a favorite track from the album, but "Dead Can See" is certainly a candidate. Do you have a favorite one that stands out to you and which songs from this album will make the live set?

JM: Yes, "Dead Can See", "Viking Funeral", "Tomb Spawn", "Ripping Flesh" and "Caesar" are all in the set and have been since they were written. "Dead Can See" is probably my favorite to do live but "Ghost Crushed" might be my secret love on the record.

MM: I'm not terribly familiar with MVD Audio. How did you become involved with that label?

JM: I released a DVD on the label years before and they are very open to releasing product that they feel has a sort of ethic behind it and some selling power even if just a little bit. I have released Dangerous Toys, Ignitor and Evil United on the label.

MM: What are the touring plans for the record and will you take it across the pond to Europe for some shows?

JM: The idea is to get some good reviews and fall into some festivals there. We don't have a presence there yet, Europe knows me and Don, but from our past and not so much Evil United. We hope someone reads this and feels like it's a good idea.

MM: You are also involved with another traditional Texas metal band with Ignitor. Can you briefly explain how you became involved with them and what the plans are to follow-up the 2012 album 'Year of the Metal Tiger'?

JM: I have known members of Ignitor forever. I am friends with former Ignitor vocalist Erika and when she left the fold I was asked to help finish a new record with them. When I heard the material I loved it and decided to stick around. Ignitor is writing a short film that will feature new music from the band. We don't have any other plans than that, to finish the film, which will have performance footage of Ignitor performing new material.

MM: You know we won't let you escape without touching on the obvious, what is happening with Dangerous Toys currently?

JM: Toys have just played a string of Texas shows that went well, Houston, Dallas, Austin and San Antonio. We will continue to perform and play the songs that the fans want to hear because it's a lot of fun and a sort of family reunion.

MM: Dangerous Toys formed in 1987 and released four studio albums total. The ST debut was produced by the famed Max Norman (Megadeth, Ozzy, Y&T) and the sophomore album, 'Hellacious Acres', was produced by the legendary Roy Thomas Baker (Journey, Queen). Jason, what were some of the differences in the studio between those two experienced producers and what did you learn from those recording sessions that helped further your career?

JM: Toys formed in 1987 with 5 releases not counting dvd/film, almost 30 years ago. The debut, 'Dangerous Toys', came out in summer 1989. We were all green and inexperienced players at that time, some of us had recorded and released material, but working with name producers and learning to work as such was different. It was hard work and we learned how to craft our songs better and how to better prepare for recording. Their wasn't much of a difference between the ethic but Max Norman was more hands on and knows more about song formation.

MM: Do you have any regrets about that band post-1991?

JM: No regrets.

MM: Do you still correspond with the band members?

JM: We play live about 8 times a year and we have done the last two Monsters of Rock cruises.

MM: Annihilator guitarist and vocalist Jeff Waters explained "music versus business" to Myglobalmind earlier this year. He said, "If you can't take care of the business side, then you won't have a career." With all the bands you are part of, how do you keep it all straight and run the business side as well as performing and recording?

JM: Jeff Waters is right. The idea to be as creative as you can with the business can help all the way to paying for fuel, and for re-stocking the merchandise booth but the songs have to be pretty good too. It's not just about quantity or how often you do it, it has to be relevant.

MM: Why is heavy music so prevalent in Texas?

JM: All kinds of music live and breathe in the southern states. I feel like wherever you have extreme weather, you have extreme music.

MM: What do you do outside of music? What are some of your hobbies?

JM: I teach music as a job, been doing that for ten years. I love it. I like some video games and movies, I don't read much but I should, I feel it would help my lyrics. I am married and love life. I try to keep it simple so I can play music whenever I want.

MM: With social media like Twitter and Facebook seemingly running most bands' news and fan interaction, do you think websites are dead now? Do you feel a band even needs a website at this point in time?

JM: I think websites and emails are still good. I think the social media is a huge chat room now and not just a news feed, sure, we cannot promote our music without it and I also feel like people in bands chatting with people on FB and Twitter is only helping their careers. It makes me wonder if the chatters are real fans, as I feel it doesn't matter if they're "posers" or not, because if you're popular that's when people buy your face.

MM: What are your thoughts on new listeners playing your bands' music for free on Spotify? Is that an asset or a liability?

JM: I think Spotify is now paying the artists. The platforms are always changing, it's interesting, because in the old days the way to build a following was to play a show and give away a few songs to the crowd. Put it on a cassette or a download card nowadays and they're going to take home something free already, making them tell their friends all about the show, and the new songs. That is not a dead infrastructure, so I think it's okay as long as the bands that are on Spotify are ok with it. Sometimes we cannot control who is giving your music away unless you have a killer lawyer.

MM: How do feel being referred to as the King of Texas metal?

JM: That's funny. I feel like when I moved to Austin, from Corpus Christi in 1981, there wasn't even a band calling themselves hard rock and soon to be coined heavy metal anywhere. It was pre-Watchtower, pre all of my anything I might be known for. Me and a small army in Austin, started a scene here with Watchtower, Militia, Viscious Distortion, Syranax, Matrix/Necrovore, Assalant, and there were bands doing it just like it is in Dallas, San Antonio and Houston. We all started finding out about each other releasing records and the world started following us with fanzines, all pre digital age. Whether I am some sort of tastemaker of metal that's kind of cool but I don't wear that as a hat for all to see.

MM: There are so many questions we could ask such an influential person to the metal community but is there anything you would like to share with us we didn't cover?

JM: Long live metal and all underground insane art.


Link: www.evilunited.net
Link: www.reverbnation.com/evilunited
Link: facebook


ALL INTERVIEWS FOR: EVIL UNITED
| | | | |
| --- | --- | --- | --- |
| INTERVIEW | INTERVIEWER | DATE | TAGLINE |
| Jason McMaster | Troy Cole, Eric Compton | 11/14/2014 | |
ALL REVIEWS FOR: EVIL UNITED
TITLE

DOR

COMPANY

REVIEWER
DATE MADE
RATING
Honored by Fire

2014

Troy Cole
9/18/2014

3.5
<< back >>