I N T E R V I E W S

James Kottak - Kingdom Come
"Kingdom Come-Back"

Interview with James Kottak, former drummer of the Scorpions, on the reformed Kingdom Come.
By: Joanne Laroche | Published: Friday, September 14, 2018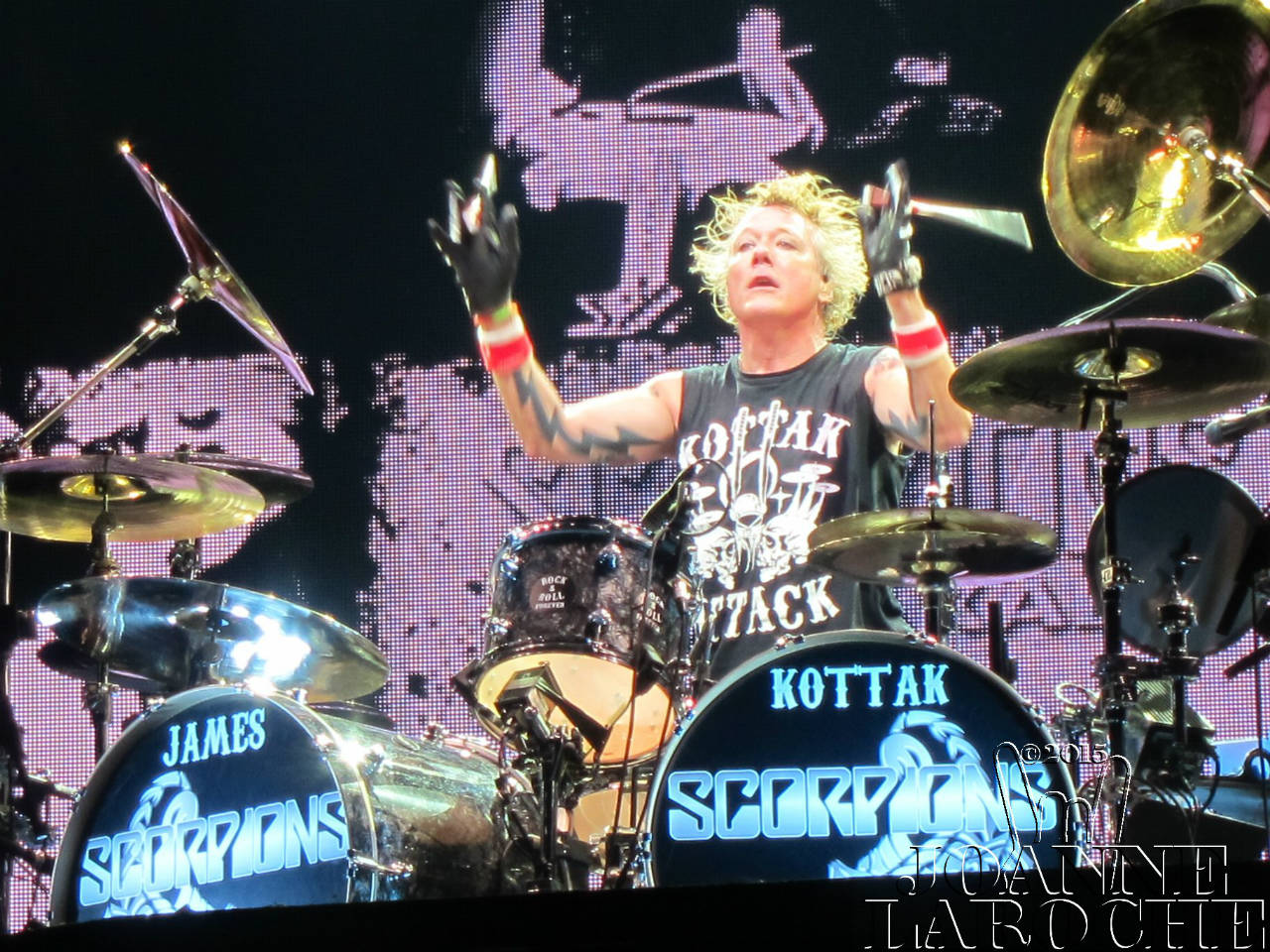 Formed in 1987, Kingdom Come is a band that stepped onto the hard rock scene with all of the attitude a band needed. Strong riffs, an in your face beat, and a voice that could not be forgotten. They came on strong and were part of hard rock royalty in no time playing arenas and festivals all of the world, including, Monsters of Rock and The Moscow Music Peace Festival.

With their bluesy rhythms sending them high on the charts, their first single, "Get It On" and the melodic ballad of "What Love Can Be," they set the bar high even in the then saturated late 80s hard rock/heavy metal scenes. They became synonymous with bands such as Van Halen, Dokken, and the Scorpions, who later drummer James Kottak would join for over 20+ years of a rock and roll hurricane.

I got the chance to speak to James just as he was about to walk into rehearsals to talk about the upcoming Kingdom Come 2018 Reunion tour and all of the pieces that came together for this 30th Anniversary tour to happen.

Maximum Metal: The Kingdom Come Reunion tour 2018 kicks off in Seattle, Washington, USA on Sept 27th. How excited are you to "Get It On" the road again?

James: I'm super excited! The best part so far is just reconnecting with Danny Stag on guitar, JB Frank on bass, and me and Rick [Steier] of course, we're like twins. It's just four of us together; we just click. And it's one of those things, when you don't see each other for a couple of years; you pick up right where you left off. Then we added Keith St. John to the mix, and I've kinda of been friends with him for 30 years. haha It sounds like we're really old, but we're really not.

The music is coming along great and we're killing it. So, we're super excited.

MM: Let's set things straight. There have been plenty of internet grumblings about Lenny Wolf being the only original member not joining in on this tour. He has made a statement on his website about that chapter being over for him. Have you been in contact with Lenny and is he supportive of the reunion tour?

Yeah, last time I spoke with him was early January [2018]. We had been talking at that point for three months, once again trying to get this thing off the ground. And he just finally said, "I announced a year ago, I'm retired, I just don't want to go and deal with the chaos of being on the road." And I understand that, I totally respect that. He's retired.

In the meantime, he has given us his blessing, and he's excited for us, and wishes us all the best. I think that's a pretty classy move on his part.


"This is all about the music. We don't have a big production, we're coming in raw, and we're coming to play and kill you."

MM: Tell us about the singer (Keith St. John) who will step into the role as vocalist, those are some mighty big boots to fill.

My history with Keith goes like this: After Kingdom Come had disbanded back in the early 90s; I had a side project going called Wild Horses. We had a deal with Atlantic and things were up and running. But the original singer for Wild Horses went and joined Foreigner, so we had to get a new singer. And Keith came in and just blew it away. My vote was for Keith, but I got outvoted and we went with another singer.

Then after that Keith went on to do a solo project, he sang with Lynch Mob, But mostly he was the singer for Montrose for 12 years. I saw him with Montrose maybe three or four times, and I would go, "God, Keith is good." I worked with him here and there and recorded some stuff. Just over the years we always kinda ran into each other. And I always would go, "Wow, he's good. He's great."

So, when it came time, I was wracking my brain for singers and boom we did Montrose Remembered back in January at a NAMM show, and it was awesome. And I go, "Keith! What am I thinking?" So I asked him a couple of months later after I had things in line, and he goes, "Are you kidding? Absolutely!" Just like that.

There are very few vocalists that can handle this stuff. It really is difficult singing because Lenny is an awesome singer. But you have to ask someone with awesomeness to be able to fill those shoes.

MM: What have been the biggest challenges in putting this tour together?

We have an agent and manager of course. The biggest challenge is the business end of it. The managers enjoy It, they love it. But I have to be involved in all of it, which I'm not complaining about, but I've been so out of the habit of doing that, but now I'm up and running. As far as the band goes, there really is no challenge, we're killing it. That's the good news.

Other than that, I'm in pretty good shape, physically and mentally, 'cause I exercise a lot, I eat Wheaties and all these healthy things.

MM: It's been a few years (well okay, maybe decades), what was it like when you started rehearsals for the Kingdom Come tour?

It's not like you think. You picture guys going to meet up and they are all plugging up in the rehearsal room. We go to Rick Steier's living room, and we sit down with small amps, quietly. We go through every single song, and we look at every nook and cranny, and we double check the arrangements. Then we add Keith to that mix. Then we move into a real rehearsal room, and then we really started playing. That's when it starts to get fun. We actually get to play, and the 27th is just around the corner, our first show in Seattle.

MM: Will there be any opportunities for VIP Meet and Greets?

Of course! We have a VIP package and it's relatively low priced, it's only $75 [USD]. You get to come into the venue either late afternoon and early evening, we meet one on one, we take photos. We don't rush through this and maybe have the opportunity to sit through sound check if they want. We have the time to make it personal.

[VIP Meet & Greet link]

MM: You've had quite a bit of experience playing the bigger arenas, are you looking forward to getting back to a more intimate club type setting?

I would much rather be playing arenas and all that stuff. But I'm totally used to the club thing. And it is a different experience, it is more personal. I always want to play bigger is better for me, always. But this will work, it doesn't matter if it's 10 or 10,000, we'll play exactly the same, it makes no difference to me or the other guys. You'll see, it's gonna be fun.

MM: This Kingdom Come Reunion tour currently only has US dates, are there any plans to add other countries in the future?

We're taking it slowly, step-by-step. This is our first step; we're going to see how the first week or two goes. We've actually been contacted by a few Europeans, English, Japanese, and Australian promoters, believe it not. We met with an agent last night who is connected with South America, this one, that one, all over the place. So, there are many options and many ideas being thrown around for 2019, so it's looking pretty good.

MM: Can you give us any hints as to what the set list will be?

We're going to play the first album, the debut album in its entirety. We will definitely play maybe five songs off the second album, 'In Your Face', which I actually think to this day it was an underrated, overlooked album. And we've got a couple of surprises up our sleeves and the usual stuff that I can't tell you about.

MM: Are there any plans for some new recordings, whether with Kingdom Come or your other projects?

Contractually, with all that legal mumbo jumbo, we're not allowed to for a while. But once a while passes, we hope to. Right now we're focusing on the live scenario. Of course we want to, but we have to wait a bit of time, but we'll see what happens then.

MM: It's been over two years since you've been out on tour, what are some things you are most looking forward to?

I like being in a different place every day. I've been to all of these cities multiple, multiple times but it's great, I love to walk and get out. I'm walking right now as we speak. And it's just great to reconnect with these cities, I've got so many friends in so many places, and I've been contacted by so many. So, that's the exciting part. I love traveling and seeing the country. Usually, on a tour bus you spend 90% of your time sleeping when you're in America.

MM: Speaking of touring, the Scorpions were playing in California not too long ago. Did you meet up with them and attend the show?

Me and the Kingdom Come boys went down to the show and we hung out. We saw Rudolf [Schenker] before the show. And then after the show I hung out with Klaus [Meine] for a bit, I had a great conversation one on one with him. It was just wonderful. The band sounded great, they looked great. And what was really important was that I reconnected with all of the crew guys again. Some of them were with the Scorpions before me! It's just really great to see everybody. It was a wonderful reconnection.

MM: Thanks for the update James! Good luck with the tour. Any words to your loyal fans out there?

Woof! Woof! Just me and the entire band, we're super excited to get out there, re-meet everybody, and hangout and enjoy ourselves. Mostly we want to present the music. This is all about the music. We don't have a big production, we're coming in raw, and we're coming to play and kill you.

Maybe you've had a terrible week, come to our show, you'll love it. Your mind will be totally cleared. That's what we're all about and that's what we wanna bring.


LINKS:
Kingdom Come Official
Facebook
Twitter
YouTube












ALL INTERVIEWS FOR: KINGDOM COME
ALL REVIEWS FOR: KINGDOM COME
Currently no reviews.
<< back >>