I N T E R V I E W S

Jackie Petersen - Chainfist
"Scarred"

Vocalist Jackie Petersen about what got him into metal, releasing albums in multiple formats, the singer he really looks up to, and the perfect song
By: Greg Watson, Eric Compton | Published: Monday, October 27, 2014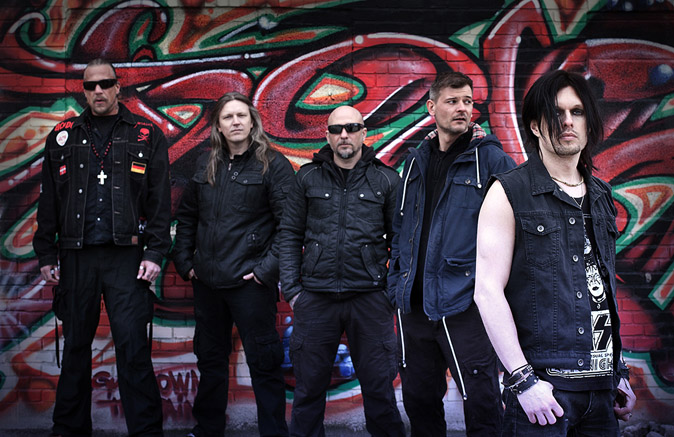 Most metal heads worth their salt know that Denmark is fast becoming a veritable hotbed of metal activity. Veterans like King Diamond, Volbeat, Hatesphere and Mercenary call Denmark home as well as newcomers like Sea and Aphyxion. A relative newcomer, Chainfist, offers up aggressive, in your face metal tinged with thrash and modern elements. 'Scarred', the band's latest offering, was released on October 6th through Mighty Music and proves to be a whirlwind of rage that hits hard and leaves major damage in its wake.

'Scarred' is a definite departure in sound from the band's first album, 'Black Out Sunday'. Vocalist Jackie Petersen explains, "Black Out Sunday was already written and recorded when I joined the band in late 2009, but with 'Scarred' I was able to be a part of the whole songwriting process." He also credits the addition of lead guitarist Thomas Hvisel for the change in the band's delivery. With the newer sound, 'Scarred' is an album that is built on heavy, catchy riffs and monster vocals. Part of the modification also comes from producer Michael Hansen as well as the inimitable Jacob Hansen. "We became friends with Michael back in 2010 when we toured together with his band Phonomik. That gave us a great opportunity to work with him and he's really nice and a great guy to work with." When asked about landing Jacob Hansen, Petersen explains "that there was no doubt we wanted Jacob to be a part of 'Scarred' because we felt he could bring out the dirty and massive Chainfist sound and meld it with great production."





"The perfect song to me is a song that can be played acoustic, simple as that. To me, melody is the main driver."



What we get with 'Scarred' is an album that packs as much punch as it does sleaze. You can feel the dirtiness ooze from your speakers as you're blasting any track off the album and the Hansen duo clearly worked their magic on this album. Listening to Petersen, you can hear a Hetfield styled delivery to some of his vocals. "I listen to a lot of different music and bands and I get inspired all the time. I believe that a singer should strive to be able to be as diverse as possible." On specific influences, Jackie gives in and says "Well if I have to point out a few singers that inspired me, I have always looked up to a singer like Mike Patton (Faith No More). He can do it all and he does it with absolute perfection." Petersen's vocals are an intriguing element on the new album simply because you aren't sure what style he's going to hit you with. He can deliver harsh, barked vocals, evident on "10,000" or incredibly melodic clean vocals on "Know Your Hate".

Everyone knows what it's like when you hear a song and the music, lyrics and ambience come together in one crushing blow as you revel in that song's power. So while talking with Jackie, I asked him what he thought made the "perfect song" and his answer really was honest but took me by total surprise. "The perfect song to me is a song that can be played acoustic, simple as that. To me, melody is the main driver." Well, then guess what metal heads? Following that thought process, the acoustic version of "Black Rebel Noise" is included on the album as the closing track and is incredibly melodic and so much catchier than the regular version is.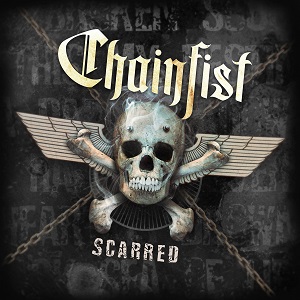 With the formats that albums are released these days, we got to the age old question- digital vs physical album. Chainfist understand the importance of both markets. Jackie states that "You have to do both today that's for sure. 'Scarred' is out in both digital and CD format. So grab a CD copy before the CD dies out" *laughs*. The resurgence of vinyl has been a phenomenon that all audiophiles have seriously geeked over. "Everything seems to be focused on vinyl at the moment and I think it's because people miss having music that they can physically touch and hold in their hands. Also the amount ofimmersion is bigger with an LP. With vinyl you listen to the whole album, but with streaming services or downloads, people don't do that. Maybe this will bring back the album as a whole."

Along with album merchandising comes the obligatory road travel. When I asked him what kept the band going with the rigors of touring, Jackie explains, "Well it isn't for the money, that's for sure. But in all seriousness, it's fun for us and it's our call. That's why we do it. Nothing beats being on a stage with a crazy crowd, it's worth it all right there." Without a tour to announce at this time, Jackie elaborates, "We had a great release show in Copenhagen a few weeks ago but right now, together with our manager Axel Wiesenhauer from Rock 'N' Growl, we are promoting the hell out of 'Scarred' so we'll see what happens with that."

Taking a trip down memory lane, Petersen was asked if there was a moment he knew he wanted to be a metal musician. "It probably wasn't until I was 14 or 15 that I got into metal. I was kind of a nerd in school and got picked on a lot because I was small and chubby. But then this new kid came in listening to AC/DC and Metallica. He took me to my first show which was Monsters of Rock in Copenhagen and I immediately fell for metal after that".

Nearing the end of our questions we hit Jackie with two big ones. We asked him if we were able to come back and do an interview exactly one year from now, what he hopes Chainfist will have accomplished. "Hopefully we'll get a lot of people to listen to Chainfist and have played some memorable shows and bigger festivals. Maybe even get some radio play on some of the larger radio stations."

We ended asking if he had any idea what made Denmark such a hotbed of metal mayhem as of late. "Denmark's got a pretty good metal scene and the bands from here realize that they have to get outside of Denmark to gain a larger audience. There's a lot of people in Denmark but having only 5.5 million people comprising the country still makes us a small country."

In closing Petersen adds "we hope to be able to come to the States and show the American people what Chainfist is all about. We want everyone to grab a copy of the new album and bang your head."

'Scarred' is out now via Mighty Music and is also available on Bandcamp and Spotify, so do your part and go play this album and keep spreading the metal gospel!

Official - http://chainfist.net/
Facebook - http://da-dk.facebook.com/chainfist
Spotify - http://open.spotify.com/artist/2aL9mKaAbudNYvi6pU0vYS



ALL INTERVIEWS FOR: CHAINFIST
| | | | |
| --- | --- | --- | --- |
| INTERVIEW | INTERVIEWER | DATE | TAGLINE |
| Jackie Petersen | Greg Watson, Eric Compton | 10/27/2014 | "Scarred" |
ALL REVIEWS FOR: CHAINFIST
TITLE

DOR

COMPANY

REVIEWER
DATE MADE
RATING
Black Out Sunday

2010

Eric Compton
6/20/2011

3

Scarred

2014

Greg Watson
12/4/2014

4.5
<< back >>