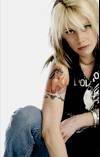 Born in Nasville in 1999, Naked Beggars are a true no-holds barred rock band. The first album, NAKED BEGGARS was released in 2004, and now two albums into their career (SPIT IT OUT released just this January) they are on the road almost constantly touring in support of the album. I have long admired the women of rock and front woman Inga Brittingham has become one of my favorites. Recently, I was honored to do a short interview with her VIA email.

Glittergirl: So whose idea was Naked Beggars and how did it get started?

Naked Beggars originated going back to about 1999. Kris Casamento (guitar player) and I both started writing together. We actually had another band name, which we didn't completely agree on. So, Kris actually came up with the name Naked Beggars a few years ago, and we all agreed on that particular name. That's probably the hardest thing, is to agree on a name for the band.

After we started writing together, the band slowly gained musicians, and we also had a few change overs. In the past two years we have added another guitar player and Keyboards/Fiddle. The blend of our particular line-up seems to work extremely well. When it comes to writing and performing. We all work hard together!

Glittergirl: Who were some of the influences on your music?

I think becasue we all tend to have a lot of different influences the music becomes something with a great blend. You will notice if you listen to the CD, we have alot of songs that range in style. I particularly have many influences, ranging from Guns 'N Roses to Madonna. Kris tends to adore Zeppelin.

Glittergirl: Do you think that it's true women are treated different in the music business? And if so how?

I don't think that it's a general statement. I am treated differently by different people. If I feel that I am being treated differently, I sic one of the guys on those people. That way, they can get what they deserve. And I don't have to deal with them. And yes, it happens. But, trust me.. they don't want to deal with me if they are giving attitude. Especially if I have PMS. LOL.

Glittergirl: What kind of obstacles have you overcame to make Naked Beggars the band that it is?

That's a loaded question. There are many aspects that I had to overcome to get the point that we are at. Money, is a big one. You have to work with what you have and you have to continue and move forward. I have never felt like giving up. That's the most important thing.

Glittergirl: What are your goals for the band in 2006?

It's always a goal for me to constantly move forward. We are already writing for a new album. And that is my goal, is the get started on this newer album. And continue to tour, etc..

Glittergirl: If you could change anything about Naked Beggars, what would it be?

If we didn't have every problem or every good thing it wouldn't be Naked Beggars. In order to have a good thing, I think you need a little chaos on the way! So, I really can't say that I would change anything!

I want to thank Inga for her time on this! This is my very first interview on my way to freelance journalism, and it was a pleasure to interview someone whose music I do enjoy so much! And another little thanks to Sarah for helping me out with questions and such!