I N T E R V I E W S

George Mihalovich - Aftershok
"Burning the Classic Metal Fire"

Pittsburgh traditionalists have returned with a new release, 'Detonate'
By: Eric Compton | Published: Monday, March 9, 2015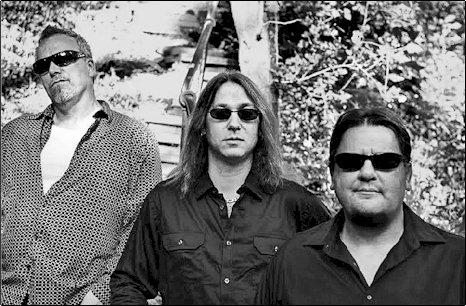 Pittsburgh traditionalists Aftershok have updated Maximum Metal on their new album. The band began in 1996 as a collaboration between guitarist George Mihalovich and charismatic frontman Vic Hix (Shok Paris). The two completed the band's lineup in 2000 and since then have released two albums, 'Unfinished Business' in 2002 and 'Burning Chrome' in 2005.

Considering the gap of nearly ten years, will Aftershok still burn with that classic metal fire? Mihalovich explains the band's stability regardless of the changes. "Our third CD picks up where 'Burning Chrome' left off. As time goes on you continue to learn, evolve and better create what you want to hear, and hopefully this experience will be reflected in the final product."

Original singer Vic Hix, one half of the dynamic duo that formed Aftershok, has reformed Shok Paris and stepped down from his role as lead vocalist. Mihalovich is stoically profound on some of the differences and the impact it has on the band's sound in 2014. "There will be a few obvious differences just because of the time that has passed since the last disc and the fact that the band has gone through some changes. We have a new vocalist - Gord Sheffroth - and we're working at a new studio (JK Studios with Jim Dofka). However, George Borden is still on drums, and I played all of the guitars and bass, so there is still a strong continuity. Generally, this release continues to stay in the realm of melodic power metal, and I believe that there is a certain recognizable character and spirit that comes across in the music, regardless of some minor stylistic differences in the writing. There are common threads that connect all three discs, and fans of the first two should be able to find something to like in the upcoming one. Hopefully, this will be our strongest and most cohesive collection of songs to date."


"In the end, the goals are to write the best material possible with no compromises and to move our style of 'classic metal' forward into today."
In looking back at the band's beginnings, 1996 was a disastrous time for traditional metal. Record labels and promoters made arrogate decisions on behalf of fans that led to a swaying of more alternative and tribal elements on heavy metal. After Shok Paris' disbanded in 1989, ex-Aftershok singer Vic Hix aligned with Mihalovich after searching for more classic metal options. The band's first release, 'Unfinished Business', proved that the denim and leather sound still existed and was very much a part of the band's soul. The album was met with industry praise, a by-product of the hard work and tenacity achieved by the group.  

"Our goal on 'Unfinished Business' was to release something that didn't sound like a demo, but rather a professional release in terms of the songwriting, performances and production. It was the first full-length CD for everyone except Vic, so collectively we had a lot of enthusiasm for the project. I think these factors all come through, and the disc has a very energetic and honest sound as a result. It's definitely a metal record, but it's more mid-tempo and has some straight-ahead 80s commercial hard rock elements running through it, so the production kind of lines up with that feel. A lot of the creative process in the studio of putting a record together involves circumstances and serendipity; we worked with Lou Contumelio at Aardvark Productions and he was a good mentor. Despite some challenges, it was a great experience and the disc came together nicely in the end. 'Unfinished Business' seems to have held up and fans still connect with it."

The positive results of that first effort carried tremendous momentum into the band's follow-up three years later. "'Burning Chrome' was the logical next step for us. We had been playing together for years and had gelled as a band, and other influences came to the forefront. The result was that stylistically, we had moved more towards an American power metal sound; the riffs were more aggressive and the tempos were faster. I think that the pivotal song on the first record that pushed us in this direction was "Beware of the Night." As for the production, we worked at the same studio, but where 'Unfinished Business' had more of a big, open 'arena rock' kind of sound, 'Burning Chrome' was, at the time, the kind of production that I had envisioned. It was slicker, bigger and tighter, but we tried to make sure that it still had some grit and sounded like a real band capturing their best performances.

As we collectively move to a generation of genre erosion, bands like Aftershok continue to push the heavy load by relying on traditionalism, that classic heavy metal sound that banged in Birmingham and continues to ring the steel nearly fifty years later in corners of the world like Oslo, Wacken, Stockholm and Pittsburgh. There is no substitute--good writing, craftsmanship and honest delivery are the main ingredients for longevity.

"In the end, the goals are to write the best material possible with no compromises and to move our style of 'classic metal' forward into today. We're simply trying to create something of our own with respect to the past."

George Mihalovich- All Guitars
George Borden- Drums
Gord Sheffroth- Vocals

[Aftershok Website]
[Aftershok Facebook]



ALL INTERVIEWS FOR: AFTERSHOK
| | | | |
| --- | --- | --- | --- |
| INTERVIEW | INTERVIEWER | DATE | TAGLINE |
| George Mihalovich | Eric Compton | 3/9/2015 | "Burning the Classic Metal Fire" |
ALL REVIEWS FOR: AFTERSHOK
TITLE

DOR

COMPANY

REVIEWER
DATE MADE
RATING
Detonate

2016

Eric Compton
9/9/2016

5
<< back >>