I N T E R V I E W S

Eddie Jackson - Queensryche
"Legacy, Lyrics, and Longevity"

Interview with Queensryche bassist Eddie Jackson on the new album, 'The Verdict', touring, and 40 years as a band.
By: Frank Hill, Greg Watson | Published: Thursday, March 14, 2019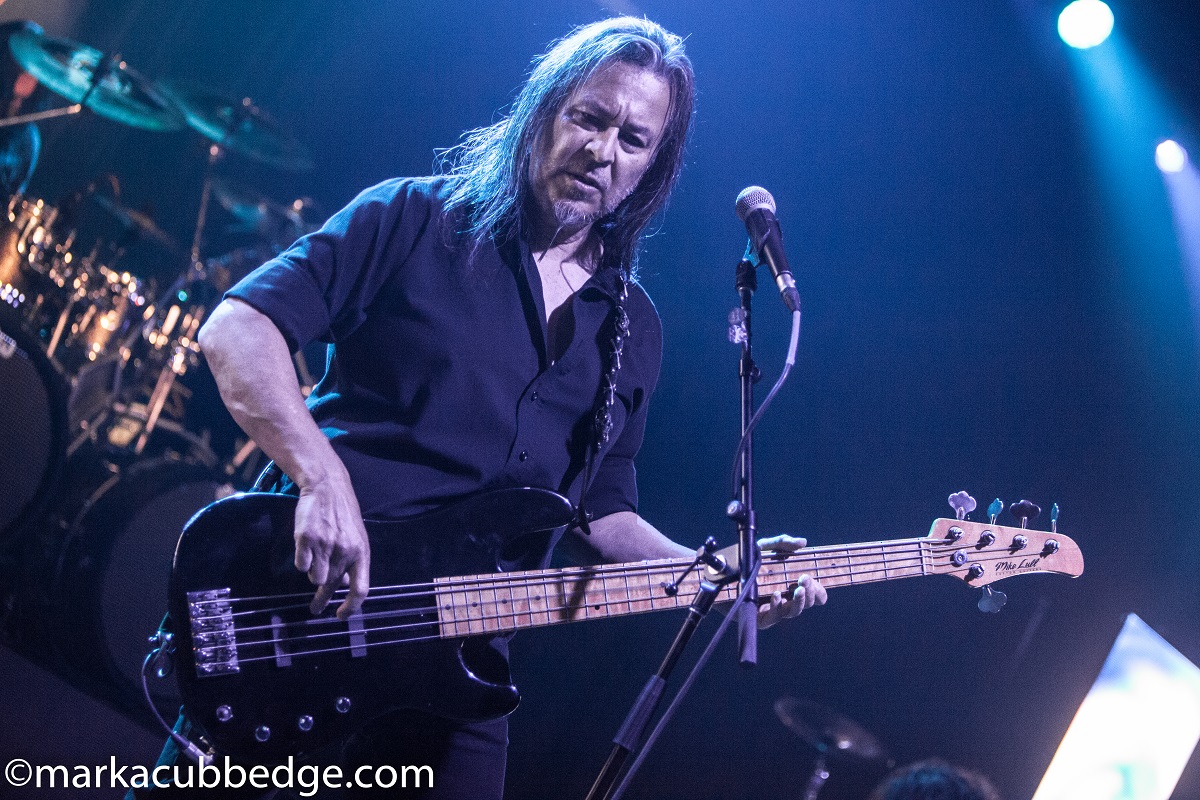 With a legacy of 40 years, 15 studio albums, Grammy nominations, and tours around the world, Queensryche is a global, respected name in hard rock and metal genres.

Not content to solely live on their past accomplishments or play for the sake of nostalgia, Queensryche has released a new album titled, 'The Verdict'. Produced and mixed by Chris "Zeuss" Harris (Hatebreed, Rob Zombie), who helmed 2015's 'Condition Human', it's also Queensryche's third album with frontman Todd La Torre, who joined the veteran band in 2012.

Maximum Metal was able to chat with bassist and original member, Eddie Jackson, about 'The Verdict', touring, his preference of using his fingers over picks, and the big 4-0.

Maximum Metal: The band's 15th studio album, "The Verdict" is out now and it's one of your heavier ones created as of late. When the group goes to record an album, is there a particular sound--the Queensryche sound if you will--that you all strive for on each record?

Eddie Jackson: Well, I think that comes naturally, especially from the original members in the band. There's a certain guitar sound and perhaps a bass guitar style, drums and whatnot that you might recognize from the earlier albums or throughout the last 15 albums. You're gonna hear those natural sort of styles in just about every album.

MM: Chris "Zeuss" Harris produced for the band again. Did he have any influence on getting the "Queensryche sound"?

EJ: He certainly contributed. Michael [Wilton] has a style that's very recognizable as a guitarist player for this band, as well as myself. Scott's [Rockenfield] on a bit of a hiatus at the moment, but we still have that certain style. Chris Harris certainly carried on that style on these last two albums we recorded with him ['Condition Human' and 'The Verdict']. I remember talking with him before we were going to record 'Condition Human' and he spoke about let's bring back that sort of style that you guys are known for, the "Queensryche sound" that fans are very familiar with.


"I still enjoy what I do. I'm sure it's going to come to an end eventually, but for now I'm just very fortunate and grateful to be doing this 40 years later."
MM: He kind of knows you guys inside and out?

EJ: Yeah, I tell ya, he's very talented. We're very fortunate to have worked with him again. This particular album, 'The Verdict', took a little longer to record and release simply based around the fact that we were also touring over the last several years. So, the writing process took a little longer but also from trying to lock in a scheduled date to record the new album with Chris took time to make happen. It took longer to complete, but it was for the better.

MM: Did you ever have anybody else in mind?

EJ: There were some other producer names that were mentioned, but we really enjoyed working with Chris on 'Condition Human' and we were trying everything we could to make sure that it came to fruition again.

MM: Lyrically, it seems like 'The Verdict' has a dark undertone referencing misinformation, lies, and delusions. Is that a deliberate reflection of the how the band sees the current times?

EJ: Y'know, these are songs, ideas, lyrical content that interest us whether it's current events or personal experiences. Whenever I write a song and lyrics, I don't know that there's any message I'm trying to convey or preach. It's just the artistic side that comes with it all. There's gonna be things that I sort of share and convey within my lyrics. Certain things that interest us as individuals you can kinda hear it throughout the songs on 'The Verdict'.

MM: So, the cover art with scales tipping off-balance reflects themes of life gone a bit askew?

EJ: Yeah, perhaps, and how do we get it back into place.

MM: Queensryche is touching upon social, political, and world issues on 'The Verdict'. "Blood of the Levant" ties into the Syrian War. "Bent" mentions pipelines. Were there any specific events that contributed to the lyrics for your "Propaganda Fashion" and "Light-years"?

EJ: "Propaganda Fashion"...just current events and there's always something new that you're gonna see and hear about while watching the news media. It's kinda based around the political side of stuff like that. "Light-years" was another song that when I wrote the music, I started coming up with the lyrics and melodies and one thing that kind of interested me was the fact that our life on this planet varies--you could live to be 10 years old and pass on or 110 years old and pass away. I thought that even if I could live to be 200 or 300 years old, life would still be short. So, the idea that came about was sort of based around our mortality rate.

MM: Queensryche is now out on the road in support of the album. What sort of reception are you all seeing to the new material being played live?

EJ: Very positive! It's nice to know that there's still an audience for Queensryche out there after 39+ years. Fans have been very responsive and the buzz on our new album has been great, so we feel very grateful and fortunate.

MM: With 15 studio releases, how did you all determine what new and older material is going to be featured on tour?

EJ: Well, we're gonna play the staples, like "Queen of the Reich", "Silent Lucidity", "Jet City Woman", "Empire", and "Eyes of a Stranger". But every new tour is supportive of a new album release, so we try to incorporate some of those newer songs in conjunction with some of the old classics. It can be difficult because you only have so much time to perform each night and we try to do our best to hopefully satisfy the fans out there. But we generally also try to mix up the setlist like every other show to kinda keep those songs fresh. It's hard to play every fan's favorite, but we've come up with 2-3 setlists that we can alternate on a nightly basis.

MM: What would you say or consider is a big misconception about Queensryche from any point during the band's career?

EJ: Interesting question...if there is any, I don't know. We are who we are and we do what we do; and like I mentioned, we're very fortunate to continue doing this after 39 years and still have a strong passion for what we do.

MM: Was there ever a point where you thought that Queensryche was finished as a band with the ups and downs you have faced over the years?

EJ: Well, of course, you're gonna deal with some adversity; going separate ways with former members. It started with our original guitar player, Chris Degarmo...there's always going to be that concern wondering, uh-oh, is this just a hiccup or a serious speedbump that might be difficult to recover from. But, I think we've persevered and with the chemistry of the lineup we have today and it's working out great. Casey [Grillo] who has been filling in on drums for Scott, has been doing a great job and our singer, Todd [La Torre] has stepped in to record vocals and drums. We're very pleased with the album and on the tour we're all getting along great just having a good time.

MM: Bit of a side question here--we've heard that you record with a pick, but when you play onstage, you use your fingers. Any particular reason?

EJ: Yes, that is true! However, the EP I recorded with fingers. 'Rage for Order', 'Operation: Mindcrime', 'Empire', 'Promised Land', 'Hear in the Now Frontier'--those were all with a pick. The albums after that like 'Q2K' and 'Tribe' were a combination of both pick and fingers. But my comfort zone is using fingers especially live, aside from the intro to "Jet City Woman". I've been so locked into using fingers that it's much easier for me to play. You're definitely going to get a different sound and tone and sometimes it's whatever the song calls for.

MM: You're approaching 40 years now as Queensryche. After that length of time in the business, what drives you all to continue to want to create new music when you could just play for nostalgia?

EJ: I think a lot of it is just passion. At least personally speaking, I still enjoy what I do. I'm sure it's going to come to an end eventually, but for now I'm just very fortunate and grateful to be doing this 40 years later. We also have a very strong fanbase that has allowed us to evolve and grow as a band. Hopefully, it will continue.

MM: So, everybody still has the creative fire within them?

EJ: Absolutely.

MM: Any big plans for Year 40--personally or with the band? Any plans to release vaulted music or anything bonus for fans?

EJ: We're gonna be busy this year touring in the U.S. and there's talk about South America and we're going to be touring over in Europe. So, a lot of plans. For now, we're going to focus support on 'The Verdict' and once we start preparing for the next album, we'll cross that bridge and figure out things like new songs and perhaps some other special sort of treats such as bonus tracks. Personally, y'know, just taking it day by day, maybe find some time to golf when there's weather permitting. We generally find ways to keep ourselves busy and try to have some fun out here aside from performing, which we've alway enjoyed doing.

MM: Thanks for taking time to do the interview with Maximum Metal!

EJ: Hey, thanks for the support of the band and for having me!


LINKS:
Official Site
Facebook
Youtube







ALL INTERVIEWS FOR: QUEENSRYCHE
| | | | |
| --- | --- | --- | --- |
| INTERVIEW | INTERVIEWER | DATE | TAGLINE |
| Eddie Jackson | Frank Hill, Greg Watson | 3/14/2019 | "Legacy, Lyrics, and Longevity" |
ALL REVIEWS FOR: QUEENSRYCHE
<< back >>