I N T E R V I E W S

Don Viper - Iron Kobra
"Of Might & Magic"

Interview with bassist Don Viper
By: Troy Cole | Published: Friday, September 25, 2015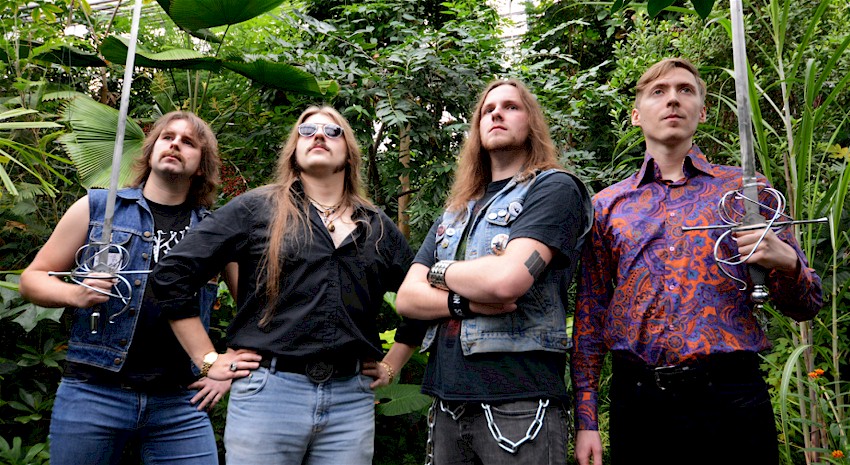 Germany's up and coming traditional metal act Iron Kobra is a band comprised of fans creating music for fans. They have only one goal, to play some hard rocking music they would love to listen to. The recent release of 'Might & Magic' serves up their take on classic hard rock and metal while incorporating their own elements of speed metal and thrash. Maximum Metal was able to catch up bassist Don Viper to ask a few questions.

MM - The band chose a relative newcomer in Peter Nawotka (Pit) to record the album. How did he become involved in the recording and have you had experience working with him in some fashion earlier in your career?

Don Viper - Peter "Pit" Nawotka is a longtime friend of us whom we know for almost ten years already. He is not only the father of our first drummer, but also the owner of our rehearsal studio. The room is an old studio from the eighties, and he often asked us if we weren't interested in recording something with him. When we were asked to work on a song for an Anvil tribute compilation, we immediately asked Pit if we shouldn't record it together. It went so well that we now asked him again to record our new album, Might & Magic. This was important for us; he has a lifetime experience in recording Rock'n'Roll and his experience was very valuable during the recording.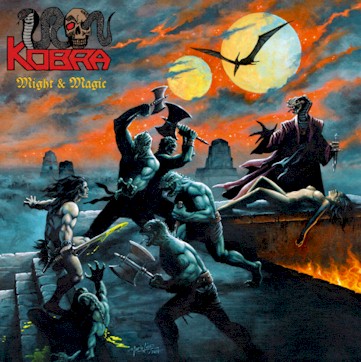 MM - Mario Lopez created the stunning artwork for 'Might & Magic'. Did you have a general concept of what you wanted for the cover or did you just let Lopez have creative control and come up with the design?

Don - We had a very specific idea on the cover artwork, from the art style (which should be inspired by the works of great fantasy artists like Frazetta or Whelan) to the concept of the cover. However, we allowed him some artistic freedom; it should look like a painting of his and not of ours. In the end, the collaboration went really well and even though we already had a very good diea of what the product would look like, we were still amazed on how everything turned out.

MM - How do you feel this album compares to 'Dungeon Masters' musically?

Don - Might & Magic begins where Dungeon Masters ended. We evolved on many levels, ranging from the individual skill on our instruments or vocals to the compositions of our songs, but without losing what made us special or losing our musical idea. Actually, we went a step back - while our first album was greatly inspired by metal bands of the 80s, we now sometimes looked at their inspirations from the 70s. That's why this album now sounds even more authentic and old-school than our stuff before; it doesn't sound like we want to copy great bands.

MM - How hard is it to remain creative in the traditional and classic metal realms considering that so many bands and albums have been released since 1979?

Don - It can be hard at times; every riff or guitar lick has been played and recorded already. We even experienced it ourselves when we wrote a song for Dungeon Masters, only to notice at some point that its main riff sounds exactly like 'Lord of the Night' from 'Dark Avenger'. But our job is not to create something entirely new, but to take the heavy heritage of all the great bands and evolve it, bring it into the new millennium so to say. It's an act of balance between sounding too similar and playing something too distant.


"Our job is not to create something entirely new, but to take the heavy heritage of all the great bands and evolve it, bring it into the new millennium so to say." --Don
MM - The band has been intact since its creation in 2008. Other than the drummer replacement, what do you think contributes to the band performing so well together and able to remain "united"?

Don - The fact that we have all been friends for many years greatly contributes to the stability of the band. We know each other so well, we can easily deal with the little quirks every one of us has. Also, Sir Serpent and Lord Python have been playing in the same bands since almost ten years, so we not only know each other off-stage, but also on-stage and in the rehearsal room. Our songwriting process is very organic, we all look forward in the same direction. That helps a lot.

MM - You just recently surpassed 10,000 plays on Bandcamp. How important are streaming media services like Bandcamp, Spotify, Youtube, etc. in terms of promoting the band? Is it a liability or an asset?

Don - They are certainly important to some degree. When your music is available everywhere, people will always stumble on it, listen to it, and like it. Especially for a band like us, who never does promotional work and only lets the music speak for itself, this is very important. Also, people will download your music anyway on some shady blogs and upload it on youtube afterwards. If the band anticipates this and takes matters into their own hands, one can greatly benefit from it. On Bandcamp we have 10,000 plays and on Youtube another 20,000. One should definitely not underestimate it.

MM - How did you become a part of the Harder Than Steel Festival this year? You will be playing with legendary act Iron Angel…have you had the opportunity to play with them before? Fan of the band?

Don - We have been in contact with Oli Weinsheimer, the organizer of the festival, since our very first recordings. We already played on one of his festivals, the Thrash Assault (which would later turn into Metal Assault), as a substitute for a band that cancelled. Oli has always been very supportive, wrote reviews for us, and has now taken a liking to our new album and immediately asked us to play on the festival after he listened to the album.

MM - What else do you have planned this year to support the new album?

Don - Of course, we hope to play many shows. Our private lives and jobs don't allow great touring, but we have planned some nice stuff. We'll also record a 7" single later this year which will feature another German song, but we cannot tell too many details at the moment.

MM - Thank you, Don!



ALL INTERVIEWS FOR: IRON KOBRA
| | | | |
| --- | --- | --- | --- |
| INTERVIEW | INTERVIEWER | DATE | TAGLINE |
| Don Viper | Troy Cole | 9/25/2015 | "Of Might & Magic" |
ALL REVIEWS FOR: IRON KOBRA
TITLE

DOR

COMPANY

REVIEWER
DATE MADE
RATING
Might & Magic

2015

Eric Compton
5/21/2015

3.5
<< back >>