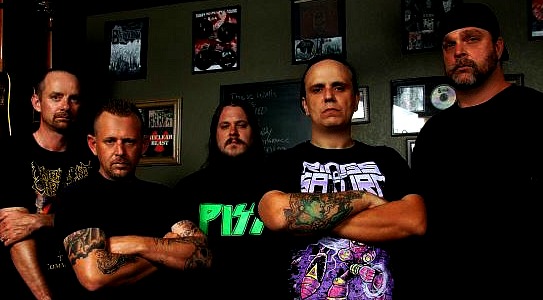 It's been twenty years since Florida death metal legends Brutality have release a full-length studio album. That is all set to change now that the band have signed on with stalwart Danish label Mighty Music. Guitarist Don Gates talked to me about the band's signing, the new album and a brief look at the band's storied career thus far.

Eric Compton - Don, congratulations on the new label deal with Mighty Music. Before signing, had you had any experience with the label before or familiar with the label's roster?

Don Gates - Thank You Eric! We had heard of the label but were not too familiar with its current roster. So many labels have popped up over the past 20 years that it's really hard keeping up anymore. We have had more than our share of smaller indie labels hunt us down but Mighty was pretty persistent in their pursuit to talk to us. When a label puts in that much effort into gaining contact you have to give kudos and at least listen to what they have to say. Obviously they said the right things more than once.

EC - Can you tell us how many albums Brutality has signed on for?

DG - We are starting off slowly to get a good feel of how things will work. In the past we took a "rather hard" beating from our old label so we were a bit gun shy going into this. Once we finally had a face to face meeting with Rich Lee (US rep for Mighty Music) we knew that this was the right place to be. Our first release will be a re-release of the 'Ruins of Humans' Ep on 7" vinyl. We are totally confident that our relationship will grow into much more than just releasing albums. We told Rich and Michael that "IF" we were to ever sign another record deal then it was surely to be our last. That being said I guess we are all in this for the long haul. It's pretty easy to read between the lines on this one.

EC - 'In Mourning' from 1996 is the last full-length studio record for Brutality. Don, that is nearly 20 years ago. How will a new Brutality record differ in 2015 when compared to the 90s material?

DG - 20 years is a long time brother! When we released 'Screams of Anguish' we were just kids looking to have some fun and write killer music. We had no idea that we had captured lightning in a bottle. 'The Sky's…' release and the 'In Mourning' release were absolute monster follow ups but they didn't have that 'Screams…' feel to it. If you can imagine the 'Screams…' writing lineup with 20 years' experience under our belts then you can get a good idea of what to expect. 'Screams of Anguish' on steroids is the best way to put it. We had more visions for that album but didn't have the money or the know how to do it. Now we do!

EC - After the initial break, the band reformed twice. The first time was concerning a deal with Still Dead Productions. Can you tell us what led to that label deal, the end result and what caused the breakup in 2005?

DG - I wasn't with the band at that time but I do know that it wasn't a good scene all the way around. One of the original members from back in the 80's decided to get a few of the guys together and work on new material. He was a member that had been replaced prior to the 'Screams…' lineup. The music wasn't up to par. The players were not up to par and the label turned out to be a farce. The label pretty much just vanished.





"We have always had elements of every style in our music and this time it won't be any different. We just do what we do."



EC - The band became active again in 2008 with some demos, most recently the 'Ruins of Humans' demo in 2013. What has been happening with the band the last six years?

DG - The band actually reunited in 2012 to do one show for the "metalmeowlisha". It's a yearly benefit show to care for feral cats of Tampa Bay and surrounding areas. Jay and I had been working together on a guitar project and as we started writing we realized that we were actually writing material that was meant to be on a Brutality album. Naturally we contacted Jeff and Scott and the rest is history. We did the one show, then another, then another one and so on. Considering none of us wanted to throw in the towel quite yet we went back to Morrisound and told Jim that we had an itch to scratch. Welcome to 'Ruins of Humans'. Funny how things happen huh?

EC - Don, can you confirm the line-up for us now?

DG - Sure can. The current lineup is Scott Reigel / vocals – Jeff Acres / Bass and Vocals – Don Gates / Lead Guitar – Jay Fernandez / Lead Guitar and Duane Timlin / Drums

EC - A lot of death metal bands have mixed their sound with elements from other genres like doom, thrash, melodic-death and black metal. Will the band be mixing it up or playing more of the traditional death metal style?

DG - It's hard to say really. We write how we feel and just go with the flow of the music. So many bands nowadays have no feeling in their music. It would be a good bet to say that it's going to be all over the place. We have always had elements of every style in our music and this time it won't be any different. We just do what we do.

EC - Are there any proposed song titles or an album title at this early stage?

DG - The one that I can tell you about is a song called "Sea of Ignorance". It's about all the idiots in the world with no common sense who continually shoot themselves in the foot by their own actions. We have had far too many run-ins with these people and decided we might as well write a song about them. We are in a new time now. People don't think before they act and make the same mistakes over and over. As for the album title...right now we are looking at a self-titled album. 'BRUTALITY'.

EC - Some bands are embracing all-digital releases to cut costs. Where does Brutality stand on that approach?

DG - That's a touchy one for us. We are still old school for the most part. You do have to take every fan's wants and needs into consideration though. Some want digital only and some still want the physical product with all the goodies in the package. We hope to satisfy everybody on this one. We found out the hard way when we released '…Ruins' on digital only at first. Within 20 minutes of its release it was being pirated all over the world. The hard copies with the black and white old school demo style cover was soon to follow. Any collector out there is going to want to get their hands on the Mighty Music 7" release. The original cover of '…Ruins' is being colored for this release only.

EC - Its 2014. We have heard "death metal done to death" for nearly thirty years. How does a band continue to push for originality and diversity in a genre that has eroded in quality over the years?

DG - Good question! I think the scene just became so over flooded that the bands lost all originality. They consider bands like Brutality, Massacre and Obituary and so on to be "old school" bands because we play and write as we did when it all began. I'm not saying that the bands haven't grown or become better musicians. It's actually the opposite. We just do it better than we used to. It's slowly coming back full circle and the younger generations is starting to "get it".

EC - Don, name the last five records that really impressed you (any genre).

DG - Wow! Calling me out here now **laughs**. My musical taste is all over the board. Anyone who knows me personally knows that I love music as a whole. Although my metal catalog and my CD shelf is pretty bare I just love music. From Metal to Country/Blues, Southern Rock to pop and classical. Like my band mates, we all have individual taste and that's what makes us who we are and that's what makes Brutality so cool. It's an open field when we write. I would be better off saying that my all-time favorite Metal album is King Diamond 'THEM'. All-time favorite country album would be Garth Brooks 'Garth Brooks'. If I had to choose my favorite guitarist that honor would go to Andy Larocque. The guy is just beyond badass!

Thank You Eric and MaximumMetal for allowing me to tell you a bit of Brutality news and history. Thank You as well to all the fan's out there that have supported us for well over 20 years now. We will do our best to keep you informed on any up and coming news involving Brutality and Mighty Music. May Peace be with you all!

(Editor's Note – Thanks to Rich Lee of Mighty Music for arranging this interview for us at the last minute. Rich, we'll tip a bottle in your direction.)