I N T E R V I E W S

Deen Castronovo - The Dead Daisies
"Straight Rock and Roll"

Interview with Deen Castronovo drummer and backup vocalist for The Dead Daisies on their latest release and tour.
By: Joanne Laroche | Published: Monday, October 1, 2018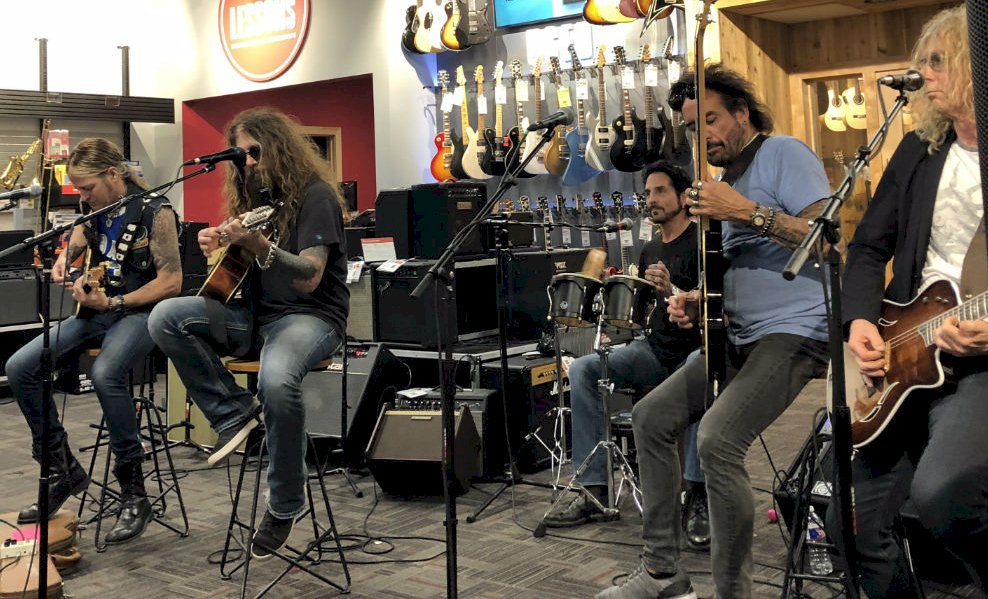 If a man (in this case a drummer/singer) can be judged by the company he keeps, it would stand to reason that Deen Castronovo is part of rock and roll royalty. Sharing his talents with the likes of Paul Rodgers, Journey and Revolution Saints, just to name a few.

Currently Deen is hitting the skins as the drummer and backup vocalist for The Dead Daisies. They are currently touring the planet to support their latest release called, 'Burn It Down.' If touring with a rock and roll band wasn't enough to keep them busy, they also have been performing at Guitar Centers in the USA, doing an all-acoustic set, plus meet and greet events for their fans.

He was able to take a bit of time from his very busy schedule to chat with me about touring with The Dead Daisies.

Maximum Metal: Hey Deen, thanks for taking the time out to interview with me today. How are things going?

Deen: Things are going great Joanne. Working our tails off and doing a lot. We're trying to break in the US, Canada, stuff like that. We're working a lot harder than we normally do, but it's been great. We're having a great time, we love playing for the fans and getting to engage with them, it's just been fantastic.

MM: Your tour schedule is borderline insane. Between the Guitar Center acoustic jams to practically a new city and rock and roll show every night. Is sleeping just a luxury at this point?

Yes, oh my God, yes. Like last night, we played in San Diego, and since we let the private jet go, we had to drive back in one of those, not a cargo van, like a Mercedes van, those big ones. And it was bumpy and we didn't get in until 3:30 in the morning, and I couldn't get to sleep because I was so amped up from the show, anyway. I probably didn't get to sleep before 5:30 or 6:00 this morning. And woke up at 1:00. We're all just kinda floating around right now, dazed. (laughs)


"We just love playing. I don't care if it's front of 2 people or 20,000 people. We bring it every night."

MM: The Guitar Center appearances are quite an intimate gathering, are you enjoying getting a chance to meet your dedicated fans in that acoustic kind of environment?

Oh yeah totally, that's the whole premise of doing this. It's kind of like giving back to the fans, they are always at the shows and supporting us through social media and coming to the gigs and buying the records. So, it's kind of like a free acoustic performance for them, they get to hear us, they get to see us intimately, and we go out afterwards, we sign autographs, take pictures; it's kind of like a grass roots/old school way of breaking a band. It's kinda cool the way we do this. With other bands I was in, it was never like that. You're in that big bubble, and nobody gets near you unless they pay $500 which is whatever, it is what it is. But this is really, really cool, 'cause we get to do this and see who's buying our records and who's supporting us. It's a good thing for everyone involved.

MM: As some might not know, you are not only a drummer but also have been known to do some singing as well. Do you have any plans to put down the drumsticks and take up the microphone?

Never. John [Corabi] is such a great singer, such a great front man. I'm just grateful to be playing the drums and singing background behind an amazing voice, like his. There's only one other guy that can pull off what John's pulling off that I have worked with and that's Paul Rodgers [Bad Company]. John can do five shows, along with those acoustic shows, so you're looking at 10 shows a week, and his voice is still killer. He has no issues, which is really cool. He's incredible, just one of the best frontmen I've ever worked with.

MM: The Dead Daisies set list is a mixture of original and cover songs, how do you go about deciding what songs you end up playing in front of your audience?

A lot of it is our management team, they look through the songs and they pick what we're gonna do each night. Ninety percent of it is set; we might change one song here or there. Our manager David Edward, he keeps an eye on the fans and what they react to and what they don't. We just play the songs that are picked and go out there and kill it.

MM: Looking at your upcoming tour dates, before heading off to Europe, you'll be sailing away on the KISS Kruise VIII . Are you looking forward to the "working vacation?"

It's definitely a working vacation. I'm a huge Kiss fan, they are the reason I became a drummer. It's going to be an honor to be able to do this. I've never been on a cruise like this. I've done cruises with Journey before. This is a different thing and I'm excited to be a part of it, and to be around the guys from Kiss. I know Eric [Singer] really well, and Paul [Stanley] and Tommy [Thayer] really, really well. Gene [Simmons]...so we just stay away from him, he scares me. (laughs) But I'm just gonna have a blast. It's gonna be great, it's an honor.

MM: It might be a little early to ask with the Dead Daisies album Burn It Down just being released in April of this year, but has the band started putting together any material or ideas for new album?

I don't know if we're going to do anything next year, I'm not sure. But I know that what we do is, if someone comes up with a riff, David Lowy will pull out his phone. He's got an app that can record all of this stuff, and he just records whatever we come up with. If there's a cool riff that we like, David's like, "Oh I like that, let's put that down." So we have ideas. And usually when they start the writing process, they just come up with ideas, and then just build on those. Nothing that I know of (as the drummer) of what's going on, if we're recording next year or not. We'll find out.

MM: You've been playing small clubs to huge festival stages as well as sharing the stage with some hard rock royalty. Is it a difficult transition to be one night in front of thousands of music fans who may or may not know you, and the next night in a smaller club? Do you have a preference?

You know what? We just love playing. I don't care if it's front of 2 people or 20,000 people. We bring it every night. I love that about this band, we have never called it in. We go out there and as far as we're concerned, it's our fans and we're gonna deliver. And if it's opening for Guns N' Roses or the Scorpions, we can win some fans over. For us, we just bring it every night. We play the best we can every night, no matter where we're at, no matter what the situation is. We always make sure that we give 100%.

MM: With as much legacy as the Dead Daisies bring with the band members, what have the audiences been like?

For us, they're coming to see the Dead Daisies. We all have a great pedigree; we all worked with the best of the best. But when we come together it's all about The Daisies. Journey fans will come up to me and have me sign Journey stuff or some of the records that I've done in the past. When they come to see Dead Daisies, that's what we're bringing them. And all of our experience in our other bands has brought us to this band, which is pretty killer.

MM: For someone who has never seen of or even heard of The Dead Daisies, what can they expect from your shows?

You're gonna hear killer, just balls to the wall rock and roll. No frills, no backing tapes, no tracks. A band that plugs in their guitars, grabs the sticks, grabs the microphone, and delivers. And our sound is our sound. People want to pigeonhole it as classic rock, but to me it's just straight rock and roll. There's no way to pigeonhole what we're doing, 'cause there's all these influences that we all have, we brought all of those to the table to make this big old stew basically.

You can expect a band that comes out there and gives it their all, plays the best they can, and brings a great, great time to the fans. And the people that haven't heard us? We're gonna win them over, that's our whole objective, to win them over.

Check out our Concert Report!

Members:
David Lowy - rhythm guitar (2013-present)
Marco Mendoza - bass (2013, 2014-present)
John Corabi - lead vocals (2015-present)
Doug Aldrich - lead guitar (2016-present)
Deen Castronovo - drums (2017-present)

Links:
thedeaddaisies.com/
facebook.com/TheDeadDaisies
twitter.com/TheDeadDaisies




ALL INTERVIEWS FOR: THE DEAD DAISIES
| | | | |
| --- | --- | --- | --- |
| INTERVIEW | INTERVIEWER | DATE | TAGLINE |
| Deen Castronovo | Joanne Laroche | 10/1/2018 | "Straight Rock and Roll" |
ALL REVIEWS FOR: THE DEAD DAISIES
Currently no reviews.
<< back >>