I N T E R V I E W S

Deborah Levine - Lady Beast
"It's a Message to Turn that Dark into a Light"

Interview with vocalist Deborah Levine as she discusses the bandís new album ĎVicious Breedí and signing with Cruz Del Sur Music.
By: Eric Compton | Published: Friday, December 8, 2017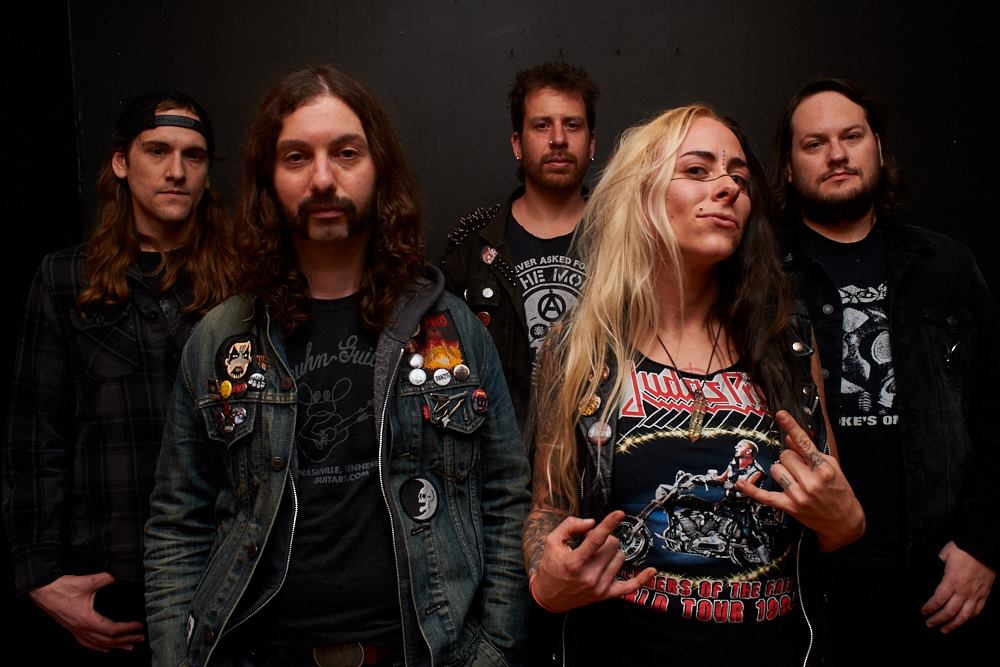 'Vicious Breed', the new album from Pittsburgh heavy metal heroes Lady Beast, is out now on Cruz Del Sur Music. Recorded at +/- Studios in Pittsburgh under the supervision of Jason Jouver, 'Vicious Breed' is the band's most dynamic album to date. Sporting a wide variety of moods and flavors, the record features the speedy title track, downright heavy "Lone Hunter", the balladry of "Always with Me" and the straight-up rock of "Get Out of My Way."

We caught up with vocalist Deborah Levine to discuss the band's writing, traditional metal stance, new album and signing with Cruz Del Sur.

MM: Deborah, congratulations on the new album. 'Vicious Breedí was just released in November through Cruz Del Sur music. For starters, how did you end up with the label deal. Was part of it Andyís label experience with his prior band Argus?

DL: I had been in contact with Enrico for a little while before he made the decision to add Lady Beast to the roster. I think the fact that with our old label (Inferno) and only ourselves, we have sold thousands of albums in Europe and the US. We are a very hard-working band and I think that was obvious to Cruz. I definitely think the fact that Andy has already had a good working relationship with the label was just one more positive. Since the release of the album we have been generating a lot of positive feedback and attention. Canít wait to see what happens next!

MM: Did the label have some demos of the new stuff to work with or did they just say go record it and letís see the finished product?

DL: Our hard work, dedication and constant drive to be better and more professional really came through on this album. We had sent him a couple of demo tracks after the signing, but he was on board and trusted us to make a great album. We had been playing the songs at practice and played one or two at shows over the past year so we were prepared for the studio for sure.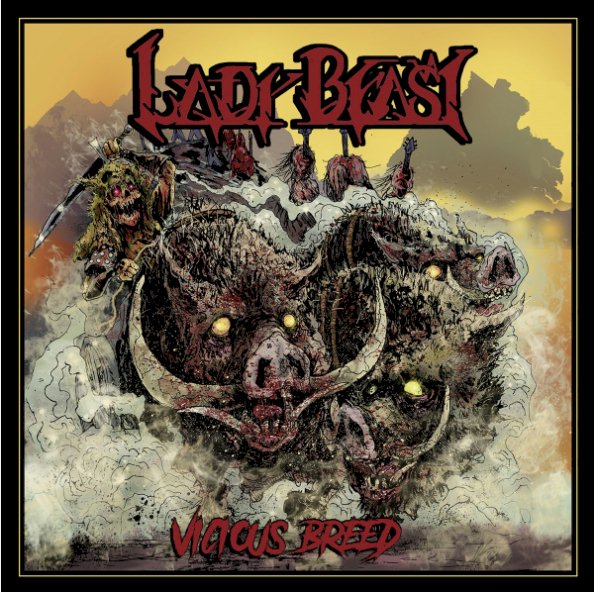 MM: 'Vicious Breedí is the full-length debut for the bandís newish guitarist Andy Ramage. We had just a small sampling of the dynamic tandem of Ramage/Tritschler on last yearís EP 'Metal Immortalí. What impact does his contributions have on the band? How different is his style compared to the prior guitarists Tommy Kinnett and Steve Lauck?

DL: Each previous lead guitar player was an important chapter of the band. All contributed to our albums and our story. It's great having Andy in the band and we finally have our permanent player. Adam and Andy are brothers who have been playing in bands together since they were kids, so they have a strong playing connection. The rest of us were already friends with him before joining the band so we knew he would be easy to work and communicate with. He lives in Rochester, New York so full band practice and shows definitely have to be scheduled. But in the meantime, the rest of us who all live blocks from one another write, practice and take care of business. His solos are amazing and Twiz (Tritschler) and Andy work really well off of each other and contribute to each otherís ideas.

MM: In the pre-release press snips, you mention that you like to have a skeleton of the same idea for each album. Going into writing and recording this release, what was the general idea behind it and at the end of the day how close were you to the original goal?

DL: The main goal is to make a killer album! The skeleton I spoke of was totally unintentional. It was actually pointed out to me by our bass player Greg. He asked if I ever noticed similarities between albums and how I come up with ideas for songs. I hadnít *laughs*. Iíve never considered myself a writer, I would much rather just sing awesome songs. But I feel grateful that I have been able to create lyrics that will exist forever. I feel like being in a band in general; it gives you a pedestal to reach out and speak to the listener. This is important to me because I love people and I truly want people to succeed in life; succeed in their dreams, relationships, passions...whatever. And I always have a song that tries to inspire my people on each album. Sometimes two. I also like telling stories and almost writing in a way where it could be metaphorical or it really could be a giant. Itís all up to the listener.

MM: Modern albums typically have ten to twelve tracks. 'Vicious Breedí has eight. One of those, "Sky Graves", is a rousing instrumental that showcases what this band can achieve musically. Why was an instrumental included and also, how hard was it for you to sort of remove yourself from 1/8th of the record?

DL: It was cool to be able to showcase off the dudes without getting in the way *laughs*. Its really a masterpiece and the first for Lady Beast. Twiz (Tritschler) wrote that piece and itís amazing! This album is our most mature album yet, and we wanted to release an album that showed our growth as musicians while keeping our same style and sound.

MM: We get to see a new aspect of the band on "Always with Me". Tell us a little bit about that song and how it may surprise Lady Beast fans.

DL: Once again a first for the band! We had a ballad on the first album, "When Desire is Stronger than Fear", but this ballad has much more of a Judas Priest feel. I feel like 2015 was a very hard year for people. There was a lot of loss....and it seems to just continue as we all get older. Our pets, our family, our heroes will all exit this world at some point. This is a song of remembrance and respect to all of those who have passed, and a promise that we that we will carry their legacies onward. Itís one pain we can all share and relate to. Itís a message to turn that dark into a light.

"I feel like being in a band in general; it gives you a pedestal to reach out and speak to the listener. This is important to me because I love people and I truly want people to succeed in life; succeed in their dreams, relationships, passions...whatever." --Deborah

MM: In years past weíve seen Lady Beast tackle medieval and supernatural subject matter. Tracks like "Forrest of the Impaled", "Frost Giantís Daughter", and "We are the Witches". This record is no different. However, there are positive, heartfelt messages sprinkled throughout the bandís back catalog. I think you had called them the "Deb is talking to you" sort of songs. On this new album, which song(s) fit into that mold and why?

DL: Like I had mentioned earlier, the band can be a platform to change peoplesí lives. I would say on this album, the track "The Way" is that song. Itís encouraging manifesting your desires and being passionate about your dreams. No one can tell you how to accomplish your goals, and sometimes the world and people can dull your fire. But eventually something in the universe aligns and youíre able to find your way. Iím a realistic optimist...if thatís a thing! Anything is possible, and can be greater achieved with support of others.

MM: You chose to work with Jason Jouver (Anti-Flag, Circle of Dead Children) at +/- Studios again. Jouver has produced a majority of the bandís catalog and resides in your hometown of Pittsburgh. How has he assisted in the bandís evolution on each record? At this point is he the honorary "sixth member" of Lady Beast?

DL: *Laughs* - Yeah totally the sixth member. He knows what we want to sound like and is so easy to work with. He is also our friend and a musician, so he pushes us in the studio to always get the best take and to maybe expand on things we had already been set on. He puts a lot of effort into the production and it shows.

MM: What are the pros and cons of having a "pre-1988" disposition?

DL: Really no cons I can think of. Itís the only kind of music we want to be playing. So that is the only music we are gonna play.

MM: Lady Beast performed with other traditional metal bands at some really cool fests this year. How did Legions of Metal and Descendants of Crom turn out? Great crowds, high energy? Any new bands there that made you a lifelong fan?

DL: We got the opportunity to play with a lot of rad bands last year! Legions was awesome. We always love playing in Chicago and at Reggieís. Ross the Boss, Brocas Helm, and Killer just to name a few. It was also cool to meet bands that I had met and starting following through social media like Substratum, Knightmare, and Vanlade. Super cool crowd and great response. The DOC Fest was also very cool, as it was one of Pittsburghís first Doom metal fests. Lots of bands, just one day, but spirits were high and the attendance was great. I can only imagine both fests will continue to grow over the years.

MM: Your band opened for Deceased last month. Any metal fan worth his salt knows Deceased front-man King Fowley lives and breathes heavy metal. If he bleeds, and some say he doesnít, I think it would just leak out Iron Maiden melodies. Sharing the stage with Fowley and Deceased Ė how was it and did you receive any feedback from him on your performance? Good, bad, or indifferent?

DL: He was a fan of ours before the show he said. We have been friends on social media for some time now and he supports the band. He loves us for our Iron Maiden influences and I think our sincerity really comes off on stage. This is what we love to do, and we are just happy people want to listen to it!

MM: Did he invite you and the guys over for baked spaghetti and 70s made-for-TV horror flicks?

DL: We live in the same state, but Iím sure if we lived a bit closer he would have! What an awesome dude. He is so supportive of the underground and DIY scene. Not many older or established artists I feel take the time to reach out and support underground and lower level bands. It means the world when they do, but you canít expect it. With the King, he always does and people donít forget it! Itís inspirational, I respect him and he has a freaking blast while performing!

MM: 'Vicious Breedí lead-off single "Every Giant Shall Fall" is out now as a lyric video. If this were the 80s, would Headbangerís Ball air lyric videos?

DL: No, I donít think they would. I think lyric videos are cool because it allows you to release a single in a visual way without having a music video. Headbangerís Ball was all about the actual video, the storyline and the live band shots. Luckily, we just filmed a music video for our second release of the album so we will be releasing that in the next couple of weeks. A lot of fans and music listeners use Youtube or are drawn to physical videos nowadays, so itís very important to have something to show. I hope the lyric video allowed people to dip their toes into the new album or into the band if they had not heard of us yet. It was well done and also done by the label.

MM: If you had Doc and his functioning DeLorean, would the band rather go back to the days before the internet and YouTube or continue on as a traditional band today?

DL: Definitely before the internet. Holy shit we would rule *laughs*. Times were different back then, and heavy metal was still so pure and the market was not so fake and saturated. Let me know if you get one functioning. Our bags are packed!

MM: Who in the band would be most likely to win at a game of "Name that Metal Tune"?

DL: Thatís really hard...it could be anyoneís game! I would win if it were heavy metal and power metal combined *laughs*.

MM: After 40+ years, who is the true God of Heavy Metal?

DL: Rob Halford and the late Ronnie James Dio.

MM: Any last words for the metal fans?

DL: Thanks, as always, for listening and sharing our music. It means the world to us. Hope to see each of you on the road in 2018. Check out 'Vicious Breed' if you havenít yet! Cheers!


LINKS
[Bandcamp]
[Facebook]








ALL INTERVIEWS FOR: LADY BEAST
| | | | |
| --- | --- | --- | --- |
| INTERVIEW | INTERVIEWER | DATE | TAGLINE |
| Deborah Levine | Eric Compton | 12/8/2017 | "It's a Message to Turn that Dark into a Light" |
ALL REVIEWS FOR: LADY BEAST
TITLE

DOR

COMPANY

REVIEWER
DATE MADE
RATING
Vicious Beast

2018

Eric Compton
1/19/2018

5
<< back >>