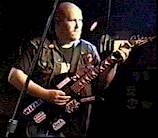 Thanks again Dean for giving us some of your valuable time. The last time we spoke things were still up in the air on a new record. At that time Skullview were still wrestling with the ex-vocalist, Quimby. On June 13th it was announced that the band have a new singer in Eric Flowers. Tell us a little bit about Eric Flowers, and how did he get involved in the band?

Eric pretty much fell into our lap at a time when we really didn't know what the future was going to hold for Skullview. We'd been trying to get Quimby to the studio for well over a year to simply record his part on the 4th album, and he never found, or made time to come do it. While Skullview was on "hiatus", I had been playing bass in another project called Gold Star. Gold Star played a show with a band called Unlawful Axe in South Bend, Indiana. The singer for Unlawful Axe, namely Eric Flowers, was singing for all he was worth...Maiden, Priest, Quiet Riot, Alice Cooper.....all kinds of cover songs and was blowing the place away.

One thing led to another and the guitarist for Gold Star was being recruited for Unlawful Ax. As it turned out, the guitarist for Gold Star jammed with them at one rehearsal and had suggested to Eric to contact Skullview about singing on our album. Several months went by and Eric and I got in contact and things took off from there.

What does a man like Eric Flowers bring to the band, and how does he compare to prior singer Quimby?

Eric brings to Skullview much more organization and reliability. Not to bash Quimby, but he was not organized and not very reliable. We couldn't count on him being ready for gigs or for recordings. Quimby was a very good improvisor, on stage and in the studio. The problem with that was that he was always improvising and it made things very hard in a live situation. We didn't know what he would sing and many times it would cause chaos in live shows because the songs were not being played as they were written for our albums.

Fans woud come to our gigs and try to sing along to our songs and choruses and they would be totally lost because Quimby would be singing verses in the wrong spots and making up verses on the spot that nobody had ever heard before. I would look out at the kids in the front row and you'd see confusion in their faces when trying to follow what we were doing live.

Eric is a complete 180 degree change for us because he sings the songs as they were written and there are no major surprises. As a band it makes it easier to play the songs because we no longer have to worry about following the vocals...we can just play what we have written. His voice is powerful, and Eric brings his own style to our mix. I'm sure there are some aspects of Eric's style that differ greatly from Quimby, but in the end it works out fine for Skullview.

Eric is also committed to writing lyrical content for the songs. Quimby prepared very little lyrically for each of recordings. About 90% of the lyrical content on our albums was improvised in the studio. Having someone concentrate on lyrics and arrangements is a nice change of pace for Skullview.

What was the main reasoning behind the vocal change?

The biggest reason for the change was that we were tired of waiting for Quimby to participate on the 4th album, that plus all the other things I've mentioned in the other questions. Eric came along and things just fell into place. Skullview was not in a hot and heavy search for a new vocalist, it just so happened that the right man for the task came into our lives, so it just kind of happened.

I've read that the fourth album has been recorded musically, and now Mr. Flowers is in the studio recording his part. Tell me Dean, what will the new album be like and how would it compare to the previous three?


"Every bit of aggression and fire will be present on the new album. Skullview fans will miss nothing in that respect."

Every bit of aggression and fire will be present on the new album. Skullview fans will miss nothing in that respect. The biggest change that fans will have to get used to is a new voice leading the charge. Skullview didn't wan to become a "Skullview Tribute" band with a new singer that copied what Quimby did.

Eric is free to incorporate his own stylization into the old songs, and has free reign to do whatever he wants with the new songs. We're not going to stifle his abilities in any respect. There won't be layers and layers of screams and "filler" from the vocals on this album. You'll hear plenty of high pitched screams, as Eric is very capable of doing them and he likes doing them, but they'll be more structured within the song. Eric is a perfectionist when it comes to writing. He strives to get things written exactly the way he intends to sing them.

Will Eric do any writing in the future?

Absolutley! He's writing already.

Can you disclose any song titles, or perhaps the album title yet?

We're still undecided on the title for the new album. But the song list for the album is: Privilege of Suffering, Legions Of The Star Scroll, The Bruise, Remnants of The Storm, Blind and Unconscious, Metalkill The World, Behind The Cell, Gleam Of The Skull - Part 4

In your estimation, when will this new record be available?

Currently we've got Eric in the studio "demoing" the songs. This gives him some time to get things written the way he wants them to be. After he finishes demoing the songs, he'll study the songs and make any changes that he may want to make, then we'll enter the studio again to record the album for real. We hope to be done and have the album released before the end of the year.

Will R.I.P records be releasing the new album, and is there any plans for European distribution yet?

We're still working on this part. We're not sure if RIP is still releasing albums, so we're not sure about who is going to release the record. We're not too worried about that right now.

What shows have been lined up to support the new material?

We've been talking with local promotors about setting up some gigs in Chicago and Northwest Indiana. We don't want to rush Eric into being ready, so we have not set any specific dates as of yet. We want to make sure Eric is comfortable with all the material before we jump up on stage and play for people.

Well Dean, thanks for the quick update on Skullview. We look forward to the new record and we wish you the best of luck!

Thank you Eric for your undying support of Skullview. We're still in this racket because people like yourself. We don't want to let anyone down, including ourselves. We're going to make sure this next Skullview album doesn't disappoint. Skullview will still be a band that metalheads can count on to release no frills, no nonsense heavy metal that will make you raise your fist in the air and headbang like a psycho!

--EC